"Best of SteemFest 4" -- Photography Contest by 1Ramp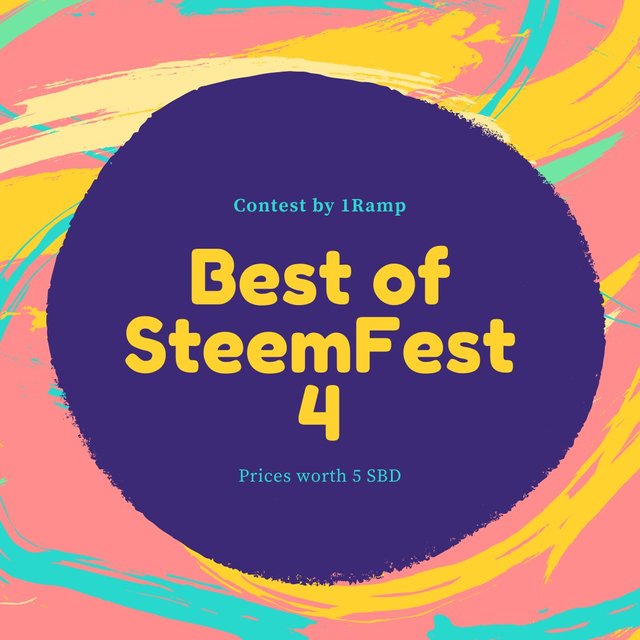 Contest Category:
Photography, Travel
---
Prizes:
1st: 3 SBD
2nd: 2 SBD
3rd: 1 SBD
---
Judges:
---
Description:
After Amsterdam, Lisbon, and Kraków, this year's SteemFest has come to Asia for an adventure in Bangkok!
Show us the best of SteemFest 4!
While you enjoy and meet fellow Steemians, don't forget to record those moments and Steem it.
Reblog this contest. (optional)
Entries will be judged based on creativity, originality, and in accordance with the contest theme.
Plagiarized entries will be disqualified. (Even if the plagiarism is reported/detected after the declaration of the result).
The prizes will be sent to accounts from which the user participated in the contest.
Contest winners will be declared within 1 week from the end of the contest.
The final call on the winners will be made by 1Ramp.
The prizes will be distributed within 3 days from the winner's announcement.
---
How to Participate?
1Ramp users can directly participate by tapping on the 'Participate' from the app.
Use #bestofsf4 to participate from any other Steem platform.
Contest begins:
06 Nov 2019 - 10:30 AM GMT
Contest ends:
12 Nov 2019 - 06:29 PM GMT
---
Get on 1Ramp to create and discover exciting contests.