Hospitals in the Unied States are ripping people off! Corrupt healthcare system...
Hi everyone, 
Up to $800 dollars for an IV bag? That's right!  Here in the United States we are facing  a serious problem that is very unlikely to be resolved anytime soon. In case some of you didn't know, American healthcare  is not the best in the world but it is the most expensive. I would like to briefly talk about this problem that many are facing today. 
  "Hospital charges represent about a third of the $2.7 trillion annual United States health care bill, the biggest single segment, according to government statistics, and are the largest driver of medical inflation, a new study in The Journal of the American Medical Association found." Source Credit
" A typical in-patient stay in a hospital is about 5 days, and that may cost you over $10,000.This figure does not include major procedures, ambulance fees, or other charges." Source Credit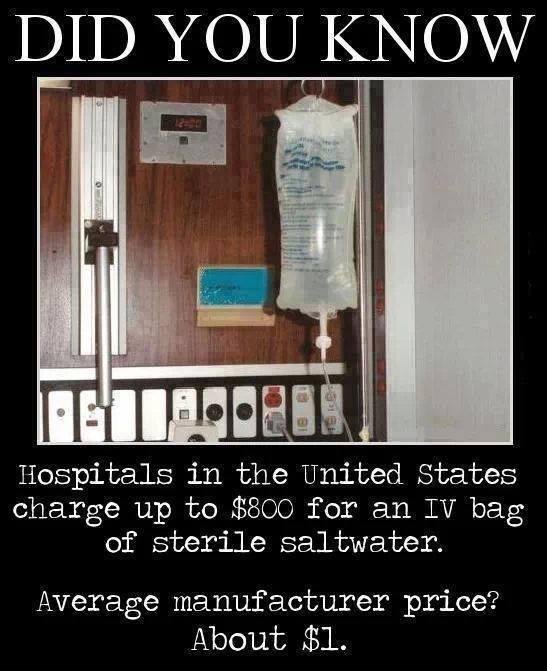 Stitches 
26 years old  Deepika Singh had gashed her knee and the three stitches she received at the  California Pacific Medical Center's emergency room cost her $2,229.11. And, Orla Roche, a toddler that had split open her forehead on a table after tumbling from a couch had her forehead sealed with a dab of skin glue for $1,696.  (Source Credit)  
    "At Lenox Hill Hospital in New York City, Daniel Diaz, 29, a public relations executive, was billed $3,355.96 for   five stitches on his finger after cutting himself while peeling an avocado.  At a hospital in Jacksonville, Fla., Arch Roberts Jr., 56, a former government employee, was charged more than $2,000 for three stitches after being bitten by a dog. At Mercy Hospital in Port Huron, Mich., Chelsea Manning, 22, a student, received bills for close to $3,000 for six stitches after she tripped running up a path. Insurers and patients negotiated lower prices, but those charges were a starting point." (Source Credit) 
Ridiculous pricing 
Tylenol - " Charge to patient: $15 per individual pill, for a total of $345 during average patient stay" Source credit
 Neck brace -  that is worth around $20 dollars, you will be charged more than $150 dollars in the hospital.   Image Credit
IV bag -  that costs less than $1 dollar, you will be charged more than $130 in a United States hospital.  Image Credit
Alcohol swab -  "$23 per swab, for a total of $322 during average patient stay." Source Credit 
 Overhead light - Patient gets charged $93.50 dollars for the cost of using overhead light in operating room.  Source Credit 
"Use of blood pressure cuff charge to patient: $20"  Source Credit
" Charge for nurse to hand you medicine taken by mouth Charge to patient: $6.25 per instance, for a total of $87.50 during average patient stay" Source Credit  
Cup for medicine - " Cost is for the plastic cup used to administer medicine, not the actual medicine inside it Charge to patient, per cup: $10, for a total of $440 during average patient stay" Source Credit
Gloves - " Charge to patient: $53 per non-sterile pair (sterile are higher), for a total of $5,141 during average patient stay " Source Credit  
Patient belong bag - " Like a grocery bag, to hold your personal items Charge to patient: $8" Source Credit
The list goes on and on...
Health care 
Unlike America, nearly all European countries have a universal health care system. And, many other countries including, Russia, Australia, Canada, New Zealand, Argentina, Chile, Venezuela, Cuba, South Korea, North Korea, and the list goes on... click here to find out more. So if you visit a hospital in Europe or any of those countries that I listed your costs will be zero. 
Personal experiences 
My father was in a hospital for a broken leg in Germany and the taxi that took him to the hospital did not charge him anything, the  hospital paid for the ride. And on top of all that he was treated exceptionally with no cost at all. 
A good friend  in England had a car accident and had multiple serious surgeries with zero charges. 
My personal experience 
Now I understand that the universal health care is not free and that everyone is paying for it by having wages being deducted from everyone's paychecks but at least there is no 3rd party such as insurance companies to scam people and inflate the prices in the hospitals.  I my self had a surgery (septoplasty)  on my nose for a correction of a deviated septum in Bulgaria (Europe). Since I was outside the country for a long time I did not qualify for their universal coverage and I had to pay out of pocket and it only cost me $500 dollars. I had to stay 5 days in the hospital for supervision because I had excess bleeding. I received exceptional service when I was  in the hospital. It has been more than 5 years since then and I have been very satisfied with the results.  If I had done the same surgery in America I would have probably paid $15,000 dollars just to the surgeon alone and if I had staid 5 days in the hospital and if you have read my post so far, you can only imagine how expensive everything would have been. 
I remember when I was a kid going to the Emergency room in Florida. I was not feeling well and my parents took me there and I received just some basic blood tests and x-rays and nothing more. I was fortunate to have had insurance through my mom's policy and yet the bill with the insurance was over $1000 dollars. And I was at the emergency room for no more than 3 hours. So, yea... 
Videos
Here is a really brief cool video where Adam summarizes some of the information that I have mentioned.
Here is also a video from Bernie Sanders agreeing with President Trump on healthcare 
And if you haven't already, I will also recommend you to watch "Sicko" a documentary movie  by Michael Moore where he talks more about health care in the United States compared to that in other countries. 
References
http://www.pacifichealthsummit.org
http://www.thedailysheeple.com
Thank you for stopping by!
Best regards,