#5. Hiking day - Extreme cold weather on mount Snežnik (1796m) - a day to remember!
Frozen eyebrows, gloves covered with ice coating, cheeks brushed from ice in the wind - welcome to winter hiking!!!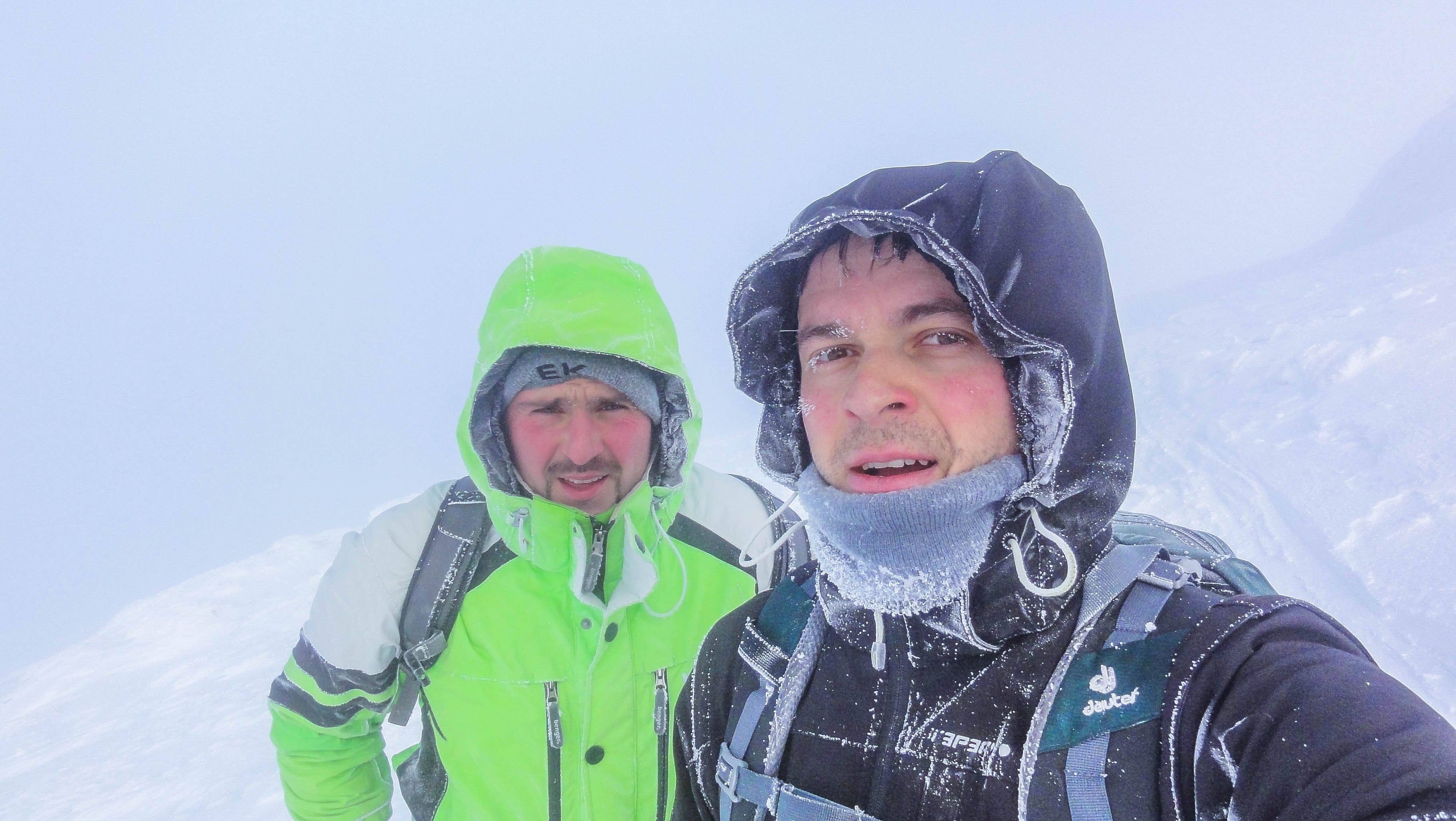 Brrrrr, it's freezing!
My hiking day actually started on a Saturday evening at around 22:00 when i checked the weather forecast for the next day. Sunny, no clouds and cold in Ljubljana. Nothing special about it in winter time, but my eye caught something far far more intriguing ... weather forecast for Snežnik. A mountain with very remote location on the bottom of Slovenia, close to Croatian border. A mountain with silly name considering it's the closest to the Adriatic sea. A mountain that i had a very strong desire to visit in winter time, on really cold and sunny day ... I guess you see where this is going. This was it, the perfect day for my wish. The only problem is, that i do not want to go in winter to the mountains alone. So i tried with my hiking friends if anyone want's to join me ... actually in couple of hours to a hiking day in cold and snow ... On my big surprise one of them actually confirmed. You should see the happiness on my face. As it was only 5 hours to the waking. I packed my gear fast and went to bed for couple of hours.
Our starting point Sviščaki is located an hour and a half of driving. Luckily for us, to make this hike possible. The road was cleaned of snow and covered with a mixture of grit and rough sand. Everything for hikers and people owning lodges. It was around 8 O'Clock in the morning and there were already a nice amount of cars parked by the road. At that time we had no idea, that it was actually just a small number considering the afternoon hours. Anyway we didn't want to lose too much time so we started straight away with. At first the hike itself is nothing special, but the surroundings ... Picture yourself a cleaned road, wide enough only for one car, 1 meter of snow on each side so it looks like a bobsleigh track, beautiful wooden lodges, spruces covered with snow and morning silence. But hey ... why picture yourself ... if you can see it for yourself in the photos bellow! :)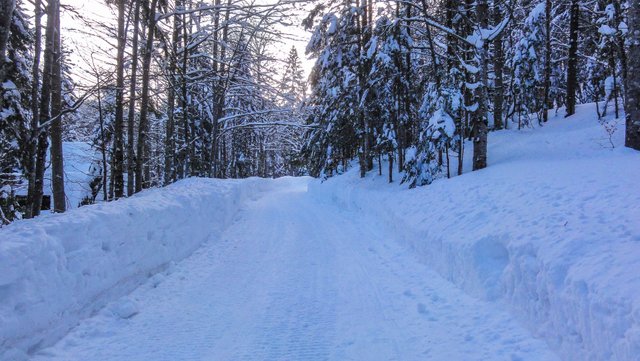 Narrow path probably made with snow blower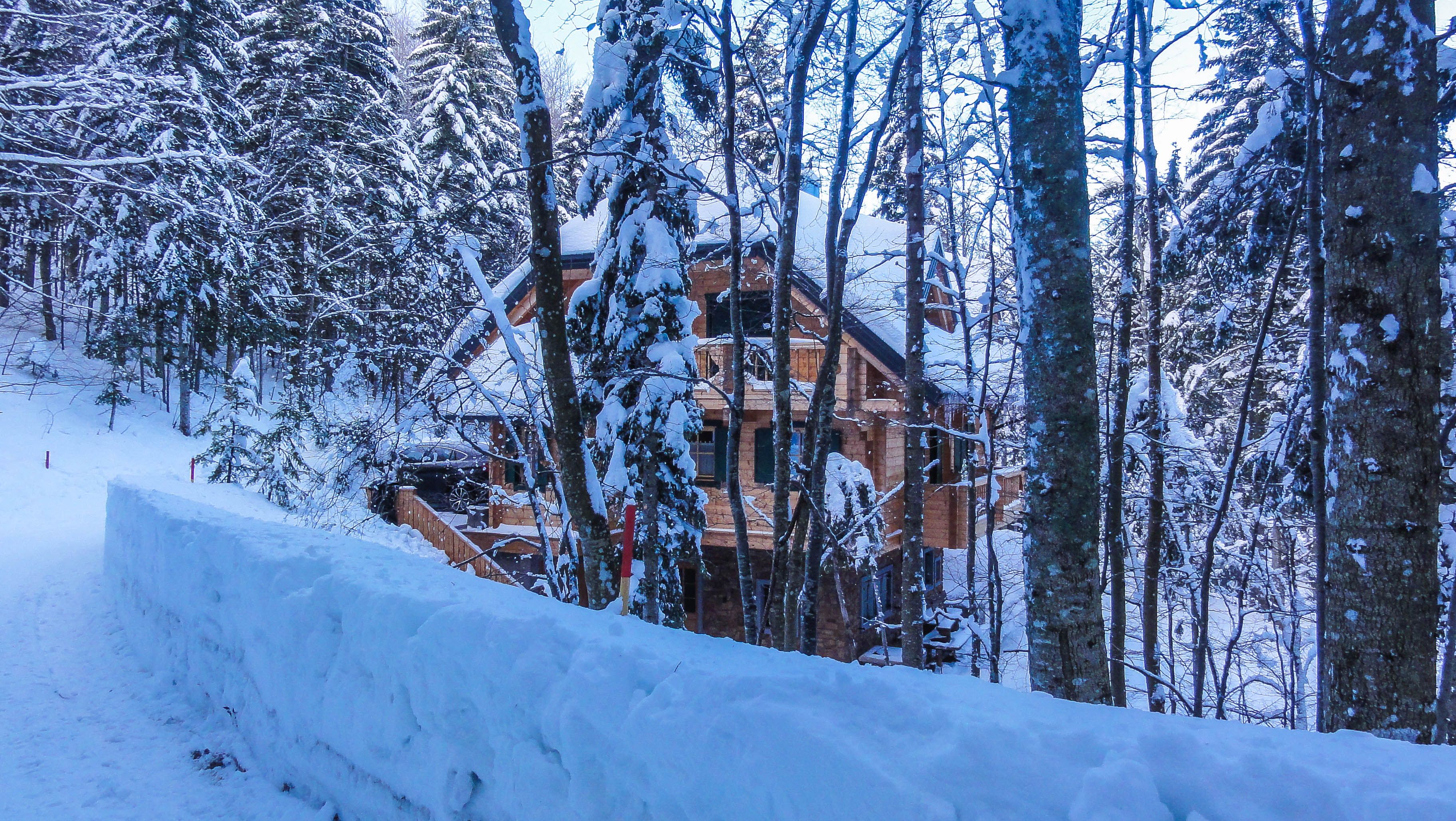 Beautiful lodge house
After a few minutes we came to this sign that told us that the mountain lodge at the summit is OPENED! We had the information about it, but until you see a locked (!!) sign confirming it, you can't be 100% sure.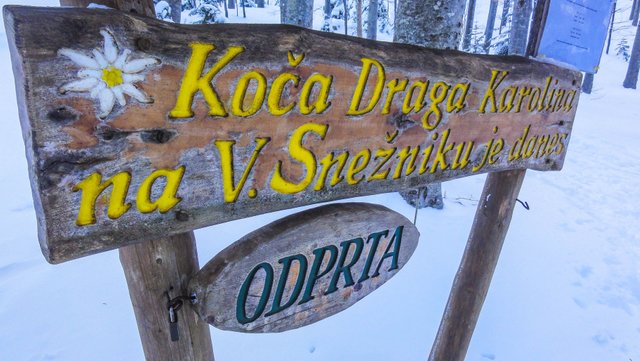 At least something to warm us at the top (Says: "lodge open")
The sign pointed straight into the woods, path was already made so we didn't have to struggle with creating one. That would make this trip even harder that it was.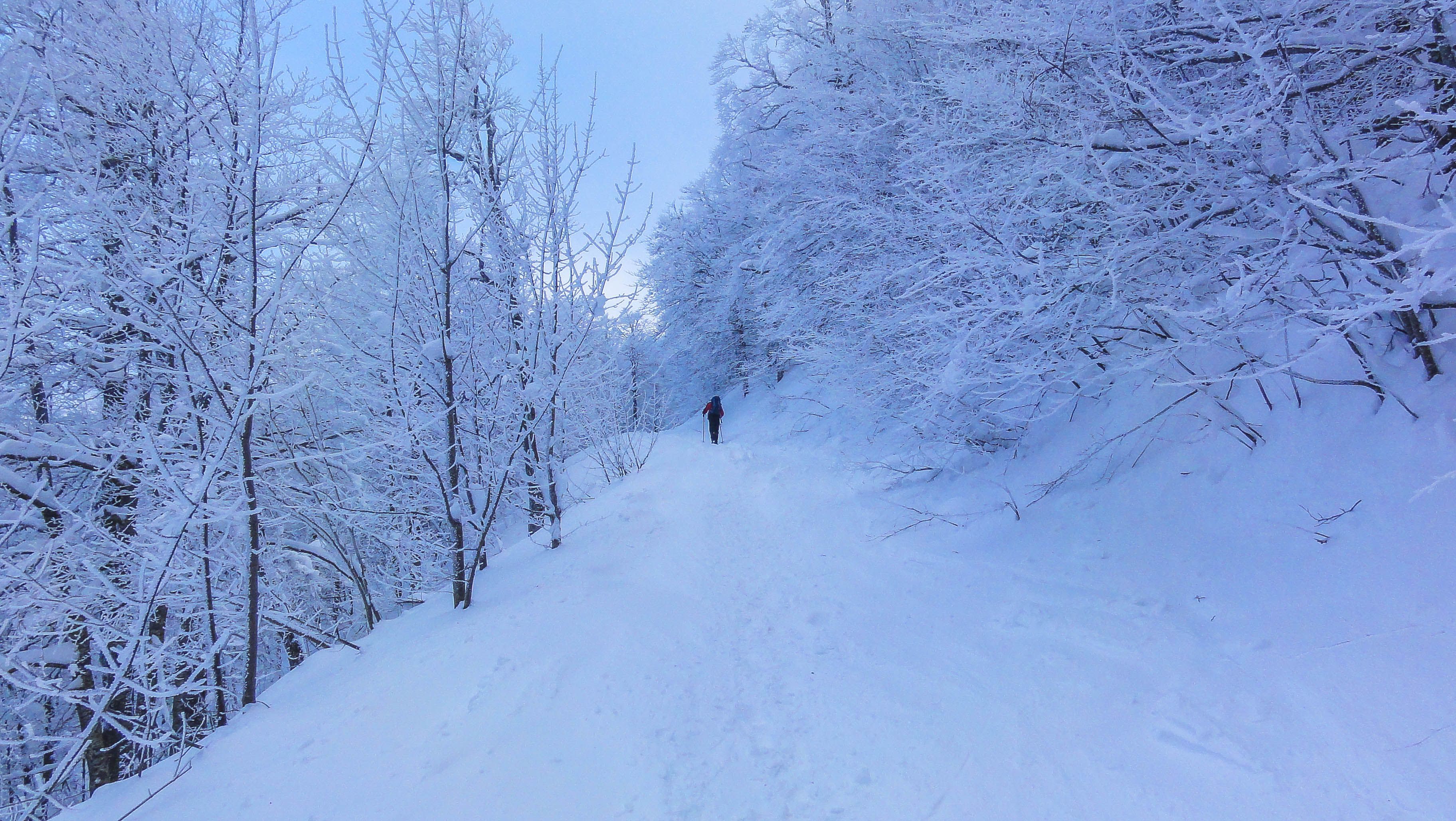 A winter's paradise!
From time to time, we got some snow behind our necks or our foot missed the path, just to find out how deep the snow actually is ... If you wonder? My leg stopped somewhere around my knee. We even met some fellow hikers. But i had a feeling that this is going too good and actually too easy. After a good half an hour we started to see that the forest is about to end.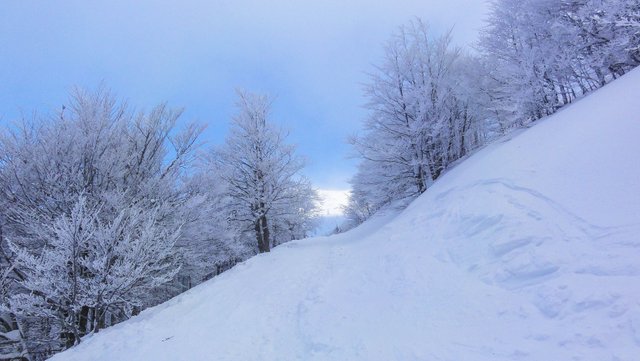 The path is opening and is less trees around us
But it was only then, that our hike actually started. The second we stepped out of the tree cover, we witnessed the mother nature at it's best. We faced the fury of a wind called "bora" blowing in waves from 50 - 100 kmh! Combine that with -11°C and snow. At that moment we knew that this is going to be hard. It was so cold and windy that i couldn't breath unless i covered my face with hood from the wind-stopper jacket. The wind's direction was straight at us. We were struggling with it and advanced slowly but determined that wind won't stop us from reaching the top. I couldn't say the same for two hikers that came towards us saying, that they aren't sure if they'll be able to get back alive if they continue to the top. It was a bit exaggerated but it was a smart decision for them. If you are not sure - do not play! You can end up injured in best case scenario and dead in the worse case scenario ... Especially with bad equipment, you can catch some injuries from freezing very fast. Lucky for us, we had the strength, the will and the equipment to continue. It was a long 45 mins of walking, with many short breaks to catch our breath and of course ... to take some awesome photos!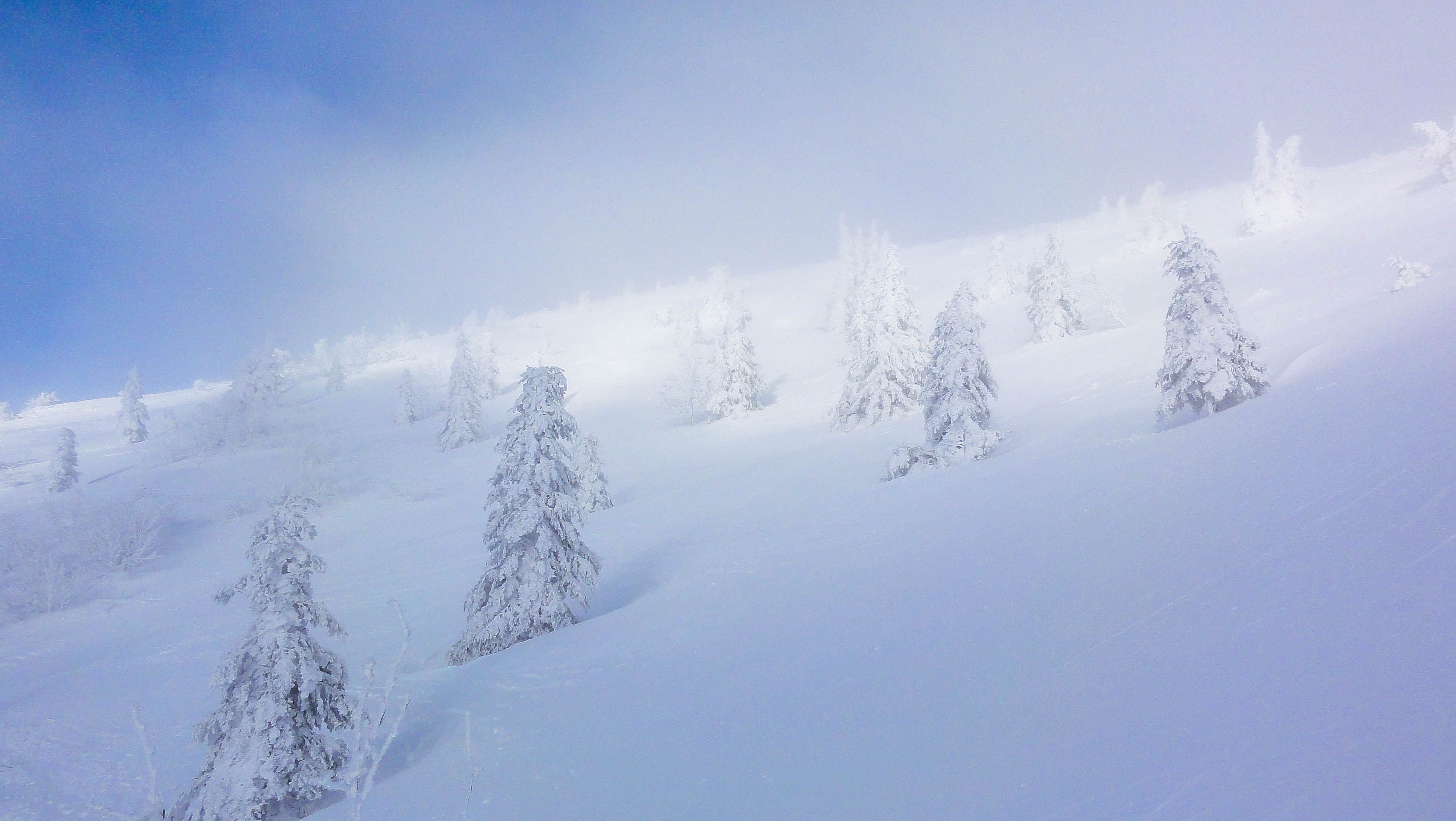 I would call this photo - Winter wonderland!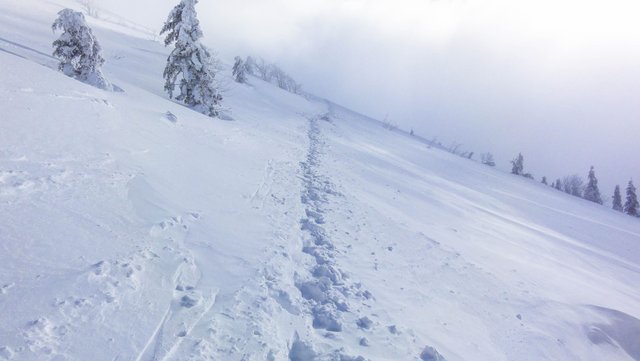 We found footsteps of some hikers just in front of us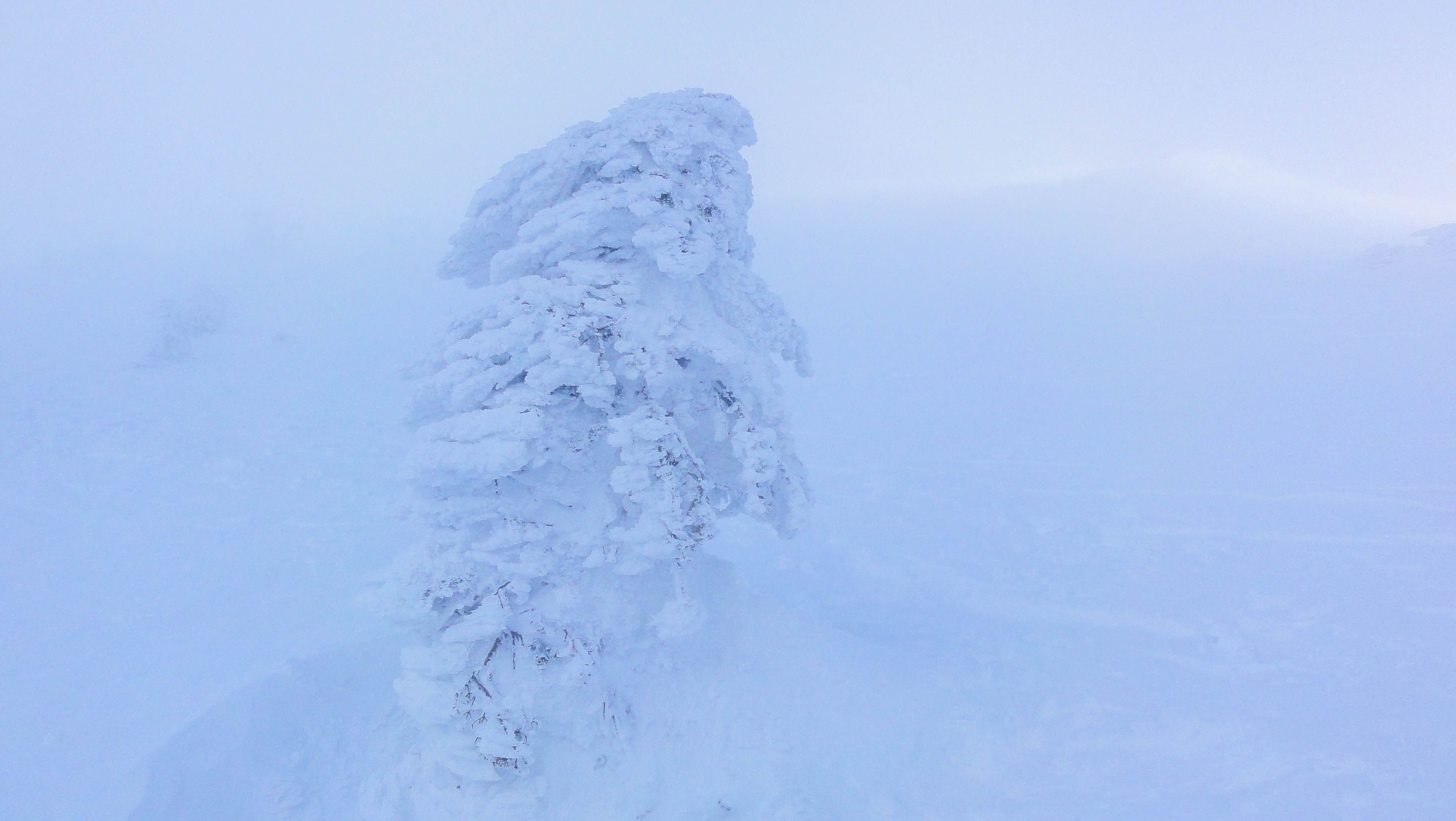 A short pine tree covered with a deep layer of frosting
The hardest part at the end was, that we actually had no idea where the summit is because it was covered in fog and the footsteps from other hikers disappeared from time to time because the wind was blowing the snow all around the mountain. But we knew that we were close and we ignored the pain that flying ice did to our face. And we were right. The lodge was just in front of us and taking care of an amazing view - it was completely and i mean completely covered with ice!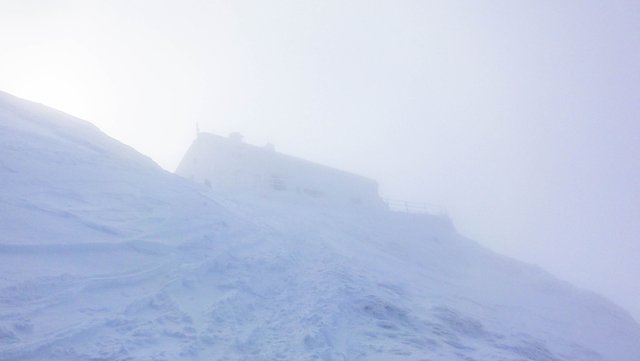 Finally the mountain hut revealed itself in front of us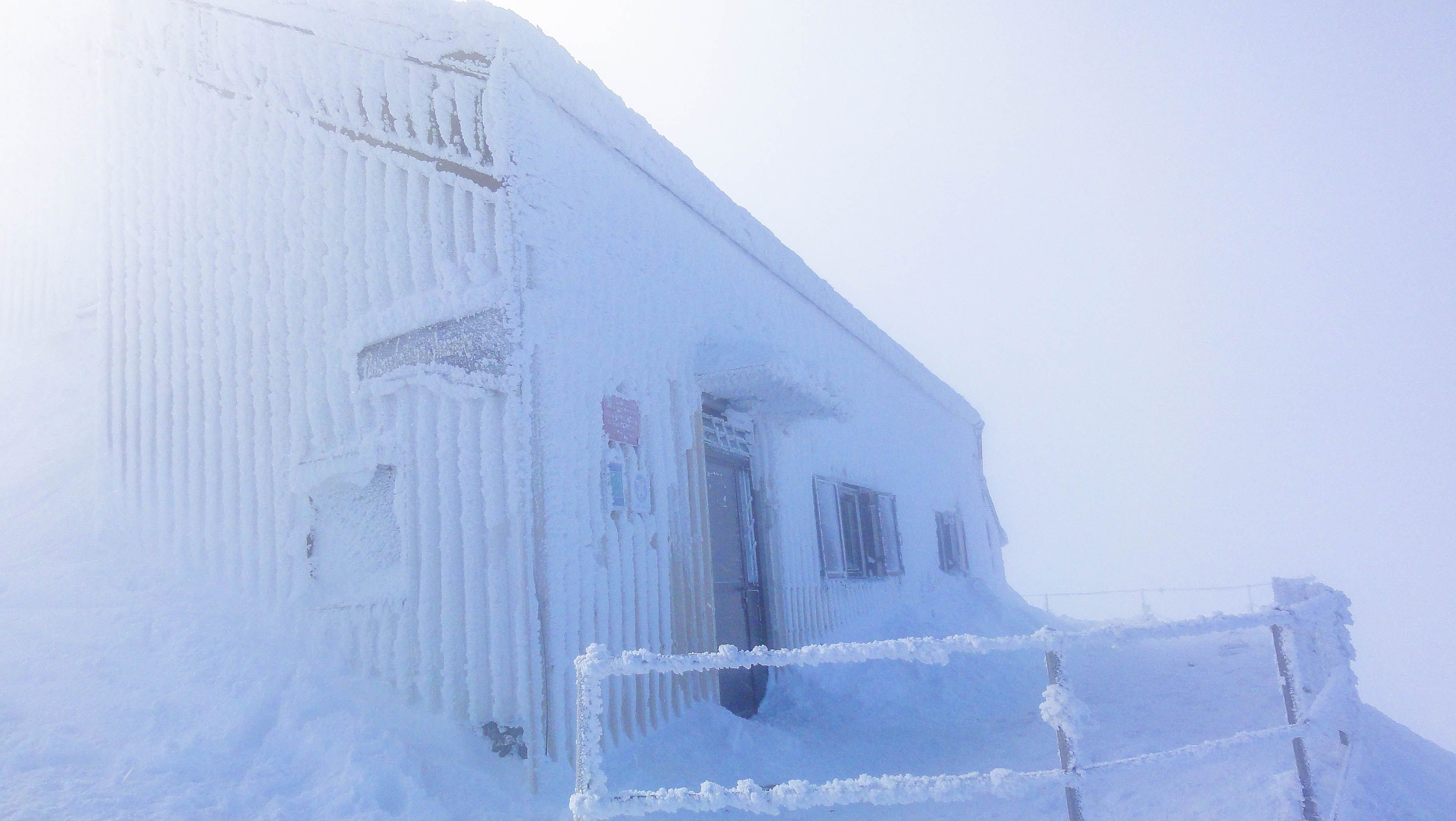 What happened here?!?!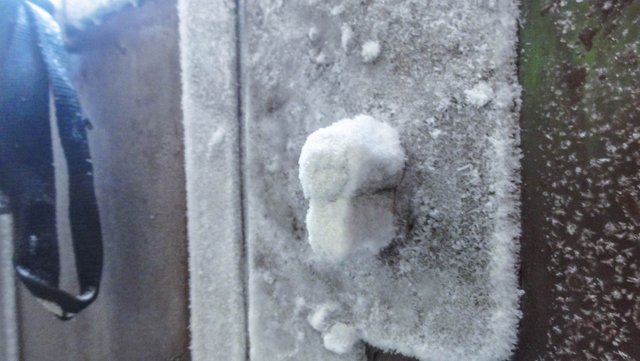 Door lock frozen from the inside!
We didn't hesitate much and entered it straight away. Inside it was warm and cozy. A small place with the housekeeper and some hikers already warming themselves. We ordered something to warm us up ... amm lol not really. We ordered two Radlers! And man they were exactly what i needed. More than some tea, i needed something refreshing, because i was really thirsty. Didn't actually realized that until then...
Ice cold Radler (beer with juice) for a cold weather =)
We didn't stay long inside. It was too early to have lunch and it we didn't feel like sitting for too long. We took some photos of the hut. That is something i have never seen before. The hut was completely covered in ice/frost. They had to shovel a hole to get some light for the lower windows. And the only thing they are cleaning regularly are the solar panels.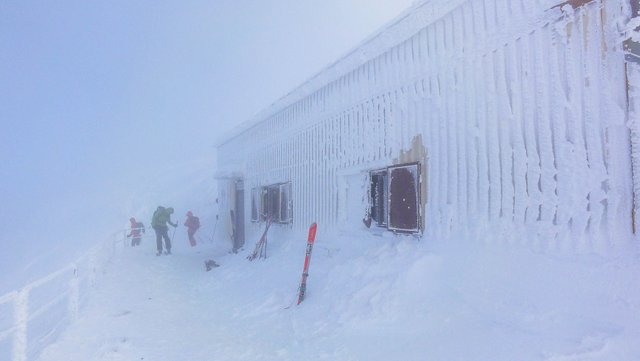 Seeing touring skiers on this mountain made me want to try that as well!?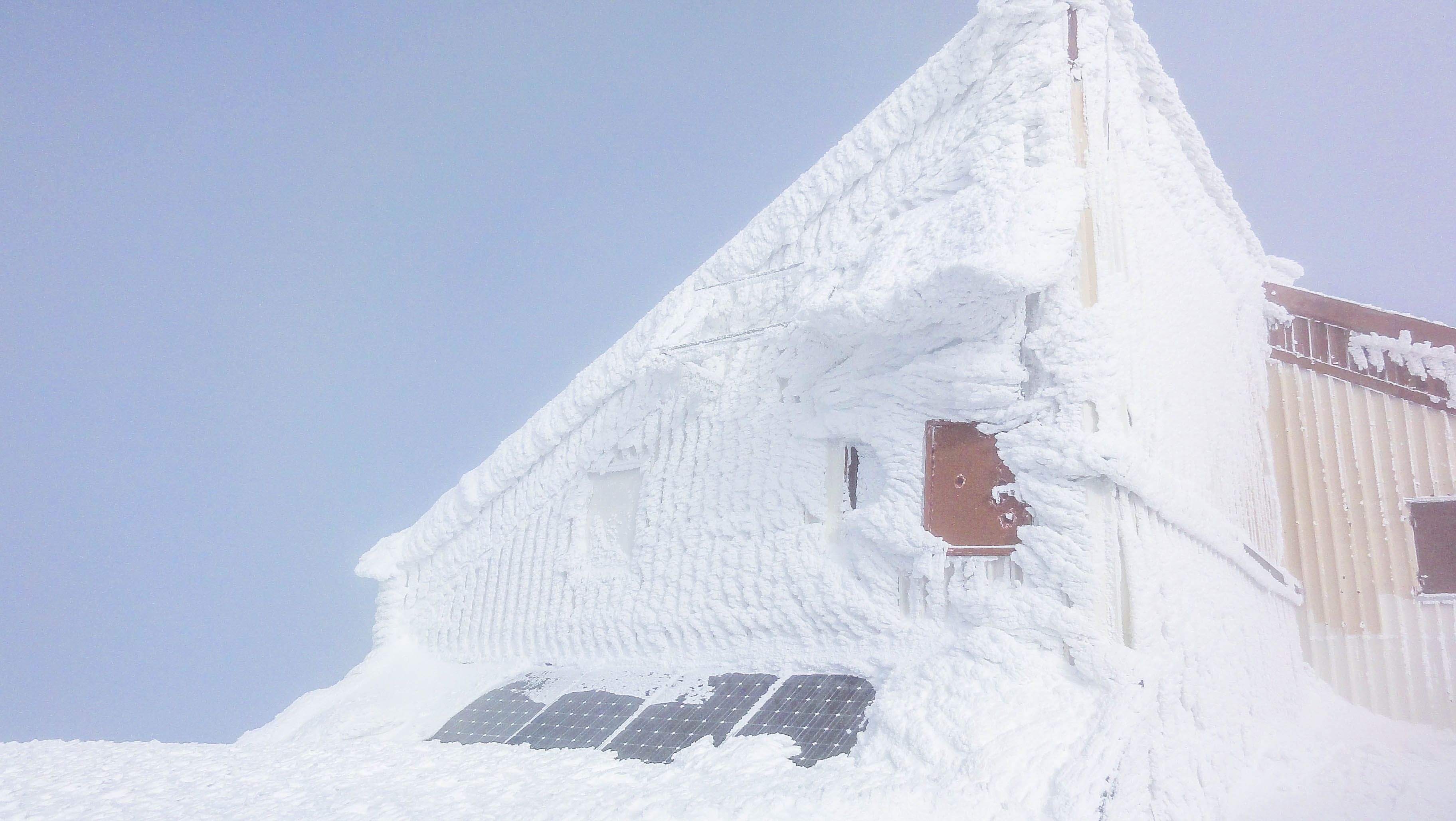 Clear solar panels are really important here
Anyone inside?? :)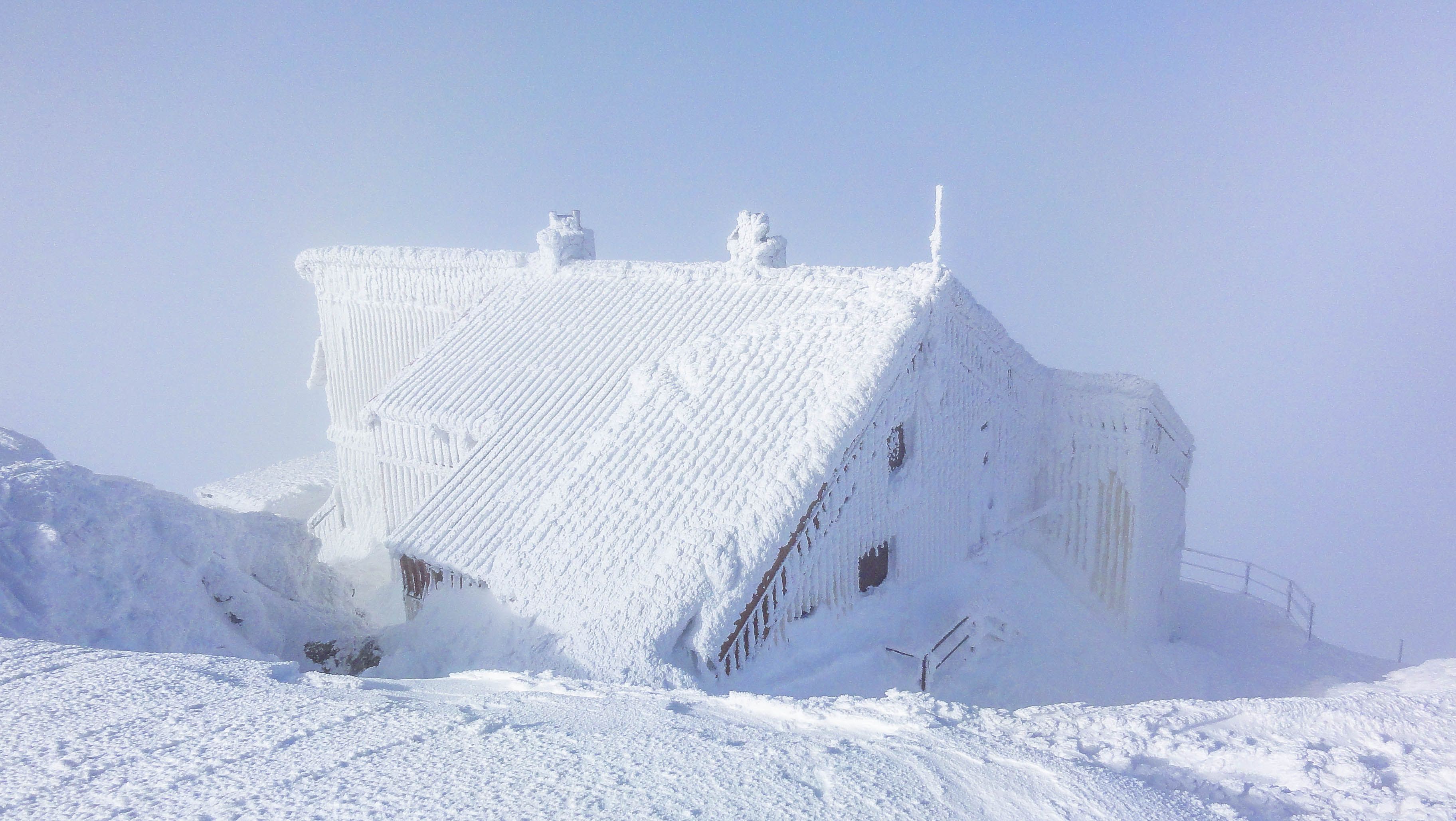 A unique occasion to see a house covered in snow. At least in my country.
The mountain hut is only 10m bellow the highest point. We were hoping that the fog will be gone by the time we leave the lodge, but that wasn't the case. It was a bit better, you could see some sun through, but I was really hoping to have a clear day, because the view from Snežnik is supposed to be outstanding. I could only see 50 meters around me, so i have no idea if that is true or not. I'm hoping for a rerun, maybe even this year!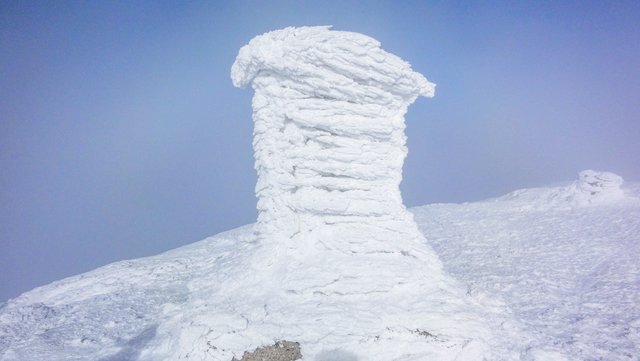 This is a round metal orientation table which shows directions for other mountains, but it's covered with 30 or 40 centimeters of snow.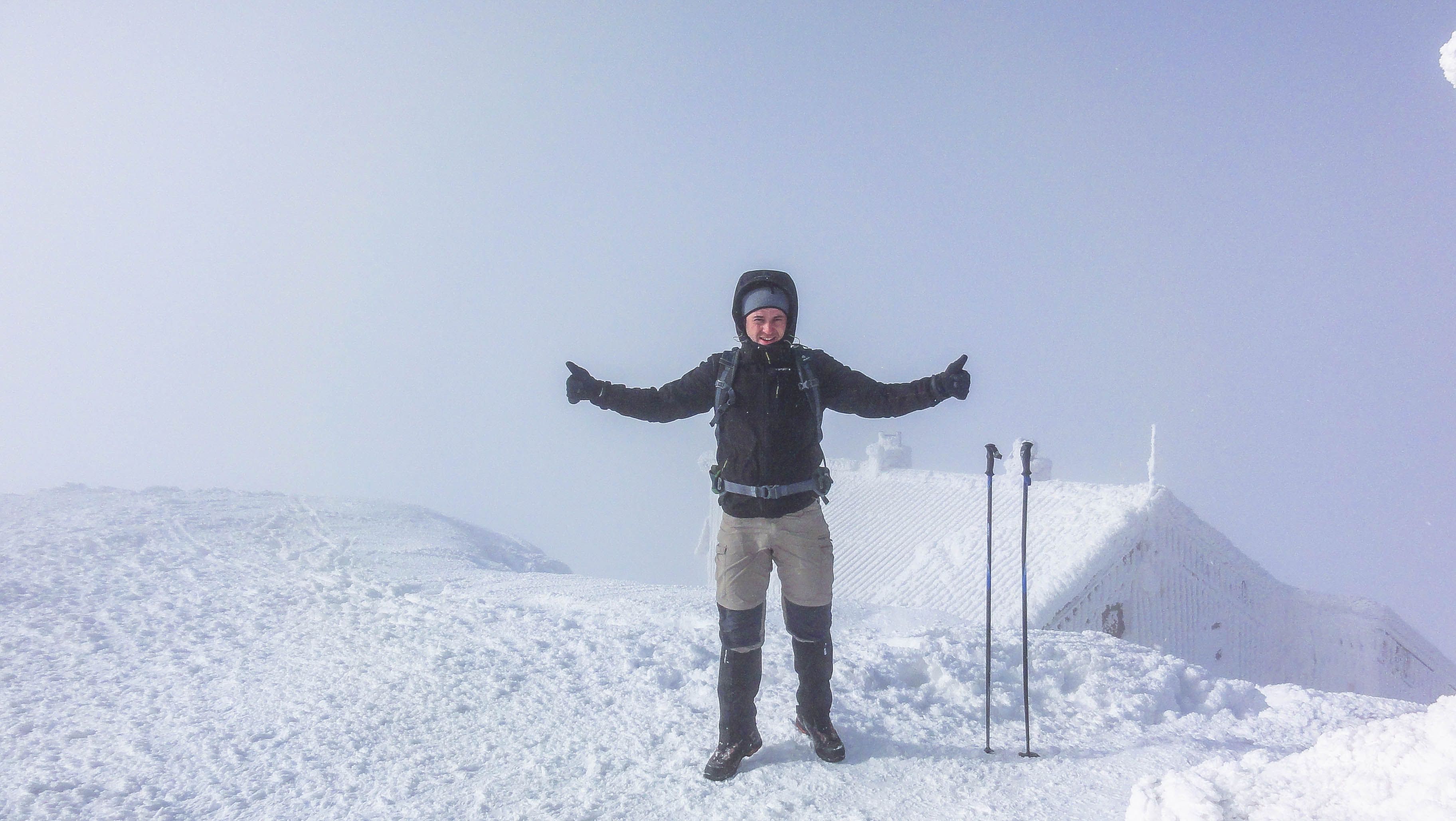 The wind was crazy. I had troubles standing on one spot
We were freezing up there and didn't stay more than couple of minutes to take some photos. And in that couple of minutes, my gloves froze from the outside and started to transfer the cold to my fingers. So we didn't hesitate and started our descend. Soon we got out of the wind. That means we were warming up even tho it was still around -10°C. But the sun was getting through more and more and the hike turned into a real snow joy. We've met a lot of hikers, much more than in the morning and i must admit, they have chosen a better starting hour. I wouldn't be surprised if the fog was gone by the time they've reached the top. I will remember this for the next time, to plan my hike a bit later. I am used to getting up really early for hiking. :) That is excellent for summer hikes, but not so good for winter.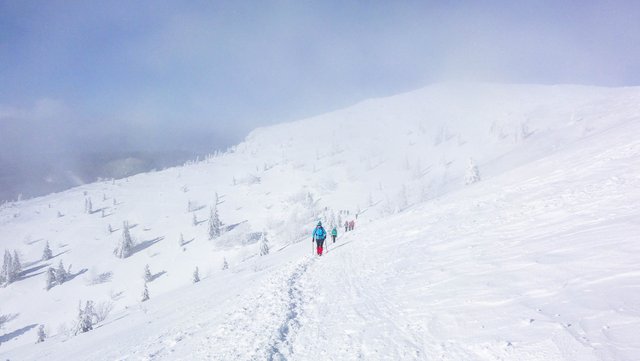 Some hikers walking in much better conditions. And it's less than 1 hour after us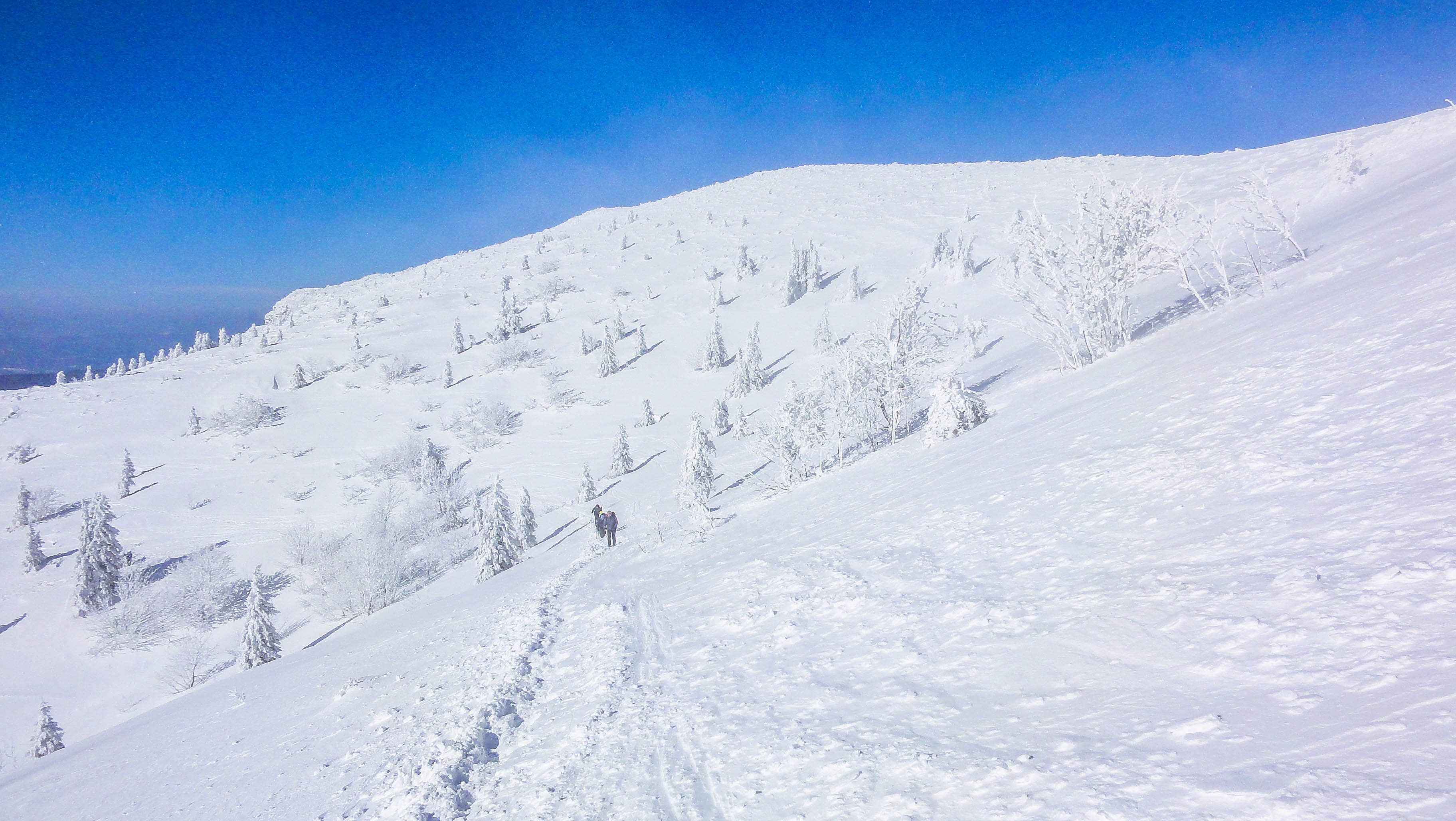 It's easier to walk now that a path is formed already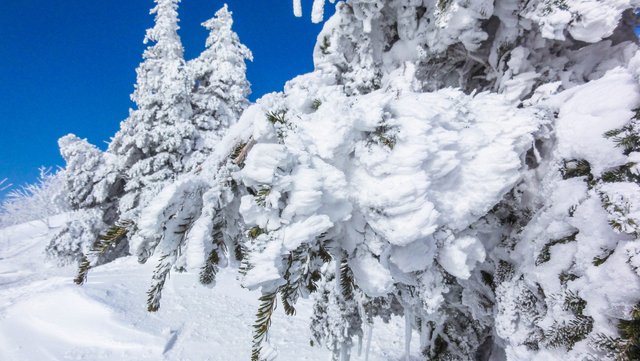 It's really amazing how can trees survive after all this frost on them
In the valley bellow us, the fog started to vanish and we were able to get some views, but visibility distance was still short. Somewhere around the half descend i remembered. That I've put an energy bar from my backpack to jacket pocket. I took it out and tried a bite. It was hard as a rock - frozen! Lucky i didn't break my teeth hungry as i was =) But the wrapping says - Crunchy. It really was crunchy!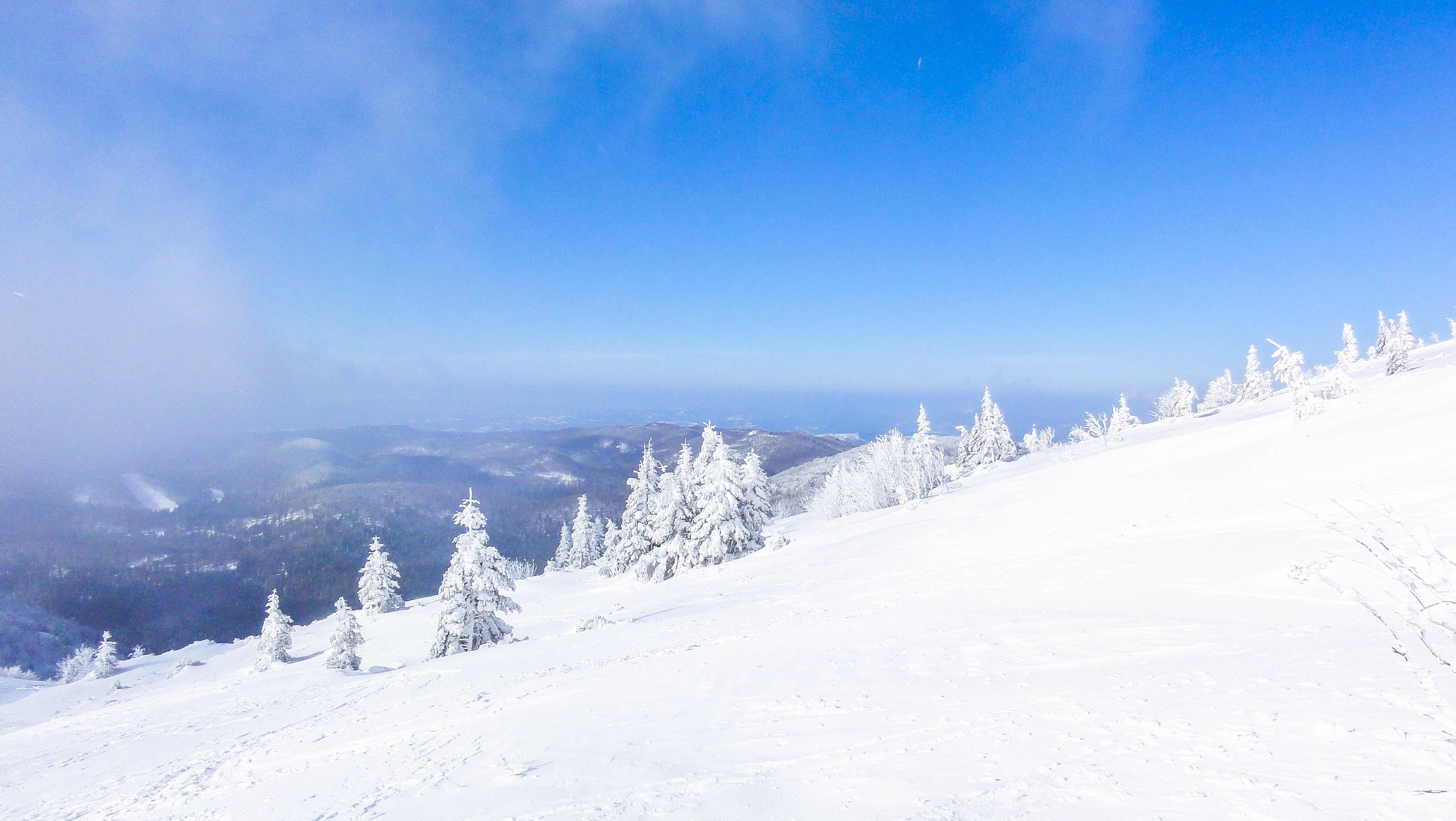 First view of the day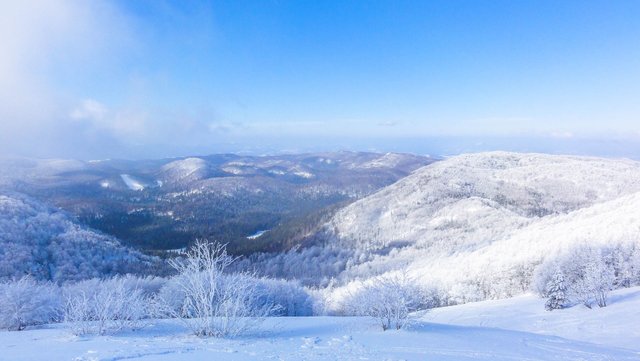 It could be better but at least we could get the idea of what could be seen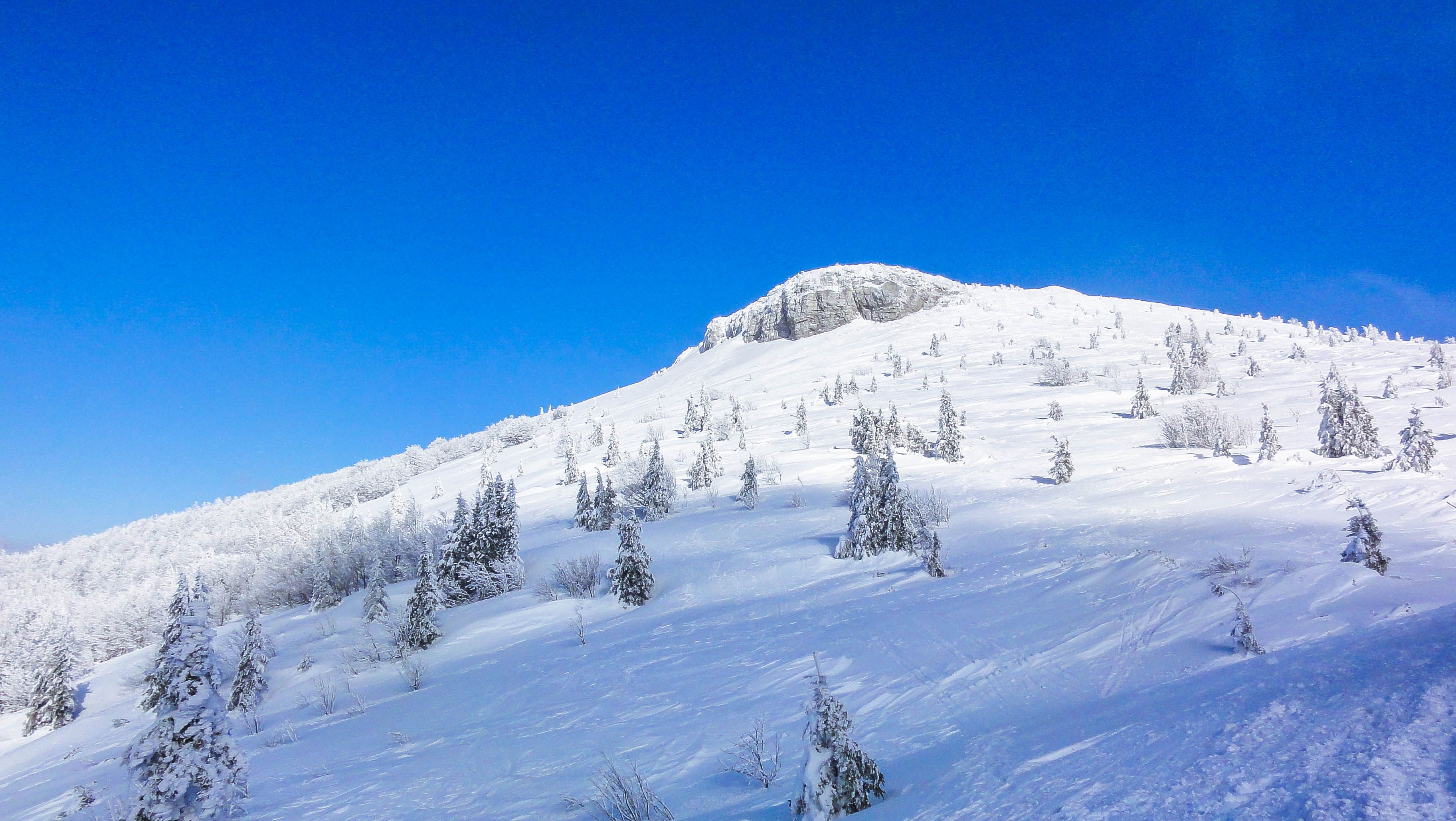 A look back to the Mali Snežnik (not 100% sure about that tho, but it should be)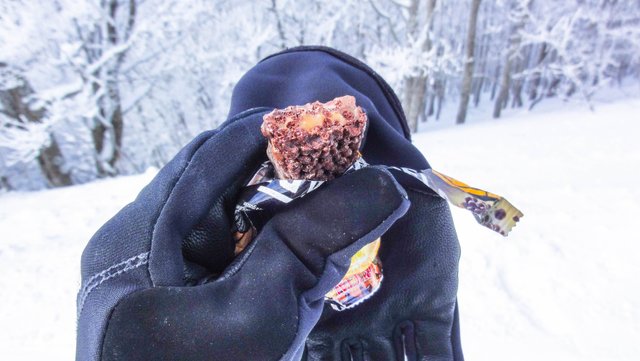 Crunchy - frozen
Just at the two path crossing we've met a large group of hikers from Pula - Croatia. Probably around 40 of them going to the top. I didn't expect such a large group of people in weather conditions like that. Especially the drive to the starting point is in my opinion really demanding for the bus driver.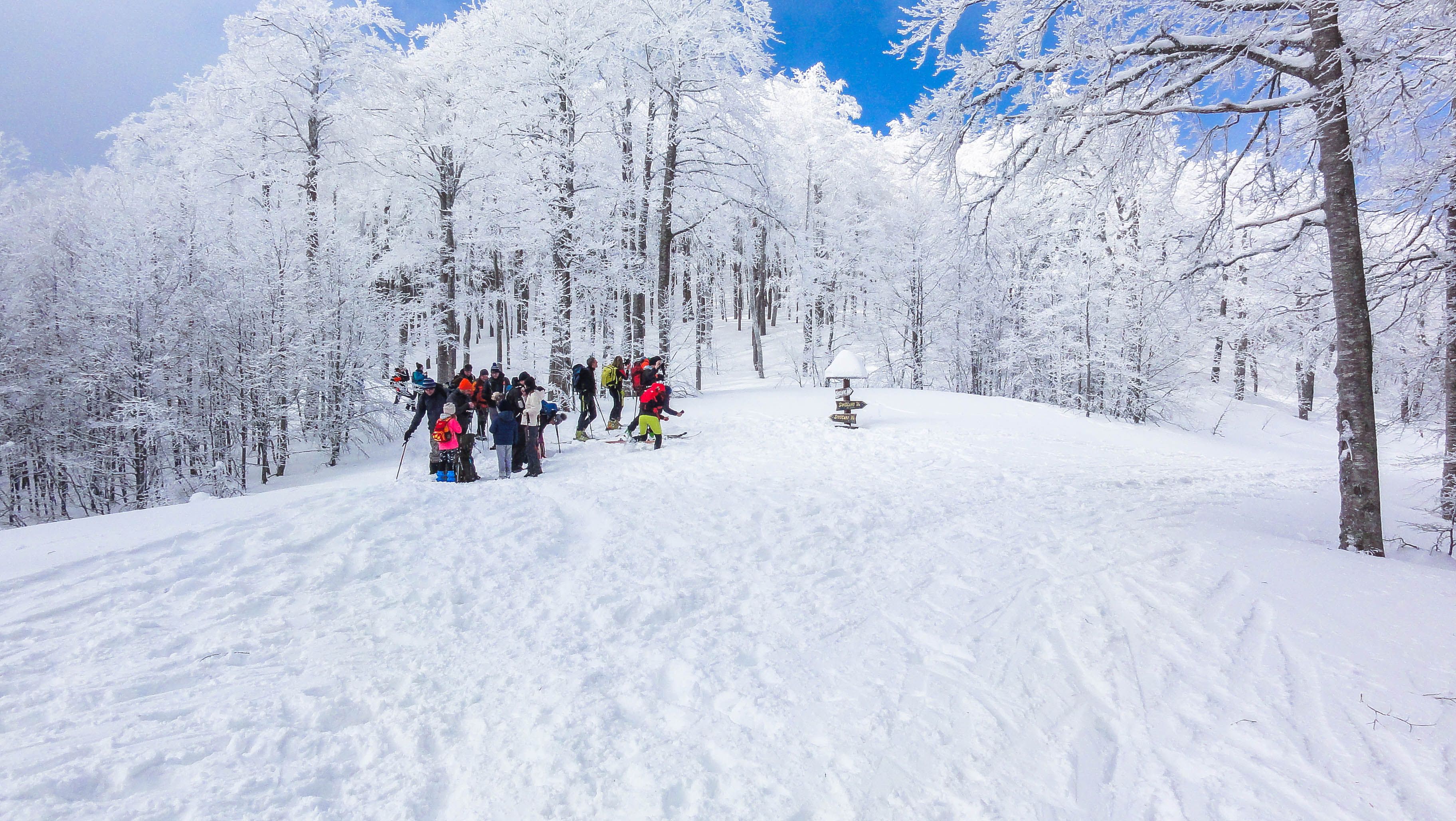 Croatian hikers. It was really nice to see a group so big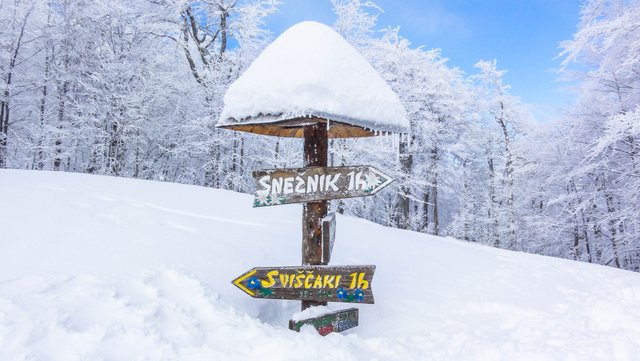 Crossing. We came up on the left side, and descended on the right one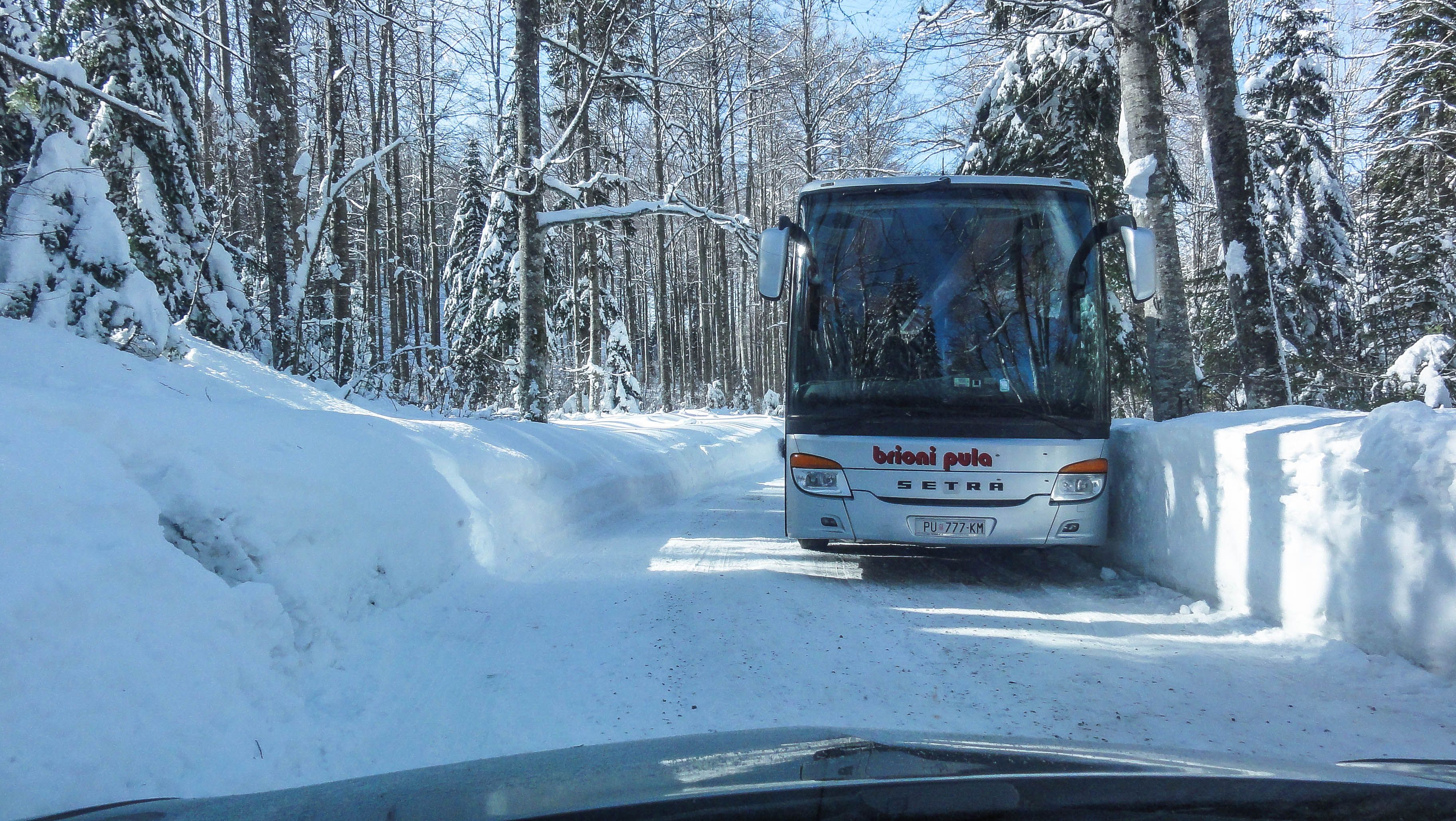 I could barely drive past the bus. It was really narrow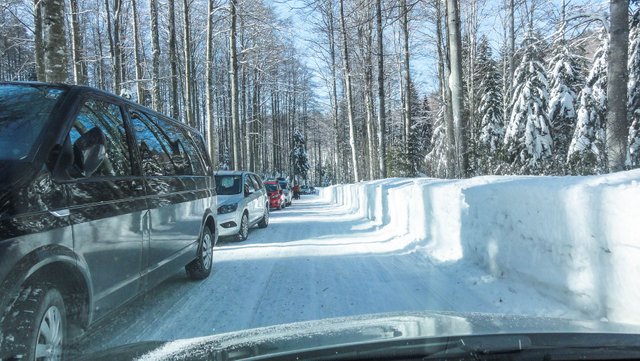 I don't know how the bus could squeeze back here ... probably they will hope, that the cars will be gone by then?
We only had an hour and a half drive back to home. As i stated in my post title - a hike to remember! We got down safe and with lots of nice memories. The only thing i am sure is, that I will return to Snežnik. I still want to witness the winter view to the sea. I don't know when I'll be that lucky, but i will try at least once per year! :)Than you for reading if you have any thoughts, please leave them in the comments bellow. If you have a similar hiking trip - let me know i love to watch hiking posts.
If you missed my previous hiking days you can find them here:
#1. Kamnik–Savinja Alps
#2. Stol (surviving a thunderstorm on the peak of 2000m high mountain)
#3. Ledinski vrh (seeing how global warming is wiping the glacier. Flowers instead of ice!)
#4.a Oj Triglav moj dom or climbing up the most important Slovenian mountain - Triglav!
#4.b Triglav lakes and wild alpine goats in natural habitat
#4.c Triglav - an epic journey comes to an end!
You have any thoughts or questions? Upvote and leave them in the comments bellow.

I'll upvote back every meaningful comment with few cents

!! Enjoy your hiking and stay safe !!