Fuuny history between Russia and China
1964年,中国和苏联边界谈判时,中方指责苏联贪得无厌,用了个成语"得陇望蜀"。不知道苏联的外交翻译是怎么翻译的,总之导致苏联谈判代表很生气,强烈抗议,说中国人污蔑苏联对中国的甘肃、四川有领土野心。
When China and the Soviet Union negotiated their borders in 1964, the Chinese accused the Soviet Union of insatiable greed and used an idiom " covet Sichuan after capturing Gansu (that means :have insatiable desires、The more one gets, the more one wants)" I do not know how the Soviet Union's diplomatic translations were translated at the time. In short, the Soviet negotiators were angry and strongly protested that the Chinese have tainted the Soviet Union's territorial ambitions for China's Gansu Province and Sichuan Province.
1964年、中国と旧ソ連国境の交渉では、中国がソ連の欲を否定したことで、四字熟語で隴[ろう]を得てまた蜀[しょく]を望む.貪欲で飽くことを知らないたとえ.▼"陇"は甘粛省,"蜀"は四川省の古称。ソ連の外交通訳がどのように翻訳したのか、ソ連の交渉代表は激怒し、中国の甘粛省、四川省の領土の野心を傷つけた、と強く抗議した。
Когда Китай и Советский Союз договорились о своих границах в 1964 году, китайцы обвинили Советский Союз в ненасытной жадности и использовали идиому «на вид надежды». Не знаю, как был переведен дипломатический перевод Советского Союза. Короче говоря, советские переговорщики рассердились и решительно протестовали против того, чтобы китайцы развязали территориальные амбиции Советского Союза в отношении Ганьсу и Сычуани в Китае.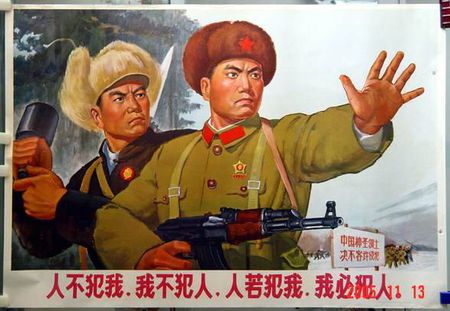 谢谢投票支持
Thank you for voting support
投票していただきありがとうございます
Спасибо за поддержку голосования