Today in History: First large German city falls in World War 2
Up to this point the Allies had made tremendous headway in turning the tide of the Great War as advances were being made on both the Eastern and Western front. However, Germany was able to repell all attacks into their home country until today. It happened in one of the western-most cities near the border of Belgium and the Netherlands in a city called Aachen.
The year was 1944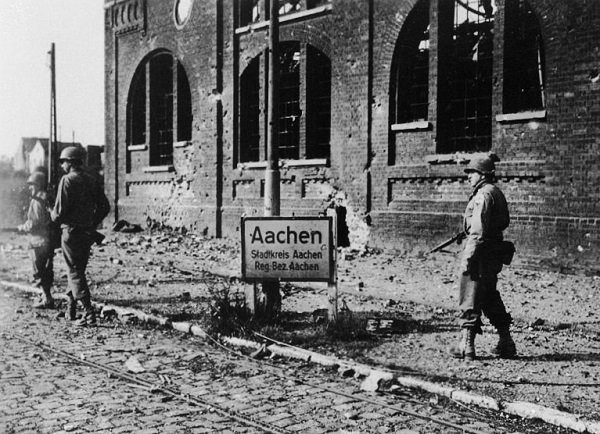 source
Aachen was not an important city on its own as it was not a producer of anything militarily. However it was an entry point into the Ruhr area beyond and this is where a large portion of Germany's military production took place.
The city was a piece of a very complex and organized defense referred to as the Siegfried Line which covered nearly all of Germany's western border and consisted of pill boxes, artillery forces, and extensive minefields.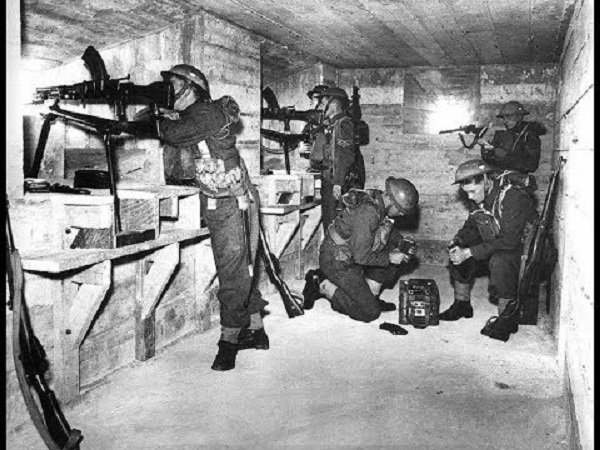 source
pillboxes are exceptionally difficult to overrun but i truly admire the courage of those inside since being overrun almost certainly meant dying in a horrible fashion
Based on the fact that Germany had suffered tremendous losses in France recently, and the fact that the Americans were fresh and highly outnumbered the German troops in Aachen, the American commanders thought they would overrun the city quite rapidly and continue the assault to the areas beyond. That was not what happened at all.
With 100,000 soldiers vs an estimated 13,000, the Germans were able to hold the city for 19 days before eventually surrendering on the 21st of October. They were able to accomplish this by having a defense line that at times were 10 miles deep and filled with mines, barbed wire and anti-tank "traps."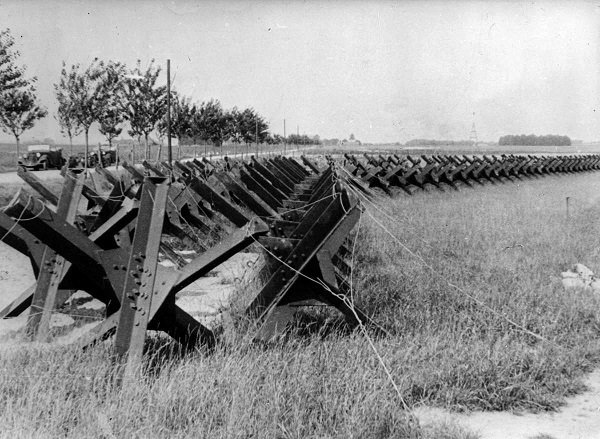 source
The above item was particularly helpful. It is called a Czech Hedgehog or caltrops although I believe there is another name for them. Their purpose was not to destroy anything, but if a tank attempted to cross them, it would almost certainly get stuck and being stuck in a tank, is never a good thing. An aggressive tank commander could actually impale the vehicle on top of one of these, although that was very rare. These defense lines were extremely heavy and difficult to move, even firing artillery or other explosives at them seemed to have little to no effect.
The U.S. advancement was further delayed by a tactic the Germans had learned (by doing it incorrectly) on the Eastern front - withdraw troops and especially armor resources to the interior of the city. This made advancement on the part of incoming tanks extremely difficult due to tight quarters and subjected the incoming soldiers to a very slow (and deadly) advance.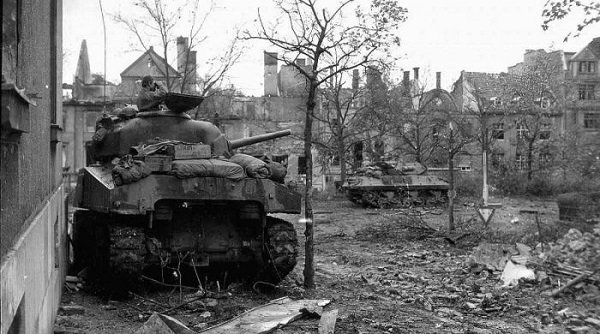 source
if you have ever played Company of Heroes you probably remember how frustrating it was to try to maneuver a tank in an urban setting
The city was considerably more difficult to take than anyone on the Allied side had predicted but when it eventually fell, it was a relatively momentous turning point in the war. This was the first German city to fall and the rest of the western defenses were now kind of irrelevant since the door had already been kicked in.
interesting propaganda short film from the British Pathe channel
Both sides suffered heavy losses of about 5,000 casualties each. Most of Aachen was completely destroyed due to days of heavy bombing and constant artillery assaults. Thankfully most of the 165,000 or so civilian population had been evacuated since it wasn't exactly a big secret that this city was a target.
There would be many difficult battles to follow, but the fall of Aachen was an important one as it showed Nazi Germany that they were now and would from this point forward, be on the defensive until the war's conclusion on May 7th of the following year.