Hitler's women - who were they?
Hitler's women is a very interesting chapter in Adolf's life. The more information he attempts to obtain on this subject, the more questions and riddles are born. Some sources suggest that the Chancellor of the Third Reich was gay, another denies this, yet another shows him as a man married to Germany and his ideals. We can only inquire about the truth, the truth that Hitler took to his grave on the day of his death.
In 1926, during a gaining momentum, 27-year-old Hitler meets a 16-year-old girl with whom he falls in love. "Mimi" - Maria Reiter becomes his muse and inspiration. According to the testimony of witnesses, Hitler, aware of the girl's age, had sex with her, regardless of the consequences.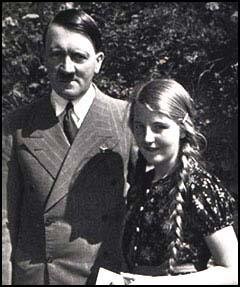 His party colleagues were against this relationship. Probably one of them reported to the authorities and Hitler had to break up with the girl. Mimi tried to commit suicide upon hearing about the breakup. She was saved in time by her sister. After the war, people from the Mimi community testified that if the couple's relationship survived and ended in marriage, the course of further political events and the fate of the whole world would be completely different.
"Geli"
In 1927, Hitler meets Angela Raubal "Geli", a 19-year-old niece. Two years later, Geli moves to Adolf's apartment on the pretext of looking after and developing the girl's career. It is no accident that Gela's bedroom was connected with the door to the uncle's bedroom "Alf". Uncle "Alf" slept with the girl. During this relationship, Hitler's perversions came to light.
In 1943, interrogated by Americans, Otto Strasser testified:
"Hitler told her to undress. He lay down on the floor. Then she was to crouch over his head so that he could see her closely, which excited him very much. When his excitement reached the top, he demanded that she urinate on him, which we sexually pleasure."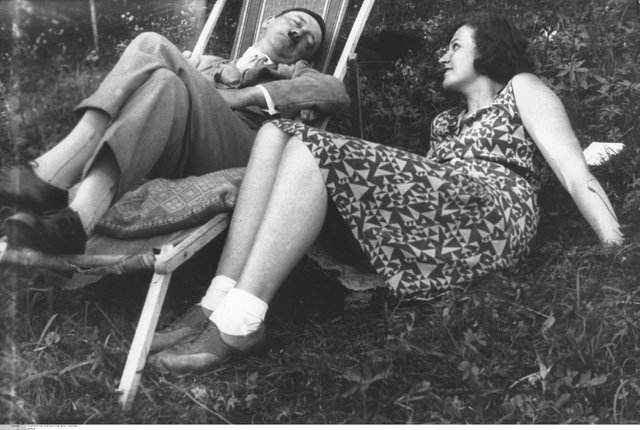 Geli loved Adolf with each other. However, this was not a normal relationship. Hitler was deadly jealous, the girl was guarded all day, she could not go out alone and meet other men. She lived in a home prison.
In 1930, Hitler meets 17-year-old Eva Braun. He is enchanted by her and decides to adore the girl. At the beginning they were purely social gatherings, which eventually turned into something bigger. Eva falls in love with Adolf, knowing about Gela sneakily slipped the note into Adolf's pocket with thanks for a nice evening. She wanted to eliminate competition from Hitler's life. Leaf found Geli, made Adolf a morbid fuss. She fell into stress which ended in suicide. Hitler survived her death badly. He really loved his niece.
Two months after Gela's death, Hitler ordered the secret police to find Mimi and secretly give her a direct phone number for him. The girl was not very happily married, at the news that Adolf is trying to contact her, her heart beat her harder. Mimi divorced her husband and returned to Hitler. The relationship did not last long, "Dictator" did not meet the requirements expected by the partner. Mimi was counting on a legal relationship sealed with a wedding.
"Germany is my love. I married all German women."
Mimi decided to leave and leave Adolf forever. On the love scene, the main character was taken by Eva Braun.
Eva Braun
Eva Braun loved Hitler and counted on more than just socializing. When Adolf began to invite her to hotels and to his bedroom, she felt like she was in seventh heaven. It didn't bother her that the Führer kept their relationship secret. Some historians doubt whether the couple had sexual intercourse with each other. Hitler had trouble with his libido while Eva herself suffered from a narrow vagina. They both undertook appropriate therapy at the same doctor (Hitler's doctor).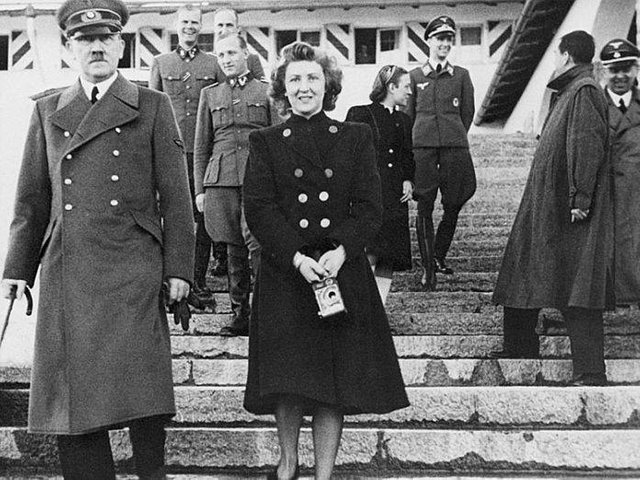 Unfortunately, Hitler Evy did not have the same affection as her predecessor. It was dry and cold. He tolerated Eva only because she gave up completely and considered her a simple and submissive girl. Over time, their meetings were becoming rarer. Eva suspected Adolf of meeting other women.
She was right, she wrote him a letter asking for a meeting, unfortunately he did not come. He also forgot about her birthday. Eva attempted suicide. She took the gun from Hitler's bedroom and, like Geli, tried to shoot herself.
Eva was saved, Hitler at the news of a suicide attempt, quickly appeared in the hospital with flowers. Adolf was pleased to learn that his woman could kill herself for love of him. Despite the proof of love, he continued to socialize with other women.
The list of adoration includes women: Jenny Haug, Ada Klein, Suzi Liptauer, Brigitte Helm, Renate Muller, Margaret Slezak, Lola Epp, Jenny Jugo, Marika Roekk, Olga Chekhov and probably Pola Negri. Most of these women were women one night.
Renate Müller - the new love of the Führer
This love was short-lived, Renate could neither understand nor endure Hitler's masochistic whims. The Führer lay down on the floor and ordered to kick. The more excited the greater. Renate wanted to end a sick relationship quickly and asked to go on vacation to London. Of course, Hitler sent a "tail" behind the woman. It turned out that Renate met a former lover, a German of Jewish descent.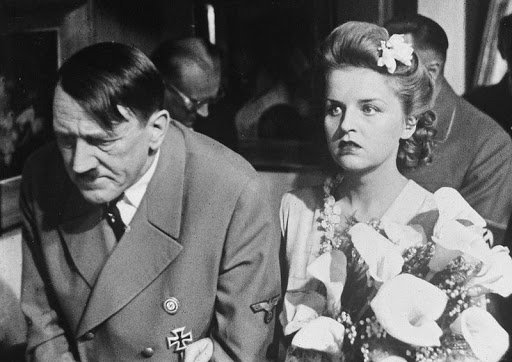 Adolf immediately broke off contact with the woman. Renate's career is in ruins, she is on the SS blacklist. The woman wrote a letter to Hitler with a request to return to favors. A few hours later, a secret police appeared outside the actress's house. Renate threw herself out the window at the sight of the SS.
Unity Valkyrie Mitford - strange love.
Unity came from an aristocratic English family, she was an ardent Nazi and at the same time a black sheep of the family. She was said to be "Fuhrer's girlfriend." Despite the fact that historians deny information about a turbulent romance with Hitler. In some sources you can find scenes from typical novellas.
"Hitler sitting on the sofa in his residence and Unity in his arms. Both busy kissing and silent love whispers."
The worlds of this scene were the maid and, unfortunately, Eva Braun herself, who, seeing the couple, ran like crazy.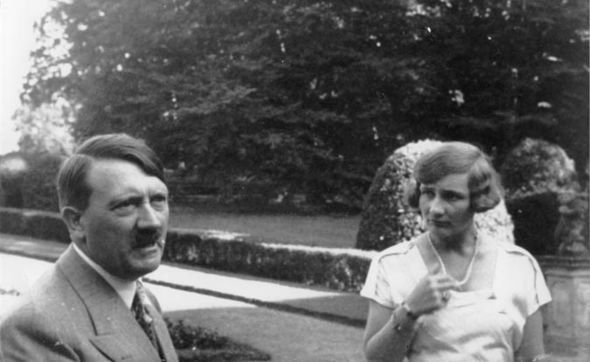 There was talk of Hitler's new perversion. At night in his hotel (with Hitler's approval) Unity ran erotic games. In the bedroom, she lay naked in her bed with a red flag with a swastika above her head, covered her eyes with a black band and waited for 6 selected SS officers to tie her legs and hands to the steel frame of the bed. After which, to the rhythm of the Nazi hymn, it waited to meet its needs. Then the officers returned to their leader and spoke in details about the course of events.
On September 3, 1939, at the announcement of war against Germany by England, Unity shot itself in the head. She survived, the bullet stuck in her skull, she died a few years later of meningitis.
Eva Braun wins.
Eva Braun lived in despair, Hitler's closest associates said she was the most unhappy German woman. She decided to commit suicide again. She swallowed 20 tablets, unfortunately she did not succeed this time. Her sister saved her.
Adolf took Eva's behavior to heart. He thought everything over and stated that he could not see Eva's absence by his side. He realized how much he meant to him. The woman began to achieve salon successes. She became the feminine support of the future Chancellor. Hitler began to treat him almost like a wife, bought expensive gifts, even gave her a small villa, appeared with her at almost every social event and ball. Eva Braun was happy.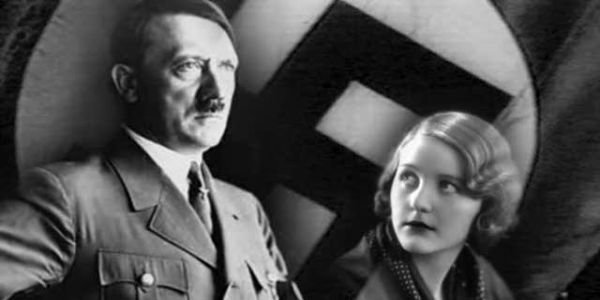 In 1939 she became a person to be respected and respected. Adolf himself allowed her a lot, she could criticize him (but not completely), draw him attention and demand practically what he wanted. Despite Fuhrer's great favor, some generals and companions of Hitler did not fully accept his chosen one. These people shied away from her socially, they considered a coarse girl from the village.
Eva Braun survived 33 years, in the last day of her life she married Adolf Hitler and as his wife decided to commit suicide along with his beloved. Hitler shot himself in the head, and Eva swallowed a cyanide ampoule. With Adolf's last will, their corpse was burned shortly after their death.
There are many conspiracy theories about Eva herself and Hitler's death. Scientists say Eva Braun was of Jewish descent and Hitler survived the war. On the day of his death, not the body of Adolf was found in the bunker, but his double. Both of these theories are slim, but to some extent they sow a note of doubt that I will want to delve into over time.
Source:
http://www.historiamag.com/
https://spartacus-educational.com/
http://google.pl
"Kochanki i przyjaciółki Hitlera" - Ian Sayer/Douglas Botting
"Wiedeń Hitlera" - Brigitte Hamann
"Szczera rozmowa z Żydem. Spowiedź Hitlera" - Macht Christopher
"Spowiedź Ewy Braun. W cieniu Hitlera" - Lerke Anna