Private SNAFU: "Censored" 1944 US Army Training Cartoon, Mel Blanc, Frank Tashlin
https://lbry.tv/@normanvortexfilms:0/Private-SNAFU_-Censored-1944-US-Army-Training-Cartoon,-Mel-Blanc,-Frank-Tashlin:1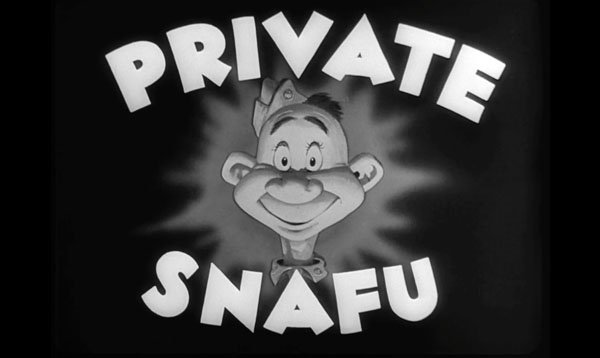 Private SNAFU: "Censored" 1944 US Army Training Cartoon, Mel Blanc, Frank Tashlin
Public domain film from the US National Archives slightly cropped to remove uneven edges, with the aspect ratio corrected, and mild video noise reduction applied.
The soundtrack was also processed with volume normalization, noise reduction, clipping reduction, and/or equalization (the resulting sound, though not perfect, is far less noisy than the original).
creativecommons.org/licenses/by-sa/3.0/
en.wikipedia.org/wiki/Private_Snafu
Private Snafu is the title character of a series of black-and-white American instructional cartoon shorts produced between 1943 and 1945 during World War II. The character was created by director Frank Capra, chairman of the U.S. Army Air Force First Motion Picture Unit, and most were written by Theodor "Dr. Seuss" Geisel, Philip D. Eastman, and Munro Leaf. Although the United States Army gave Walt Disney the first crack at creating the cartoons, Leon Schlesinger of the Warner Bros. animation studio underbid Disney by two-thirds and won the contract. Disney had also demanded exclusive ownership of the character, and merchandising rights. Nel (2007) shows the goal was to help enlisted men with weak literacy skills learn through animated cartoons (and also supplementary comic books). They featured simple language, racy illustrations, no profanity, and subtle moralizing. Private Snafu did everything wrong, so that his negative example taught basic lessons about secrecy, disease prevention, and proper military protocols.
Private Snafu cartoons were a military secret—for the armed forces only. Surveys to ascertain the soldiers' film favorites showed that the Snafu cartoons usually rated highest or second highest. Each cartoon was produced in six weeks, compared to the six months usually taken for short cartoons of the same kind...
Most of the Private Snafu shorts are educational, and although the War Department had to approve the storyboards, the Warner dire
norman.vortex.films.archive
ProBit VIP crypto exchange Trading Competitions
https://www.probit.com/r/81053611
normanvortexcoin on waves exchange
https://waves.exchange/trade/H4HeVKEQa8c2VJ8R9pNQu93nEZBzDdzZH5pU5MQLijAb_BTC
https://waves.exchange/trade/H4HeVKEQa8c2VJ8R9pNQu93nEZBzDdzZH5pU5MQLijAb_LTC
https://waves.exchange/trade/H4HeVKEQa8c2VJ8R9pNQu93nEZBzDdzZH5pU5MQLijAb_WAVES