Friedhof der Namenlosen in Wien // Cemetery of the Nameless, Vienna
Die unvergessenen Opfer der Donau. Auch dieses Jahr habe ich am Heiligen Abend als Zeichen des Gedenkens an die Verstorbenen eine brennende Kerze in das Fenster gestellt. Diesen Brauch habe ich von meiner Mutter übernommen, in deren Elternhaus mit dem Kerzenlicht ihrer beiden Brüder gedacht wurde, die aus dem Krieg nicht mehr zurückgekehrt sind.
The unforgotten victims of the DanubeAs every year, I placed a lighted candle in the window on Christmas Eve as a sign of remembrance of the deceased. I adopted this tradition from my mother. In her parental home, a candle remembered her two brothers who never returned from the war.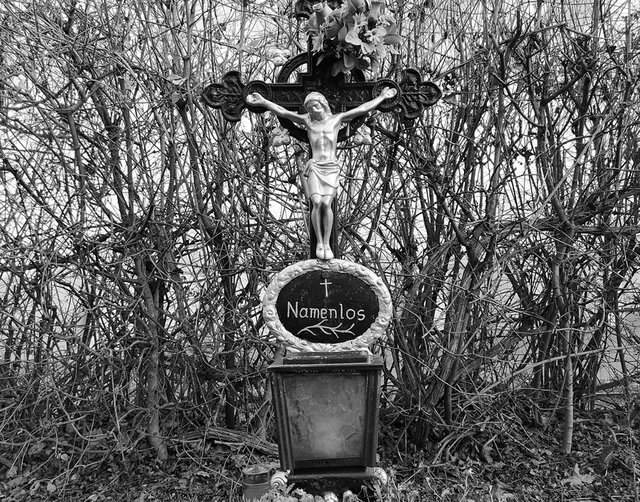 Friedhöfe sind für gewöhnlich aufschlussreich. Aus den knapp gehaltenen Inschriften auf den Gräbern kann in groben Zügen eine Chronik über das Leben der ehemaligen Bewohner eines Ortes abgeleitet werden. Nicht so auf dem Friedhof der Namenlosen am östlichen Stadtrand von Wien.
Cemeteries are usually instructive. A chronicle on the life of the former inhabitants of a place can be derived from the inscriptions on the graves. That doesn't work at the Friedhof der Namenlosen (Cemetery of the Nameless) on the eastern outskirts of Vienna.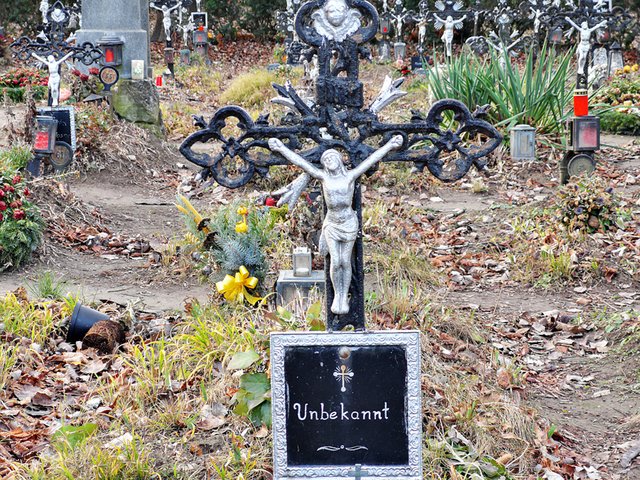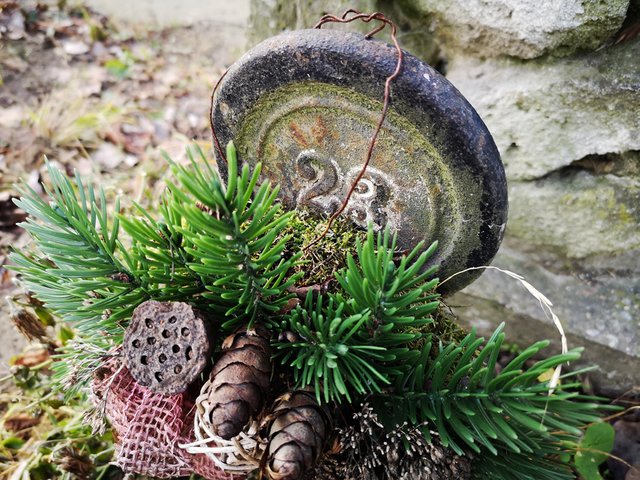 Auf kleinen Erdhügeln ohne Umfassung stehen die gleichen gusseisernen, schwarzen Kreuze mit einer silberfarbenen Christusfigur. Die Inschriften Namenlos oder Unbekannt lassen ebenso wie die Nummern am Fuß der Kreuze keinen Rückschluss auf die Identität der hier Bestatteten zu.
On small mounds of earth without a perimeter there are the same cast-iron, black crosses with a silver-colored figure of Christ. The inscriptions Namenlos (Nameless) or Unbekannt (Unknown), as well as the numbers at the bottom of the crosses, do not allow any conclusion as to the identity of those buried here.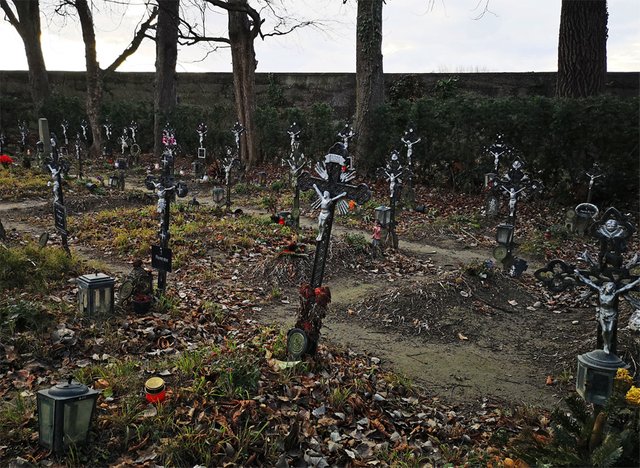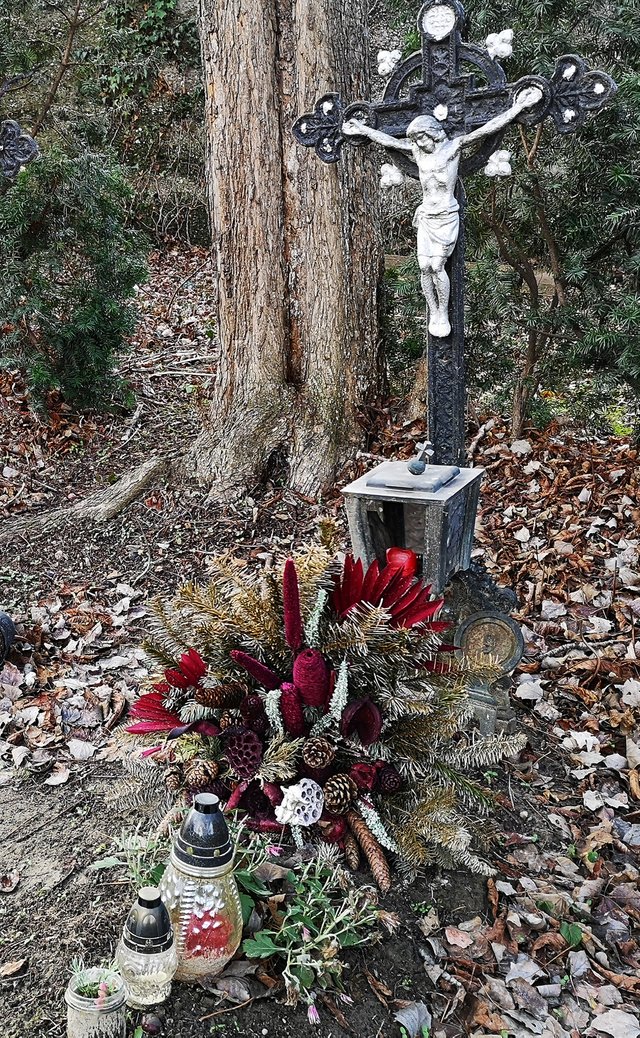 Es sind die unbekannten Opfer, die von der Donau angeschwemmt wurden und auf diesem Friedhof ihre letzte Ruhestätte fanden. Unter ihnen tragisch in den Fluten des Stromes zu Tode Gekommene, Menschen, die den Freitod wählten oder die Opfer von gewaltsamen Verbrechen wurden.
It is the unidentified victims who were washed up by the Danube and found their final resting place in this cemetery. Among them were tragically drowned in the floods of the river, people who chose suicide or became victims of violent crimes.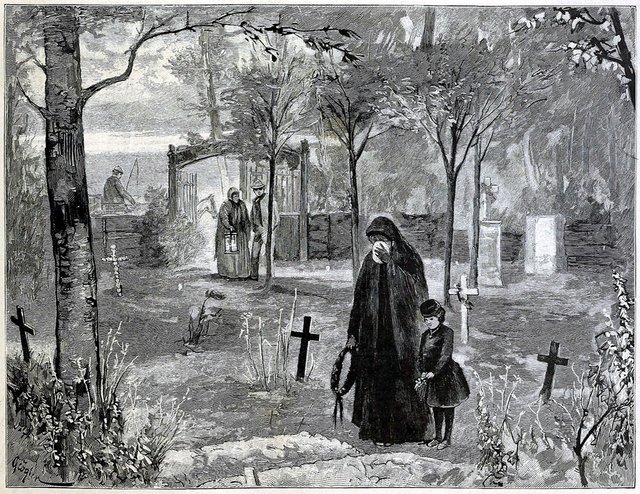 Wilhelm Grögler: Erster Friedhof der Namenlosen, vor 1887 (Quelle / Source)
Das Areal, auf dem der Friedhof liegt, gehörte einst zum Wiener Vorort Albern. Mehrfach wurde die Fischersiedlung, die bereits seit dem Mittelalter existierte, von der Donau überflutet und wiederaufgebaut. Verursacht durch einen Wasserstrudel wurden neben Treibgut auch immer wieder Wasserleichen angespült, die an Ort und Stelle verscharrt wurden. Erst Mitte des 19. Jahrhunderts wurde nahe dem Fluss ein Gottesacker angelegt, auf dem 478 Tote zur letzten Ruhe gebettet wurden. Trotz der Regulierung der Donau und der Errichtung von Schutzdämmen war der Friedhof nicht vor Hochfluten geschützt. Heute erinnert nur noch ein Gedenkkreuz an das hier zwischen 1854 und 1900 angelegte Gräberfeld.
The area where the cemetery is located once belonged to the Viennese suburb of Albern. The fishing settlement, which had existed since the Middle Ages, was flooded by the Danube several times and rebuilt. Caused by a water vortex, flotsam and also corpses were washed up, who were buried on the spot. It was not until the middle of the 19th century that a graveyard was built near the river, where 478 dead people were laid to rest. Despite the regulation of the Danube and the construction of protective dams, the cemetery was not protected from floods. Today, only a memorial cross reminds us of the cemetery which existed here between 1854 and 1900.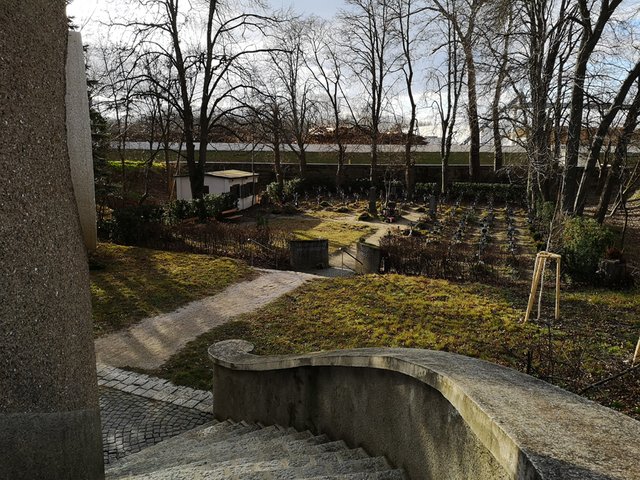 Im Jahr 1900 wurde nahe der alten Begräbnisstätte der neue Friedhof eröffnet, der in einer natürlichen Senke hinter dem Schutzdamm situiert ist.
In 1900, a new cemetery was opened near the old burial ground, located in a natural depression behind the embankment.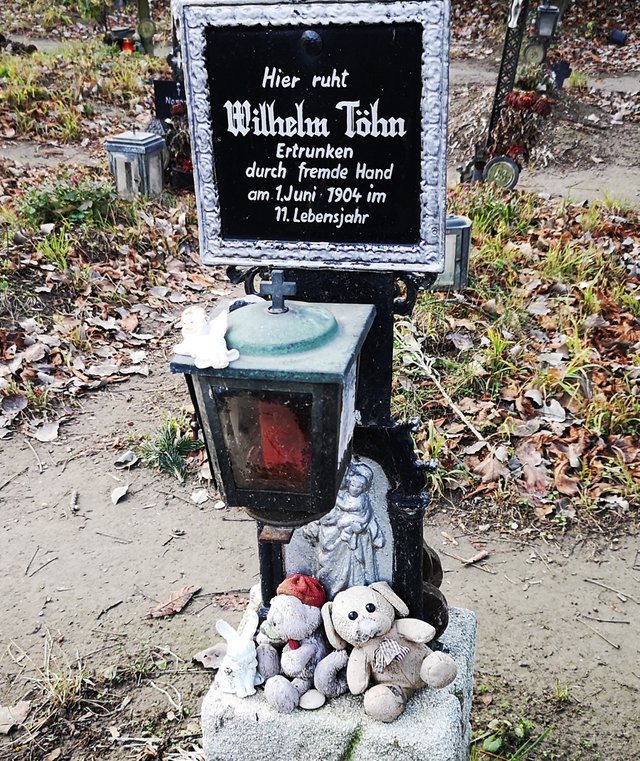 In den 40 Jahren des Bestehens wurden hier 104 Wasserleichen beerdigt, 43 davon konnten identifiziert werden.
In the 40 years of its existence 104 victims of the Danube were buried here, 43 of which could be identified.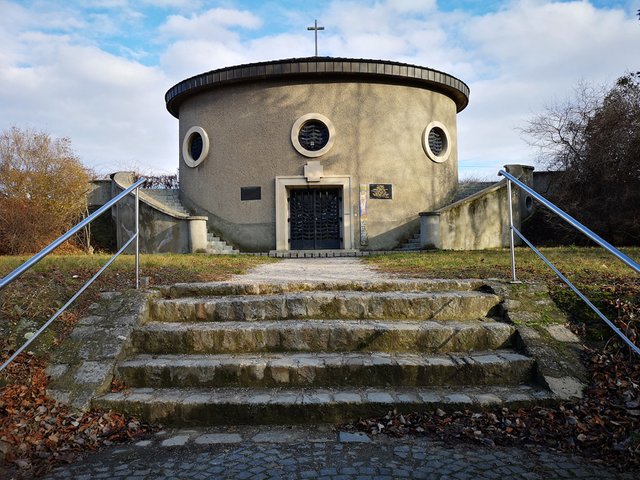 Die Auferstehungskapelle, die mit der tatkräftigen Unterstützung von Freiwilligen errichtet wurde, konnte im Herbst 1935 eingeweiht werden. Jeden ersten Sonntag im Monat wird hier eine Heilige Messe gefeiert.
The Chapel of Resurrection, which was built with the active support of volunteers, could be consecrated in autumn 1935. A Holy Mass is celebrated here every first Sunday of the month.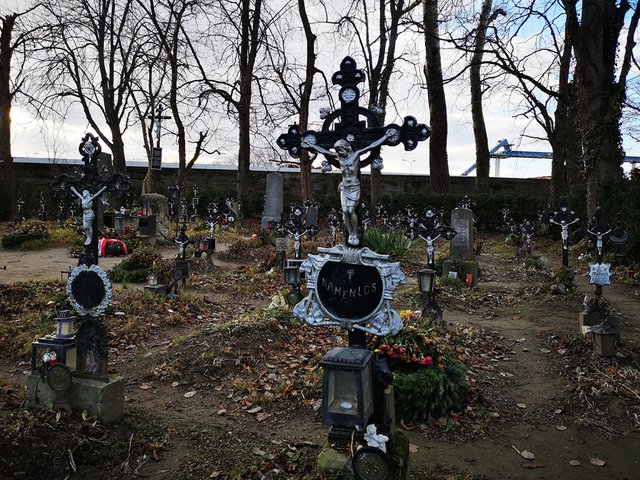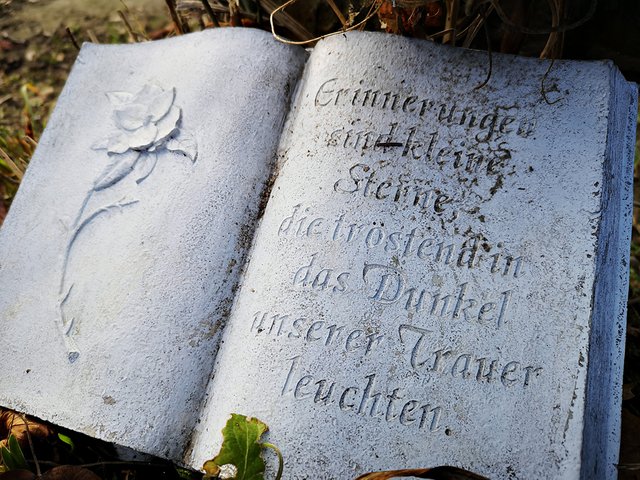 Untrennbar mit der Geschichte und der Erhaltung des Friedhofes ist Josef Fuchs verbunden. Jahrzehntelang betreute er als ehrenamtlicher Totengräber die Friedhofsanlage. Mithilfe von Abgängigkeitsanzeigen konnte er auch viele Opfer identifizieren.
Josef Fuchs is inseparably connected with the history and preservation of the cemetery. For decades he looked after the cemetery as an honorary gravedigger. He was also able to identify many victims with the help of missing persons' reports.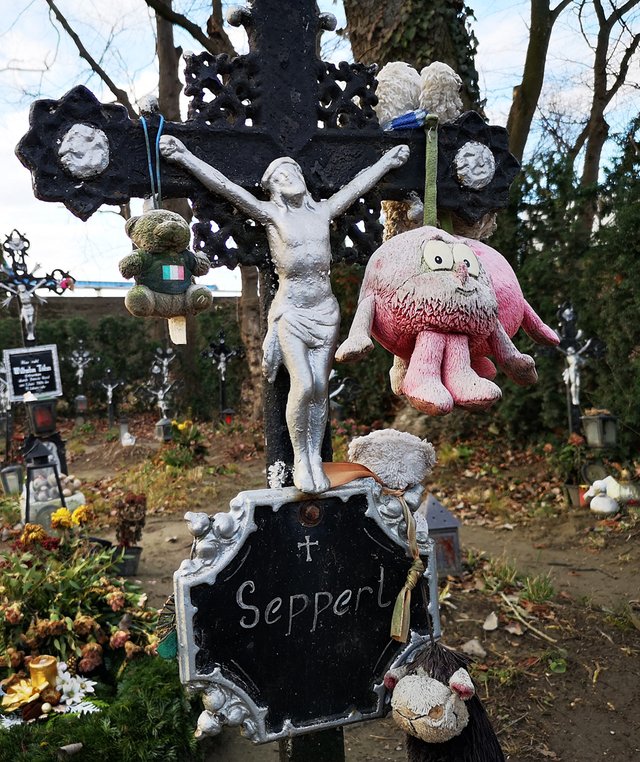 Berührend erzählt Josef Fuchs im Wiener Dialekt im folgenden kurzen Video von Sepperl, dem Neugeborenen, das in einer Schachtel an das Ufer der Donau gespült wurde.
In the following short video, Josef Fuchs tells a touching story in Viennese dialect about Sepperl, the newborn baby who was washed up in a box on the bank of the Danube.
---
---
Am ersten Sonntag nach Allerseelen wird jedes Jahr von Mitgliedern des Fischer-Vereins ein selbst gebautes Floß, geschmückt mit Kränzen, Blumen und brennenden Kerzen, zu Wasser gelassen und damit den anonymen Opfern der Donau gedacht. Viele der Toten auf diesem Friedhof mögen keinen Namen und damit auch keine Geschichte haben, aber vergessen sind sie nicht.
Every year on the first Sunday after All Souls' Day, members of the fishermen's club set a self-built raft into water, which is decorated with wreaths, flowers and burning candles. With this ritual the anonymous victims of the Danube are remembered. Many of the dead in this cemetery may have no name and therefore no history, but they are not forgotten.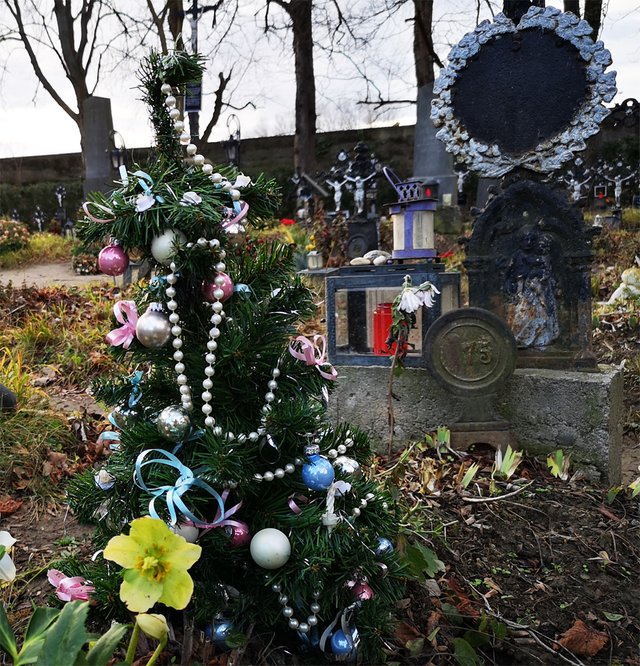 Alle Fotos wurden von mir im Friedhof der Namenlosen in Wien aufgenommen. Die Informationen stammen größtenteils von der Webseite des Friedhofes.
All photos were taken by me in the Friedhof der Namenlosen in Vienna. Most of the information is taken from the Website of the cemetery.
---
Friedhof der Namenlosen
Alberner Hafenzufahrtsstraße
1110 Wien / Vienna