Fantasy Sports Update - ⚽ Contest Closing Soon ⚽ - 🏏 @boss75 Bossing The Hundred 🏏 - 🔥 La Liga Transfer Market Hotting Up 🔥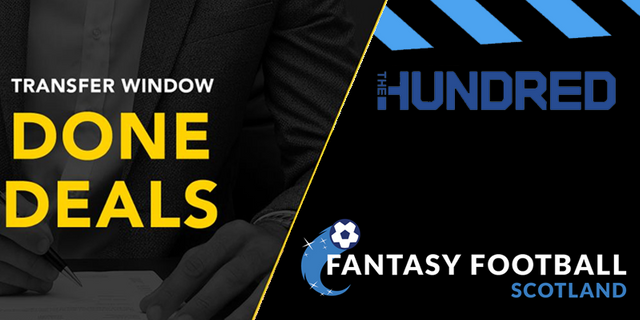 Fantasy Football Scotland Closing Soon
On Saturday, the Sottish Premier League kicks off with Champions Rangers taking on Livingston at Ibrox and with it, we see the start of the 2021/22 Fantasy Football Scotland season. Once things get underway, we will only accept late entries from newly created teams (i.e. teams on ZERO points) and so these players will be at a disadvantage.
▶ Sign up now to avoid missing out
---
@boss75 Leading The Hundred Fantasy Cricket
After the first 2 rounds of matches, BOSS75 XI has gained a commanding lead of over 300 points. As a moderator in the Cric-World Community, his expertise is shining through. With 6 gameweeks left to play, I have no doubt that the chasing pack will be desperate to close the gap.
---
La Liga Fantasy Marca Transfer Activity
With 9 out of the 16 spots taken in this season's La Liga Fantasy Marca, there is plenty of transfer activity as players look to strengthen their squads. With big money signings Karim Benzema, Antoine Griezmann and Gerard Moreno now gracing our leagues, there'll be some worried managers going into the 1st round of fixtures on 13th August.
▶ Sign up now if you haven't joined yet before the final 7 spaces are filled
Players In
@jimah1k bought Benzema to LaLiga for €70.953.025
@the-gorilla bought Gerard to LaLiga for €56.065.205
@tanhunter254 bought Griezmann to LaLiga for €34.133.130
@the-gorilla bought Parejo to LaLiga for €21.269.484
@jimah1k bought Diego Carlos to LaLiga for €18.488.149
@arahman bought Suso to LaLiga for €8.500.595
@the-gorilla bought Budimir to LaLiga for €7.596.945
@the-gorilla bought Sergio Herrera to LaLiga for €5.010.797
@jimah1k bought Aitor Fdez. to LaLiga for €3.228.669
@the-gorilla bought Monreal to LaLiga for €3.016.852
@jimah1k bought Néstor Araújo to LaLiga for €2.844.856
@the-gorilla bought Hugo Mallo to LaLiga for €1.787.462
@the-gorilla bought Sancet to LaLiga for €797.606
Players Out
@the-gorilla has sold Jonsson to LaLiga for €4.645.266
@the-gorilla has sold S. Darder to LaLiga for €4.117.476
@jimah1k has sold Capoue to LaLiga for €3.097.263
@the-gorilla has sold Jesús Areso to LaLiga for €315.311
@jimah1k has sold Peru Nolaskoain to LaLiga for €286.030
---
Other Contests Closing Soon
Closing 13th August - Fantasy Premier League
▶ https://steemit.com/hive-100604/@the-gorilla/300-steem-prize-fund-fantasy-premier-league-fpl-2020-2021
Closing 13th August - Fantasy Bundesliga
▶ https://steemit.com/hive-100604/@the-gorilla/50-steem-prize-bundesliga-fantasy-manager