Research steemcurator01 Comments and Got some important information which is much more important for every user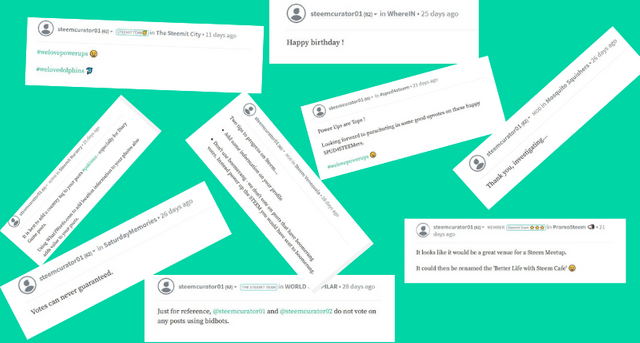 Source
---
---
How is everyone? I've been reading steemcurator01 various comments for a while now and researching what kind of things he actually likes and what kind of work a user can get support from steemit properly. Finally I selected 10 comments from steemcurator01 that I think are the most important. For this I will share with you today these 10 comments so that it is to your advantage to work. And so that everyone, old and new, can understand what kind of work should be done.
---
---
Power up is a very important thing for every steemit user. So steemcurator01 has always supported every user who has constantly powered up and increased their power. And he has given a lot of support to those who have not given any kind of power down and so far it is an ongoing process. So I will tell you that if you increase your power then maybe you can get maximum support.


---
---
Steemcurator01 always support Steem Meetup . Because we all know Steem Meetup is a means of talking about steemit, recharging something new and inviting newcomers. So since this is a way to market steemit, he always supports this and encourages everyone who has a relationship with each other to have a Steem Meetup. And increases Steemit's network.

---
---
Steemcurator01 does not like any kind of spam comments. And he doesn't like any kind of plagiarism. So I will tell everyone that you must refrain from spam comments and plagiarism, then you will definitely get some time gift like steemit.

---
---
Steemcurator01 Always loves to wish everyone a happy birthday. He always tries to greet those who share their birthday activities steemit. So those of us who celebrate our birthdays must share our wonderful moments of celebration. If you are lucky then you can also get vote and greetings from steemcurator01 which will be more luck for you.

---
---
Steemcurator01 always has the importance of tag. He believes that if the right tag is given to reach the right people, then users believe that their post will get the right status. So he always encourages everyone to use the tag properly.

---
---
Investment is always the most important thing we all have dignity with. So Steemcurator01 always prefers to support investors. So I will tell everyone that if you can afford it, then you must invest in it, it is more likely to increase the amount of your support.

---
---
He told us two ways to improve steemit through comments which is very important for each of us. Here he says that we share some informative things in each of our profiles. And we don't use any kind of boomerang. Because he doesn't like it at all and there are no people who use it and their team doesn't support it in any way.

---
---
Many of us use bidbots to get votes. Steemcurator01 will never support this and he has directly stated that he will not support those who will use it. So we should all stay away from this matter.

---
---
He has told everyone one of the most important things. No matter what kind of post you make, you will never be guaranteed a vote. I think we should all keep this in mind and everyone should agree on this. He always tries to give maximum support to the users.

---
---
From all the comments I have got the idea that if you all work properly from Active and if the work is an informative work then the chances of getting support increase many times. So I will tell everyone that you must work honestly and try to post regularly and try to increase your power then the chances of getting support from steemcurator01 will increase a lot.
---
---
Finally, I will tell everyone and say @steemcurator01, if there is any kind of misinformation in this post, then you must forgive me. I have done a lot of research here to share with you a report which I think will benefit you.