암호화폐 거래소 거래량, 3월 1.17조달러로 2개월 연속 1조 달러 돌파
3월 암호화폐 거래소에서 발생한 거래량이 2월에 이어 2개월 연속 1조 달러를 돌파했습니다.
3월 암호화폐 현물 거래량은 총 1.17조 달러로, 2월 1.23조 달러 대비 약 5% 감소했습니다. 암호화폐 거래소에서 발생한 거래량 중 65%는 바이낸스, 18% 후오비, 15%는 OKEx에서 나왔습니다.
According to data compiled by The Block, spot trading volumes for March totaled $1.17 trillion. That's a 5% decrease from February's all-time high volume of $1.23 trillion.
A breakdown of March's crypto-only exchange volumes shows that 65% of it came from Binance, 18% from Huobi, and 15% from OKEx.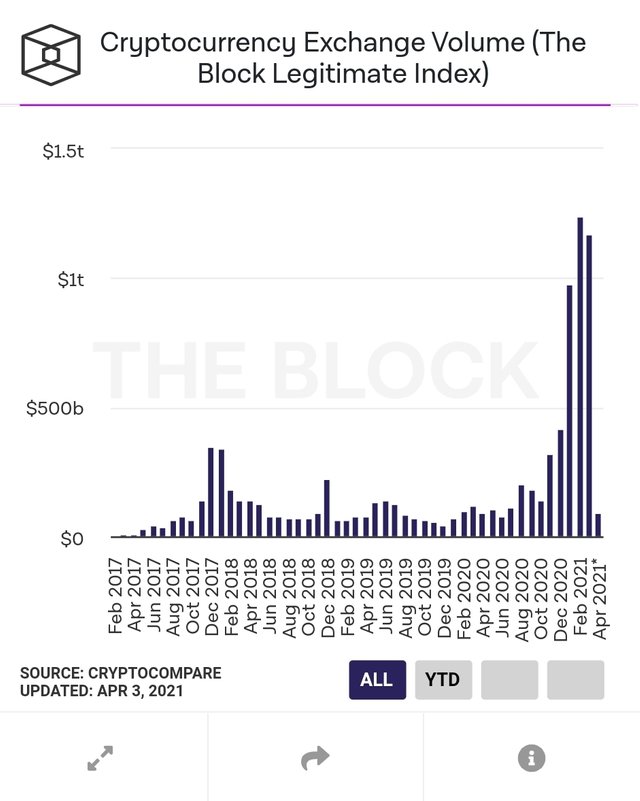 3월 법정통화를 통한 암호화폐 거래량은 총 4,065억 달러를 기록해습니다. 그 중 Top3 코인베이스 22%, 업비트 21%, 크라켄 11%입니다.
March's total for fiat exchange volumes was $406.51 billion. The top three crypto exchanges with fiat support were Coinbase (with 22% of the volume), Upbit (21%), and Kraken (11%).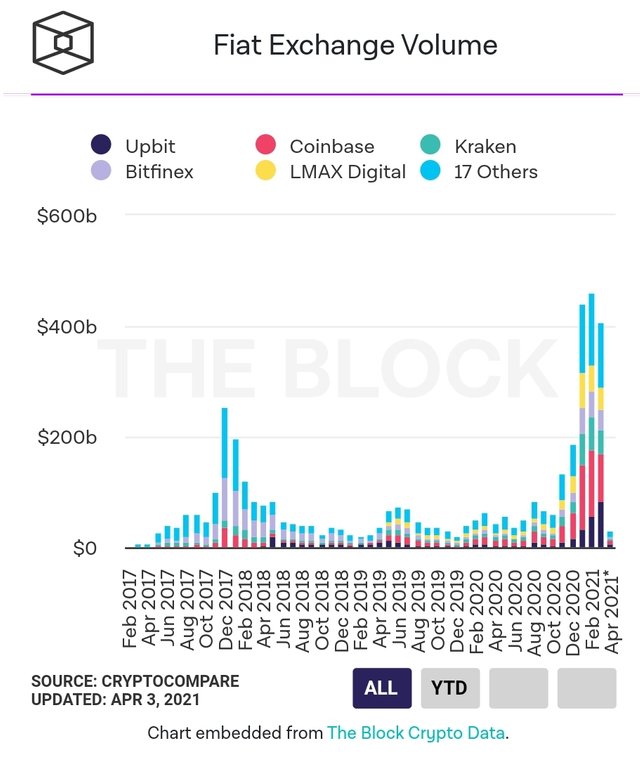 Reference
Cryptocurrency exchange volumes surpassed $1 trillion for second month in a row in March
암호화폐 현물거래는 압도적으로 바이낸스네요
역시 김프 덕분에 업비트 원화마켓도 대단하고요 ㅎ