유명업체들도 본격적으로 NFT 시장에 뛰어들기 시작
구찌가 NFT 출시에 대해 "시간문제"라고 말했다는 보도가 있었습니다. 그리고 구찌 외에도 많은 명품 브랜드들이 NFT 출시를 앞두고 있다고 전했습니다. 예술품으로 이용되는 현재의 GIF 형태가 아닌 활용도를 높이는 방식일 것으로 기대됩니다.
Gucci recently confirmed to the news outlet that it's "only a matter of time" before it will release an NFT. Several other luxury fashion brands are close to releasing NFTs citing "multiple industry sources."
미국 유명 성인잡지 플레이보이(Playboy)가 NFT 거래소 니프티 게이트웨이(Nifty Gateway)와 협업하여 NFT 형태의 온라인 아트 갤러리를 선보일 것으로 70년에 걸친 광범위한 예술 및 사진 컬렉션을 선보일 예정이라고 합니다.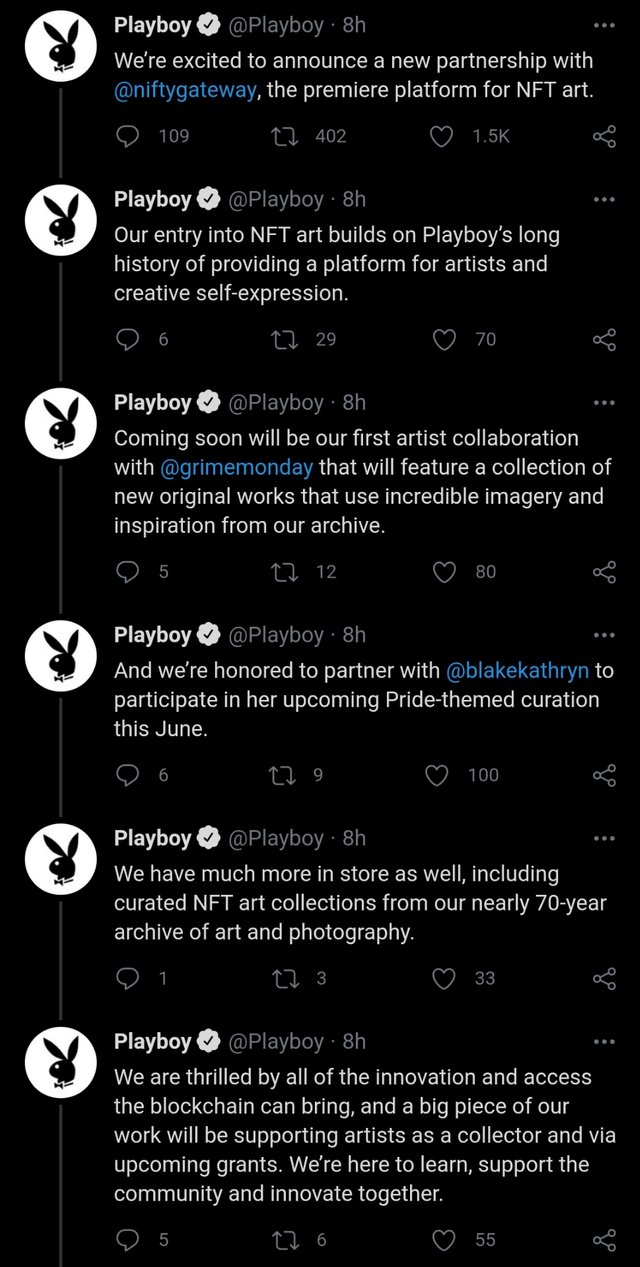 American entertainment magazine Playboy has just announced the launch of an online art gallery in the form of non-fungible tokens.
To that end, it has partnered with Ethereum-based platform Nifty Gateway, one of the leading NFT marketplaces.
It will feature an extensive collection of art and photography that spans almost 70 years.
Reference
Vogue Business, Luxury fashion brands poised to join the NFT party
UToday, Playboy Launching NFT Art Gallery on Ethereum-Based Platform
Playboy Twitter