블룸버그, 비트코인 연내 최대 40만달러 예측
블룸버그에서 비트코인 가격 예측을 최대 40만달러까지 봤습니다. 재미있는 예측이지만, 과거를 보면 막 터무니없는건 아니네요.
---
과거 패턴이 반복된다면 2021년 비트코인에 대한 기술적 전망은 여전히 강하게 상승할 것으로 보고 있습니다. 저변동성과 반감기 등 상승을 위한 조건들을 갖췄기 때문입니다.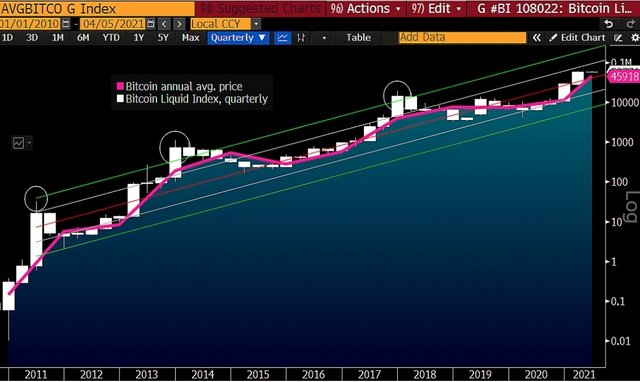 그래프에서 비트코인이 2013년 55배, 2017년 15배 가량 증가한 것과 비슷한 배경을 가지고 있기에 2021년 당시와 비슷한 최고지점에 도달한다면 40만 달러에 육박할 것으로 보입니다.
공급감소(반감기) 다음 해인 2021년이 2017년, 2013년과 비슷한 수준으로 변동성이 줄어든 상태입니다.
2021년 평균 가격은 3월 25일 기준 평균 44,000달러입니다.
The technical outlook for Bitcoin in 2021 remains strongly upward, if past patterns repeat. Common companions for strong annual rallies in the first-born crypto -- low volatility and halvings -- are aligned favorably. Our graphic depicts Bitcoin on similar ground as the roughly 55x gain in 2013 and 15x in 2017. To reach price extremes akin to those years in 2021, the crypto would approach $400,000, based on the regression since the 2011 high. In September, 180-day volatility on the crypto about matched the all-time low from October 2015. From that month's average price, Bitcoin increased a little over 50x to the peak in 2017.
The year after a supply cut (halving) is what 2021 has in common with 2017 and 2013, along with subdued volatility.
Initial support is around the 2021 average price of $44,000 to March 25.
Reference
Bloomberg Crypto Outlook, Rising Bitcoin
Adoption Tide