주식, 채권이 상승 제한될 때 그 수혜자는 비트코인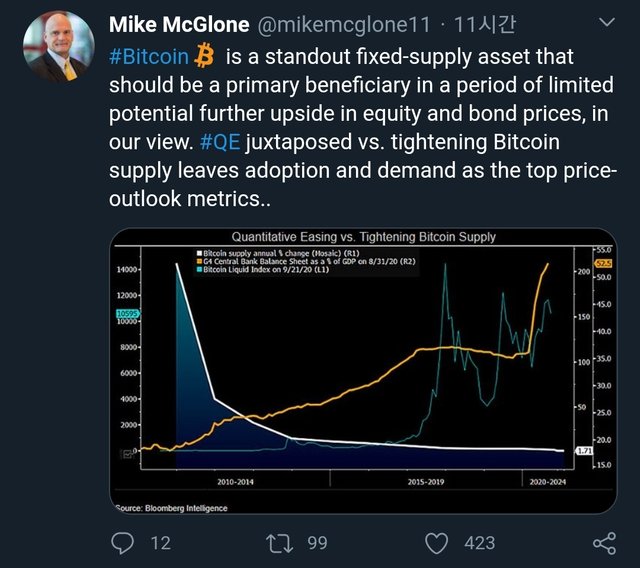 블룸버그 인텔리전스의 분석가 마이크 맥골란이 트위터 를 통해 "비트코인은 특출난 공급량 고정 자산이다. 주식과 채권의 상승 잠재력이 제한되는 시기에 비트코인은 최상의 수혜자가 된다. 양적완화와 비트코인 공급량 감소가 나란히 놓여 대조됨에 따라 가장 주요한 비트코인 가격 전망 척도로 수요와 도입만이 남게된다.."고 진단했습니다.
Bitcoin is a standout fixed-supply asset that should be a primary beneficiary in a period of limited potential further upside in equity and bond prices, in our view. QE juxtaposed vs. tightening Bitcoin supply leaves adoption and demand as the top price-outlook metrics..
예상대로 비트코인이 최상의 수혜자가 될지 봐야겠네요.
요즘 모습을 보면 썩 그래보이지는 않지만요;;
행복한 하루되세요 ^^