리플 CTO, 암호화폐 일부 매도 권유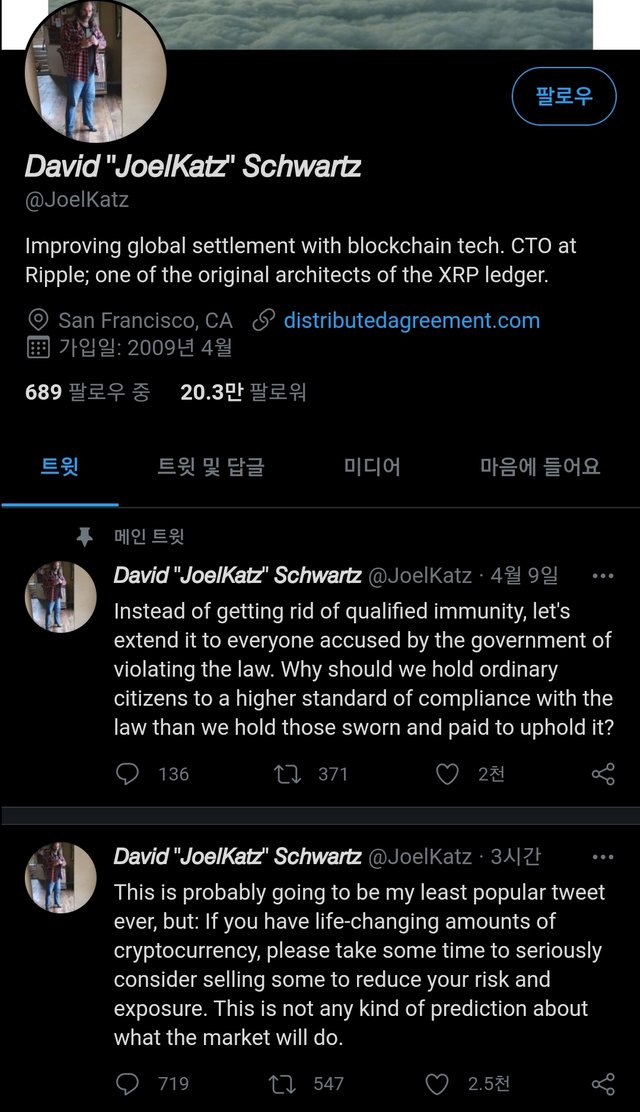 데이비드 슈왈츠(David Schwartz) 리플 CTO가 암호화폐 일부 매도를 고려해볼 것을 권했습니다.
"지금까지 나의 트윗 중 가장 인기가 없을 것 같다. 만약 당신이 일상 생활에 영향을 미칠 수 있을 정도의 암호화폐를 보유하고 있다면, 위험을 줄이기 위해 심각하게 일부를 매도하는 고민을 하기를 바란다. 이는 결코 시장에 대한 예측은 아니다."
This is probably going to be my least popular tweet ever, but: If you have life-changing amounts of cryptocurrency, please take some time to seriously consider selling some to reduce your risk and exposure. This is not any kind of prediction about what the market will do.
암호화폐 신고가 행진이 이어지고 있는데, 적절히 수익내가며 대응하는 것이 좋을 듯 합니다. 어떤 방법이 맞는지는 당장은 알기 어렵고 추후에 알게 되겠지만요.
특히 리플은 단기 급등하였기에 데이비드 슈왈츠 이야기처럼 일부는 매도하는 것이 위험관리에서는 맞는 말이라고 생각됩니다.
성투하세요 ^^