HSBC의 이상한 암호화폐 정책
HSBC가 더 엄격해진 암호화폐 정책을 선보이고 있습니다.
고객들이 비트코인(BTC)을 보유한 회사의 주식 매입도 금지하고 있습니다.
한 HSBC 고객이 자신이 HSBC로부터 받은 메시지를 공개했는데, BTC ETH와 같은 가상자산과 관련된 상품 예를 들어 Microstrategy(MSTR-US) 주식은 기존 보유, 매도, 출금은 허용하지만 구매와 입금은 금지한다는 내용이 포함되어 있습니다.
British bank HSBC has reportedly become more strict with its crypto policy. The bank now prohibits its customers from buying the stock of public companies that are holding bitcoin in its treasury.
An HSBC customer has shared a message he said he received from the bank, informing him of a policy change regarding cryptocurrencies, naming bitcoin and ethereum as examples. The bank's new policy applies to "products related or referencing the performance of virtual currencies."
The notice reads:

HIDC [HSBC Invest Direct] will not participate in facilitating (buy and/or exchange) product related to virtual currencies, or products related or referencing to the performance of virtual currency.
The notice singles out one stock in particular. "Our records show that your HSBC Invest Direct account is holding Microstrategy Inc-A — MSTR-US, a virtual currency product."
While Microstrategy does not offer any crypto services, it has been heavily buying BTC since October last year. The company has amassed almost 100K BTC and has made acquiring the cryptocurrency one of its primary goals.
HSBC's notice continues:

While we will permit the holdings of MSTR-US to be held and/or sold/ transfer-out in your HSBC Invest Direct account, new purchases or transfers-in will not be allowed.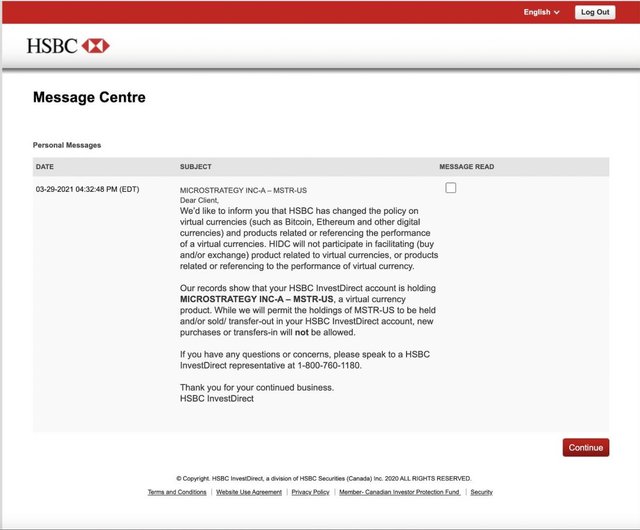 Reference
Bitcoin.com, HSBC Changes Crypto Policy, Now Bars Clients From Buying Stock of Companies That Hold Bitcoin