Maybug in April. / Maikäfer im April.
English

Spring began early in Germany this year with persistent warm and sunny weather, and I could take the following photos of a 'Maybug' (Melolontha melolontha), which isn't normally found before May, already on April 20th!
I found the beetle in our garden at night, placed it on my hand to better show details and finally released it on a plant called 'great scarlet poppy' (Papaver bracteatum), under whose leaves it quickly hid.
Deutsch

Der Frühling brach dieses Jahr mit anhaltend warm-sonnigem Wetter früh über Deutschland herein, und die folgenden Fotos eines normalerweise erst im Mai anzutreffenden 'Feldmaikäfers' (Melolontha melolontha) gelangen mir bereits am 20.04.!
Ich fand den Käfer nachts in unserem Garten, setzte ihn auf meine Hand, um Details besser darstellen zu können und ließ ihn schließlich auf einer Pflanze 'Armenischen Mohns' (Papaver bracteatum) wieder frei, unter dessen Blättern er sich rasch verkroch.
---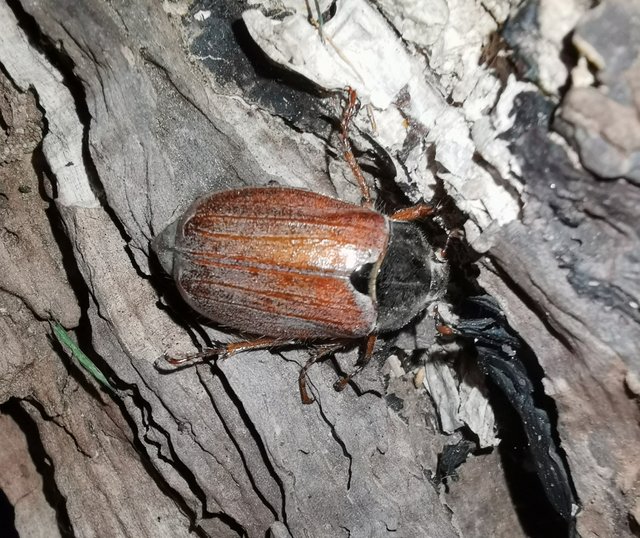 ---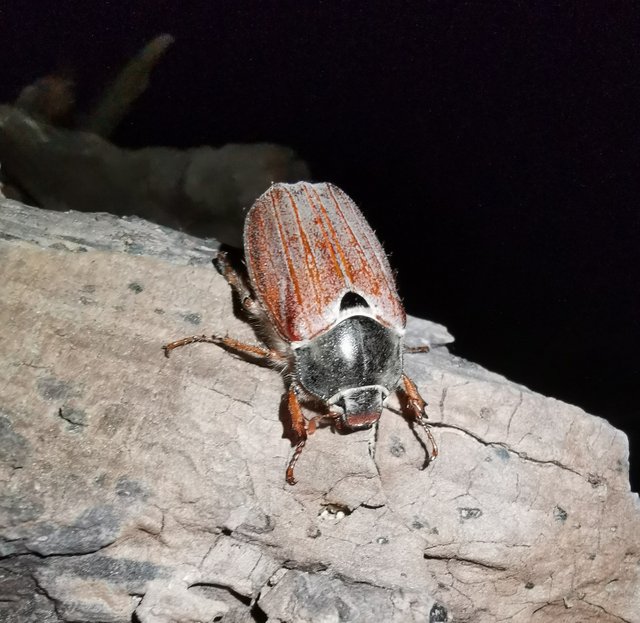 ---
| | |
| --- | --- |
| In this picture the white triangular spots on the flanks of the abdomen, which are characteristic for cockchafers, are clearly visible. | Auf diesem Bild sind die für Maikäfer charakteristischen weißen, dreieckigen Flecken auf den Flanken des Abdomens gut erkennbar. |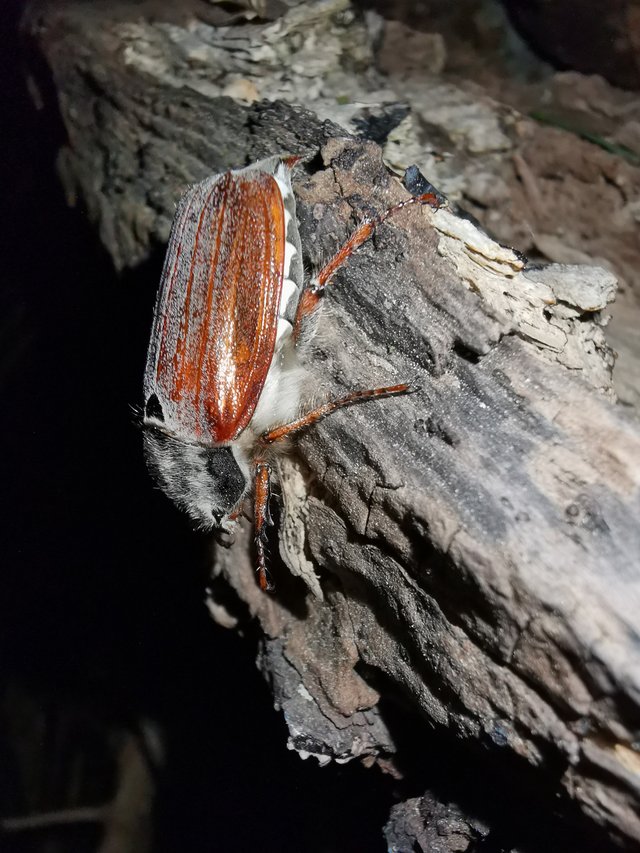 ---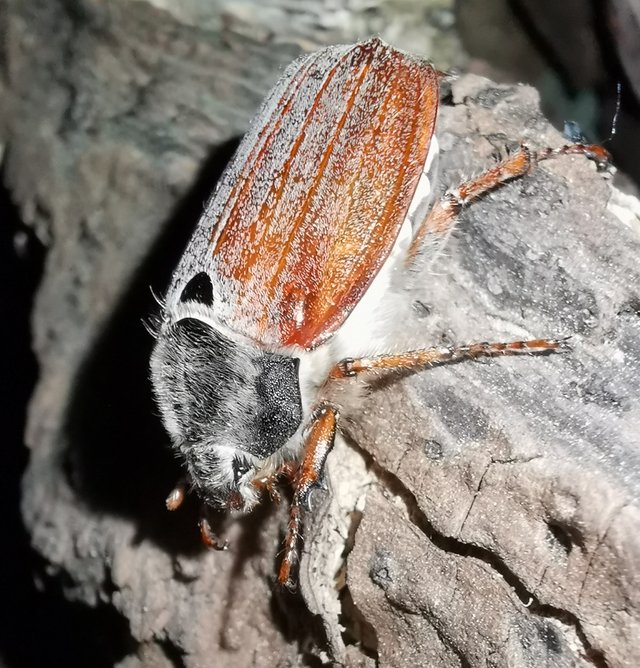 ---
| | |
| --- | --- |
| With a body length of up to 3.2 cm and their massive shape, Maybugs belong to the large insects of Central Europe, but are completely harmless and feed (as hatched beetles) exclusively on leaves. | Mit einer Körperlänge von bis zu 3,2 cm und seiner massigen Gestalt gehört der Feldmaikäfer zu den großen Insekten Mitteleuropas, ist jedoch völlig harmlos und ernährt sich (als geschlüpfter Käfer) ausschließlich von Blättern. |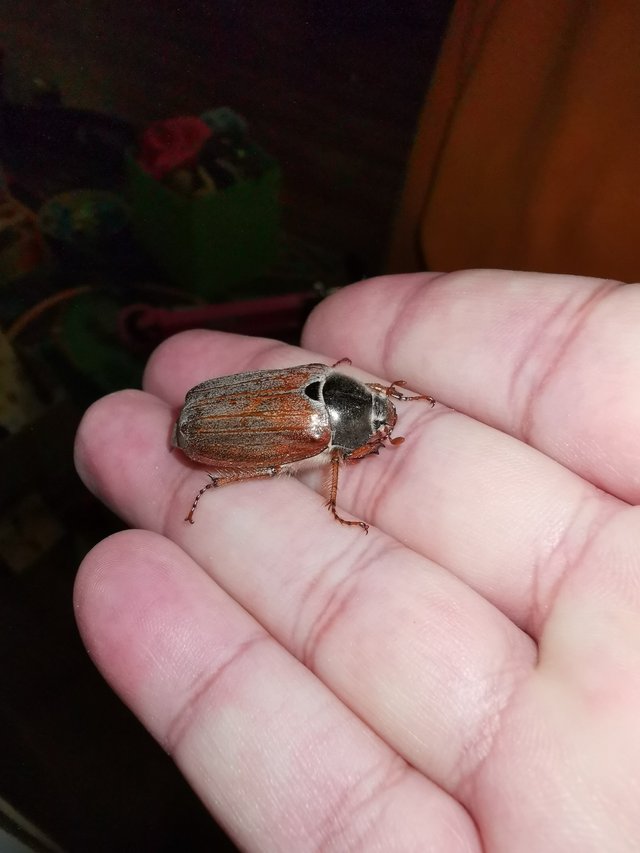 ---
| | |
| --- | --- |
| The comparatively short lamellae of the fan-shaped antennae show that this specimen is a female. | An den vergleichsweise kurzen Lamellen der fächerförmigen Fühlerkeule sieht man, dass es sich bei diesem Exemplar um ein Weibchen handelt. |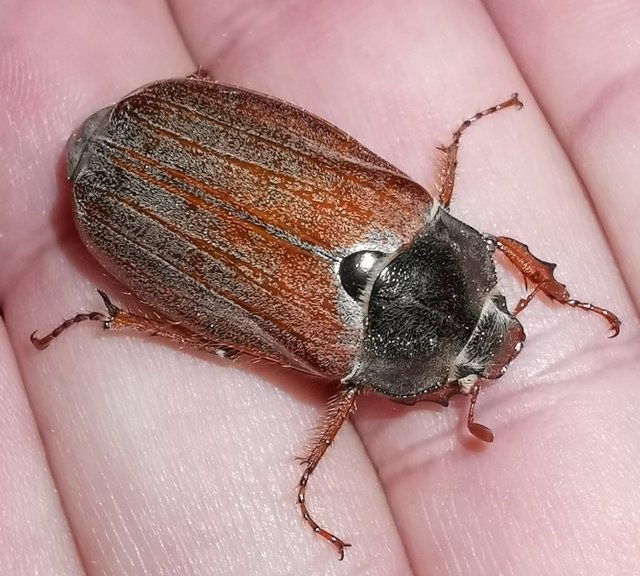 ---
Legs pressed tightly against the body, he played dead. I fully understand this, especially since he couldn't anticipate that he was in the care of a well-meaning insect friend.

(Due to the not knotty thickened tip of the abdomen - pygidium - I assume that this beetle doesn't belong to the exact species Melolontha hippocastani, but Melolontha melolontha.)

Die Beine eng an den Körper gepresst, stellte er sich tot. Dafür habe ich vollstes Verständnis, zumal er ja nicht ahnen konnte, sich in der Obhut eines wohlmeinenden Insektenfreundes zu befinden.

(Aufgrund der nicht knotig verdickten Hinterleibsspitze - Pygidium - gehe ich davon aus, dass es sich nicht um einen 'Waldmaikäfer', Melolontha hippocastani, sondern um einen 'Feldmaikäfer', Melolontha melolontha, handelt.)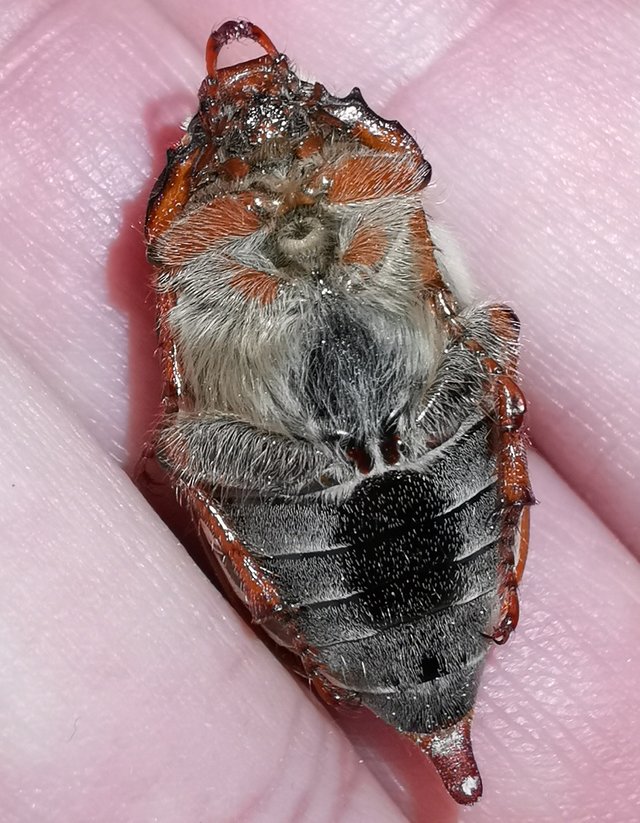 ---
| | |
| --- | --- |
| In close-up you can easily see what a cuddly, furry fellow such a Maybug actually is. | In Großaufnahme ist schön zu sehen, was für ein kuschelig-pelziger Geselle solch ein Maikäfer eigentlich ist. |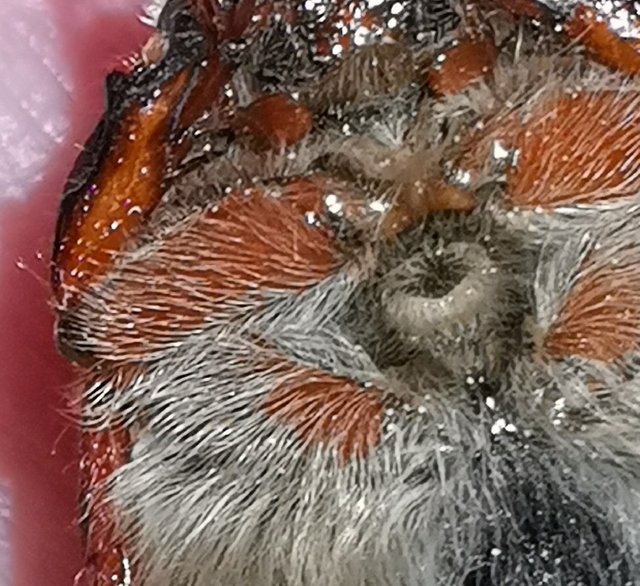 ---
| | |
| --- | --- |
| Finally free again! | Endlich wieder frei! |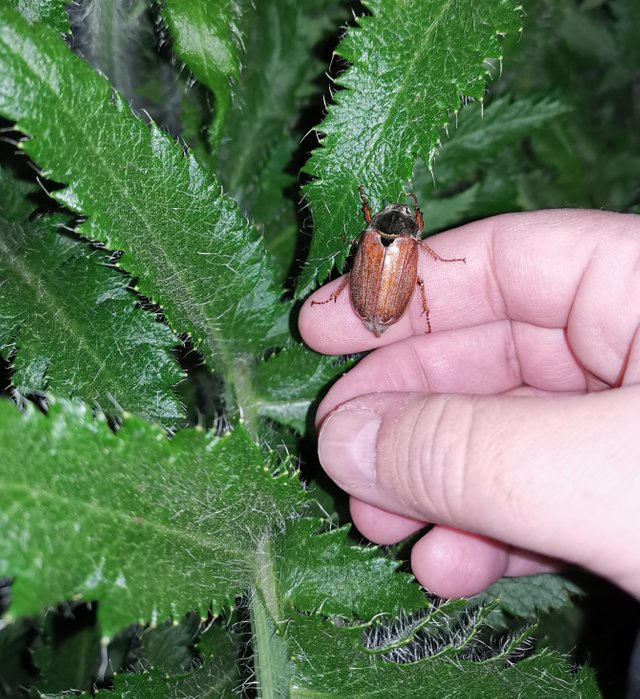 ---