Weekend photography at Grand Mosque_E2| Battle month|04
Hi Friends. Welcome to my blog again!!!✍✍✍
Hope you all are doing well and enjoying the weekend in good manners.
In continuation of my previous post I would like to share the rest of my experience of my first photography session that I had with Sidath dated 30th April 2021.
Actually, it is sad to mention that our main target failed and there was an error in that Hyperlapse clip. It does not matter how much effort we have put into that, it got wasted. However, we could not be disappointed and decided to go to some other place for shooting of Hyperlapse.
Behind the scene. More than three kilometer he had to walk with this camera equipment which weight approximately 5kg.
As I mentioned in my previous post, I have made a HDR-Panorama photo and made some changes using the Lightroom software. The final output of the photo is really attractive from my point of view and I got motivated to do photography more and more.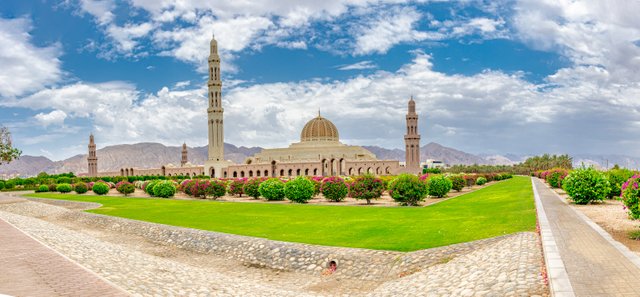 Location | Grand Mosque, Muscat, Sultanate of Oman Date | 30th April 2021
Camera | Canon EOS 7D mark ii
Note| This is not a single photo. It is a combination of nine raw photos and can make bigger size quality outputs/prints.
---
Also, I made a time-lapse using my mobile phone and would like to post here hoping you would enjoy it.
Time-lapse I | which is focused to Sultan Qaboos highway street

Time-lapse II | which is focused to Grand mosque

With this initiative, I could learn the basics of Lightroom software and it is so interesting to study further. Learning this software is a must for anyone who is willing to enter the photography field. Also, sorry about the quality of time-lapse and these all are un edited and need to learn about video editing too. I have to see that how to manage my time for all these.
Eventually, the time that I spent in this weekend is worth and I have determined to continue it all weekends.
Thank you for visiting my blog.
Please be safe....🚦🚦🚦
By @dawngrapher