Sent some tips to Excel for All Beta Testers
This is just a quick post to let you all know I have distributed some tips to the wallets of those that helped with the first round of beta testing Excel for All.
A big shout out and special thanks to @alanmurray, @axilizar, @diazkongming, @estherbennett, @excelguy, @f-wiyanto, @jkpieterse, @poweraccess and @xlncad for joining me from Linkedin to test out the new community features on the steem blockchain.
I had created a feedback post based on the feedback from the beta testers and my own feedback (which I know I have some replies to still give on that) and this post earned me 45 steem in liquid rewards. It was only fair to distribute that to those that helped.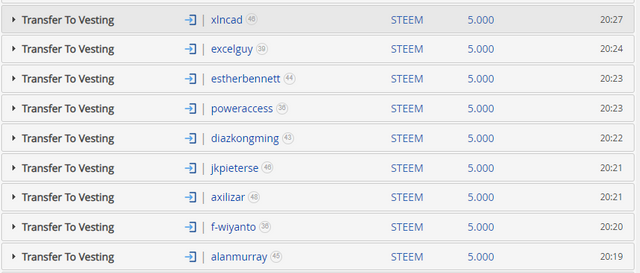 However the tips I have sent, I have sent not in liquid form, but in Vests. Coming from Linkedin this is probably a very new concept for a social platform, but each and every one of us has the ability to share ownership of the blockchain. This is done by keeping your steem in vests. Here on the blockchain, it's known as powering up. It locks in your steem to vests or shares in the blockchain. The more vests you have, the more you can do on the blockchain but I will explain that sort of stuff in a different post. You can change these vests back to a liquid form of steem. This is known as Powering down and at the moment it takes 13 weeks to power down.
So to the beta testers, go check your wallets and you will see 5 steem power has been added to your accounts. I also noticed that none of you have collected any rewards. This is a manual step and is easy enough. Go to your wallet and you will see a button to Redeem Rewards. This button only becomes available when you have rewards to claim. You all have some rewards that were given to you by way of upvotes on the posts and comments you left in the beta task.
You can access the wallet with this link https://beta.steemitwallet.com/@[accountname]. just change the account name to your own account name. If you have any difficulty drop and comment below and I will answer whatever questions you might have.