Rice-illioous! What is this Community About?

Welcome to the Rice-illicious official Community for the upcoming Season-1 cook off; joint-organised with the awesome @qurator's Tasty Tuesday weekly challenge.
However, there is a special catch about this Community, this is not a weekly challenge, but a monthly cook-off competition specially catered for the @qurator and @capduagajah and the guest judges and sponsors.
Any post that is unrelated to the competition will be muted from being seen on this Community in order to lessen the confusion for the judges and participants.
If spammers continue to attempt to repeat their actions, they will be totally muted from the community.
Nevertheless, visitors are most welcome to visit this page and support every contestant who submits their entry here, because after all, this is going to be an exciting competition.
Why "Rice-illicious" ?
The uniqueness of this cook-off is emphasised on the star ingredient, which is one of the main products of our Malaysia's first SME (Small Medium Enterprise) recently join the Steemit world. They are interested and willing to market their product and re-brand their image for their official newsletter and engagement on the Steem-blockchain. They are currently looking for recipe ideas to diversify their products; and we want to help this rice flour mill.
Hence, the Cook-off!
When is this Competition starting?
Our debut launch for season one will be 7 January 2020, which is VERY SOON!
And it will be officially announced by @qurator on their Tasty Tuesday special edition.
But before they do, let us give you a sneak peek who the judges and sponsors will be.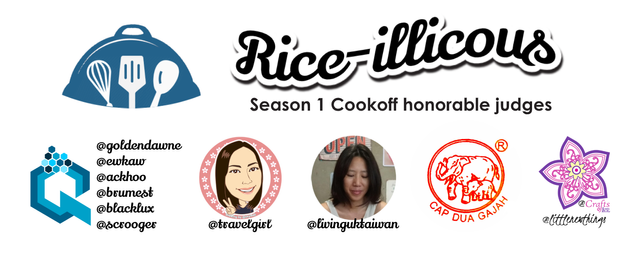 the season 1 judges! @goldendawne @ewkaw @ackhoo @brumest @blacklux @scrooger @travelgirl @livinguktaiwan @capduagajah @littlenewthings

the season 1 sponsors: @qurator , @foodiesunite, @capduagajah , @travelgirl and @livinguktaiwan
They are great individuals and 90% of them are dedicated curators on the Steem-blockchain, setting time aside just to support content creators to have their hard work noticed. So when you have the time, do give them a shout of cheer and encouragement. They are doing an amazing job!
Looking beyond just a cook-off
We truly hope that with this 6-month stretch of monthly competition will not only spur content creators to stretch themselves outside their comfort zone, there will also be cash valued prizes rewarding the winners for that extra mile effort and the fruit of their success. With this, we hope it will spur the Steem-blockchain's ecosystem for a healthier content delivery and genuine engagement, helping along what the #steemit original intension move closer to its destination.
Come ride along this fun, and let's see who is sharpening their cooking utensils for this 6 Category emphasis journey!
Yours truly,
Community Administrator
The Decentralised Sustainable EcoSystem Team