Rice-illicious! Tasty Tuesday: Rice Pancake with Mix Nut and Raisins
Thanks to @qurator for the challenge, and what a good way to do it on a Sunday.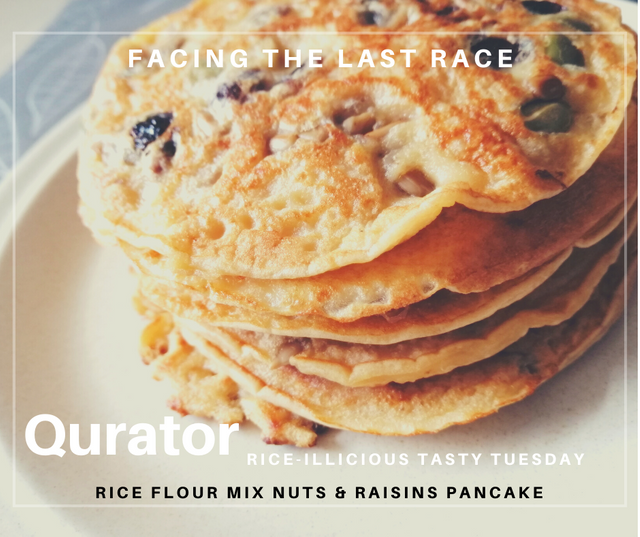 Our daughter is our photographer. My hands are shaky
This is our entry for the Qurator Monthly Challenge.
Thanks to @capduagajah we managed to source the 2 very important ingredients we needed to test this recipe out.
Yes, we said, "test this recipe out"
I always make pancakes when I am free for the children; but it is always wheat based until our daughter told us, "mom, we are going to try gluten free recipe."
And I was introduced to this contest and the last post from @capduagajah about make yourself no additive gluten free flour.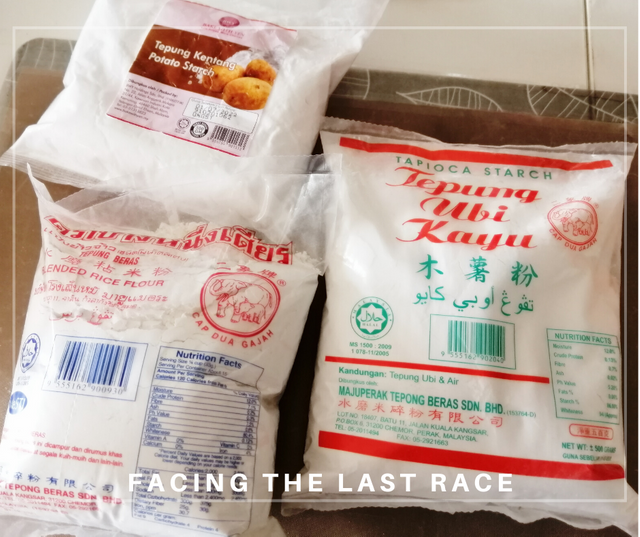 My daughter found the ingredient that Cap dua gajah didn't have, potato starch from _Bake with Yan_ , the new cooking convenience store that I have come to love.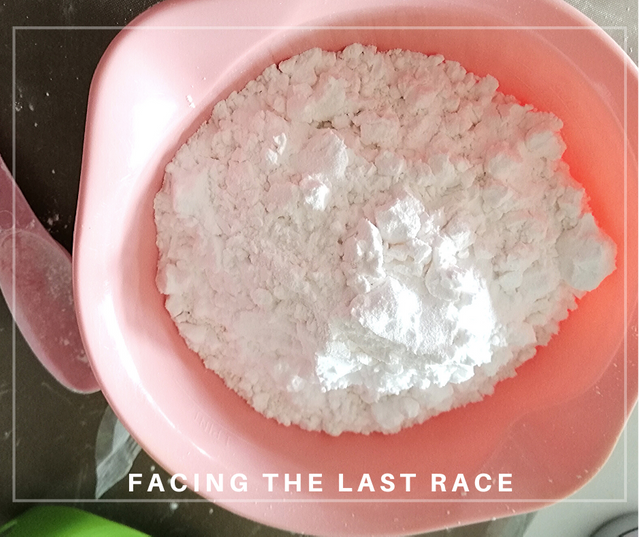 We tried to follow the measurements from the website author that @capduagajah suggested; but we realised that it was a little too much.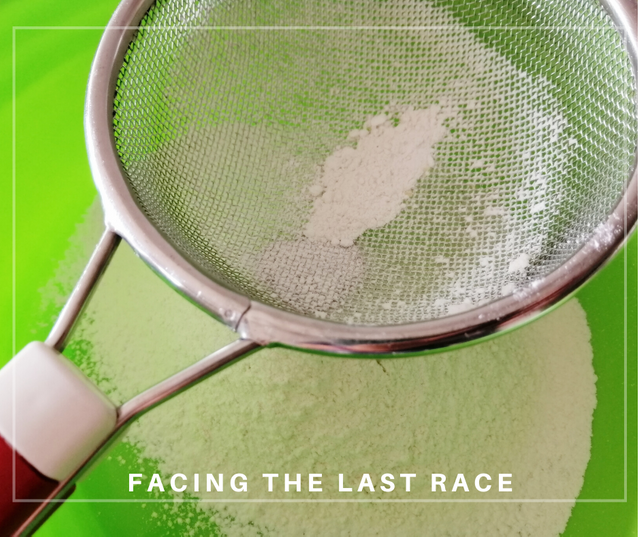 I decided to make everything half, after sifting through into a bottle. Then we use the remaining ones for the future.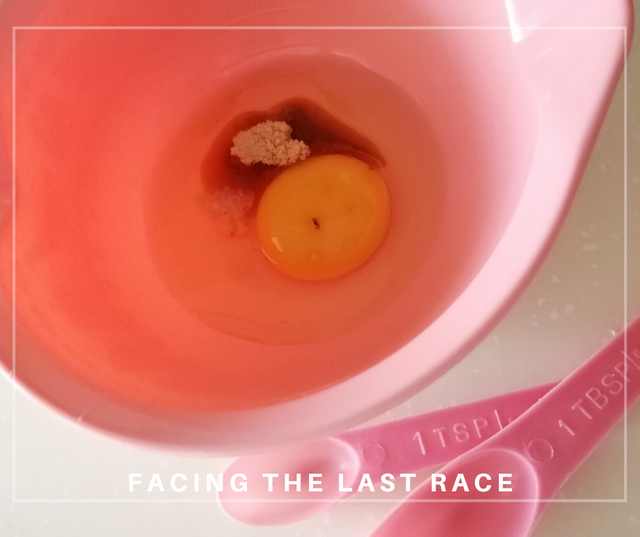 Since everything has to be recalculated, I do what most aunties in Malaysia do: Agak-agak
Agak-agak is approximate in Bahasa Malaysia; and in most of my cooking, it is always agak-agak (as per taste); but this time we logged our test recipes
Here is one large (A size) egg, 1 tablespoon of Brown sugar, and 1/4 teaspoon Himalayan salt.
We only have Himalayan salt with us.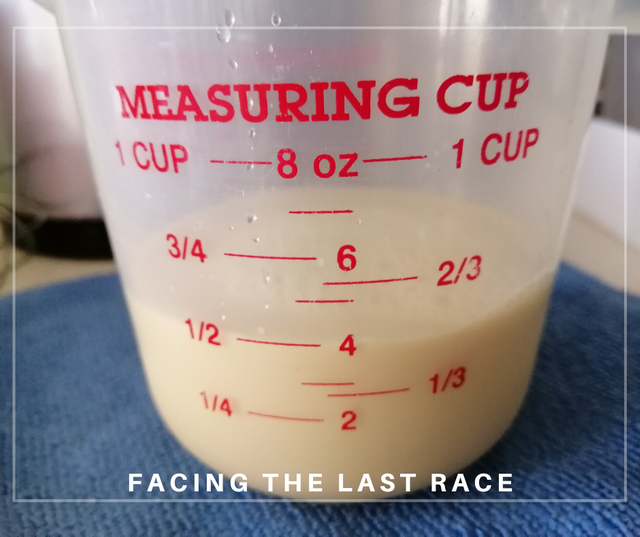 We didn't have fresh milk; but thanks to @gtpjfoodbank for sponsoring 1 can of evaporated milk. It was very nice of them.
However Philip and myself don't like too milky pancake since I never use much milk in all my pancake recipes. So we did 2 oz of evaporated milk mixed with 2 oz of filtered water.
We have realised that the state our daughter stays in, the water quality is really bad. That's another sharing to tell in the future.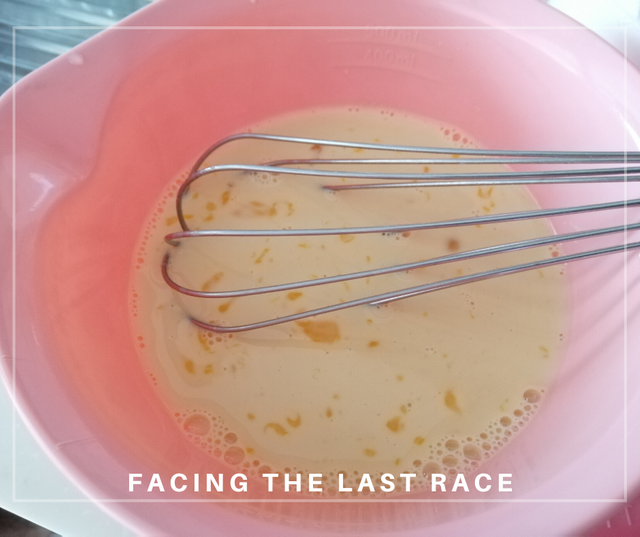 Mix the wet ingredients together.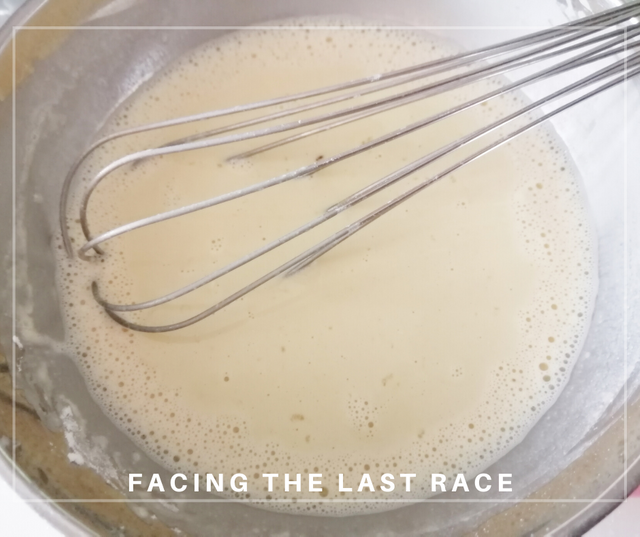 Then comes the challenge. Because I am not following the full recipe, I am doing an agak-agak measurement of the multi-purpose mixed gluten free flour we prepared earlier, tablespoon by tablespoon, until I find I like the consistency.
We found out that 12 tablespoon is the best we liked.
Cooking time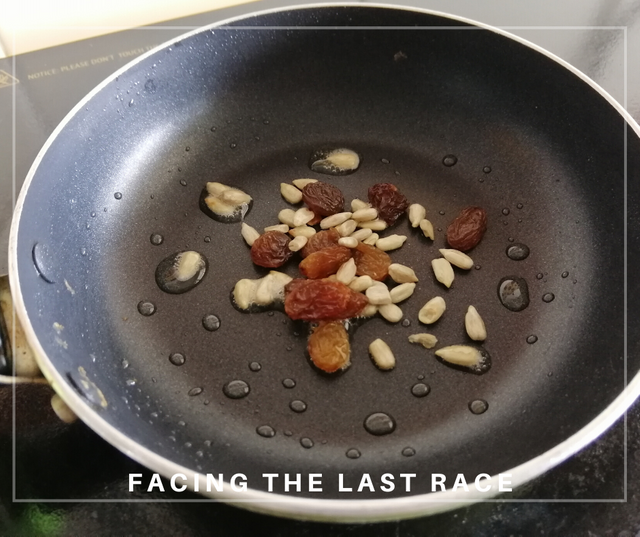 Our daughter got us a mini frying pan before and since this is competition I am going to make this more presentable. I pre-heat at high 400 deg C on the pan while place raisins and mix nuts .
I have used sunflower and pumpkin seeds interval.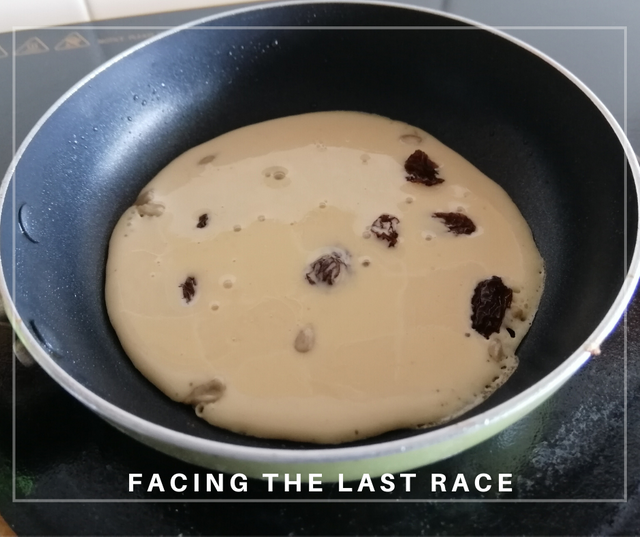 Once the batter is placed on the pan, turn down to mid high heat at 300 deg C.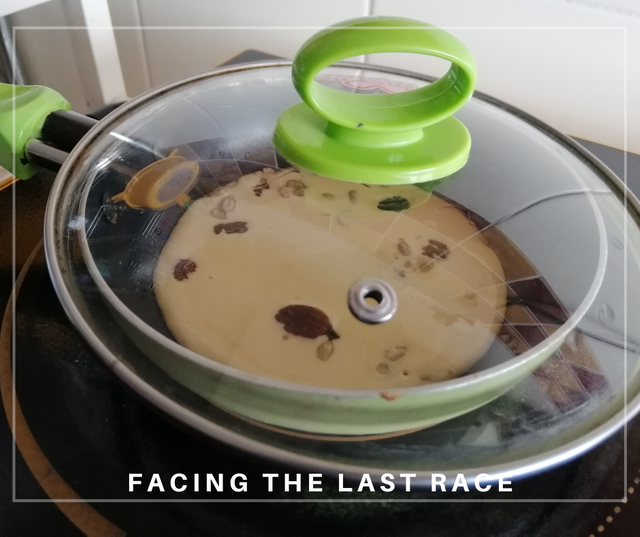 Place a cover over to make the pancake cook a little faster with lower heat.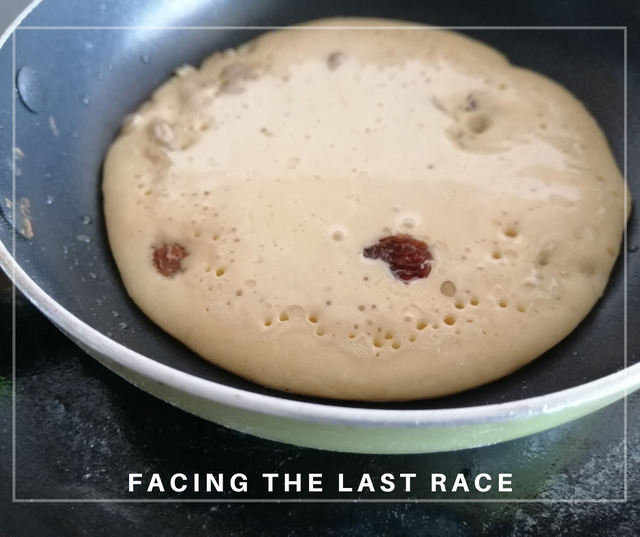 The moment there are pockets of tiny holes, the pancake is ready to be flipped.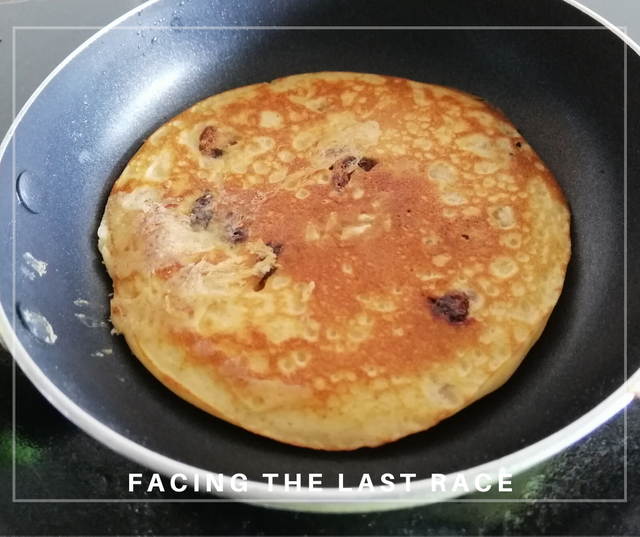 Golden brown, perfect. Keep at 250 deg C for a few more minutes before plating.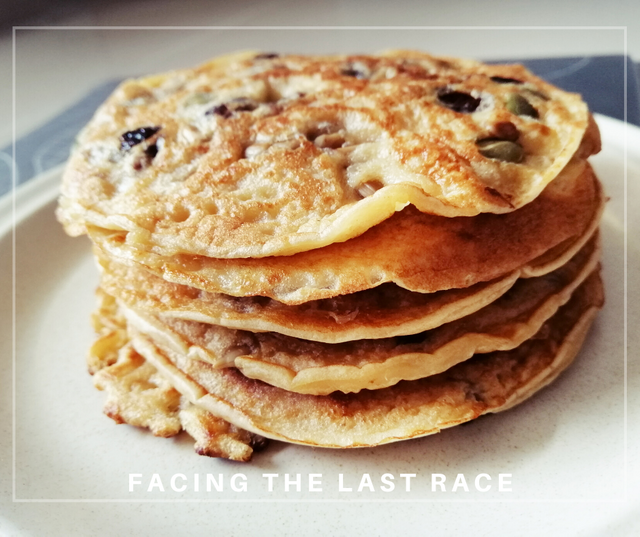 The whole batter we prepared allowed us to make this much pancakes at a serving.
(including one flip fail)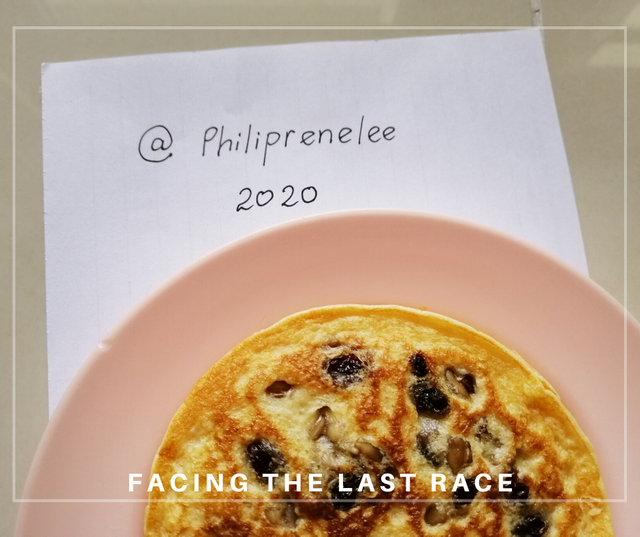 So this is my finished product with our Steemit ID.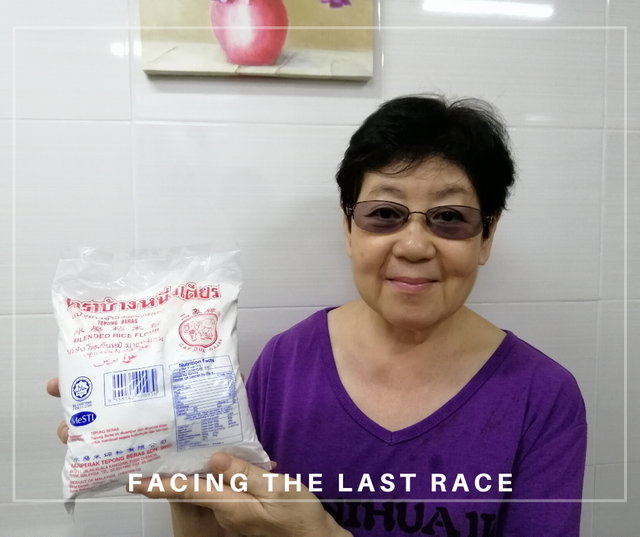 And this is me with the rice-flour.
---
The gluten free mix we followed:
140g of @capduagajah superfine white rice flour.
40g of potato starch
25g of @capduagajah tapioca flour
1 1/2 teaspoon baking powder
1/4 teaspoon baking soda
---
This is the ingredients I used for these pancakes:
Dry Ingredients
84g gluten free mix (after remeasuring)
7g brown sugar
1/4 teaspoon Himalayan salt
Wet Ingredients
1 large (grade A egg)
2 oz (59ml) evaporated milk
2 oz (59ml) water
Additional ingredients
Raisins, sunflower seeds, pumpkin seeds. Place as you preferred.
For cooking
Vegetable oil for oiling the frying pan fairly well.
Please take note.
Too much ingredients may result a dryer pancake. If you want your pancake to have more moist, oil your pan a little more. I use vegetable oil
I hope you like my successful experiment recipe!
Best wishes,
Rene