Application for the Community Curators : INVEN Gaming community, anyone can share and get rewarded for the game.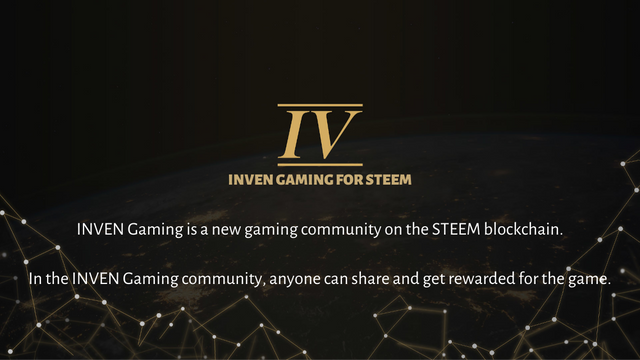 Summary
ROR Universe is a blockchain game development team that has developed several games.
Now our team is developing RORGAME (Mini-game platform) and Road of Rich (SRPG GAME) for STEEM blockchain.
Our team has prepared the INVEN Gaming Community for the upcoming SMT.
Many of Steemit's gaming communities have moved to HIVE, and we believe that STEEM needs a gaming community.
The current STEEM Gaming Community (hive-140217) is not a true STEEM Gaming Community because it is run by HIVE.
We believe that the STEEM blockchain needs a gaming community unique to the STEEM blockchain.
Our team is made up of members from various countries and we plan to bring the gaming community of STEEM together in the INVEN Gaming Community. We will build a SMT Community using IV Token rewards system.
Our INVEN Gaming team supports English, Korean, Turkish and Italian languages.So we can communicate with national community members.
Our team plans to support more languages ​​as the project continues.
Through the RORGAME, Road of Rich Game serviced by the ROR team, many users can join the STEEM blockchain ecosystem and use the INVEN Gaming community. Helping to build the game development ecosystem of STEEM blockchain.
We won't stop here and aim to gain the interest of E-sports competition and bring them onto STEEM blockchain.
Also,We intend to enable the game development team to flow into the STEEM blockchain.
We will work together with members of the STEEM gaming community who have experience in interviewing gaming developers, writing game reviews, working with communities and developing games.
I know a lot of people will be hoping to get the SP delegation but we are not just one person but several working together to help grow the STEEM gaming community through curation and interaction.
Plan for new subscribers
RORGAME and Road of Rich games have very unique token economy systems.
All games developed by the ROR team have a 100% reward system.
I think the 100% reward pool system is a token economy system that is definitely attractive to many users.
RORGAME had 6000 subscribers in 2 months only in the beta test.
We are expecting more people to sign up for RORGAME as we will be able to get full service soon.
If we can use INVEN Gaming with SMT and the curator system together, the STEEM blockchain will greatly increase new subscribers.
Our team plans to actively promote STEEM in various areas such as STEEM blockchain witness, game development, INVEN Gaming community, Marketing activity, etc.
Our team used STEEM-ENGINE to run the STEEM INVEN site.
https://www.steeminven.com/
This site will be prepared for STEEM's SMT.
I hope that our request for an SP delegation from STEEMIT will be successful so that we can better help the development of the gaming community on STEEM.
Team Members
---
---
ROR Official Discord channel: https://discord.gg/vyPHGk6
ROR Official Homepage: http://roruniverse.com/
Official Kakao talk channel: https://open.kakao.com/o/gHpYWMkb
ROR Official Youtube channel : https://www.youtube.com/channel/UCmt8RnYEJQtMdsylzJbDeIQ
---
---
RORGAME Beta Service
https://play.google.com/store/apps/details?id=com.ziplab.rorgame
Road of Rich Alpha Service
https://playror.com/
All post rewards are sent to @steem.rise and all revenue is burned through the STEEM RISE project.
More info