[Witness] ROR Universe Game Development Team witness server started.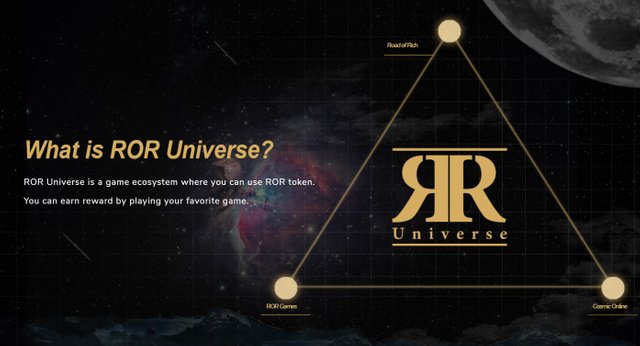 Hello, This is Team ROR.
Our ROR Universe team (a.k.a ROR team) started with the new Witness of the STEEM blockchain.
After several meetings, our ROR team decided to run a witness with @morning and activated the witness node today from April 16, 2020.
ROR Team Goals
The ROR team plans to focus on promoting STEEM more, such as the role of a bridge through which more new users can flow into the STEEM blockchain, public relations marketing, exchange listing, and financial product development.
Internally, we plan to develop necessary for STEEM such as the game community (INVEN Gaming), Game dApp, and Tool.
STEEM needs a lot of development support as many dApps move to HIVE. The ROR team is planning to actively participate in various fields such as operating the game community.
Starting with the Road of Rich game project, our ROR team is developing games in three genres, including RORGAME.
Our game using multi-chain system is recognized for its scalability and is collaborating with several blockchain companies.
Our ROR team is planning to actively support many users from all over the world who have flowed into the ROR Universe game ecosystem to enter the STEEM blockchain ecosystem and engage in community activities.
We will support in cooperation with STEEM blockchain dApp so that new users can work smoothly in the STEEM blockchain.
ROR Team Activities
As the ROR team built the STEEM Witness Node, there were several external activities in consultation with various media channels and cryptocurrency exchanges.
First, we are objectively delivering materials on the current status of STEEM to various Korean media channels. Several reporters are preparing for the article as they follow up.
HIVE is already actively responding by using social media such as media channels and Twitter, but STEEM is still insufficient.
So, our ROR team start planning to inform STEEM about the facts and promote STEEM through the Korean media channel.
We are preparing to launch a cryptocurrency exchange financial product using STEEM and SBD.
After discussion with the cryptocurrency exchange, our ROR team decided to launch a cryptocurrency financial product using STEEM and SBD after the next hard fork.
In addition, STEEM-USDT listing is also being discussed.
Through the STEEM RISE project, the ROR team is making efforts to reduce the debt ratio of SBD using the 'Convert to STEEM' function. Also, all STEEM gathered through the STEEM RISE project are brun.
This project is a small move. But it will definitely help STEEM value.
We are working with several witnesses and communities to activate the STEEM RISE project. We expect that the STEEM RISE project can be developed in conjunction with STEEM financial products.
STEEM INVEN community operation
The ROR team started running the STEEM INVEN Gaming community in the STEEM blockchain.
Most of the game communities currently operated by STEEM are those operated by HIVE forces.
Our team believes the STEEM gaming community is essential.
So we created the INVEN Gaming-hive-103219 community. We plan to prepare for SMT, which will be updated in the future, and establish itself as a gaming community in the STEEM blockchain.
The ROR team will share various game information with STEEM INVEN as a game development team, and furthermore, we will induce several game development teams to create a game dApp ecosystem in the STEEM blockchain.
The ROR team plans to actively work to revitalize the STEEM blockchain ecosystem in various fields such as external activities and development support.
Thank you.