Feeding Program for the Kids in our Area | Giving Back to the Community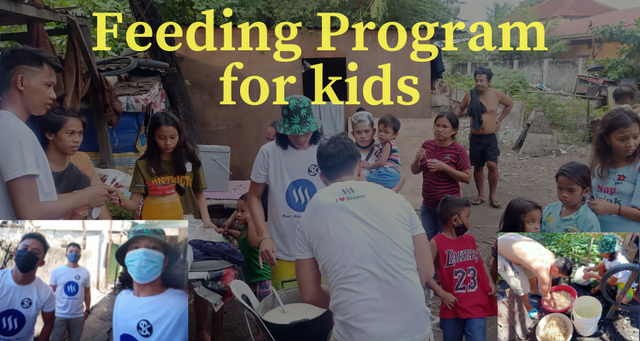 Hello Steemians! Good day!
I would like to share to you my experience in our yesterday's humanitarian program - Simple feeding program for the kids in our Area. By the help of Steemit, we are using our earnings to conduct this feeding program for the kids.
What did we give? What did we prepare?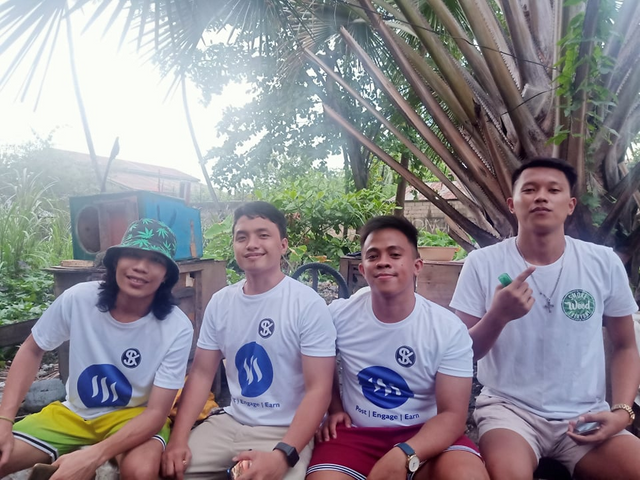 Our solid friends @belsoronz, @aivanav, @jassennessaj, and Dexter (not yet Steemian)
It started when our friend @jassennessaj shared 25 Steem of his earnings to be used for the feeding program. I actually don't have any experience participating in charity or community programs that's why I get excited when I heard that we will be having feeding program like this.
I would like to share that the experience I had made me so much happy and grateful that I was able to help my neighbors especially kids. It is so overwhelming to see the smiles of my neighbors very happy to receive their food.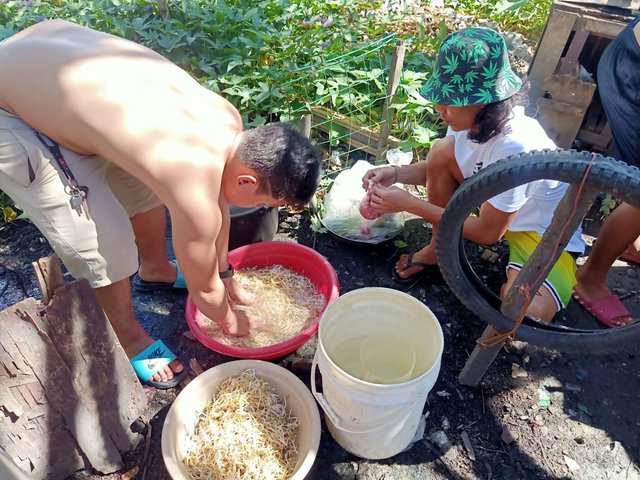 This is me as I was preparing for the vegetable lumpia
What did we prepare? We prepared a healthy nutritious food combo. From lugaw, a popular food in our area used for breakfast and snacks. We also prepared vegetable lumpia, and calamansi juice for the kids.
---
How We Started
Me, @aivanav, and @jassennessaj met at 10am to buy the ingredients needed for the feeding program. We went to Lapu-Lapu City Public Market to buy the ingredients for lumpia, lugaw, and the juice.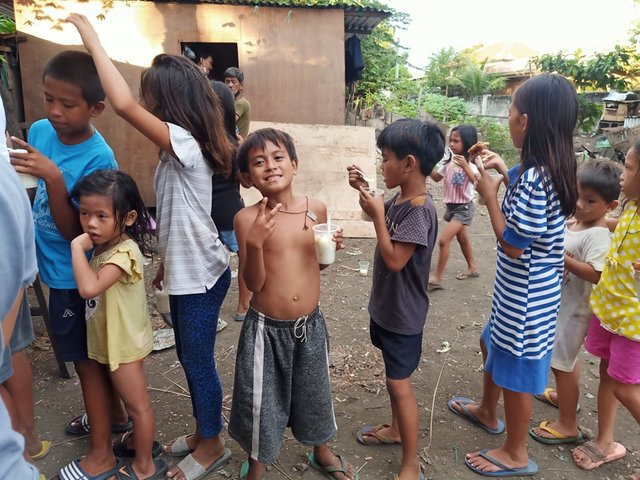 The happy faces of kids as they receive their food
What did we buy? These are the things we bought:
Vegetable Lumpia - 1.) 2-kilos of Beansprouts, 2.) 1-kilo ground pork, 3.) 4 packs of wrapper, 4.) 1-1/2 Oil, 5.) 3-kilos of mixed vegetables, 6.) Oyster sauce, 7.) Magic Sarap, 8.) Brown sugar, 9.) Onions and Garlic, 10.) Butane Gas (for cooking)

Lugaw - 1.) 3/4-kilos of Chicken, 2.) Knorr Pork Cubes, 3.) 20mL Oil, 4.) Salt, Pepper, Carrots, Garlic, and Ginger, 5.) Plastic Spoon and Cups

Calamansi Juice - 1.) Calamansi Juice, 2.) Tang Orange, 3.) White Sugar, 4.) Plastic Cups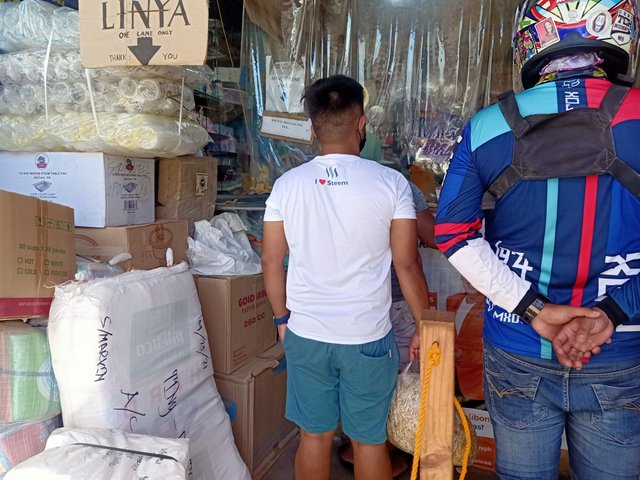 My friend @jassennessaj as he was buying plastic cups, spoons, and plastics
We started buying the ingredients for the lumpia vegetables. We were happy because we bought them at bargained price because the lady knew it will be used for the feeding program.
We bought 2 kilos of Tawgi and 3 kilos of Sari-sari to the lady at only 40 pesos each. What's good is that he made it more than 2 kilos to help the kids.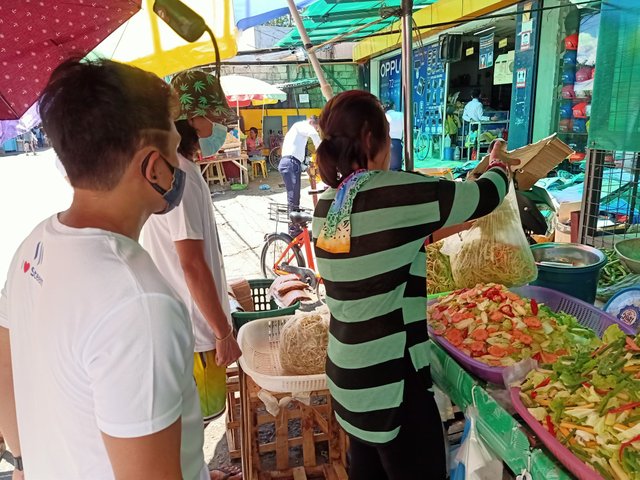 Photo of me when we were buying them
Then we went to marigold to buy oil and lumpia wrapper. We also bought oyster sauce there and other ingredients.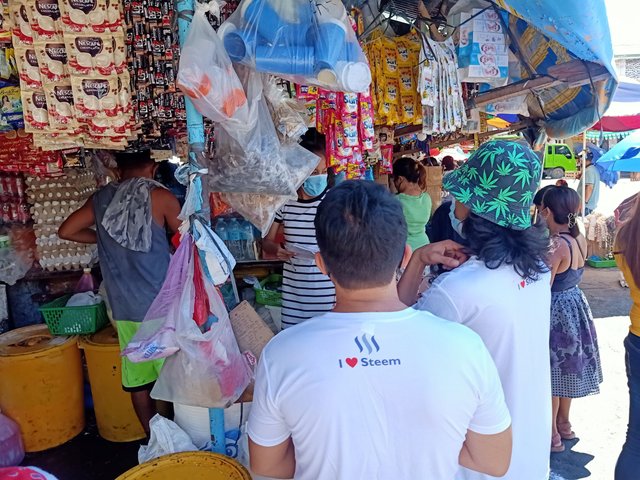 Then we went to inside the public market to buy the pork, chicken, and other ingredients that we weren't able to buy at Marigold. Also, we bought the ingredients for calamansi juice.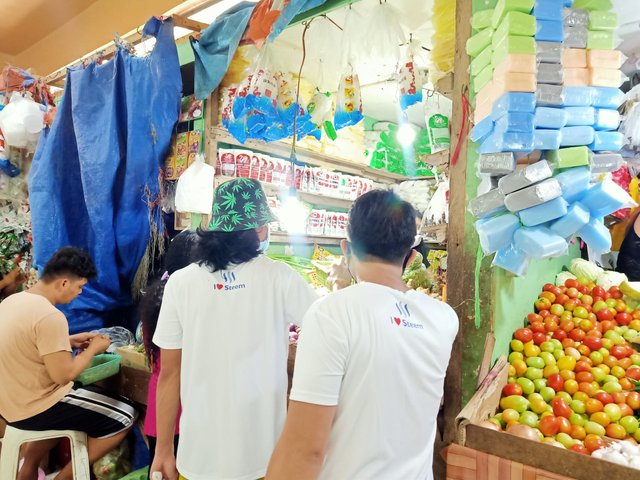 After we arrived. We immediately prepared everything and cooked. We are thankful because our neighbors helped us too to prepare for the food. We were having fun too!!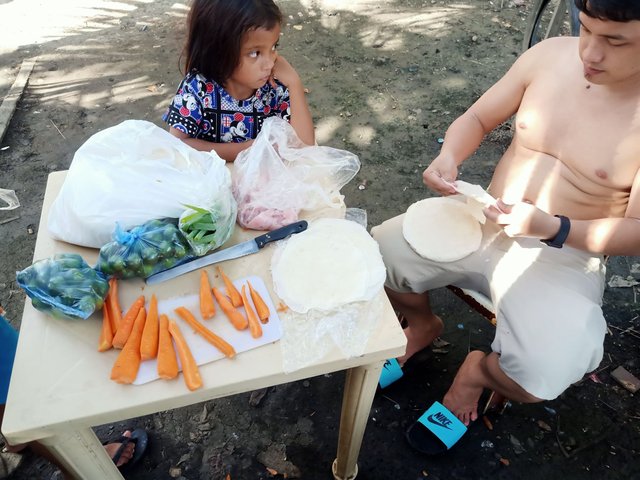 You can see me at the photo preparing for the vegetable lumpia
Then we started cooking and prepared everything to be ready at around 4pm. We believe 4pm is the perfect time for the kids to enjoy these nutritious food. We also felt that the lugaw-vegetable lumpia-calamansi juice is a good combo for the kids.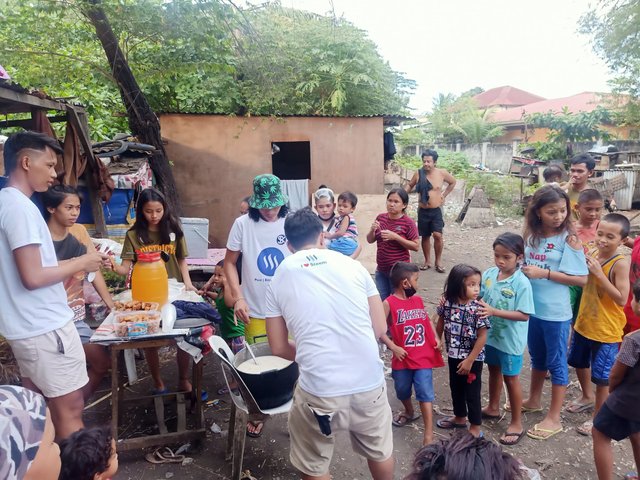 Look at the smiles of the kids. It is really overwhelming to see and I'm very grateful to @aivanav and @jassennessaj for letting me join the feeding program. Thank you also for the Steemit Shirt! I really like it!
We are also thankful to @stephenkendal for sponsoring our shirts and voting for @aivanav's post. We appreciate it so much sir.
Our earnings in this post will be used to fund our next feeding program that we are planning. Your votes matter to us and if we get enough blessings, we are planning to buy slippers and packed lunch for the kids.
Thank you to @steemcurator01, @steemcurator02, @stephenkendal