Indonesian CR and MOD Meeting: Official Minute Meeting of SEA CRs, Indonesian CRs and Indonesian MOD
This post is set 50-50 because all the payout from this post is dedicated to the program and will be transferred to support the program
Following the recommendation from Steemcurator01 to make good coordination among the Indonesian moderators and take further action regarding the charity program initiation, we are Steem SEA CRs, Indonesian MODs, Indonesian CRs, and World of Xpilar MOD initiated to arrange an internal meeting. Hence, on November 10th the internal meeting was held to underline a few issues and programs which are about to be executed. The meeting was conducted at MJ Coffee in Uteun Geulinggang, Kreung Geukueh, North Aceh at 14.30 Western Indonesian Time (GMT + 7).
The meeting was attended by @anroja (SEA CR), @ernaerningsih (SEA CR), @sultan-aceh (World of Xpilar MOD), @radjasalman (Indonesian CR), @muzack1 (Steem SEA MOD), @el-nailul (Steem SEA MOD/Steemfoods SEA Rep). This meeting actually had three specific agendas to be discussed and prepared accordingly to take immediate action.
Those agendas ware:
Finding the real strategy to increase the Indonesian members, support them where necessary, unite them as one, and encourage them to actively make the posts on the steemit platform.
Build a stronger and self-sufficient community to support the members
Start to kick off the Steem charity program in Aceh-Indonesia using an independent account to raise the funding.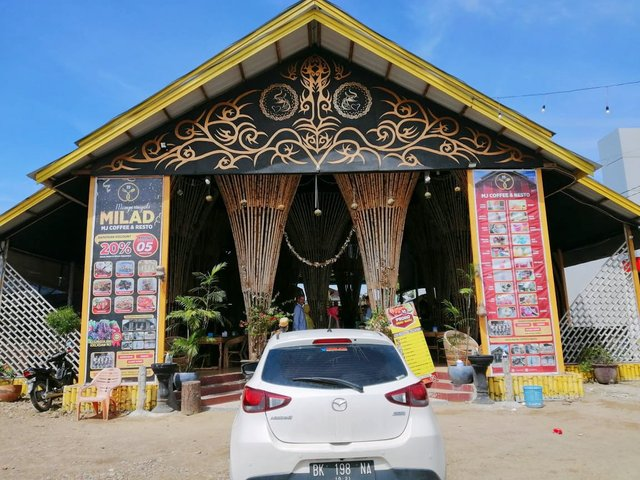 Image Property of @fwinanda. MJ coffee Kreung Geukuh, North Aceh 62Q7+9W Uteun Geulinggang, Kabupaten Aceh Utara, Aceh.
The conclusion of the meeting
Solutions for Issue No. 1:>
@sultan-aceh, @anroja, and @radjasalman gave good explanations to the participants as below:
Promo-steem to the potential candidate for new members such as teachers, unemployed, and local community using t-shirts, stickers, and community support programs that directly impact the community.
Show the community the benefit of steem for their social network and financial supports
Provide accurate information about the contests that are organizing across communities in their language.
Show the steem community members to comprehend to get the highest curation rewards
Solutions for Issue No. 2:>
@sultan-aceh, @anroja gave good explanations to the participants as below:
Power up the account with any necessary means, including providing training for trading to the potential members
Invest to buy steem internally from the members who are in need to support their daily life
Participate in the contest to get more reward and power up the account
Delegate steem power to the community account
Action for point No. 3:>
The first stage program is covered for 1 main aspect: which are
Support disability with prosthetic legs or hands, and wheelchair.
Support major/minor surgery for harelip children under 10
Create an independent account to accommodate the program and raise the funds (on the process). The name of the account will possibly be @steem.betterlife, it will be created by @nazarul

Promote the account with the official introduction and program information. The post of the account will be made by @el-nailul

The funding will be from the post of the account, members donations, members post rewards donation, and community supports. The person in charge of raising the funds are @sultan-aceh, @anroja, @ernaerningsih

The survey for the beneficiaries will be conducted by all the community members and present it to the program officer (@el-nailul and @radjasalman) by making a post using the #actsofkindness tag (because the surveyor will not be paid from the fund, so hopefully the will get the reward from community upvote)

The verification stage of the beneficiaries will be done by the program board member

The implementation and program execution will be arranged accordingly by board members and from the community members voluntarily.

The first action of the program will be started soon after the account is approved, and the first donation is expected in January 2021. It means the time frame to raise the first donation is approximately one and a half months.

Board member of the program:
Members: All community members and meeting participants, (Steem for Better Life Whatsapp group)
Should you have any corrections, advice, suggestion, and idea, please feel free to give your comments
CC: @steemcurator01, @steemcurator02, @steemitblog, @xpilar
Thank you very much for supporting this post
Sincerely yours
El-Nailul