Minimum 10,000 of SP by end of the year: Powering Up the Account by 25% on weekly basis and Support Children Education Center
LET'S MAKE STEEM FOR BETTER LIFE IN THE REAL WORLD
---
Realizing the rapid growth of the community and the registration of steemit users recently, we need to realize the risk of a big sell of steem/sbd to the market. This act will directly impact steem bargaining power in the global market. Especially for the newcomers, they will lose the chance to build up the power of the account and it is not a good atmosphere in the strategy of building a stronger community for the long run.
To encounter the issue I have set up my own new program to power up my account using all resources that I have and as much as possible. Indeed, I am using all the SBD to change to steem in the local market, but my commitment is to use 30 percent of my weekly payout to switch them into steem and powering up my account.
I encourage you to set up your goal because I have set up mine as below:
Shortly I have build up a program for supporting child education; for the first program, I will set 30% of the weekly payout to enroll the program that will cover 2 children's education centers in Aceh, Philippines, Venezuela and the last one is in Nigeria. I really need the response for who is willingly and seriously running the program in the country as in Indonesia I have identified @asiahaiss and @steemitcountry running an education center freely for the underage. This is purely to support steem better life on my own aside from steem.amal program.

Using 25% of the payout of my post to power up by switching SBD to Steem and then power up my account continuously. By the end of the year, I would like to have a minimum of 10,000 SP of my own. The first power-up is now with 252.614 STEEM. My reason to power up the account is to be able to support the community to grow stronger soonest possible. Will you follow and support my little step by doing the same??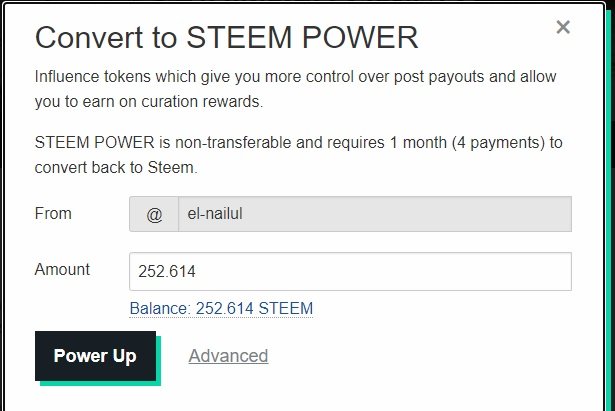 Using 25% of my payout directly to support @steem.amal program and operational budget. It is also my concern for humanitarian as I am a professional humanitarian worker since 2001. I have been working in Non-Government Organization (NGO) starting from FFI (Flora Fauna International, IFRC (International Federation of the Red Cross and Red Crescent Societies), World Vision International, Irish Redcross, CDRM-CDS HKBP Nommensen, and the last one is Aceh Ocean Coral)

Using 20% to support my family, my kid's education cost, and other daily needs before getting a new job. It is not a big dream of mine, but it is a realistic way to grow my account till the end of the year.
You may have to realize that growing on the steemit is not a one-day work, you may want to say that "You can say it so because you always get big payout". Nope, I have never been cashing out the steem or SBD for 3 full years. If you want to check my account I have faced the same thing as you do for at least 2 years with dust payout. But when you have set up your own goal you will feel free to keep creating a good quality post on the platform. Avoiding plagiarism to enforce the platform become clean and stronger.
Are you with me to support others in any kind of good acts??
Thank you for supporting my plan
cc:
With My Best Regard
El-nailul