I Drew🖍a Request from a friend for 'Steem SEA's Redfish Support Program'🐠
Today I decided to sketch and draw something that is way out of my kind of comfort zone type of art. This time I drew something different from what I usually draw.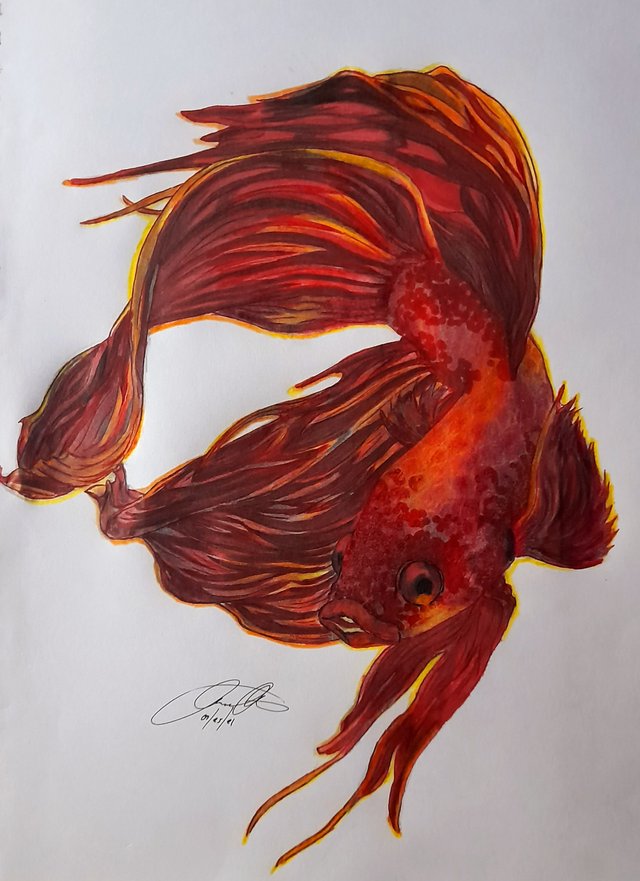 I take this as a challenge for myself and also I wanted to know my own skills upto what I can do or my limit.
This will be my second drawing since I got my interest in art back. 🎨
I will show yoh my step by step process in creating this drawing. Hope you like it.
So I used some materials that I only have since I still haven't manage to buy some materials that I'll be needing in the future. But as long as there is a pencil, we can create things with it.
Lack of materials doesn't matter. There are always a way to create art. Because that is art.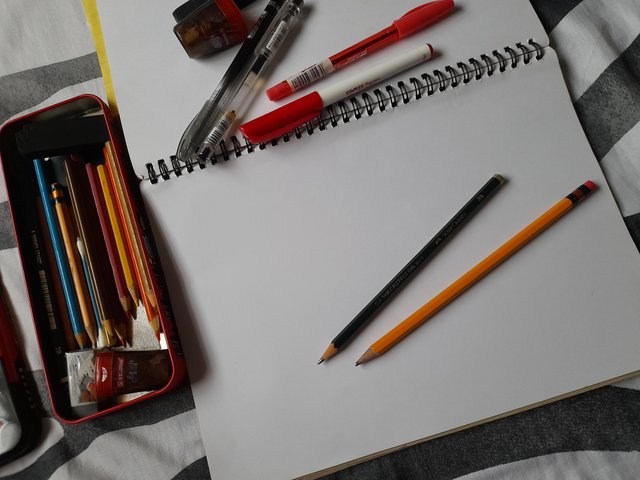 I will use a sketchpad, pencil, eraser, sharpener, red marker, red and black ballpen and some of my available colored pencil. First I made a patern to what it should look like. I also used a guide since it's my first time creating this kind of art.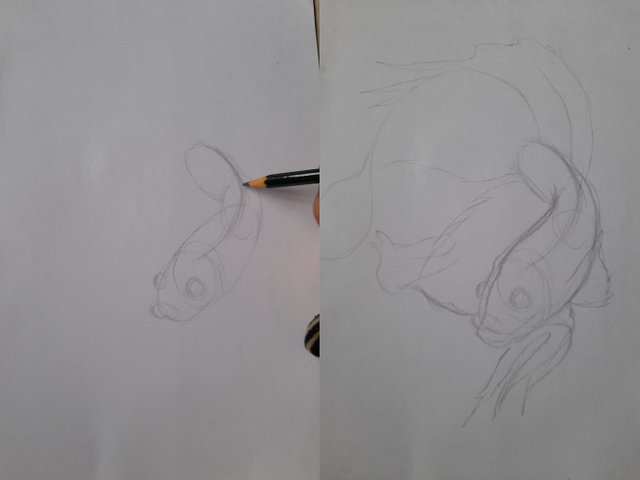 I then create an image of the model and redefine it more on the next and I tried drawing the scales that makes me feel irritated. I don't like drawing scales, and it is because I find it hard to draw. 😅 I got lazy and leave it be.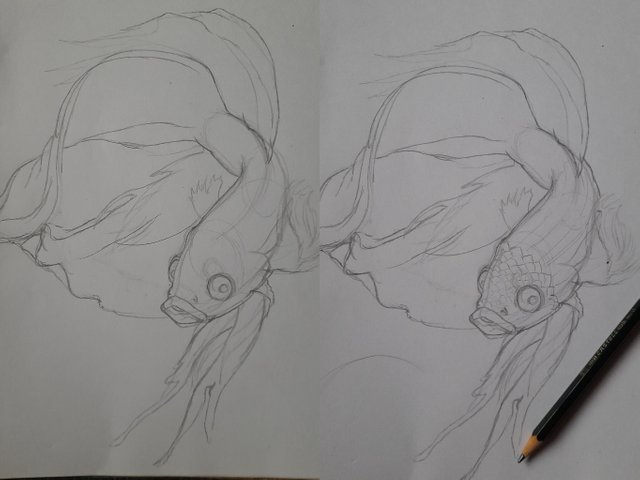 I use my pencil no. 2B in adding some darker shadows and outline it all with red ballpen, since the color of the fish is red.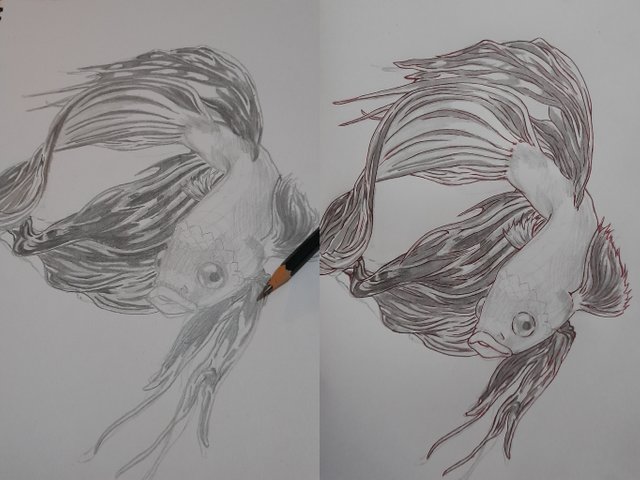 Then I blended all the shadows to add more effect using a cotton bud. And added more darker shadow to make it more define. Since I lack some colors, I just use pencil to make something darker color to whatever color I would use.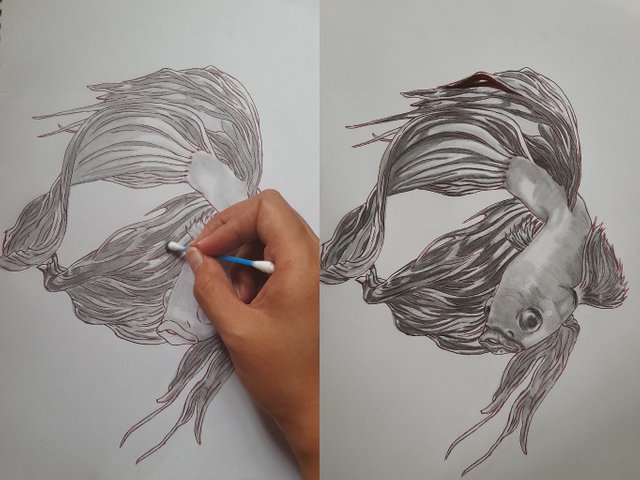 I used the red marker to add effect on the shadow and trying to blend it on the part that doesn't have a shadow. Then I tried to draw the scales again with a gold colored pencil and I think it looks fine? Well for me it is. Oh come on, it's the best I could do. Haha.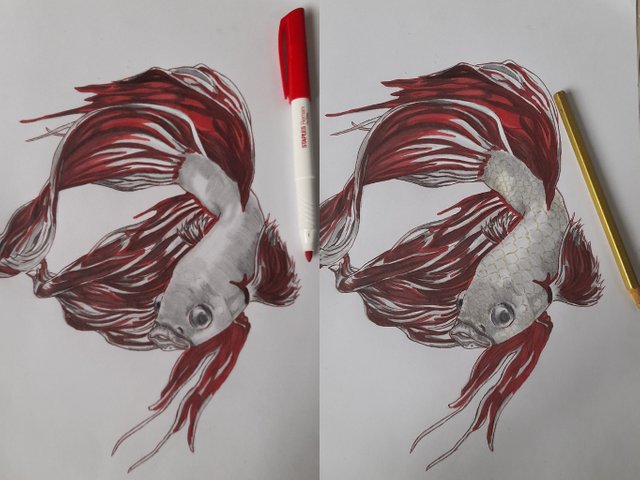 I had a difficulty in coloring this beta fish since I am struggling for the color combination, I used colored pencil yellow, red, red violet, yellow orange and orange. Trying to blend it all out made me stop and think for a minute. Then I just added more red marker effect to cover some of the mistakes and some that I don't like which led to this.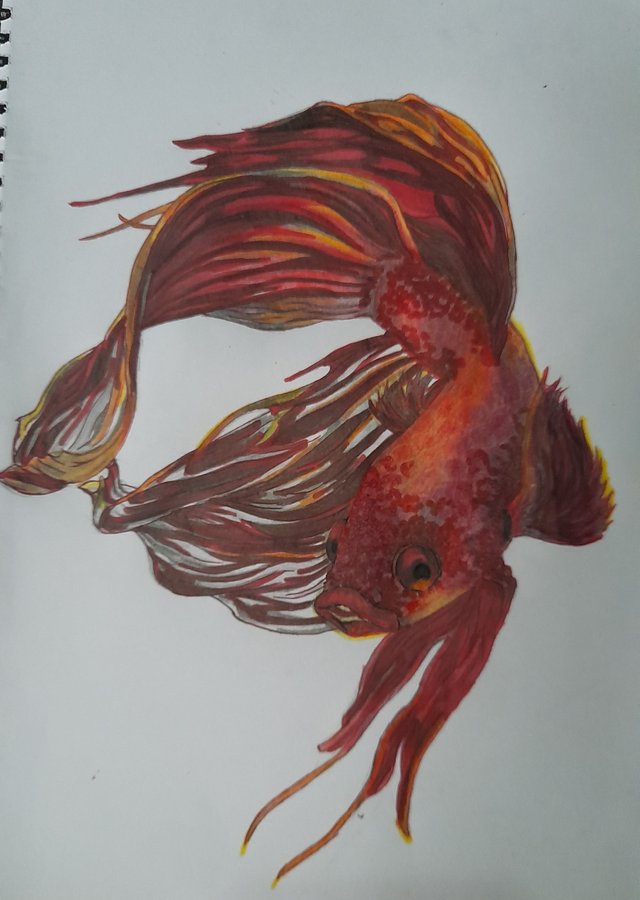 I then finish it and mixed all the colors, blend it well to look at least good to my eyes, I guess. So here is the finished product. How was it?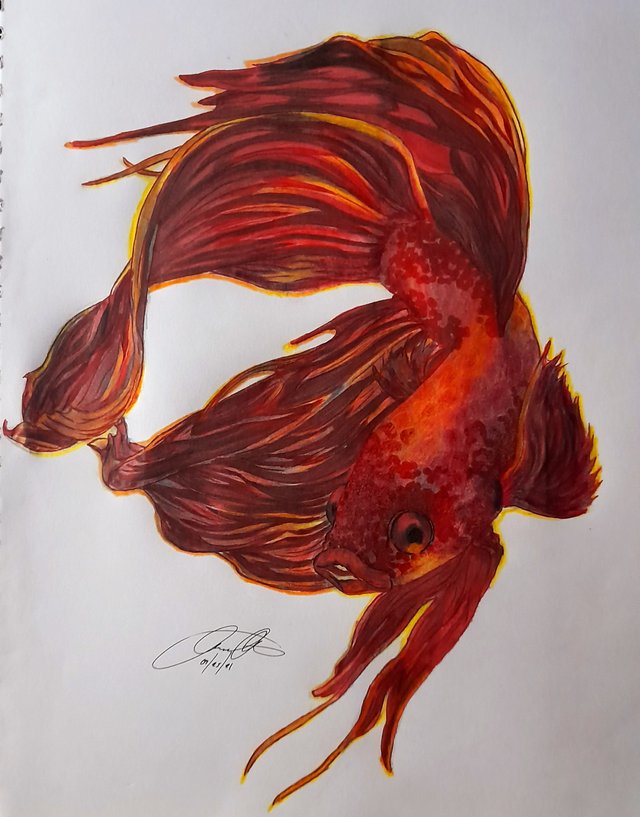 Is this okay for you? @cicisaja I hope you like it. If you want to add background just tell me and I'll try adding one and just ask my brother to edit it and add some background since he is the expert when it comes to that.
Thank you again for inspiring me and for being a friend. And also thank you for my mentor @anroja for guiding me on how to properly post on steemit.
Hope you guys like it and please support me.
Follow me if you make please. 😊
Good day!
Follow and Support me!