Contest : Tell Me, Who Is Your Inspiration on Steemit | Prize Pool 40 Steem
50% of this post payout is for @steem.amal
---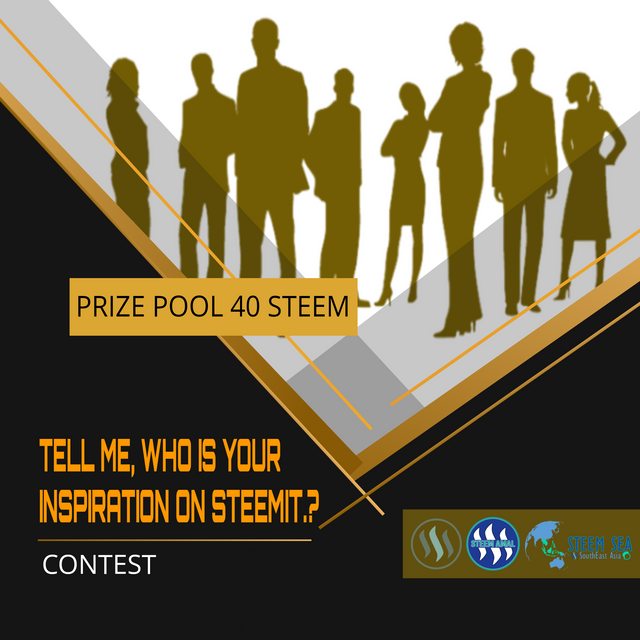 Tell me who is your inspiration on this steemit platform either you know directly or knows on this platform with an easy-to-understand language style so we know your motivation in the future after knowing the person.
Contest goal
---
Knowing about the person's strengths and understanding your ultimate goal on the steemit platform
Increase the activity of steemit users, especially Steem SEA members
Advancing the steemSEA community and attracting the interest of steemian to join and raise steemSEA
Help funding Steem Amal activities by setting payout to the @steem.amal account
Rules
---
Original or exclusive content and open to the public
Post on the Steem SEA community
A verified member of the Steem SEA community
You can write in any language you understand.
Use the post title ''My Inspiration on Steemit- The person's account name" (ex: @komo)
Use the tags #yourinspiration #steemamal50pc #yourcountry (ex: indonesia) and #contest on the first four tags
Use a maximum of 3 photos and 200 words (use one of the person's photos by including the source if not the original file)
Required to share 50% reward for @steem.amal
Put your post link in the comments column below
Upvote and ressteem this post.
Contest Prize
---
The first winner is entitled to 15 Steem
The second winner is entitled to 10 Steem
The third winner is entitled to 5 Steem
The other five best posts are entitled to 2 steem each.
Surprise Prizes from steemcurator01 in the form of positive votes if your content is considered interesting.
This contest is judged by:
---
Important Contest Notes:
---
We can't guarantee that the winners will get support from @steemcurator01
The jury's decision is irrevocable
Contest deadline 13 July 2021 to 19 July 2021 (Western Indonesian Time)
Signed, Contest Organizer

---
BAHASA INDONESIA 👇
---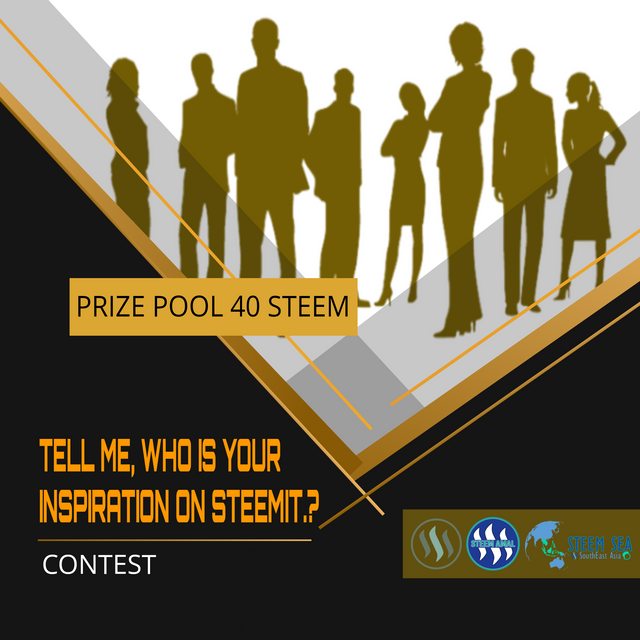 Ceritakan siapa saja yang menjadi inspirasi anda di platform steemit ini baik yang anda kenal secara langsung maupun yang anda kenal di platform ini dengan gaya bahasa yang mudah dipahami sehingga kami mengetahui motivasi anda kedepan setelah mengenal orang tersebut.
Tujuan
---
Tujuan pengadaan kontes ini diataranya adalah sebagai berikut:
Mengetahui tentang kelebihan dari orang yang mengispirasi anda dan motivasi anda kedepannya di platform steemit
Meningkatkan keaktifan pengguna steemit khusunya anggota SteemSEA
Memajukan komunitas steemSEA dan manarik minat para steemian untuk bergabung dan membesarkan steemSEA
Membantu pendanaan kegitan Steem Amal dengan penyetelan payout ke akun @steem.amal
Aturan Kontes
---
Konten original atau exclusive serta terbuka untuk umum
Posting pada komunitas Steem SEA
Member dari komunitas Steem SEA yang telah terverifikasi
Semua bahasa diperbolehkan
Gunakan judul postingan ''My Inspiration on Steemit- Nama akun orang tersebut" (ex : @komo)
Gunakan tag #yourinspiration #steemamal50pc #yourcountry (ex : indonesia) dan #contest pada empat tag pertama
Gunakan maksimal 3 photo dan 200 kata (gunakan salah satu photo orang tersebut dengan mencantumkan sumber bila bukan file asli)
Diwajibkan share reward 50% untuk @steem.amal
Letakkan link postingan anda pada kolom komentar dibawah ini
Upvote dan ressteem postingan ini.
Hadiah Kontes :
---
Pemenang pertama berhak mendapatkan 15 Steem
Pemenang kedua berhak mendapatkan 10 Steem
Pemenang ketiga berhak mendapatkan 5 Steem
Lima postingan terbaik lainnya berhak mendapatkan masing-masing 2 steem
Hadiah Kejutan dari steemcurator01 berupa suara postif bila konten anda dianggap menarik.
Kontes ini dinilai oleh :
Catatan Penting Kontes :
---
Kami tidak dapat menjamin
bahwa para pemenang akan mendapatkan dukungan dari @steemcurator01
Keputusan dewan juri tidak bisa diganggu gugatkan
Batas waktu kontes 13 Juli 2021 sampai dengan 19 Juli 2021 (Waktu Indonesia Bagian Barat)
Cc : @anroja @nazarul @muzack1 @el-nailul @herimukti
---
Tertanda, Penyelenggara Kontes