THE DIARY GAME | 03.09.2020 | DAY 28: Writing and Drawing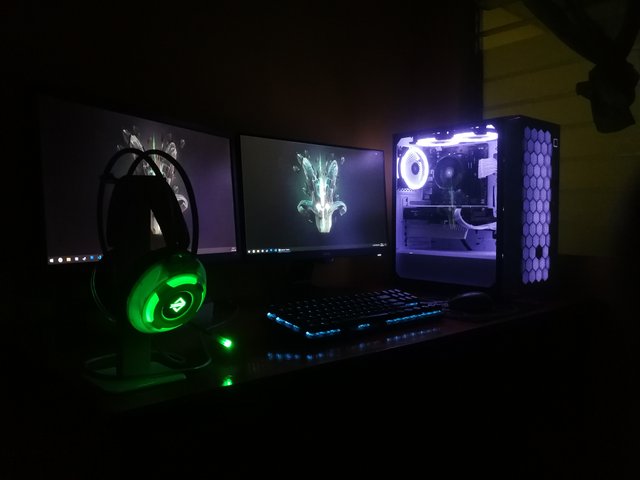 Working station
I received good news last week that inspired me to write again. Because of that, I'm going to catch up on all my diary backlogs. So I'm going to have some recap on the notable things that happened to me these past two weeks. I should have posted this on weekend however, I decided to have some detox for a day. It felt like I am always facing my computer for work and when I want to watch Netflix, I use my laptop.
I've been busy with work for these past few weeks because of the documentation site launching of the company. I am the only girl in the documentation team and of course, I was hired to do the majority in reading, editing, proofreading, and writing some introduction and such. It feels so awkward, but this should help me pursue my new found love, and that is writing.
When I was still a fresh graduate, I wanted to take the board exam right away. But due to financial difficulties, I decided to work. My first work was just a minimum payment with a no-work no-pay basis. It was just a contractual job. Then, I will travel for an hour sometimes two which includes the waiting time for the jeepney and the mild traffic. And with the traveling time, I had to ride twice to reach my working place. Imagine my salary was just enough for my transportation and food. With that, I asked my friend if she had an extra online job. She gave me an article writing job, not just one but two.
That started my writing journey where I had to submit 10 articles in a week. I always slept at dawn during weekdays because I want my weekends to be a rest day. Then, after four (4) months of sacrifices, I got promoted and my salary was doubled. It was not enough since I am the breadwinner in the family. But, I decided to give up one employer. I was so exhausted. Three jobs were very tiring. Article writing is a tiring job. Salute to all the freelance writers out there.
After a year and a half of waiting, I got promoted and my salary doubled again. With that, I decided to stop my freelance job since I always did overtime with no pay. Stressing out the no pay since I loved my work and it was such a great blessing from God. I've been praying for it since day one. I made some specifications, and He just gave it to this sinful human.
But that didn't stop there, I resigned to my freelance writing job and a few months later, I found BitLanders and after a month, it was Steemit. I was so happy to found these two sites where I can write whenever and whatever I want. It honed my writing skills. I know I still have a long way to go, but with constant writing, I will surely improve. And hopefully, my writer's block and laziness will not strike again, or else, I will be MIA again.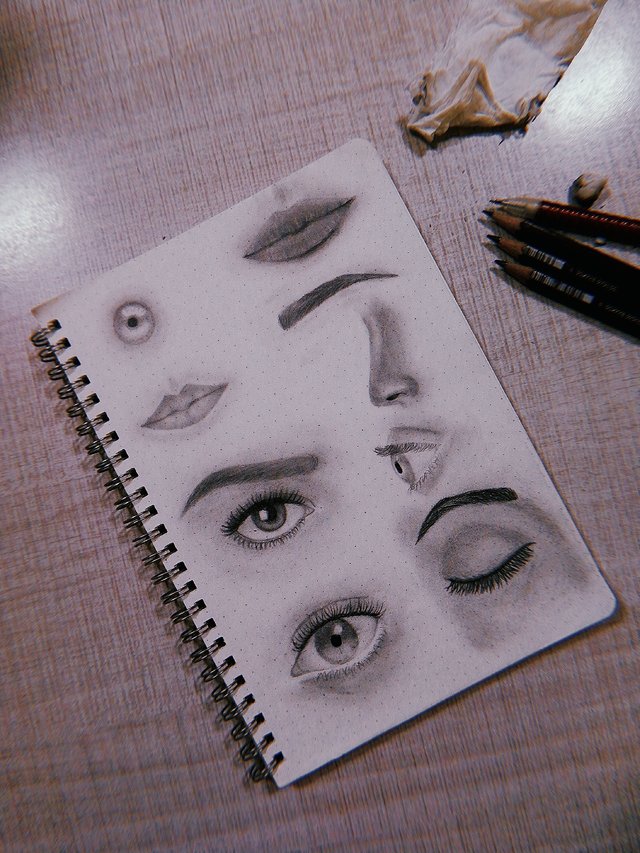 I tried realism. This is my first legit realism drawing.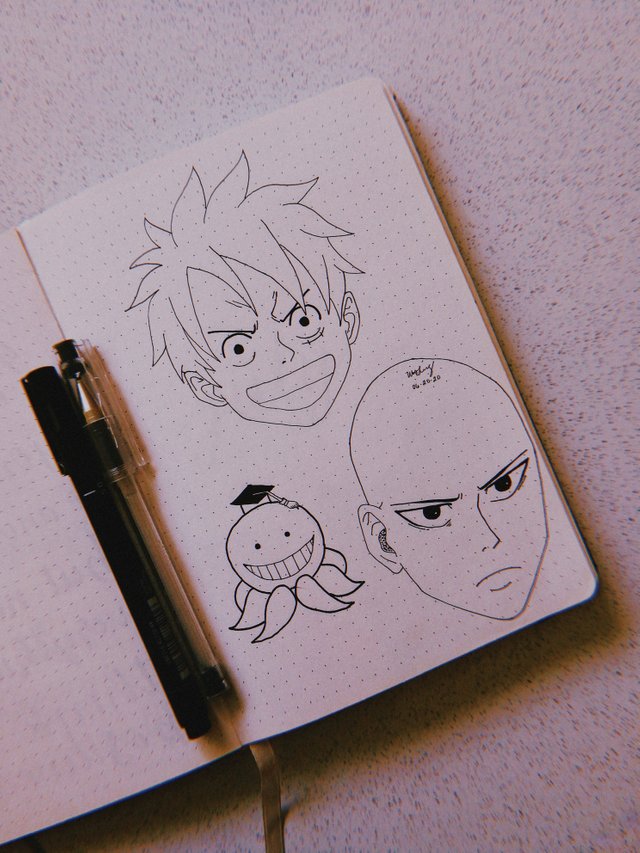 Random anime drawing on my Bullet Journal.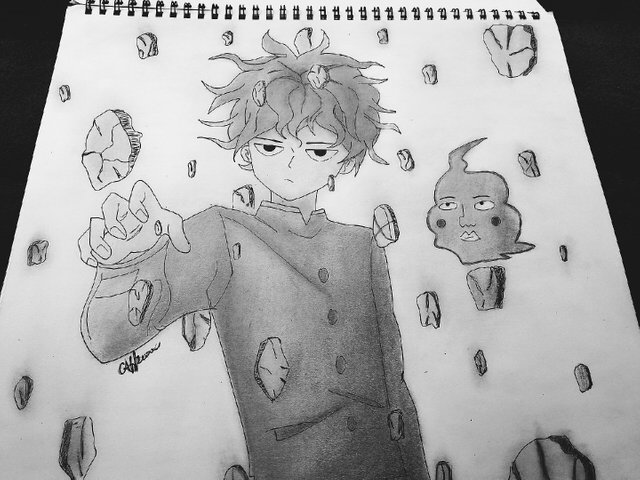 My old anime drawing of Shigeo Kageyama. I posted the whole process here in Steemit.
Now, aside from writing, I also love art, specifically drawing. Although any form of art is a joy to my heart. But now, I'm trying to step out of my comfort zone. So when I posted my attempted realism drawing, calligraphy, and then old anime drawing, one of the ambassadors in Appics PH requested to draw his favorite anime character, Naruto. It's been a while since my last anime drawing, so I said yes. I drew Naruto in between work. Inking is my number one enemy. I messed up his face. I got annoyed because it's unsymmetric. But, I had no time to redraw it again, so I finished inking it so I can continue working again.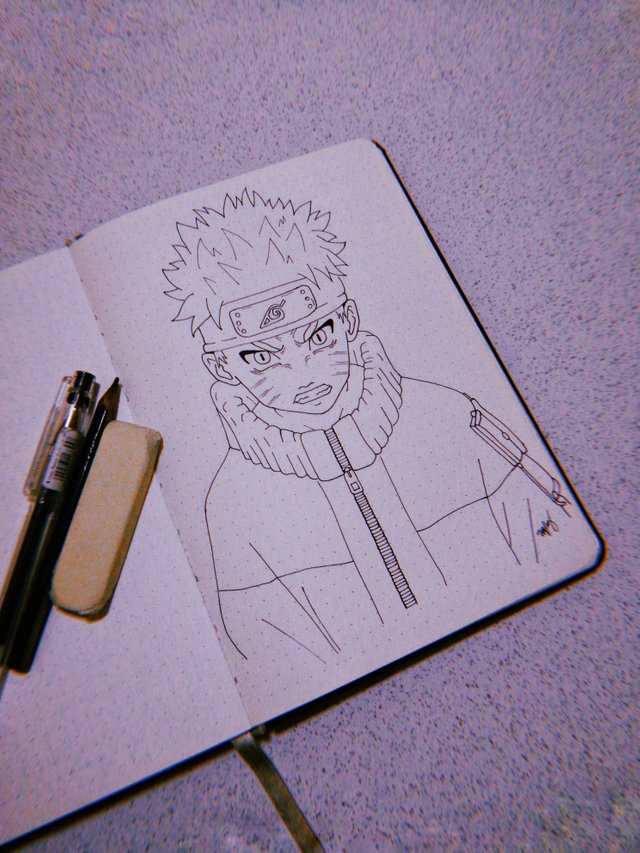 The power of angle. Naruto says, "Don't mess up with me!"
Before I posted it, I sent it to my sister @kirei if my drawing was okay and she said yes. I don't know if it's just me who can see it or I'm just a frequent basher of myself. Hahaha.
• • •
• • •
I am participating in The Diary Game initiated by @steemitblog.
Thank you and your teams' great initiative, support, and for your hard work!

To know me better, you can check my introductory post:
Hello Again, Steemit!

Team Ph

@fycee, @olivia08, @dashand, @pingcess, @appleskie, @sarimanok, and @loloy2020.
Writing should be fun and healing.
Let's have some fun writing our open diary.
---
K N E E L Y R A C