Steem Challenge Contest || Share Your Best 3 Photography pictures || Week-1 || 20 Steem Prize
First of all, greetings from me to all my friends. Hope you are all well. Today, for the first time, I am starting a contest. And I invite all your steemchallenge friends to take part in this contest. You go to the contest
As you all know friends, this is an age when everyone has a good smartphone. Every servant makes some kind of picture. I thought you would check out all your friends' art today. I talked about three types of photography in today's contest.
You only need to post three photography First the sunrisephotography then the sunsetphotography and finally the photography of the flowers.
Write at least 300 words together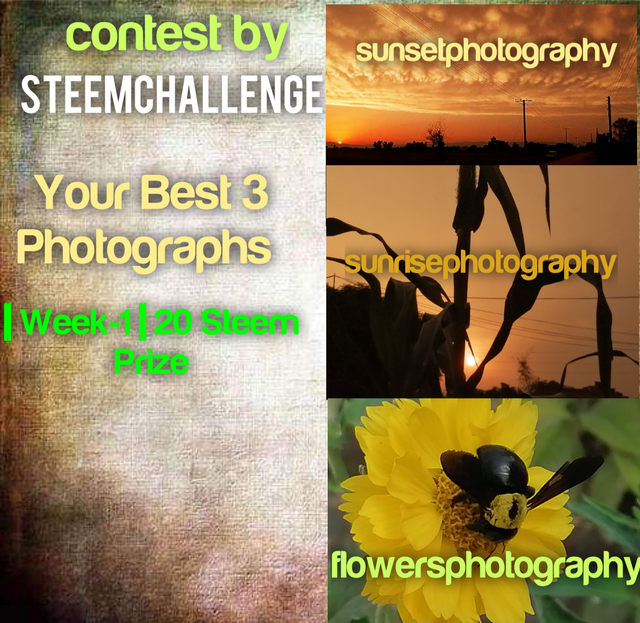 Follow the Rules
1 First of all, your photography should be your own. Photographs stolen from anywhere will not be accepted
2 Write at least 300 words about photography
3 Share only best 3 Photography pictures & Entry through Steem Challenge Community
4 Invite three of your friends to take part in this contest
5 Forward share this link reblog it
6 Share the link to your entry in the comment section for approval your entry
7 Use the tags #sunsetphotography #sunrisephotography #steemexclusive and #flowersphotography
Use the Title
8 Share Your Best 3 Photography pictures || STEEM CHALLENGE, Contest Week-01 ||
9 The competition is open to everyone and one entry for one person
10 Make Sure your entry before the Payout of the contest post
11 The Winner will be announced after or on 26 June 2021.
Prize Pool
| Number | rewards |
| --- | --- |
| 1st price | 6steem |
| 2nd price | 4steem |
| 3rd price | 3steem |
| 4rth price | 3steem |
| 5th price | 2steem |
| 6th price | 2steem |
Share your feelings about photography and location with your best 3 Photography
I am very thankful for drear brother @yousafharoonkhan
My Thanks to Steem Challenge Community Team @yousafharoonkhan, @jessica566, @jlufer and @janemorane for cooperation.