Crypto Academy Week 2 Homework Post for [@besticofinder]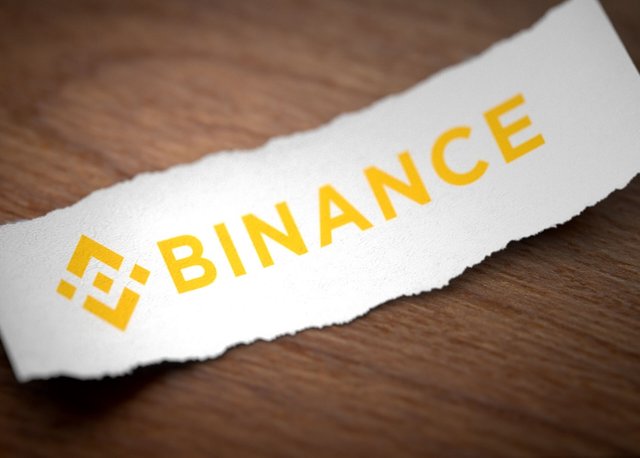 Source of the picture - Creative Commons License
---
Para todo aquellos steemians de habla hispana que por algún motivo no estén pudiendo realizar estas tareas, dejo en la segunda parte de esta publicación, el #tutorial en español. Espero que les sirva!! Saludos!!
---
ENGLISH
The chosen platform for a Cryptocurrency Exchange is Binance. When I started on Steemit, I had no idea about any of this and @fendit introduced me to Binance. She also explained the basic things to me so that I could transfer my Steem there.
---
How do you open an account on Binance?
1 - Go to the Binance website
You simply go to Binance website and click on sign up.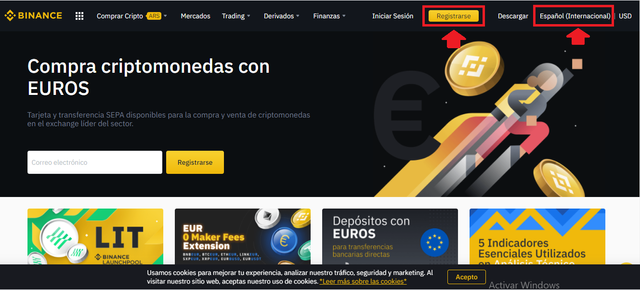 In the screenshot you can see what you have to press.
On the right above, you can select the language you want. In my case, my mother language is Spanish, and although I try to configure everything in English to keep myself familiar, in this case, I've decided (and I recommend that you also do it), to use my native language, because the subject is already new to me, therefore English could make it even more complex.
---
2 - Complete the requested data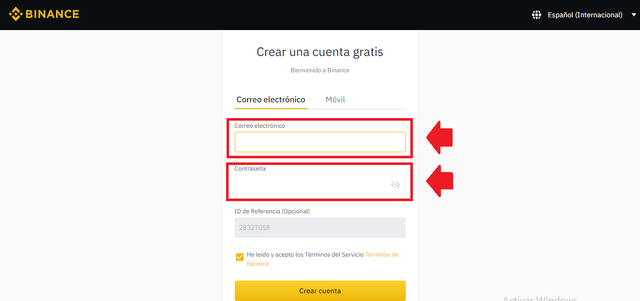 They will ask you for email, name and surname, cell phone and once you complete all this and verify that your email is the one you wrote down, they give you the almost mandatory option to verify your identity by scanning or photographing your identification card (which in Argentina is the National Identity Document). I don't remember if you could present another card like a driver's license.
At that time, I was very suspicious, because I thought: "How am I going to put such important information there?" But now that I've been on Binance for a few months, I fully understand why this is necessary:
This is real money
Being there you can make operations with other users of the platform
There are too many examples of hacking and identity theft for this to be overlooked
Basically today it seems essential that they do that and in fact, it is precisely that, one of the indicators that show that it is a really serious page.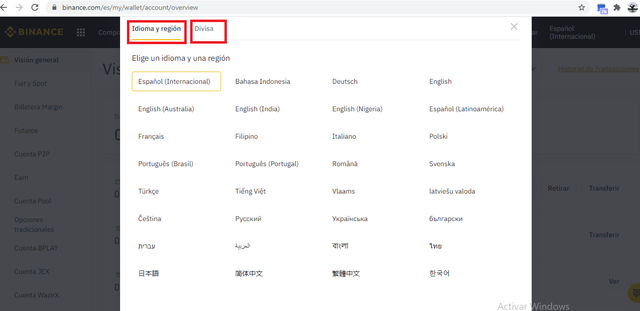 Another thing that Binance also allows you from within the platform, is again, modify the language, and choose the currency in which you want to see your cryptocurrency capital reflected (USD, Euro, etc.).
---
3- Make your first deposit
Once inside and with all the steps completed, you can deposit cryptocurrencies for the first time. In this case, you have to press deposit, and then you have to choose the cryptocurrency you want to receive.
Go to general vision

Press deposit

Press deposit cryptocurrency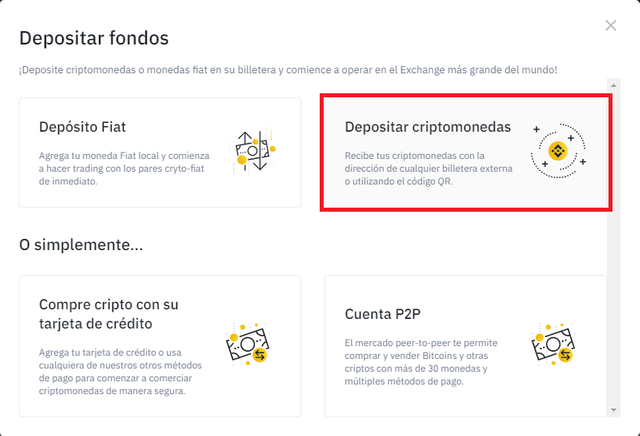 Choose the cryptocurrencies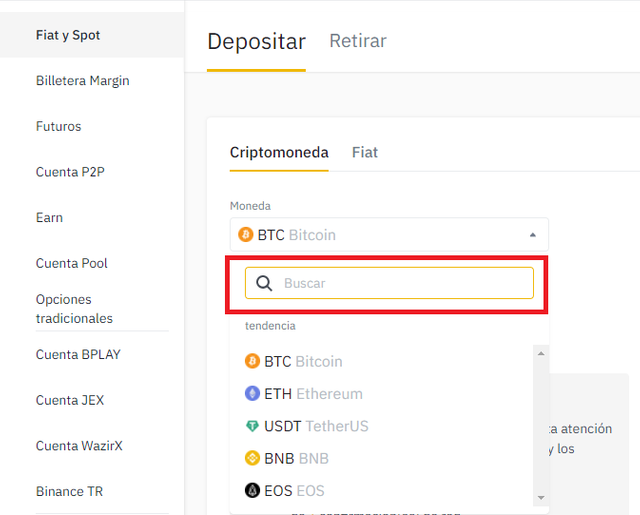 In this case, it would be Steem, and you'd have to send from Steeimt to Binance. I won't explain this at this point because I feel like I would get too off-topic.
---
Security
How to replace your registration email?
Something that caught my attention from what the professor explained is the importance of not using the same email that one uses for the generality of things. And I realized that I had recorded exactly that at that time. So I decided to change it within the framework of this task.
For this, you have to click on your account, where you see the drawing of a person, and access security.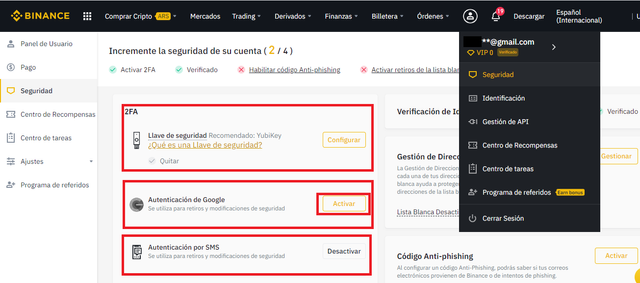 That will lead you to see all the security options you have. The last one is the one that allows you to modify the email. Press there.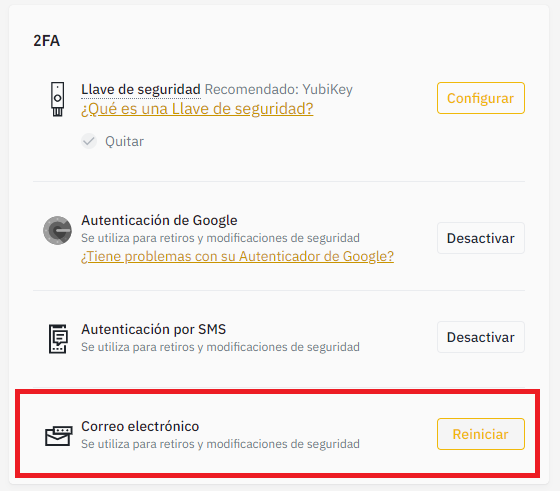 They will send you a code to your cell phone and then to your email, so that you can confirm that it is you.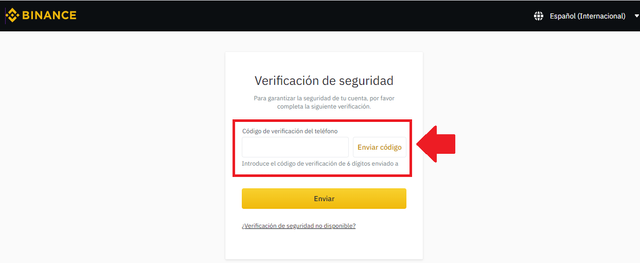 Then you have to follow the steps listed in the screenshot below (write down the new email, verify it and that's it!)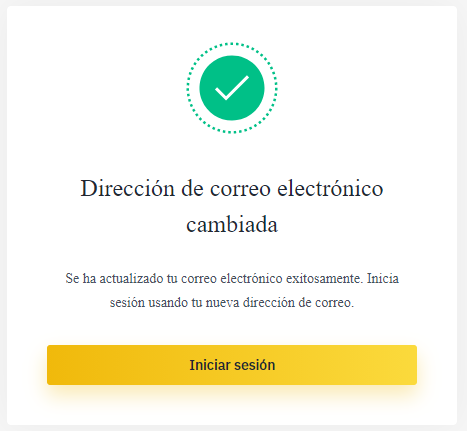 ---

That was all dear friends !! I hope it helps you !! Thanks for reading and I hope you can join this great proposal!!
Thank you very much to teacher @besticofinder for such an excellent class!!
I hope you are having a great day !!
Belén
---

---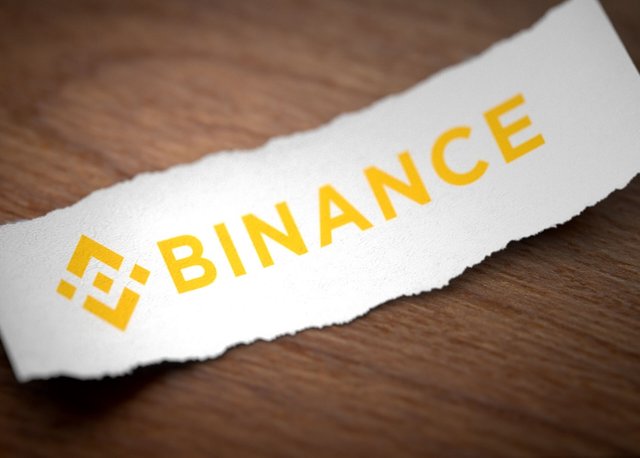 Fuente de la imagen - bajo Licencia Creative Commons
ESPAÑOL
La plataforma elegida de cambio de criptomonedas es Binance. Cuando empecé en Steemit, no tenía idea de nada de esto y @fendit me presentó Binance,. También me explicó las cosas básicas para que pudiera transferir mis Steem hacia allá.
¿Cómo tenés que hacer para abrir una cuenta en Binance?
1 - Ir al sitio web de Binance
Simplemente vas a la página web de Binance y hacés click en registrarte.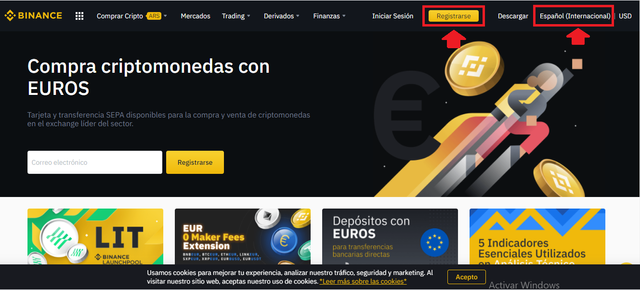 En la captura de pantalla podés ver qué es lo que tenés que presionar.
Al costado derecho y arriba, podés seleccionar el idioma que quieras. En mi caso, mi lengua materna es el Español, y a pesar de que intento configurar todo en Inglés para mantenerme familiarizada, en este caso he decidido (y te recmiendo que también lo hagas), utilizar mi lengua, debido a que ya el tema es nuevo para mí, por lo tanto el Inglés podría complejizarlo aún más.
---
2 - Completar los datos solicitados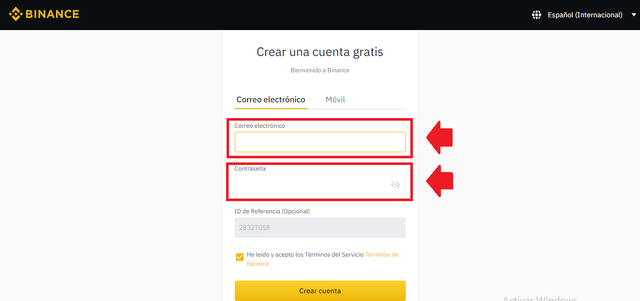 Te pedirán correo electrónico, nombre y apellido, teléfono celular y una vez que completas todo esto y verificás que tu mail es el que anotaste, te dan la opción casi obligatoria de que verifiques tu identidad escaneando o fotografiando tu tarjeta de identificación (lo que en Argentina es el Documento Nacional de Identidad). No recuerdo si podías presentar otra tarjeta como carnet de conducir.
En ese momento, a mí me dio mucha desconfianza, porque pensé: "¿Cómo voy a poner ahí información tan importante?" Pero ahora que llevo algunos meses en Binance, entiendo a la perfección por qué es necesario hacer esto:
Se trata de dinero real
Al estar ahí puedes hacer operaciones con otros usuarios de la plataforma
Existen numerosos ejemplos de piratería y robo de identidad como para que esto se pase por alto
Básicamente hoy me parece indispensable que hagan eso y de hecho, es justamente ese, uno de los indicadores que demuestran que se trata de una página realmente seria.
Otra cosa que te permite Binance también desde dentro de la plataforma, es nuevamente, modificar el idioma, y elegir la divisa en la que querés ver reflejado tu capital de criptomonedas (USD, Euro, etc.)
3- Hacé tu primer depósito
Una vez dentro y con todos los pasos completados, podés depositar criptomonedas por primera vez. En este caso, tenés que presionar depositar, y luego tenés que elegir la criptomoneda que querés recibir.
Andá a visión general

Presiona depositar

Elegí depositar criptomonedas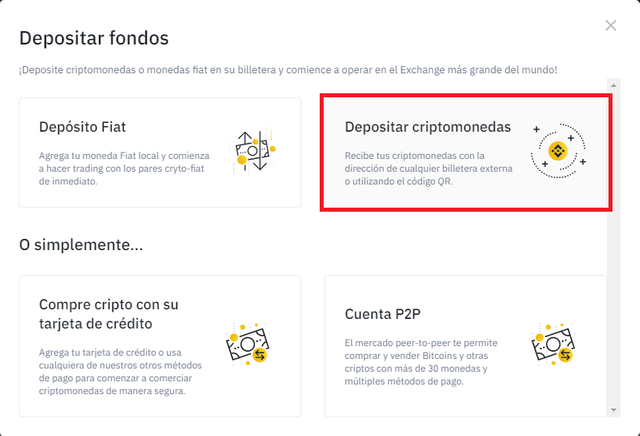 Buscá la criptomoneda que quieras depositar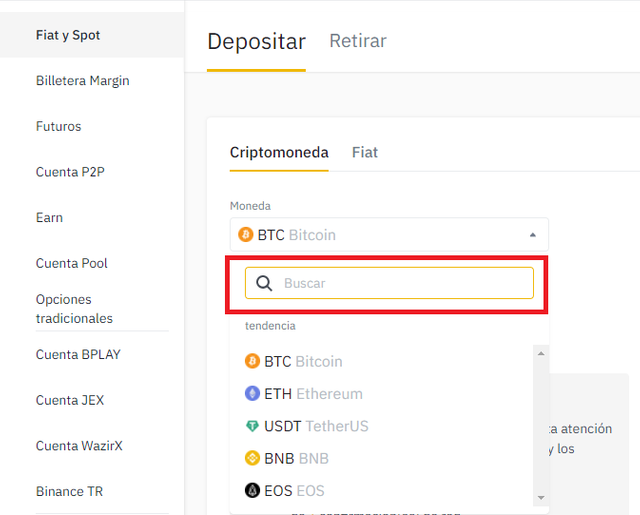 En este caso se trataría de Steem, y tendrías que hacer el envío desde Steeimt hacia Binance. No explicaré esto en este punto porque siento que me iría demasiado de tema.
---
Seguridad
Cómo cambiar tu correo electrónico de registro?
Algo que me llamó la atención de lo que explicó el profesor, es la importancia de no utilizar el mismo email que uno usa para la generalidad de las cosas. Y me di cuenta que yo había registrado exactamente ese en aquel momento. Así que decidí cambiarlo en el marco de esta tarea.
Para esto, teés que presionar en tu cuenta, donde ves el dibujo de una persona, y acceder a seguridad.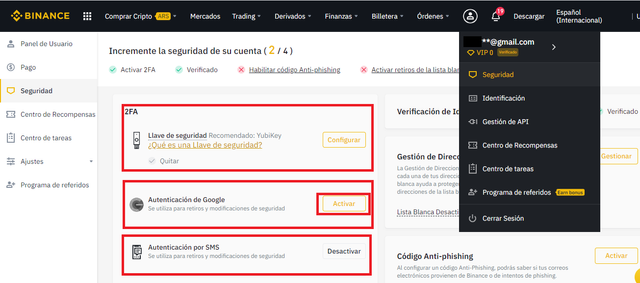 Eso te va a llevar a que veas todas las opciones de seguridad que tenés. La última es la que te permite modificar el correo electrónico. Presiona allí.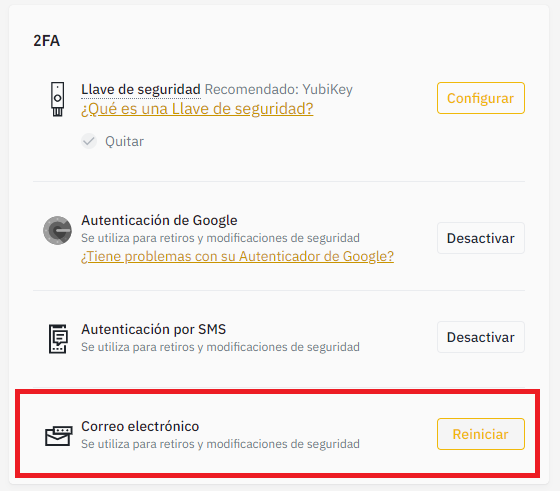 Te enviarán un código a tu teléfono celular y luego a tu correo electrónico, para que confirmes que sos vos.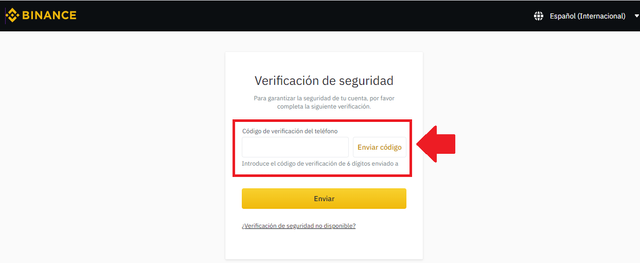 Luego tenés que seguir los pasos que figuran en la captura de pantalla a continuación (anotar el nuevo correo, verificarlo y listo!)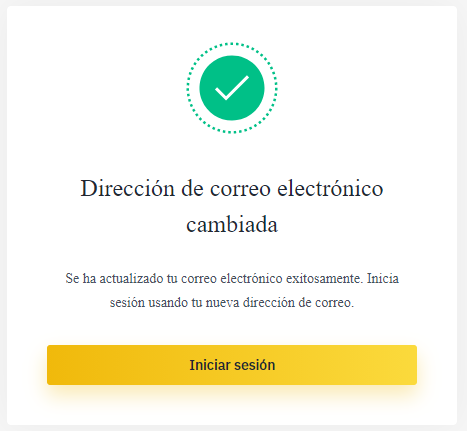 ---

Eso ha sido todo queridos amigos!! Espero que les sirva!! Gracias por leer y ojalá puedan sumarse a esta genial propuesta!!
Muchas gracias al profesor @besticofinder por tan excelente clase!!
Espero que estén teniendo un gran día!!
Belén
Cc-
@steemitblog
@steemcurator01
@steemcurator02
@stephenkendal