The Steemit Crypto Academy Week 3: Spot Trading & Margin Trading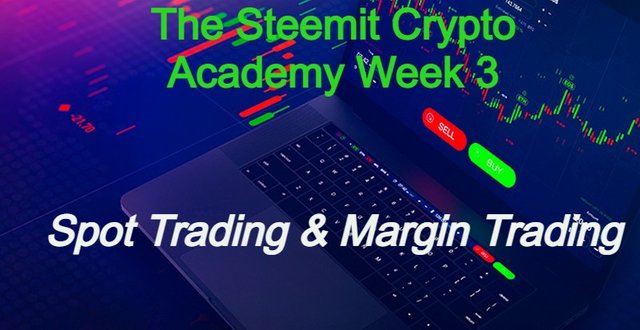 Hello Steemian
Today I am going to write a Homework article made by professor @besticofinder. Explain Spot Trading and Margin Trading and Discuss the advantages and disadvantages of Spot Trading and Margin Trading
Spot Trading
Spot Trading is a trade that I think is the easiest for us to understand when trading cryptocurrency on the Exchange Market. Spot trading is very simple as we do buy and selling in the real world. Spot trading has a scheme that is used to buy the cryptocurrency at a low price or go down and sell it when the price is high or goes up. buy low sell high, the spot trading transaction is almost the same as stock trading.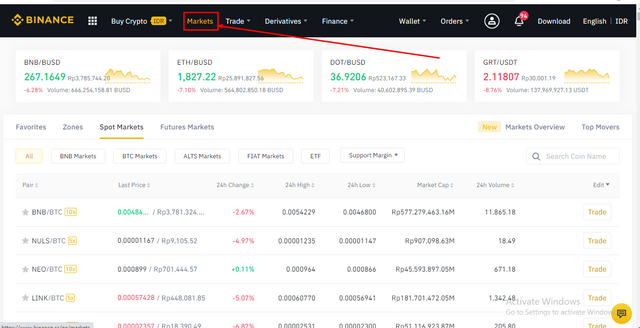 In spot trading on the Binance platform, you can choose the cryptocurrency you want to trade. before starting trading you must first deposit funds into the Binance platform as your capital to do spot trading.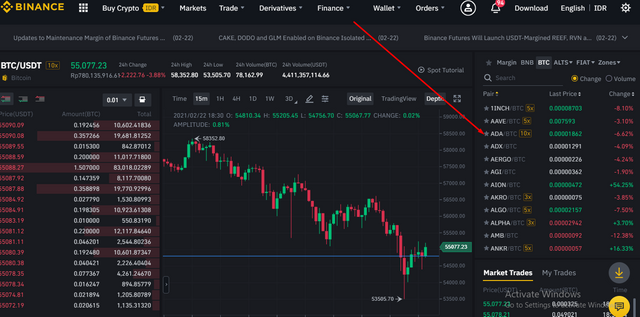 The price for trading cryptocurrency on spot trading is the real price or market price of cryptocurrency at the time you trade. This is where you can start to buy crypto at a low price and then sell it at the highest price.
Margin Trading
Margin Trading is the most popular trade for cryptocurrency traders. With Margin Trading, traders can get loan facilities to buy and sell from third parties. Usually, the third party in margin trading is the trading platform itself.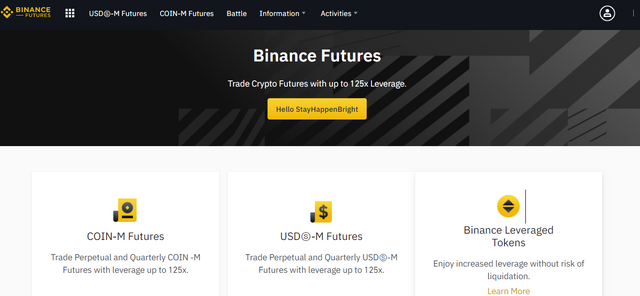 On the Binance platform you can choose the Binance Futures to feature to do margin trading by doing this Margin Trading activity cryptocurrency traders can increase their profits in trading cryptocurrency. Usually, third parties or platforms offer loan funds for trading with 1: 1 leverage, which means traders can borrow funds 100% of the capital they own.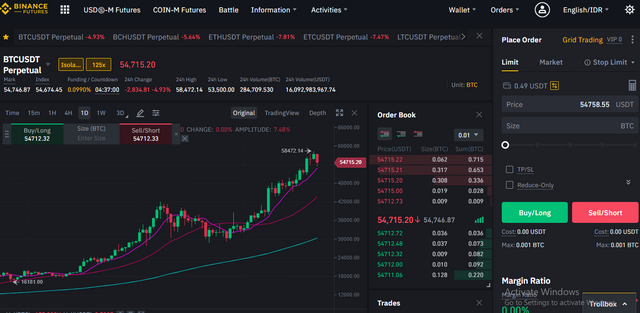 for example: if you have 1 Bitcoin capital then you can borrow 1 Bitcoin from a third party, so you now have 2 bitcoin capital that you can use to trade so that you get bigger profits.
Advantages and disadvantages of Margin Trading:
With the increasing amount of capital that cryptocurrency traders have for trading, of course, it also increases their profit ratio, this also applies to their loss ratio.
Special expertise is needed in analyzing the market carefully so that profits in margin trading can be obtained. Special expertise is needed in managing risk management of your assets, you also need calculations in every taking of your loan leverage to minimize losses in margin trading.
This margin trading does have a very large level of risk, but that does not stop the fact that margin trading is the fastest way to achieve profits in the world of cryptocurrency trading. With careful planning, readiness, and expertise in reading the market, it is not impossible that big profits will be easy for us to get
---
---
---
Bahasa Indonesia
---
---
---
Spot Trading
Spot Trading adalah perdagangan yang menurut saya paling mudah untuk kita di pahami dalam melakukan perdagangan cryptocurrency di Market Exchange . Spot trading sangat sederhana seperti kita melakukan hal jual beli di dunia nyata.Spot trading memiliki skema yang digunakan adalah membeli cryptocurrency diharga murah atau turun dan menjualnya ketika harga mahal atau naik. buy low sell high, transaksinya spot trading ini hampir sama seperti perdagangan saham.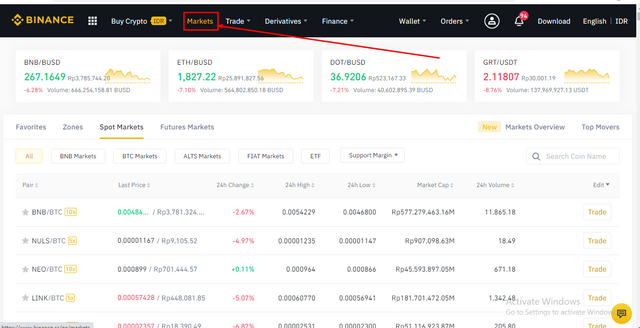 Pada perdangan spot di Binance paltform ini anda bisa memilih cryptocurrency yang ingin anda trading. sebelum memulai trading anda harus melakukan dulu deposit dana dulu kedalam platform binance sebagi modal anda untuk melaukan trading spot .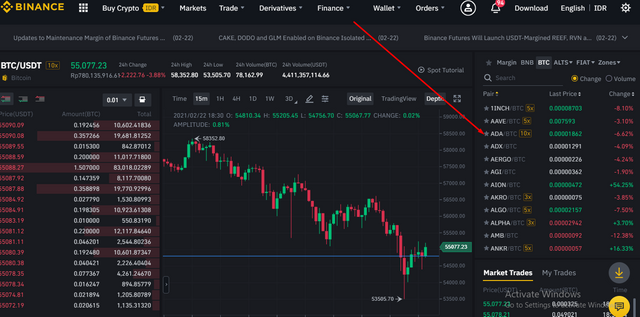 Harga pada perdagangan cryptocurrecny pada spot trading ialah harga riil atau harga pasaran cryptocurrency pada saat anda melakukan trading. disni anda bisa memulai untuk membeli crypto di harga rendah dan kemudian menjualnya di harga tertinggi.
Margin Trading
Margin Trading adalah perdagangan yang paling populer bagi para trader cryptocurrency.Dengan Margin Trading ini para trader bisa mendapatkan fasilitas dana pinjamam untuk melakukan jual beli dari pihak ketiga .biasanya yang menjadi pihak ketiga dalam margin trading ialah paltform trading itu sendiri.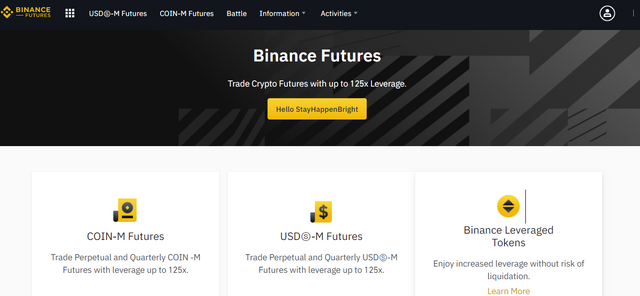 Di Platform binance anda bisa memilih fitur Binance Futures untuk melakukan margin trading dengan melakukan aktivitas Margin Trading ini para trader cryptocurrency dapat memperbesar keuntungan mereka dalam melakukan trading cryptocurrency.biasanya pihak ketiga atau paltform menawarkan pinjaman dana untuk trading dengan leverage 1:1, itu artinya trader dapat meminjam dana 100% dari kepemilikan modal yang mereka miliki.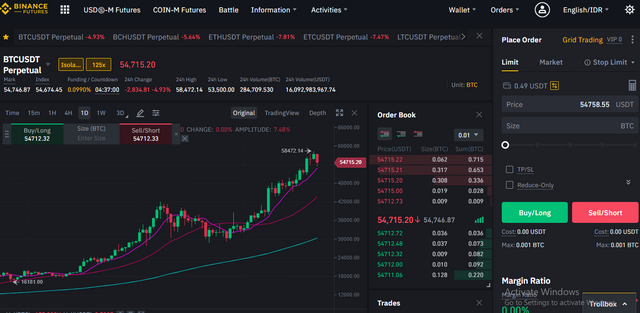 contohnya : jika anda memiliki modal 1 Bitcoin maka anda dapat memimjam 1 Bitcoin dari pihak ketiga,sehingga anda sekarang memiliki modal 2 bitcoin yang dapat anda pakai untuk melakukan trading sehingga mendpat keutungan yang lebih besar.
Keuntungan dan kekurangan Margin Trading:
Dengan semakin banyaknya modal yang di miliki oleh para trader cryptocurency untuk melakukan trading tentunya juga meningkatkan rasio keuntungan mereka hal ini juga berlaku bagi rasio kerugian mereka .
Dibutuhkan keahlian khusus dalam menganalisa pasar secara cermat agar keuntungan dlam melakukan margin trading bisa di dapatkan .dibutuhkan keahlian khusus dalam pengelolaan manajemen resiko asset anda juga di butuhkan perhitungan dalam setiap pengambilan leverage pinjaman dana anda untuk meminimalisir terjadinya kerugian dalam melakukan margin trading.
Margin trading ini memangmemiliki tingkat risiko yang sangat besar, tetapi itu tidak menghentikan fakta bahwa margin trading adalah cara tercepat mencapai keuntungan dalam dunia perdagangan cryptocurrency .Dengan perencanaan matang, kesiapan, dan keahlian dalam membaca pasar, bukan tidak mungkin keuntungan besar akan mudah untuk kita didapatkan.
---
All of these screenshots I took on the Binance exchange market
Jangan Lupa Bahagia

Cc:-
@steemitblog
@steemcurator01
@steemcurator02
@besticofinder