Crypto Academy Season 3 | Intermediate course by @allbert - Homework Task1 ||A world of Wallets and Exchanges
Its an honour to be a part of this class and also the beginning of the long awaited season 3, I must commend our new professor @allbert for this lecture because it was so explanatory and understanding, having read the home work I was able to give back on the topic A world of Wallets and Exchanges base on my understanding and in my own word.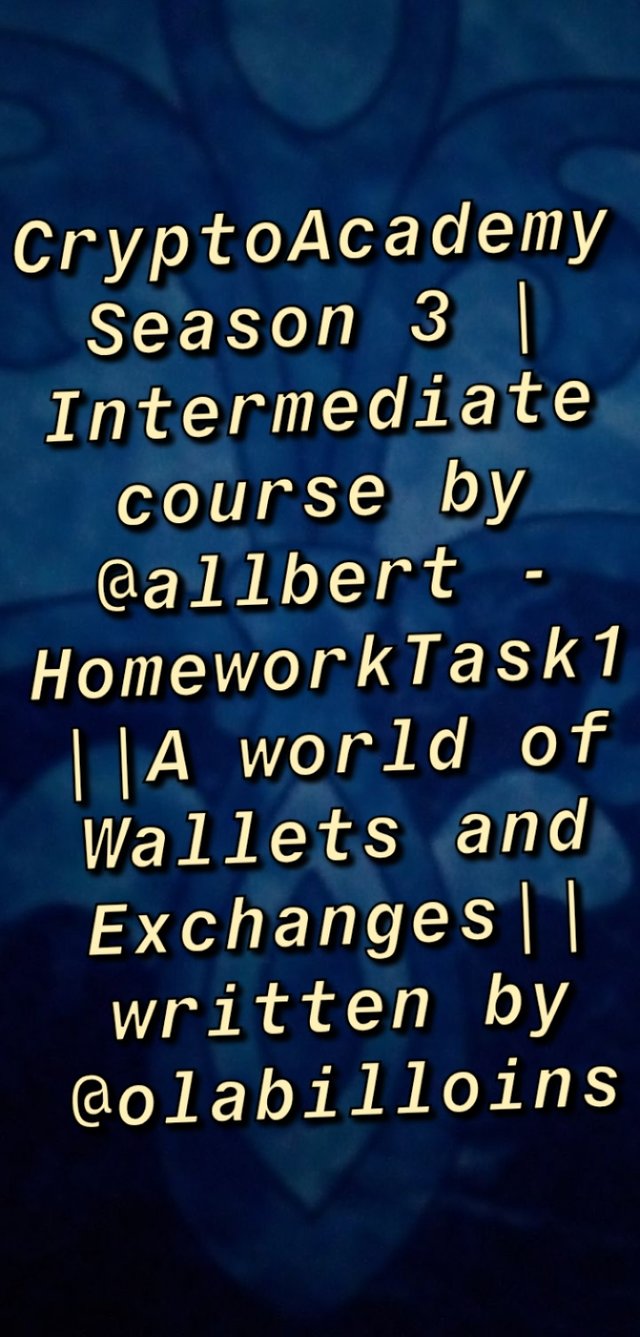 Explain differences between wallets and exchanges as well as mention which operations should be performed in an Exchange and which operations should be performed in a wallet (in terms of fees).

WALLET
Wallet are cryptocurrency safe, they secure and protect crypto asset from scammers or hackers, Wallet receives and send token and also some support swapping of token. Wallet can be classified into two which are the hot wallet and the cold wallet, however, they are applications that is safe to keep and hodl crypto currency for a long time.
There are offline and online wallet in the sense that, the wallet can be physical in form of USD device which keeps or store cryptocurrency.
Alll in one, wallet either cold or hot wallet, their main function is to secure cryptocurrency and keeping it save using the private key provided when registering for the application, this private key will be required to complete the action when a transaction is ongoing, the private key, in this case indicate that, it is the user performing the transaction.
EXCHANGES
Exchanges are application used in trading crypto currency, exchanging one crypto asset for another crypto asset and buying of crypto currency with your national currency of fait money or vice versa. Every exchanges comes with a wallet assigned to it to store or keep crypto asset. example are binance, houbi, coinbase etc.
| WALLET | EXCHANGES |
| --- | --- |
| Wallet are used mainly for securing cryptocurrency | exchanges are used for trading cryptocurrency |
| Any form of verification is not needed | personal information like ID card, driver's licence are needed for verification |
| In the case of some wallet, like offline wallet, it is difficult to use | exchanges are user friendly as it has an easy interface |
| Users have full authorities over asset | users dont have full authority over asset |
| Wallet are decentralized application | exchanges are centralized application |
Operations performed in an exchange are buying and selling of cryptocurrency at a market price, charges are lesser in an exchange when transaction are made and this charges are considered more lesser if the volume of trade is high unlike the wallet where cryptocurrency charges are high, when trying to send token to an exchange, for conversion of token to fait currency or for cryptocurrency trading.
Personally I remembered last year 2020, sometimes June. I bought BTC in my wallet and left it for a long time, this year March I tried to send my token to an exchange, in the plan to convert to steem, the charges paid for that transaction was so high but i had no choice because I think I paid the wallet for a job done, that is keeping my crypto safe for a period of 8 to 9 months.
In your own words, Why You think people should have more than one exchange account?. Do you have an exchange account? and Why that specifically?
Truth be told I only make use of one exchange which is binance and that is the only exchange I have an account with, but with the clarity of this well explained lecture by professor @Allbert, now I see reason why why i should have more than one account.
Having more than one account is a good recommendation to which I must commend my professor for this logical idea, different exchange with different rules, some exchanges don't support some listed coins, charges differs also, while the volume of coin and the withdrawal fee are also different, not all exchanges are allowed in some countries.
There are many more reasons why people should have more than one account, also distribution of money or assets in different exchanges will be of help, if issues of compromise security should occur to an exchange, there will be a rest of mind knowing that all of your money or funds or asset isn't piled up in one exchange. so having different exchanges can be of no harm but help in using any of which that suits your rate.
Do you have an exchange account? and Why that specifically?
Of course I do..
There are so many cryptocurrency that are listed on binance binance is like the most used exchange for trading mainly because binance support a lot of coin in pairs for trading, the volume at which binance exchange cryptocurrency is so high that most people don't bother creating an account with other exchanges but still having different exchanges is the best.
Binance trading system is different from other exchanges, trading can be done with limit order, order book, stop order, and OCO (one cancel another), such opportunity is what we binance users get as a result of using the exchange.
What are better? Wallets or exchanges.?
In my own very honest opinion I don't think choosing a side will be better, as it depends on the type of trader we are, in a case where holding a cryptocurrency will be an option using a decentralized wallet will be advisable of which the cryptocurrency will be safe, stored in the wallet for a long period of time, for a trader that tends to hold for years I would prefer the oflline wallet, because of it higher security than the online wallet.
But if it were to be a scalp trader or a trader that trades day in day out, using the volatility of the market to make profit, I think the exchange will be a better option for someone like that. But still everyone would prefer a storage that gives a trader rest of mind and that can only be a wallet.
Create an account in a wallet and in an exchange of your choice and show screenshots of the process.
Creating an account in a wallet and in an exchange is so easy, just like creating a social Media account, so for a decentralized wallet I'll be creating an account with trust wallet and in an exchange it will be poloniex.
Firstly to create a trust wallet, visit trust wallet official site and then choose a wallet based on your device, so as an Android user, I will be downloading the trust wallet dapp from google play store and installation will follow, after the wallet is fully installed in the mobile device, open the app.
Step 1: To create a wallet open the downloaded dapp
Step 2: Click on create a wallet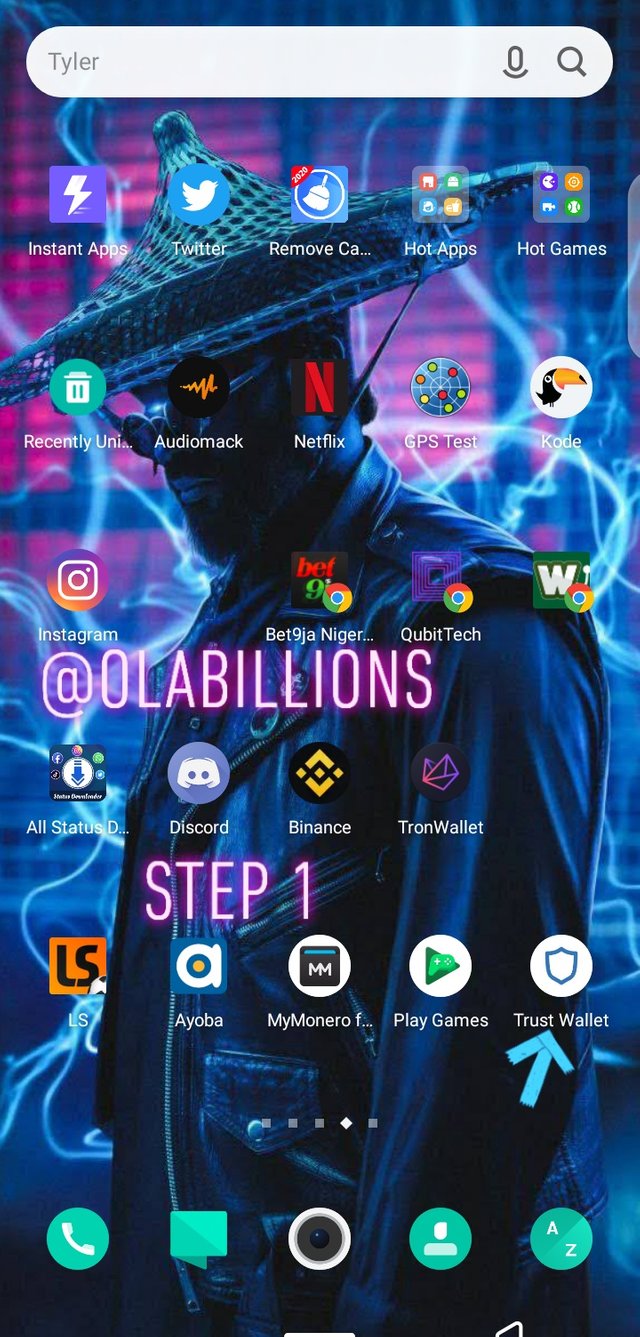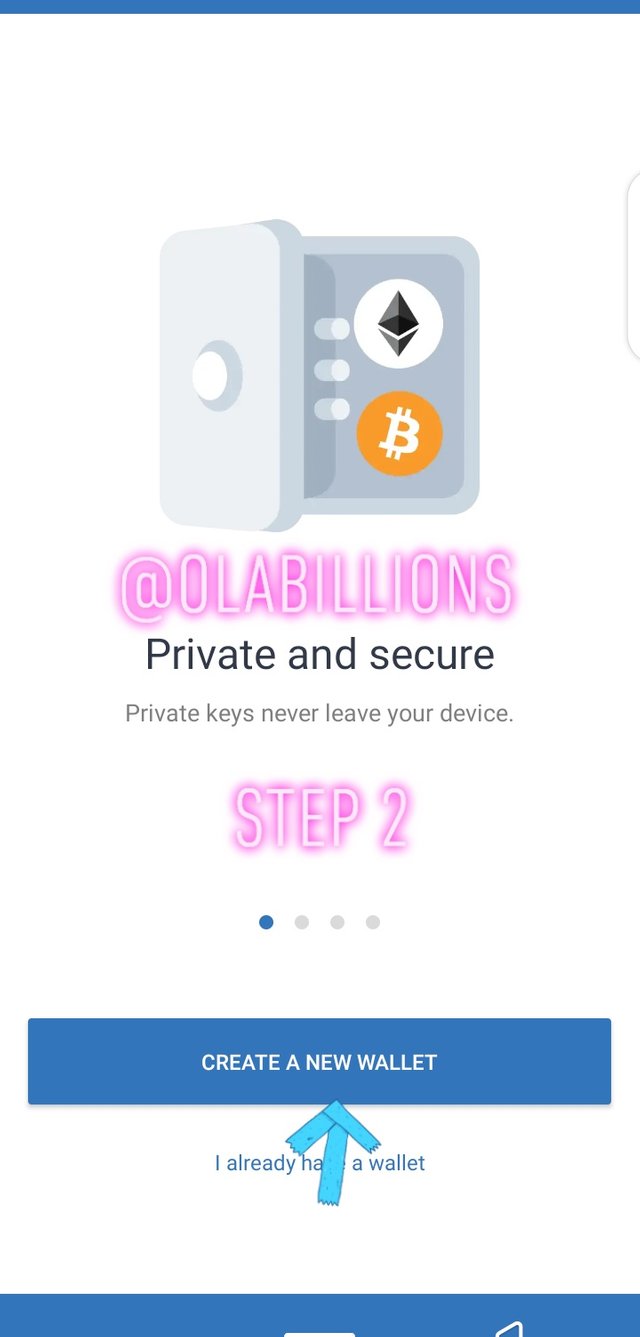 Step 3: Agree to the application term and condition by ticking the box, then click continue
Step 4: Tick the box to confirm that you understand the basic security rule, click continue again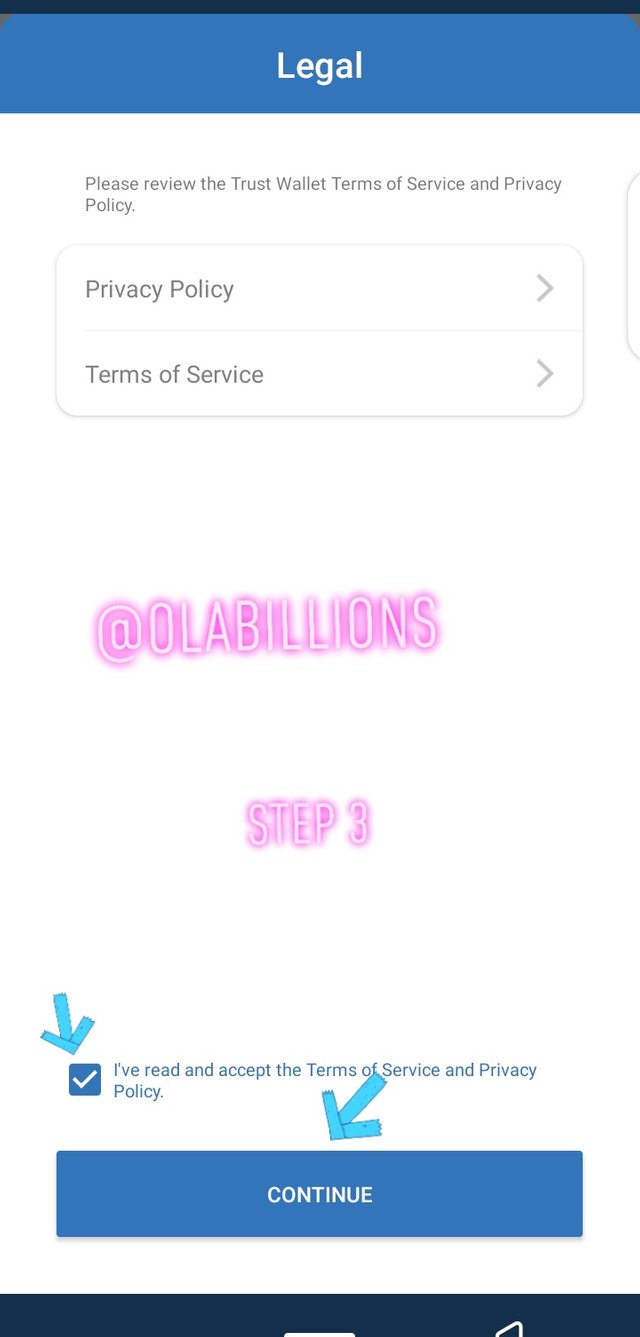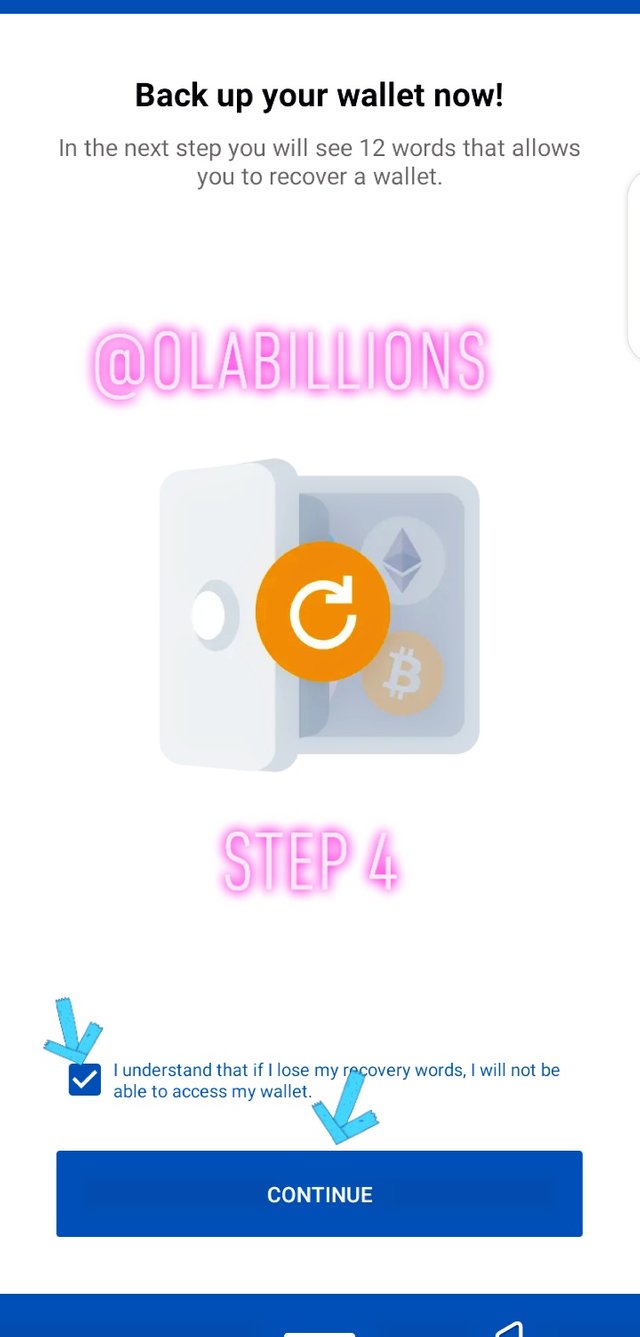 Because of it decentralized manner trust wallet doesn't allow screenshots of the 5th and 6th steps
Step 5: 12 seed phrase was given as your private key, which should be written offline or noted down
Step 6: In the 6th step these seed phrases will be asked to put accordingly as given in step 5, then click done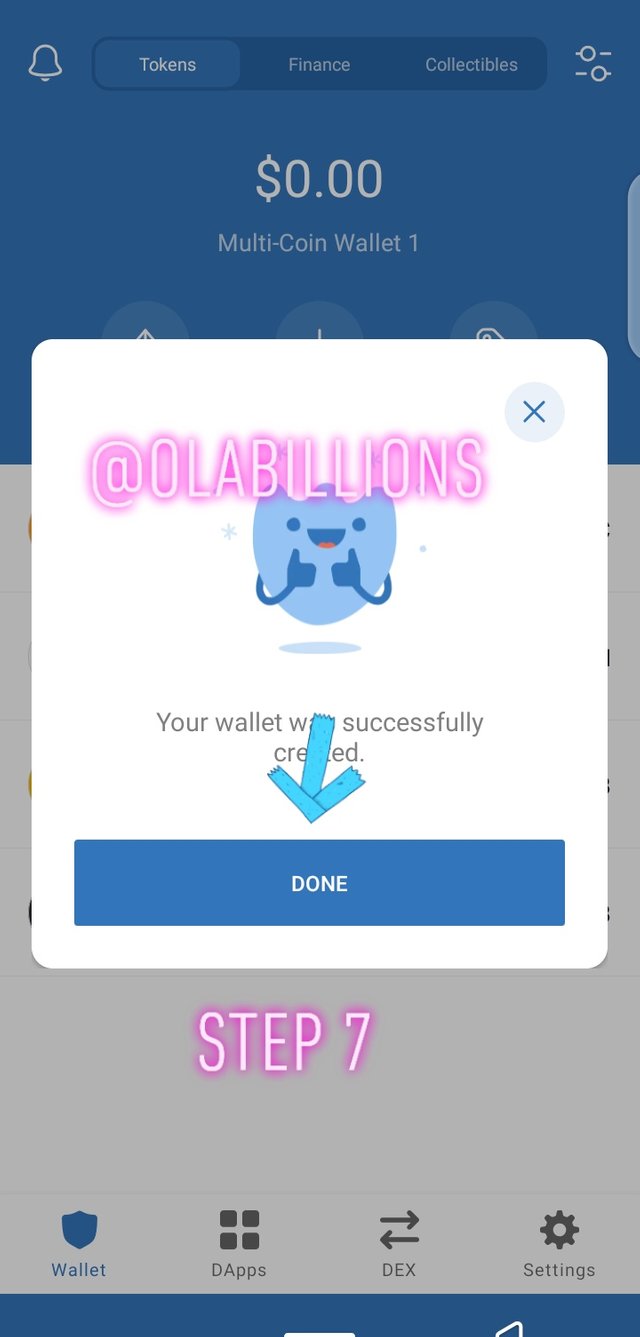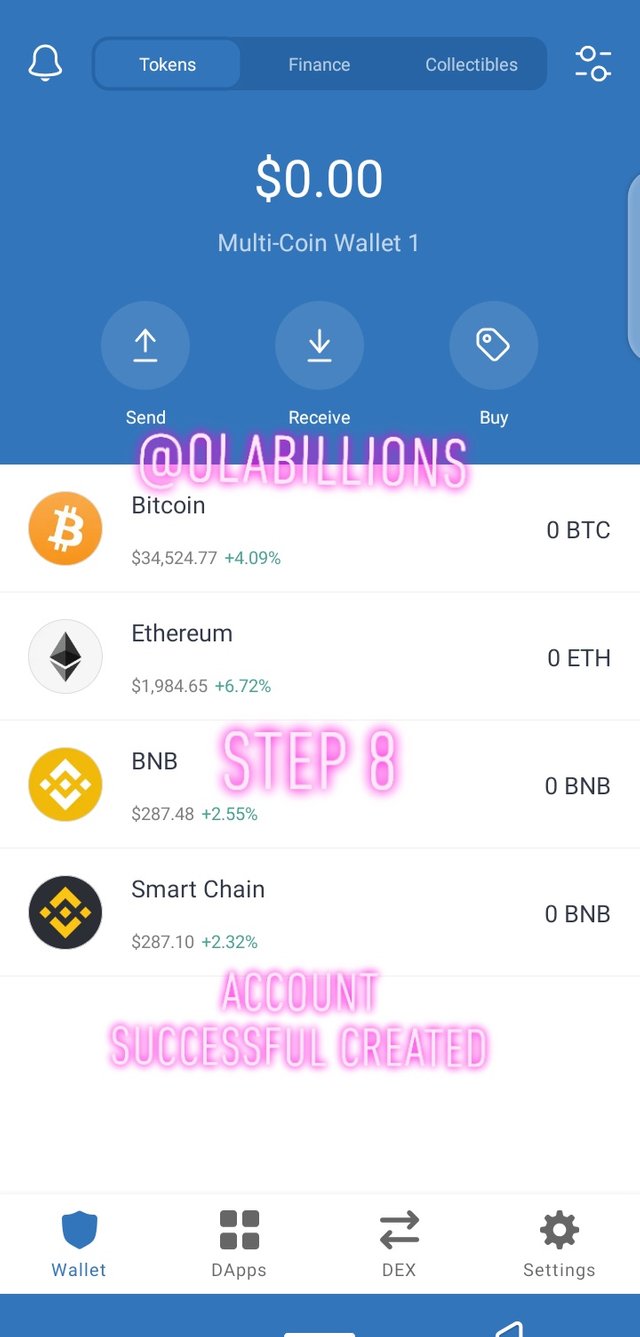 Step 7: click done again
Step 8: I have successfully created a wallet
Creating an account in an exchange
Visit poloniex official website, click on the three dashed line by the top right angle of your mobile device, different options will then occur, since I want to create an account, click sign up, after that fill in your email address and strengthen your password,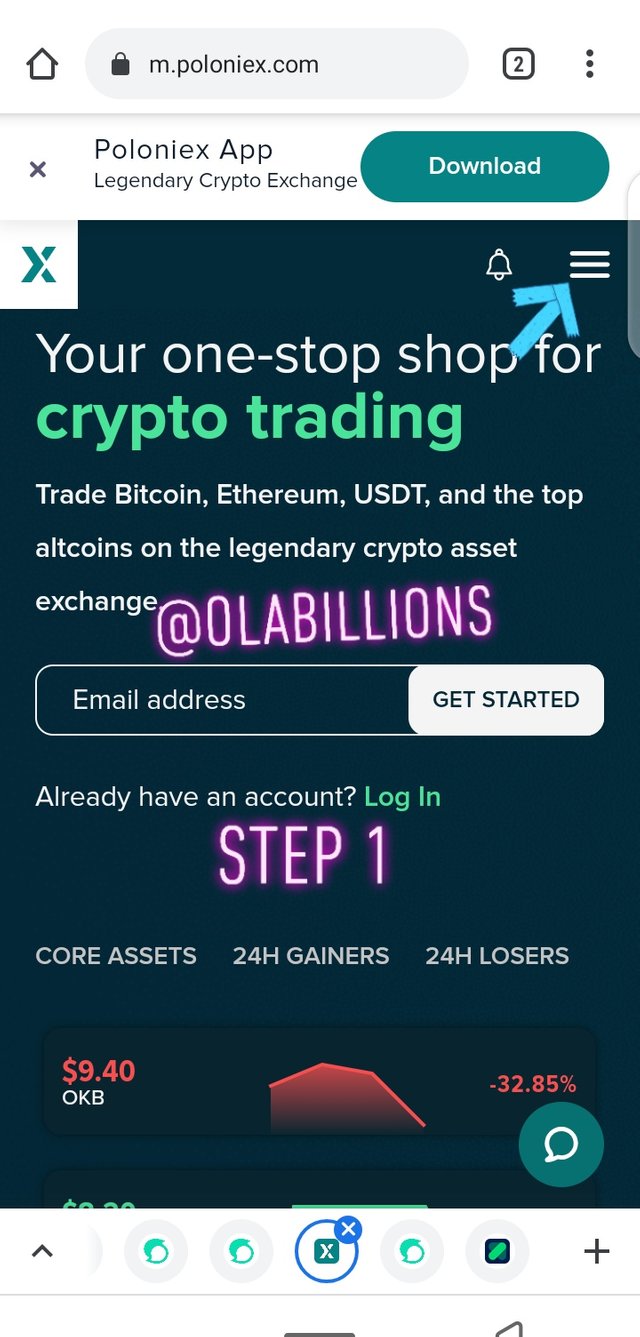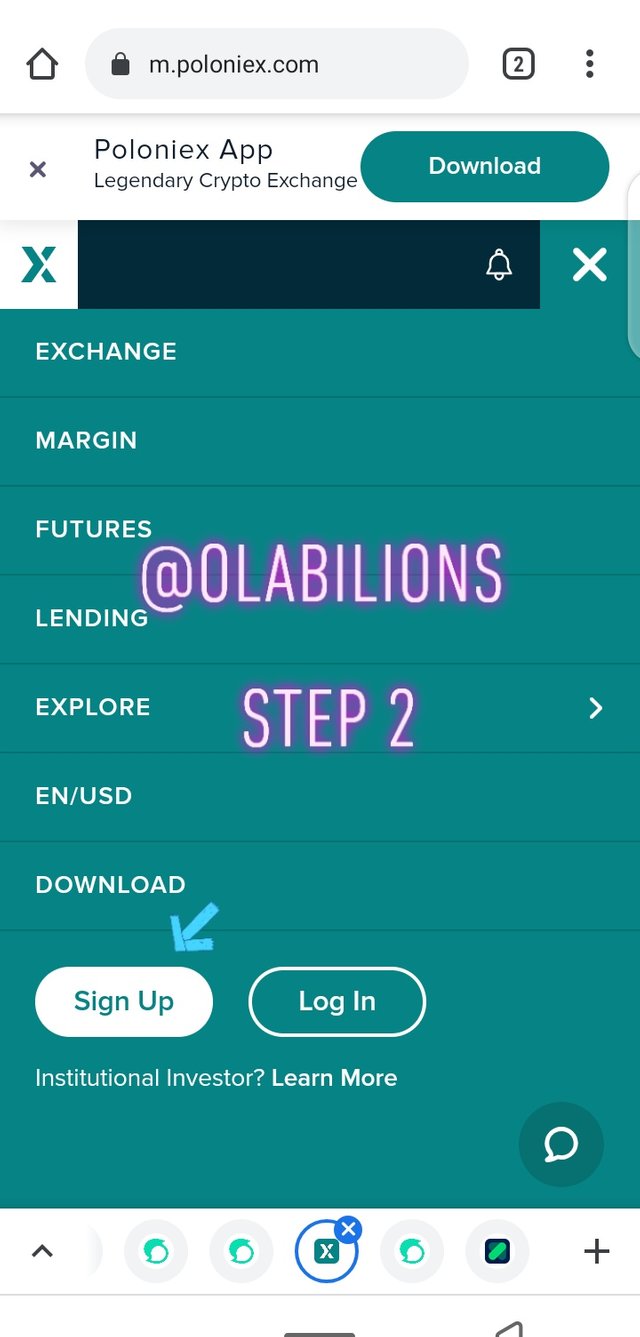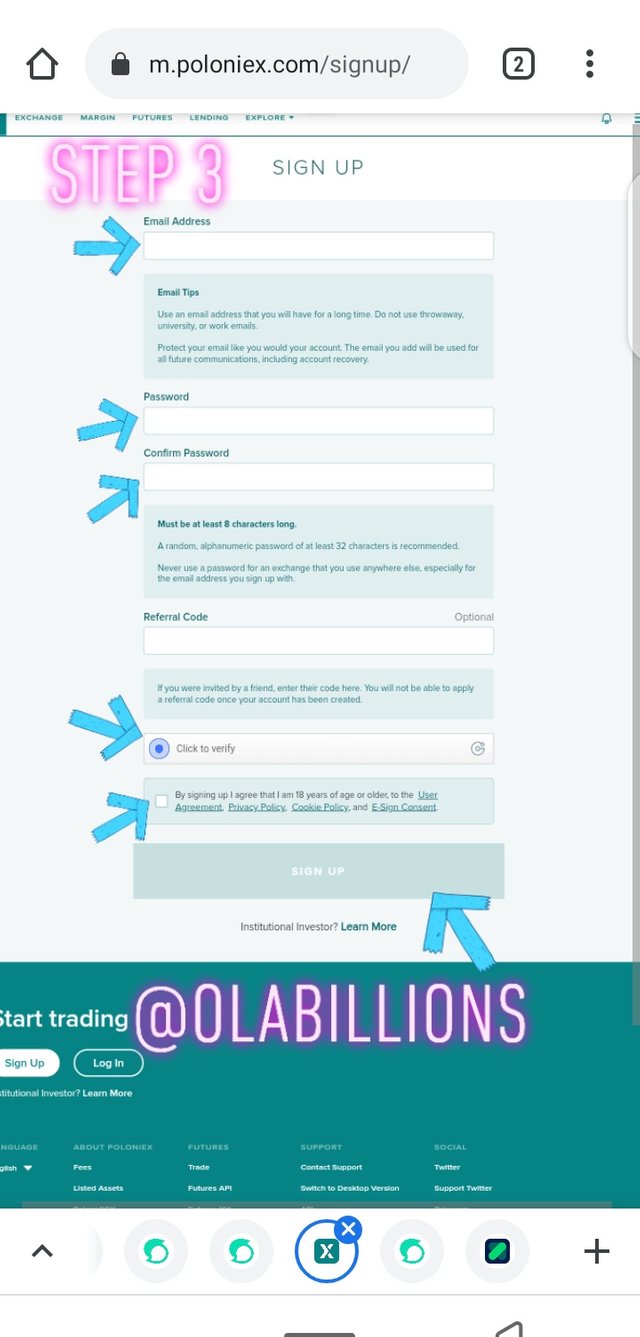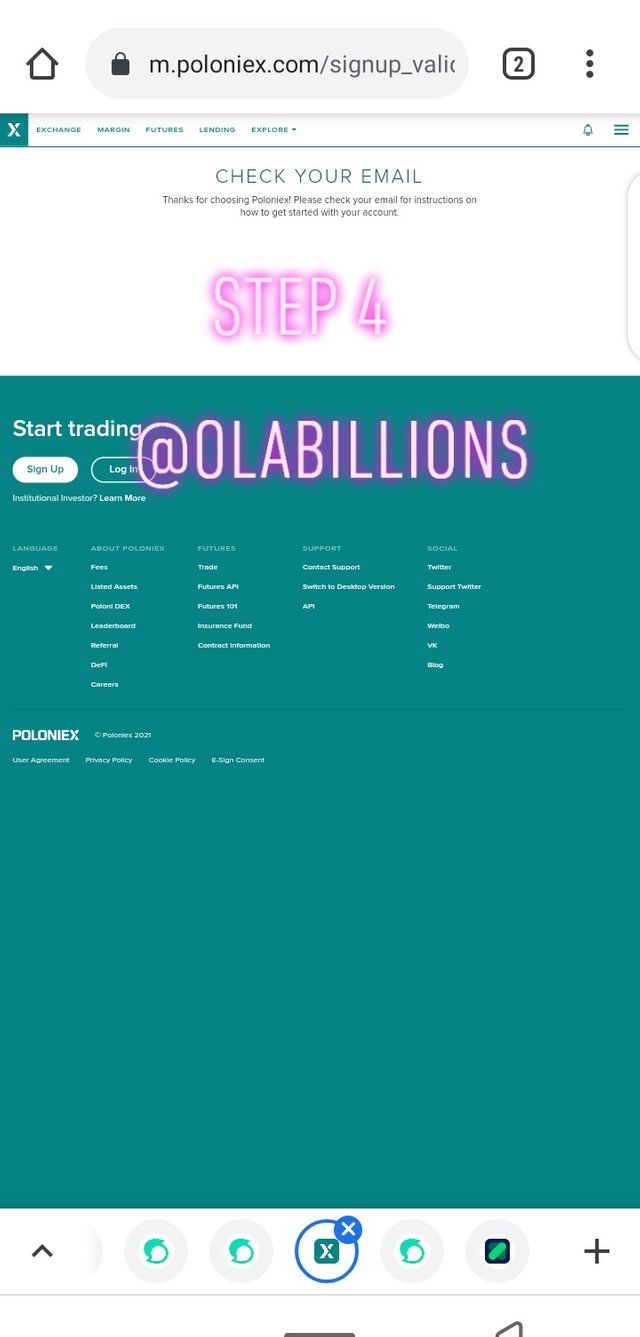 And then reconfirm your password, the referral aspect is optional,tick the circle to check or verify your form fillings, tick the small box indicating that you are at agreement with the application terms and then click sign up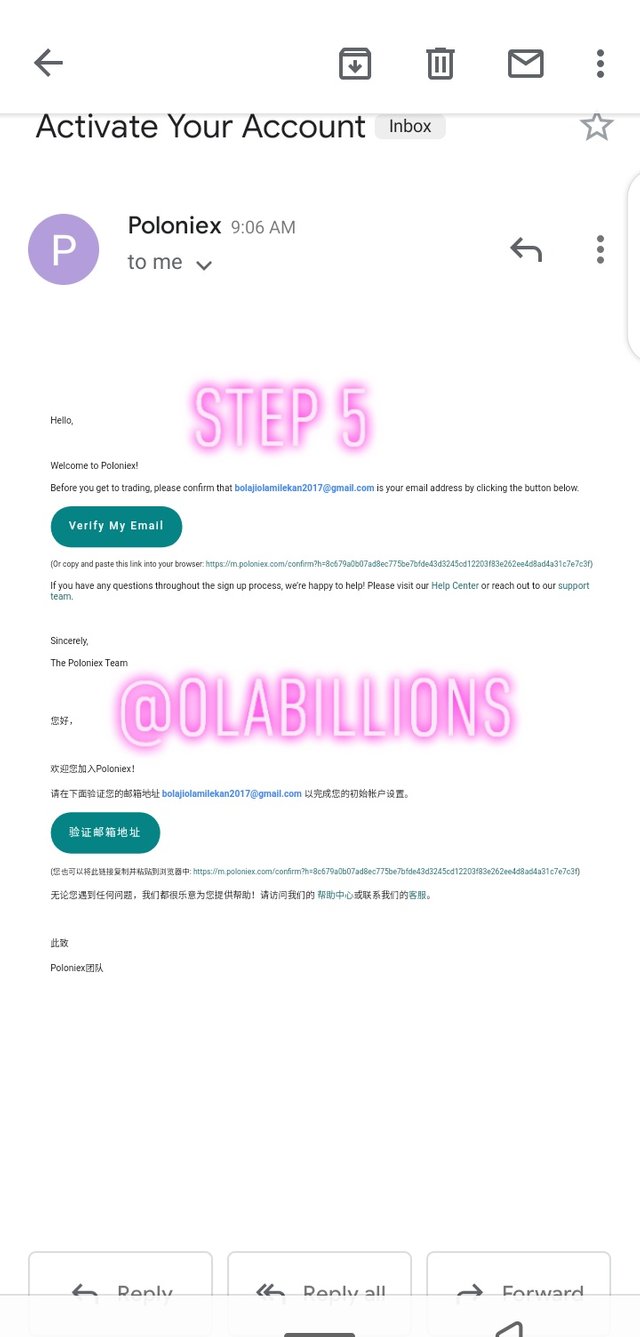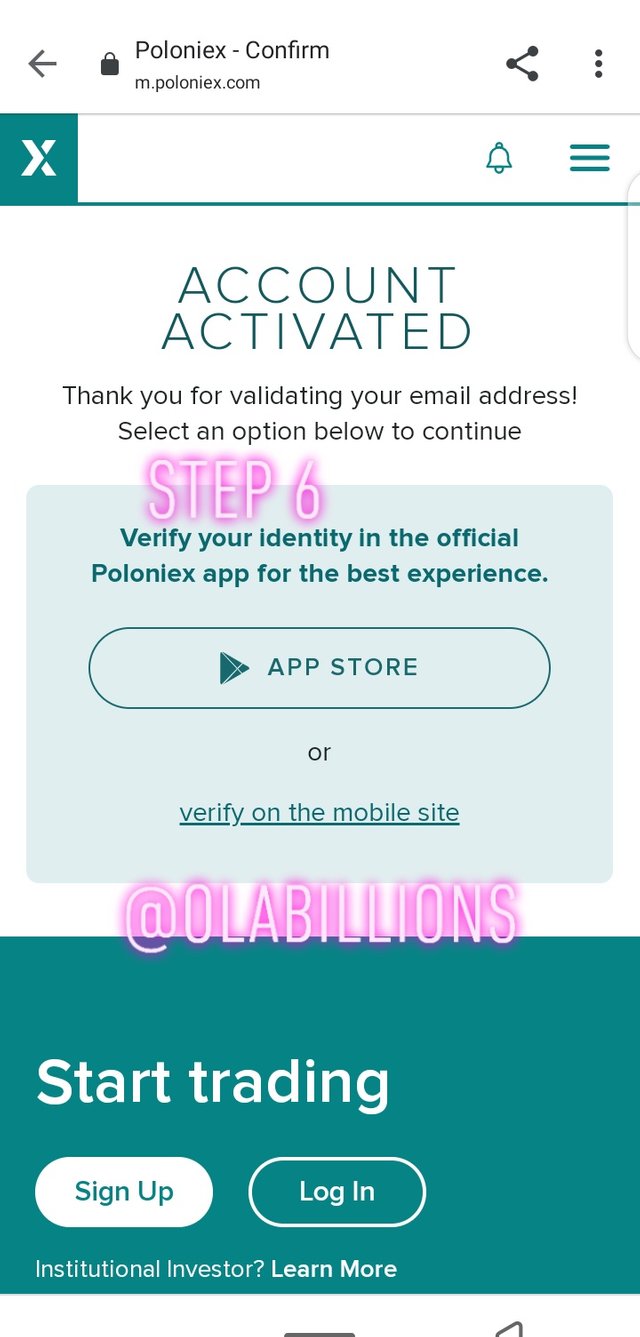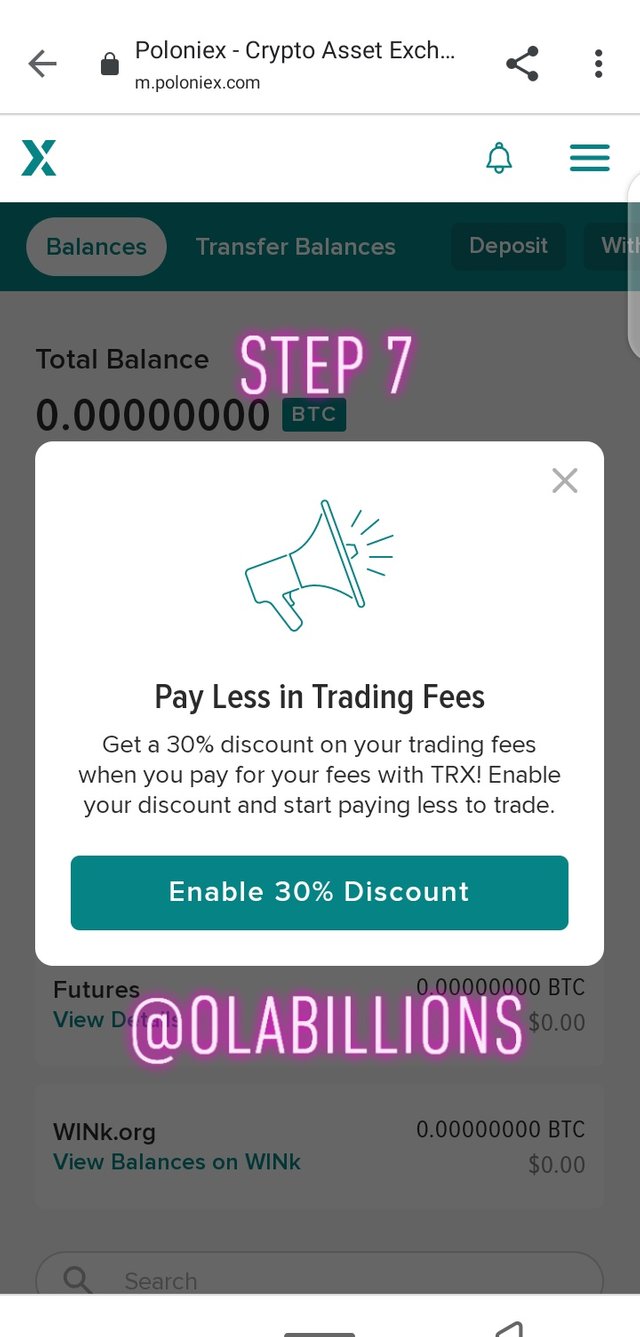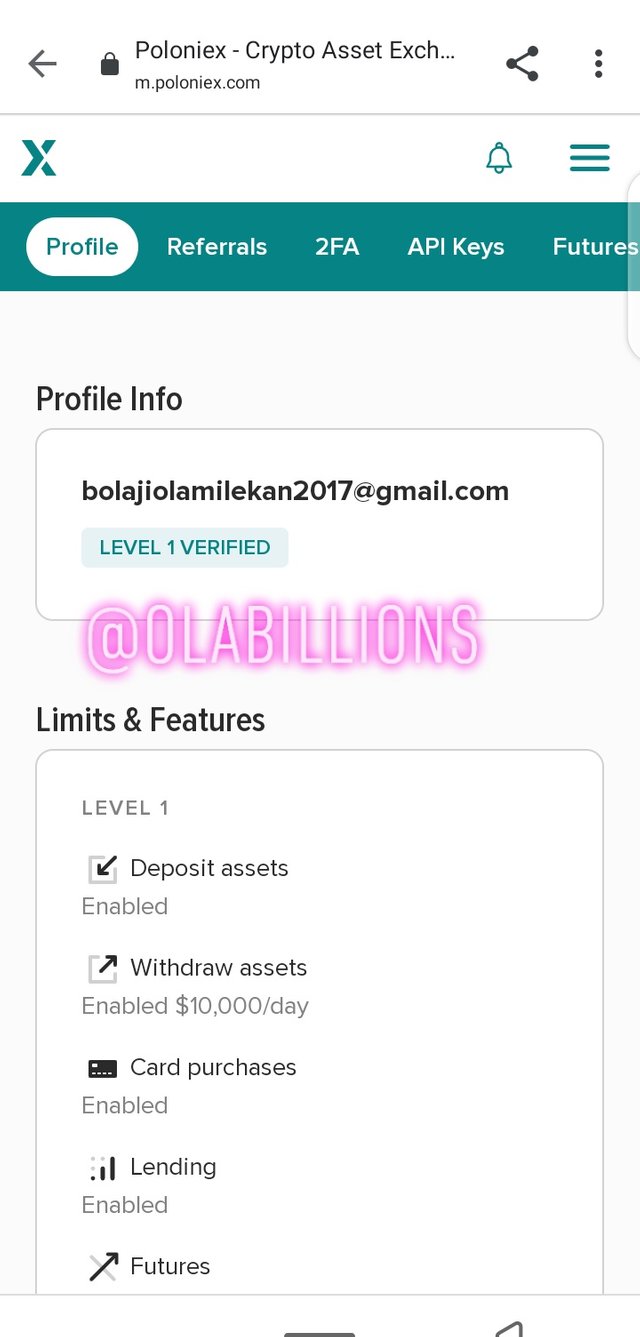 After clicking sign up you will be redirected to check your mail, go to to your email, verify your account from your mail, and boom your account has been activated, then you click on the login, input your email and your password, congratulations your account has been successfully verified and you can now begin trade in the exchange.
Conclusion
Both account are assigned to be at best in different aspects, in the case of a wallet, we can't see a trade in a wallet application but it's at best at storing cryptocurrency and in an exchange although it is assigned with a wallet but not advisable to store them there but trade can occur on a daily basis. Having them both will do no harm but good to your asset, it depends on you, you can choose to save your asset in a wallet or in an exchange but both are important account every trader should have.

#allbert-s3week1 #cryptoacademy #wallet #exchange #steemit #nigeria