Crypto Academy Season 3 Week 8 - Beginner's Course | Understanding Tokens
Hello Steemians, I welcome you all to the 8th week of Season 3 in the Steemit Crypto Academy. This will be my 4th lesson for the beginner's course and I will be guiding us on Tokens.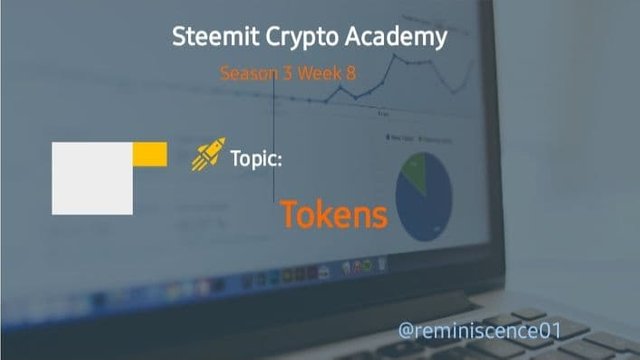 Terminologies associated with elements within the cryptocurrency ecosystem are sometimes used interchangeably by both new and experienced crypto enthusiasts when describing these elements. In fairness, it is only right to use the proper terms as intended by the developer of this wonderful ecosystem to address its constituent elements. An obvious example of this can be witnessed when asked to differentiate between a coin and a token.
This forms the premise of the lesson I will be discussing this week. I will explain what tokens are and try to differentiate between a token and a coin.
---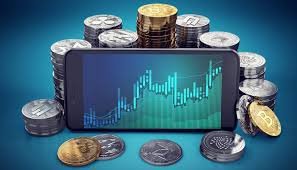 Understanding Token

Creating a blockchain is expensive and time-consuming. It requires a high level of programming and coding experience to create a blockchain. In other to make things easy for users who do not have a professional experience or the resources to build a blockchain, developers are allowed to build their project on an already existing blockchain seamlessly.
Similarly, they are required to build a token for their project. This token is issued out to the public through ICO or presale to help finance the project. Also, the token serves as a stake in the project and a governing token in the platform. A good example of a token is LINK which is built on the Ethereum network. Another example is REEF token which is built on PolkaDot Blockchain.
Tokens are digital assets built on already existing blockchain to represent a utility or service in the ecosystem of the project. This can be used as a governing token or voting right within the ecosystem of the project. Let's look at how a token differs from a coin.

Difference Between a Token and a Coin

Token differs from a coin. A coin is the native cryptocurrency of a blockchain used mainly as a payment service within the blockchain. A good example of a coin is Ether for Ethereum blockchain. Another example of a coin is DOT for the PolkaDot blockchain. Though a token and a coin are similar as they are both digital assets that hold value and can be traded on various exchanges.
Ether is the native cryptocurrency of the Ethereum blockchain which is used as a gas fee to carry out transactions across the Ethereum blockchain. Ether is required to transfer tokens built on the Ethereum blockchain. Tokens built on Ethereum blockchain are known as ERC-tokens.
Another example is the Binance Smart Chain (BSC) which BNB is the native cryptocurrency. BNB serves as a fuel to transfer tokens built on Binance Smart Chain. Tokens built on Binance Smart Chain are known as BEP- tokens.
Also, TRX is the native cryptocurrency of the Tron blockchain. TRX serves as a governing token and is also used to carry out transactions on the Tron blockchain. TRX is staked to acquire bandwidth and energy required to carry out transactions on the Tron network. Tokens built on the Tron blockchain are known as TRC-tokens

Overview on Categories of Tokens

Now we have differentiated a token from a coin and also explained the features of a token. In this section, we will be discussing categories of tokens in cryptocurrency industries. It is necessary to know the different categories of tokens to make a good investment decision.
Utility Token
Building a cryptocurrency project can be very costly. Developers seek a way to fund their project to push it to its roadmap. One way they do this is to create a utility token which will be issued to the public during ICO or presale to raise funds to push their project. This is done by depositing other cryptocurrencies like Bitcoin, Ethereum, or USDT to receive the token.
The utility token gives the user a stake in the project and also a voting right to participate in decision-making in the ecosystem of the project. These tokens can be exchanged for other cryptocurrencies and can also be used as payment services in the ecosystem of the project. Most cryptocurrency investors acquire utility tokens at the early stage during ICO with the hope that the project will do very well and yield them good profits.
Equity Token
Most companies create equity tokens to represent a share in the company. This token gives an investor a voting right to participate in decision-making in the underlying project. Similarly, holders of this token are entitled to receive dividends from the company's profit.
Let's look at the equity token as owning a stock of a company. Owning an equity token means you own a portion of the company's underlying assets. Equity token differs from traditional stocks in the sense that it is recorded on the blockchain where there is transparency and transactions are immutable.
Security Token
Security tokens are often linked to traditional stocks, bonds, or shares of a traditional asset. Security tokens act as a link between traditional finance and cryptocurrency by allowing investors to have a fraction of a company shares by holding security tokens. Let's look at security tokens as a form of digitized traditional stocks. Cryptocurrency offers better features than traditional finance like faster transaction, lesser cost, and data security.
Security tokens also give you voting right in decision-making and also make you eligible to receive dividends from the company's profits. Security tokens are contracts just like traditional securities, but they are recorded on a blockchain and are registered to an owner.
Features of a Token
It is decentralized as it is built on a blockchain network.
It holds value as it is a representation of an asset.
It is tradable and can be exchanged with other tokens, coins, or fiats.
Tokens can be use as an investment security token for start-ups. Where investors buy tokens from startups during their ICO with hopes that in the future it grows in value.

Conclusion

We have come to the end of this lesson. It is necessary to know the meaning of a coin and a token. Similarly, we have developed a good understanding of what a token is and also its features which can help a beginner have knowledge of cryptocurrencies. At least now, you will be able to understand why you need ETH to transfer ERC-20 tokens or why you need BNB to transfer BEP-20 tokens. We are all about acquiring the basic knowledge we need to make a good cryptocurrency investment.
Thank you for being part of this lesson.

Homework Task

To perform this homework task, you will need to make your own research in order to answer some of the questions. I encourage you to spend quality time to answer the questions and also write in your own words.
1)What do you understand by Token and give an example of at least 5 tokens and identify the blockchain it is built on. ( give at least 3 different Blockchains)
2)What is the difference between a token and a coin?
3)Explain the different categories token listed below and explain its features.
Utility tokens
Security tokens
Equity tokens
Non-fungible token (NFT)
4)Make your own research and write extensively on any token you listed in question one. (Must include features of the token, the aim of the project, Use cases).

Homework Guidelines

Homework must be posted into the Steemit Crypto Academy community.
Plagiarism is a great offense in Steemit Crypto Academy and it won't be tolerated. Ensure you refrain from any form of plagiarism.
Your post should not contain less than 300 words.
All images, graphs, and screenshots from external sources should be fully referenced, and ensure to use watermark with your username on your own screenshots.
Use the tag #reminiscence01-S3week8 #cryptoacademy and your country tag among the first five tags. Also include other relevant tags like #tokens.
Homework task run from Sunday 00:00 August 15th to Saturday 11:59 pm August 21th UTC Time.
Only users with a minimum of 125 SP and having a reputation above 50 are eligible to perform this homework task. Also, note that you must not be powering down.
The comment section is freely opened for suggestions and feedback on the lesson and homework task.

---
Cc:-
@steemitblog