Crypto Academy Week 2 Homework Post for [@besticofinder] A beginner guide for setting up a trading account on a Cryptocurrency Exchange
I also excitedly follow the homework given by Crypto Academy. I reviewed the 2nd week course of Professor @besticofinder and I will tell you about Binance, the leading cryptocurrency exchange platform.
Homework task…
Create a simple beginners guide for any leading cryptocurrency exchange explaining how to complete registering, verification, depositing funds, withdrawing funds etc.
Before I joined Steemit, I had no idea about many exchanges, I learned about many of them by following the posts published on steemit. I wish there were a community like Steemit Crypto Academy when I first started, it would be easier to learn a lot of things. An important opportunity for beginners or those who want to improve themselves.
I also excitedly follow the homework given by Crypto Academy. I reviewed the 2nd week course of Professor @besticofinder and I will tell you about Binance, the leading cryptocurrency exchange platform.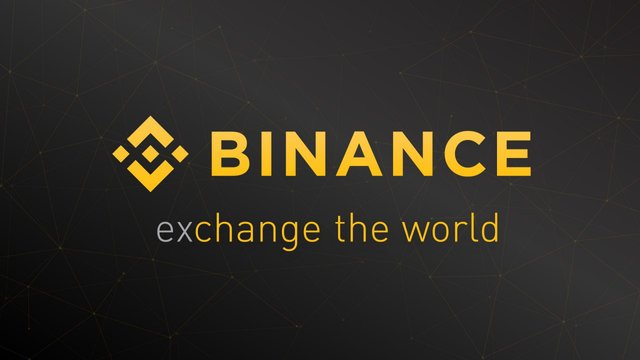 Why Binance?
Before you start using a cryptocurrency exchange, there are some things to consider. They are security, legal procedure, ease of use, fees, technologies used, reliability and ease of depositing and withdrawing money to country banks are very important factors. You should also check if the cryptocurrency you will invest in is listed on that exchange. Binance is a cryptocurrency trading platform with a high trade volume, where many cryptocurrencies are listed and various trading solutions are offered. You can also access different cryptocurrency trading tools at Binance.
How to create a Binance trading account
To create an account with Binance, visit the Binance website.

Before starting the registration process or after registration, we can choose your preferred language and the currency you want from the top. Binance supports many languages, so I think the language will not be a problem for you. It supports 32 languages. I am using the English language and USD currency. By clicking Register above, we can start the process of registering with Binance.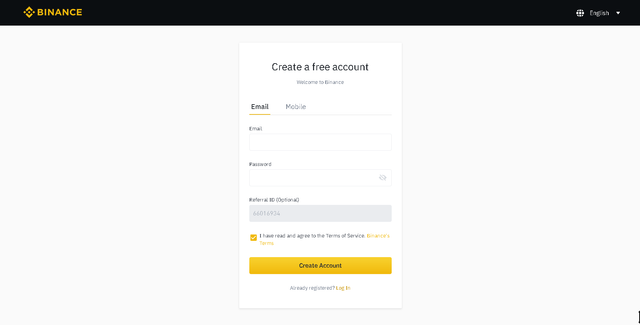 To start the registration process, you need to enter the required data, you can register with your e-mail or mobile phone, after specifying your password, click Create account. The point you need to pay attention here is that for security reasons, copy and paste is not allowed for your e-mail and password, you must write it yourself.

After entering the requested data, you must enter the verification code sent to your e-mail or mobile phone to create an account. If you do not enter the verification code within the required time, you have to start over.
Security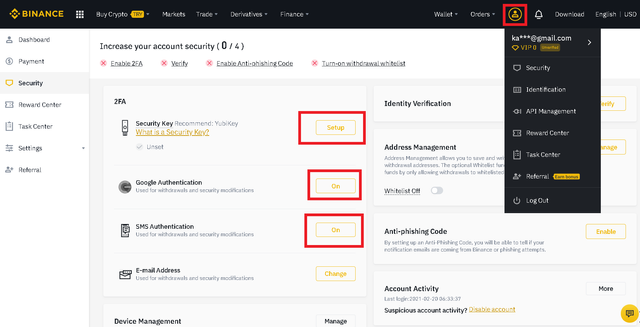 After creating your account, activate SMS Authentication and Google Authentication on the security page for your security. You can also set up the YubiKey recommended by Binance. This step is very important for account security, you set up additional security except for your password in order to log into the account and withdrawals. After completing these steps, your account is ready for use on the Binance trading exchange.
Account Usage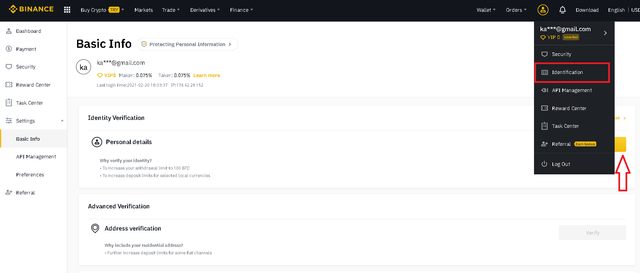 If you do not verify the identity and address, you can only deposit or withdraw cryptocurrency, the daily limit is 2 Btc. If you verify the identity and address, the daily limit will be 100 Btc. After the verification, many features will also be active for you. When I first registered, I was afraid to provide credentials, but when I found out that Binance is reliable, I did authenticate. If you enter the information correctly, your account will be verified in just a few minutes. Click on authentication Identification in your account section, click on verify next to Personal details on the page that opens.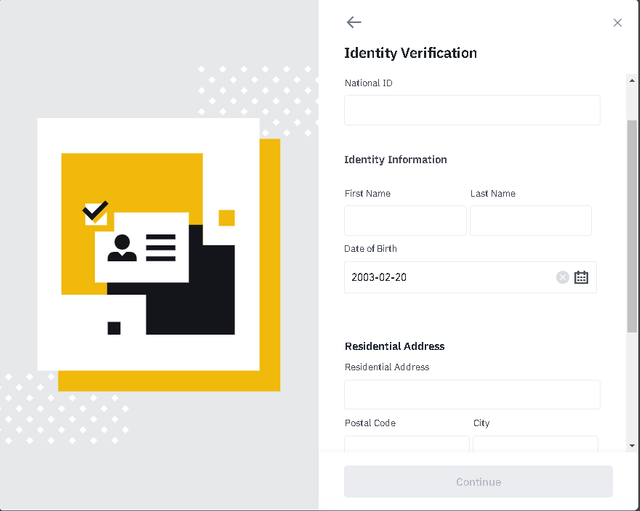 Enter the required information correctly in the sections in the window that opens (if you enter it incorrectly, it will not be confirmed). After entering all the information, you need to upload your ID, then take a photo of your face with the webcam and complete the verification. If you entered the information correctly, your account will be verified in a few minutes.
Deposit

To deposit to your Binance account, click on the wallet-> Fiat and Spot link from the top menu as shown in the picture.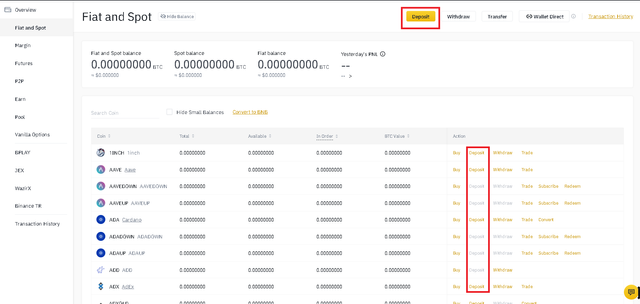 Click Deposit next to Fiat and Spot, or Deposit next to the cryptocurrency you want to deposit. You can also search for the coin you want to deposit from the Search coin box.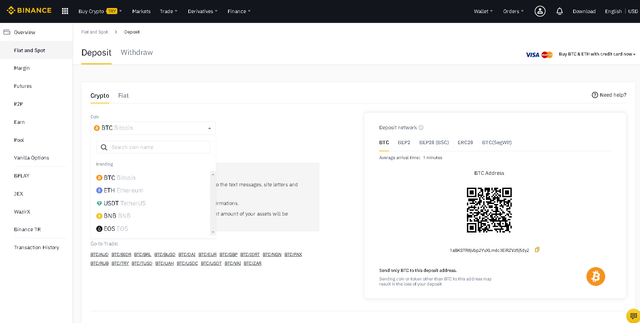 As in the picture above, you can see all the cryptocurrencies listed on Binance. Select the coin you want to deposit, you can see the address specific to you on the right for the coin you have selected. You can deposit coins by typing the address you see there into the wallet you want to send.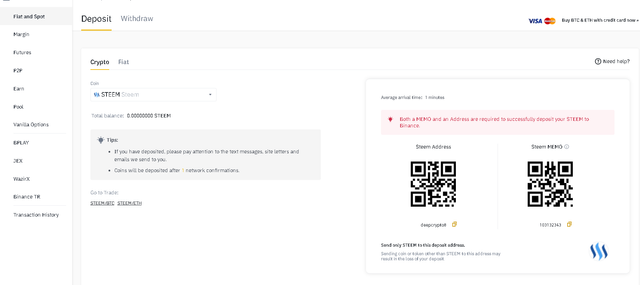 For example I chose Steem, on the right you can see the explanation of how to make a deposit.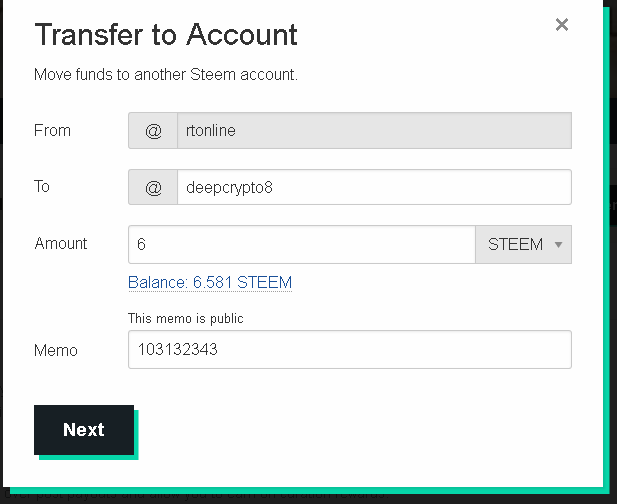 You can transfer Steem to Binance by typing the necessary information from the Steem wallet. According to the network speed, your coin will be deposited in your account. This speed depends on the wallet you are sending to. When I transfer my Steem, it will be in the account within 1-2 minutes. Deposits on Binance are quite simple. In addition, Binance has no fees for crypto deposits.
Withdraw
The withdrawal process on Binance is as easy as the deposit process, but there are some things you should be aware of.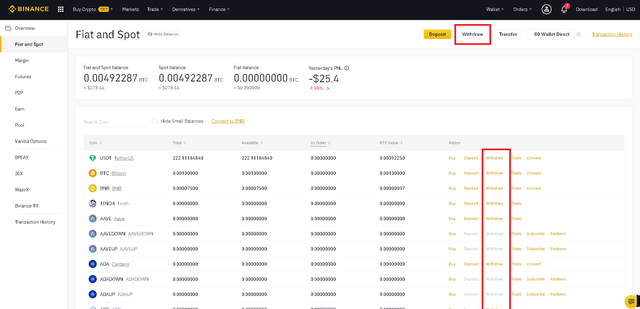 For withdraw, click on the Withdraw link as shown in the picture above.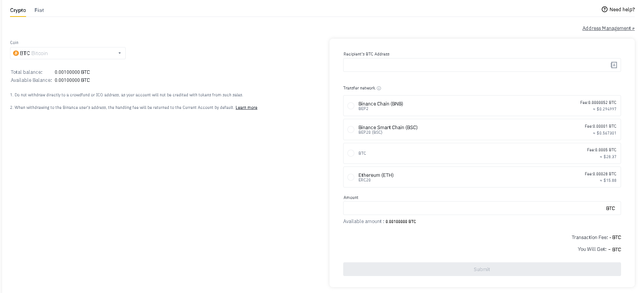 Find the coin you want to withdraw by typing in the Search coin name search box. Click on the coin you are looking for, I chose BTC. Make sure that you entered the fields in the picture correctly, this is very important. Make sure you enter the correct wallet address.
Recipient's BTC Address (Write your Btc address you want to send)
Transfer network (Select the transfer network you want to use and check how much is the fee. The fee will be charged according to the network transfer you choose.)
Amount (Enter the amount of Btc you want to withdraw)
These transactions may differ for each coin, if you have anything to ask, please write to me.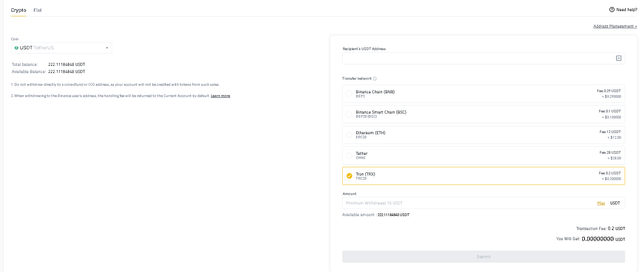 For example, when we look at USDT, we can see that there are different transfer networks. In addition, the wallet you are sending to must support the transfer network here.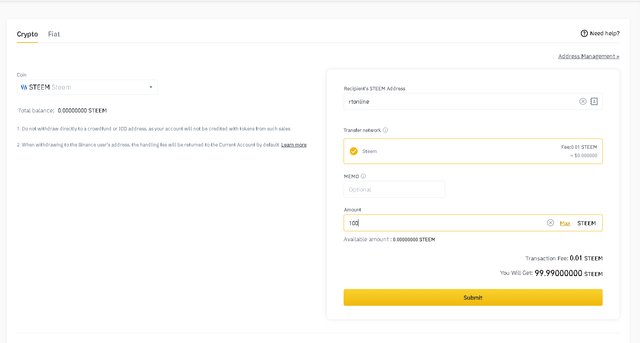 When we want to withdraw Steem from our account, it is sufficient to write your username, the withdrawal fee is 0.01.
As I explained in this guide, it is quite simple to set up, withdraw and deposit accounts in cryptocurrency exchanges. What I describe in this guide is the same in many crypto exchanges. You can easily trade on any cryptocurrency exchange by following this guide. Pay attention to the safety of your investments, carefully follow the safety steps I explained. All reliable exchanges have 2FA (Two-factor Authentication) feature, be sure to activate it. Also, be sure to pay attention to the address in the address bar every time you enter the website.
Thank You
---
Cc: -
@steemitblog
@steemcurator01
@steemcurator02
---