Comprehensive Summary Sheet | Steemit Crypto Academy | Week-1 to Week-5 (Season-2)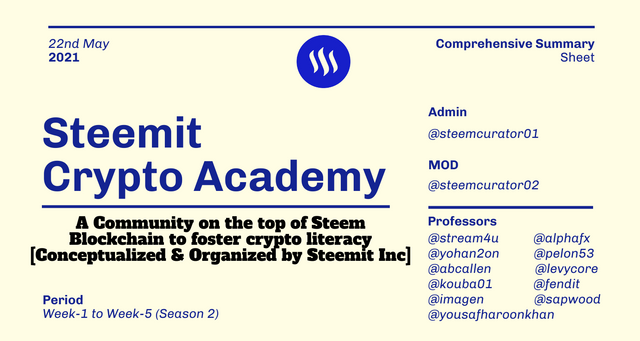 Background
The objective of Steemit Crypto Academy is to foster crypto literacy, to induce practical intelligence of a wide variety of use-cases in the crypto domain, dedicated to the development of crypto-related education, yet at the same time, it creates an avenue to reason, to explore, and to find the right talents and to reward the effort being put by the participants.
The Crypto Academy is now into Season 2 and has already spent 5 weeks so far and Week-6 is currently running. The enthusiasm and participation across the board are overwhelming.
The Steemit Crypto Academy in the Season 1 was supported by 5 professors. Recognizing the participation rate and to smoothly curate and manage the entries it expanded to 11 professors in Season 2.
To bring down the number of spam/plagiarism cases new threshold(Min 50 reputation & a Min of 100 SP with no power down) was introduced in Season 2 and so far it is proven to be effective. The trending page of Steemit Crypto Academy is much better now, along with notable signs of improvement in the overall average quality.
The Steemit Crypto Academy in partnership with 11 professors train & educate the students through various Homework Tasks. In response, the students learn new things each week and earn(upvote) and explore the practical side of the concept. Ultimately it is enabling the naive users to earn distinction in crypto specialties.
The guidelines and objectives set out by the Steemit Crypto Academy will underpin crypto literacy in Steem Blockchain and will prove to be a beacon of light particularly for the Newcomers and naive users.
Herewith we would like to present the various statistics, tangible data, analytics to easily acquaint you all with the overall state of Steemit Crypto Academy.

Courses covered so far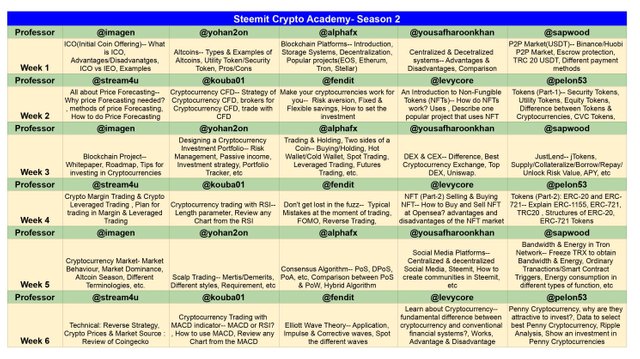 Weekly sheet of total Entries up to Week-5/Season-2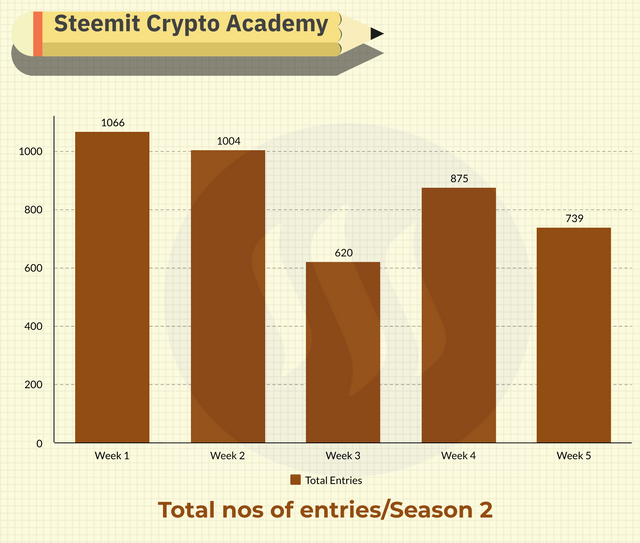 With the introduction of a new threshold(Min rep 50 & Min SP 100) since Week-3, the number of entries per week has slightly dropped, but on the other side, the trending page looks much better, most importantly the spam/plagiarism cases have dropped significantly.
But the trend still remains healthy as Week-5 prints a total of 739 entries.
The average figure per week stands at 860, and the per day average figure is 143 entries/day. That's really impressive.
Please note that the participants get 6 days every week to submit their assignments.
Considering 6 professors to curate at any given time, the per day curation rate per professor on an average is 24 (approx).

Total nos of Unique authors in Crypto Academy up to Week-5/Season-2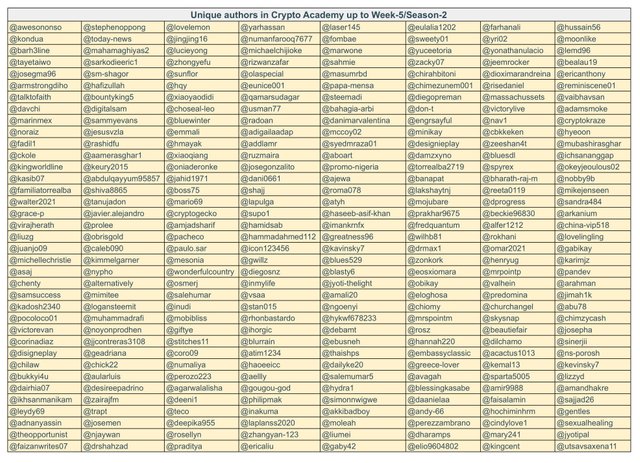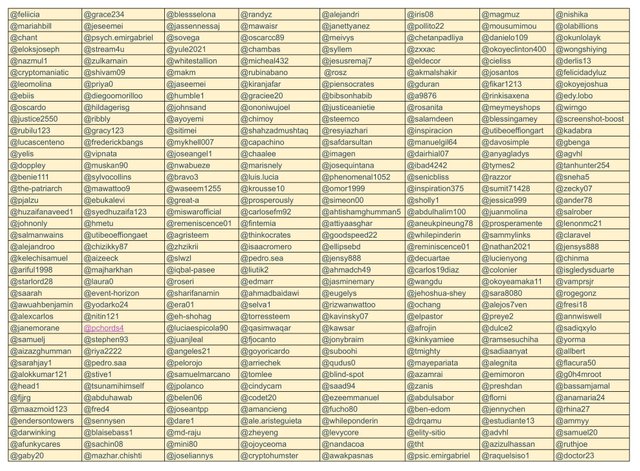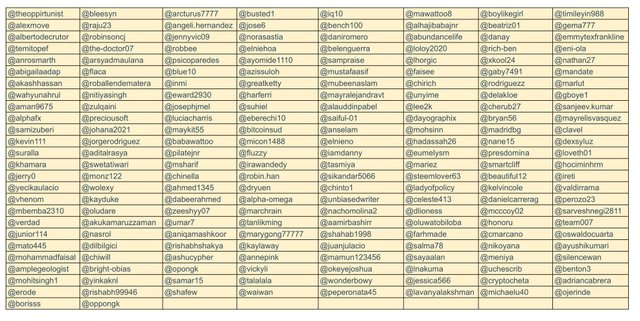 From Week-1 to Week-5 (Season 2), a total of 4304 posts were published in Steemit Crypto Academy. The number of unique authors over the last 5 weeks stands at 810. If we take out the spammers/plagiarists from this list, then the tangible figure would be 707. That's precisely the community size in Steemit Crypto Academy at the end of Week-5.

Total nos of Winners/Unique Winners and their winning rate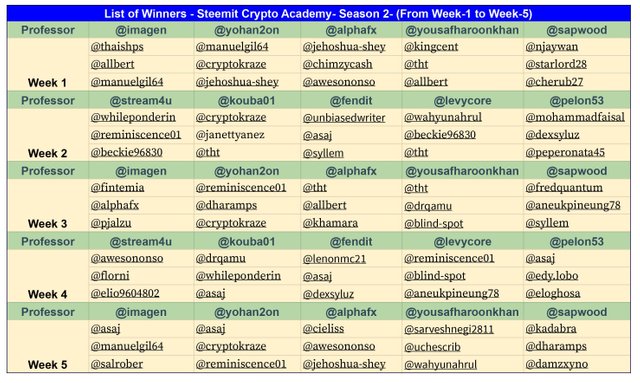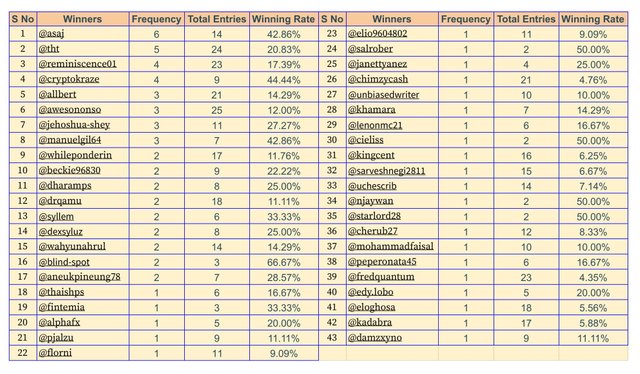 Please note that all the curated assignments receive upvotes from Steemcurator02. Further, each week, three are shortlisted as winning articles by each professor and they receive an additional upvote of 10% from Steemcurator01.
Frequency- How many times an author has won.
Total Entries- How many times an author has published/submitted his/her assignments in Steemit Crypto Academy
Winning Rate= (Frequency/Total Entries)x100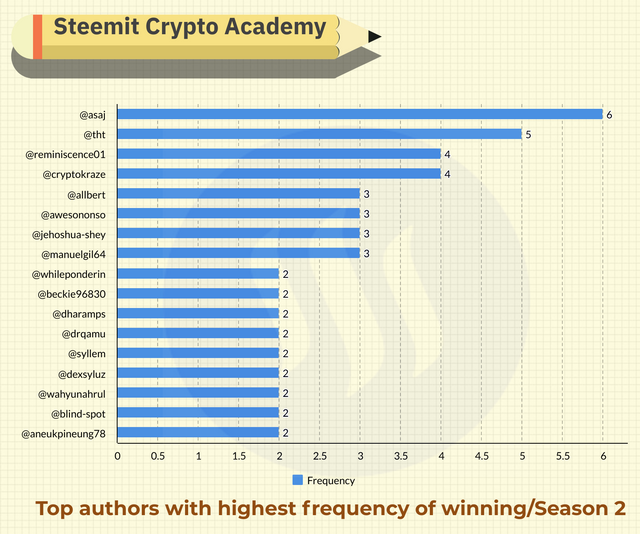 The sampling of the above data is based on the assessment by the respective professors assigned to run their course. In the last 5 weeks, a total of 75 winners were declared. Of this winning list, 43 are unique winners. Their frequencies and the winning rate has been indicated in the table.

Spammers/Plagiarists(Grey List/Black List)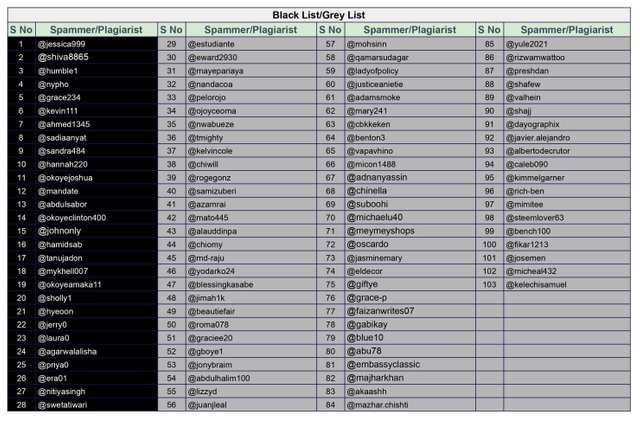 This list is exclusively based on the data of Spam/Plagiarism cases in Season 2 up to Week-5.
It has been a long-standing battle for us to fight the good fight against spam/plagiarism. However, with continuous vigilance, we have been able to curb spam/plagiarism of late.
In season 2, with the introduction of the new threshold, the number of spam/plagiarism cases has dropped significantly.
Until the end of week-5/Season 2, the total number of unique spammers/plagiarists stands at 103. We have categorized it into two lists--
Black List- The users who spam/plagiarize more than once/many times feature in this list.
Grey List- The users who spam/plagiarize only once(so far).
All such users have been advised to correct the course, return to the path of hard work, and are asked to complete Task-3 in Newcomers' Community to develop a better understanding of content etiquette.
Note- If you feature in the Black List, the professor will skip your post, they won't curate you in Steemit Crypto Academy.

Conclusion
We have collected all sorts of data from Week-1 to Week-5 to prepare this report.
Steemit Crypto Academy is committed to spearheading efforts in crypto literacy in Steem Blockchain. It is equally committed to staffing, mentoring, training, recognition of talents & performance, rewarding them based on PoB.
Thank you.

Cc:-
@steemitblog
@steemcurator01
@steemcurator02
Cc:- @stream4u @imagen @fendit @alphafx @yohan2on @yousafharoonkhan @abcallen @levycore @pelon53 @kouba01

Unless otherwise stated, all the images, infographics, charts, tables, etc(if any) are my original works.

At this stage, I am going through a tough situation as 4 of my family members are COVID-19 positive, and three of them are hospitalized now(one of them is critical). I seek your solidarity & generosity at this juncture to tide over the COVID-19 crisis. I will reciprocate my gratitude at an appropriate time. Thank you.