Steemit Crypto Academy | Summary On Homework Task- Week 2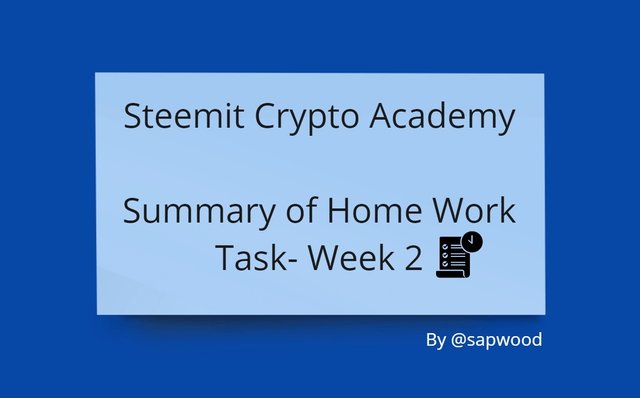 Background
The Homework task week-2 has come to an end on 21st Feb 2021. During the last seven days, we witnessed as many as 71 entries in Blockchain Wallet Chapter-2.
I would like to congratulate all who participated and submitted their assignments during this week. Even if the extrinsic motivation is attached to it, all the participants become a part of the process, and that is more important than the reward. When they gain sufficient user experience and submit their assignment, they develop a better understanding of a particular dApp/wallet, they also earn(in the form of an upvote).
Interaction and engagement are key & vital to disseminate correct information and also necessary to indicate wherever correction is needed. Steemit Crypto Academy is a unique concept that is not limited to crypto literacy of Steem Blockchain only, rather the objective is to cultivate a comprehensive general understanding of the crypto ecosystem with correct information/education.
So before proceeding with the Summary post of Week-2, I would like to convey my gratitude to the Steemit Team for coming up with such an idea and organizing a team for that cause. Definitely, Steemit is helping to lower the barrier to entry with such an initiative.
In the last seven days, I have visited all the posts that have been submitted with the correct tag( #sapwood, #cryptoacademy). So I would request all the participants to make sure that they use the correct tags and that should be among the first five tags. And also make sure you post in the Steemit Crypto Academy community.

Observation & Thoughts
There are 71 entries in the last seven days. I visited them all. Unfortunately, I found that some users are submitting plagiarized/spun content. Even to the extent that they are not using their own screenshot.
Steem Blockchain venerates choice, but that does not translate to spam/plagiarism or spun content. The Proof-of-Brain in Steem Blockchain has been designed to reward the original content creators. So any act of spam/plagiarism is always discouraged by the community.
Further, some users are not covering all the sub-parts of an assignment. I also found a few entries where the total number of words is less than 300 words. So I would like to request all the participants to go through the Guidelines before submitting the assignment.
Always pay attention to the grammar/spelling, proper formatting, use of markdown styling to represent it in a professional way, which always attracts the attention of the reader/curator. If you do that on a day-to-day basis you also evolve as a professional blogger in the long run.
I would also suggest all the participants use the Grammarly app for proof-reading.
We must remember that if it is a topic like Blockchain Wallet, then the user experience is paramount. Otherwise, it does not fulfill the objective of such a task.
Unless you experience private key/mnemonic keys, you won't generate that confidence to handle such a wallet. Trust me, even if you don't earn lucrative rewards, you definitely learn and that is going to help you in the long run. Whenever you deal with a Blockchain wallet, you will always remain assured with the right choice.

Statistics & Evaluation
So here is the stat of the 71 entries in Blockchain Wallet Chapter-2.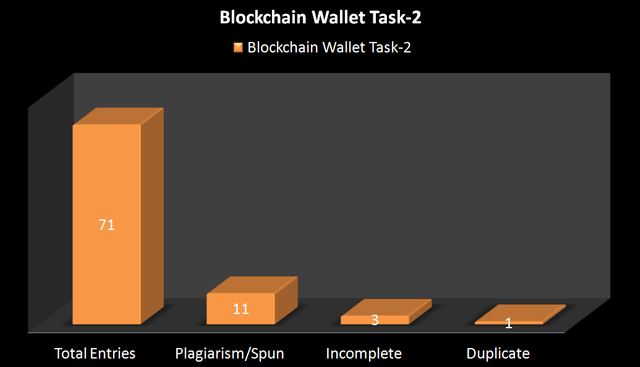 Incomplete- Post with less than 300 words, not representing the task with real user experience with a wallet.
Plagiarism/Spun Content- Stealing other text/screenshot and representing as if it is their own content. Using spinning tools & paraphrasing the texts of another post.
Duplicate- If a user has submitted two posts for the same task.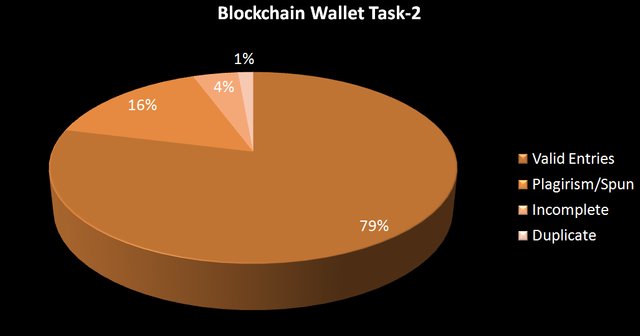 So out of the total 71 posts, 56 are found to be valid entries.
I have evaluated all the entries on the basis of the following parameters:-
Proper representation of a task
Whether covered all the sub-parts of an assignment or not
Proper formating
True representation of the text/subject(with illustration/screenshot)
Grammar/Spelling
Free of Spam/Plagiarism.
Adhering to the laid rules or not
Proof-Reading
Original content
Of the 71 entries, I found the following three as the best entries this week.
| S No | Author | Post Link | Wallet used for the Task | Remarks |
| --- | --- | --- | --- | --- |
| 1 | @levycore | Link | TronLink Wallet, Extension for Chrome Browser | The assignment post elicits the user experience with TronLink wallet-- The author has clearly demonstrated how to download, set up a wallet, and how to restore it using the private key |
| 2 | @kouba01 | Link | TronLink Wallet, Mobile client | The author has clearly demonstrated how to restore a wallet using the private key, how to download & install the app, and how to back up the keys with relevant screenshots. |
| 3 | @pablo1601 | Link | Exodus, Desktop client | The author has clearly demonstrated how to download and install the Exodus wallet, Desktop client with relevant screenshots. |
NB- Selection of a winner may not be absolute, most of the time, it is based on the relative performance. As long as you focus on all the sub-parts of Homework Task and gain sufficient user-experience, you stand better to win it every week.

Conclusion
I would request you all again to become a part of the process, it has got all hidden benefits that you will explore down the line. Try to concentrate on your task. Be your own, be honest, even if you write an average quality post, you will still learn and earn and that is going to help you and will keep you in the comfort space mentally.
The delayed gratification will always mature at some point for the honest actors. You would realize at some point that there is no substitute for hard work and honest effort. They have their hidden dividends in the long run. Those who have been active in Steemit from the last year might have realized it.
Pay attention to the correct tag. From now onwards the tags will be like this- #sapdoowd-week3 #sapwood-week4 and so on...If you are submitting the assignment for Week 3 then the tag is #sapwood-week3. If it is for week 4 then the correct tag is #sapwood-week4

Week-3 (Task, Tags, Guidelines)
Topic- Blockchain Wallet- Chapter-3
Task- (1) Have you ever used a Hardware/software wallet? Which one is having a better security advantage?
(2) What are the important points to consider when you deal with an Exchange(centralized) Wallet & Decentralized wallet. How do you secure/restore both types?
(3) Give an example of a Web 3.0 wallet and what are the distinct uses of a web 3.0 wallet? Have you ever used any Web 3.0 crypto Wallet? Examples?
Tags- #sapwood-week3
Guidelines-
Your article should be at least 300 words.
It is always better to gain user experience (in any Blockchain wallet) before submitting your article.
Refrain from spam/plagiarism. This task specifically requires screenshot(s) of your own experience with a wallet. Use images from copyright-free sources and showcase the source, if any.
This homework task will run until 28th-Feb'2021.
Add tag #sapwood-week3 #cryptoacademy in your post and should be among the first five tags. You can also use other relevant tags like #blockchain #crypto #wallet or any other relevant tag.
Thank you.
(Please feel free to join the comment section if you have any doubt on Homework-Task)

Cc:-
@steemitblog
@steemcurator01
@steemcurator02

Unless otherwise stated, all the images, infographics, charts, tables, etc(if any) are my original works.