Steemit Crypto Academy | Summary On Homework Task- Week 5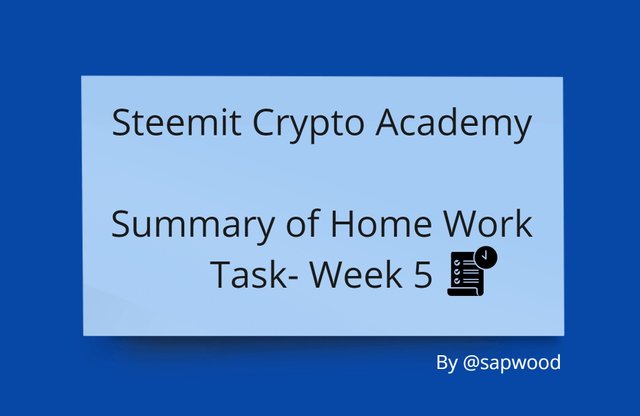 Background
The Homework task week-5 draws to a close on 14th Mar 2021. During the last seven days, we witnessed as many as 63 entries in Steem Blockchain, Week-5
I would like to congratulate all who participated and submitted their assignments during this week.
This week we covered the important topics like PoB, Curation (Steem Blockchain. As we all are engaging, curating in Steem Blockchain we should have an informed choice when we engage in Steem Blockchain.
That builds a sense of competence. If we are properly educated we can always optimize our curation effort. The extensive analysis on curation reward and its optimization cut across many loosely defined things for all who participated in this Task.
The most important thing is what you see and what you really experience. Theroticial things we can always read from many sources. But in practice what you observe and what you experience when you press the upvote button, what are the economic ramifications in doing so, etc will stimulate your learning process.
In gist, the Steemit Crypto Academy is helping you all to bridge the gap between concept and gaining experience, particularly for naive users; thereby inducing practical intelligence.
I hope Week 5 was productive and educative for you all.
So I would like to convey my gratitude to the Steemit Team for coming up with such an idea and organizing a team for that cause, fostering crypto literacy.
In the last seven days, I have visited all the posts that have been submitted with the correct tag( #sapwood-week5, #cryptoacademy). So I would request all the participants to make sure that they use the correct tags and that should be among the first five tags. And also make sure you post in the Steemit Crypto Academy community.

Observation & Thoughts
I found 63 entries in the last seven days. I have visited them all. I found less spun/plagiarized content this week(only 5% of the total), but I also expect that the overall average quality should improve each week.
In Homework Task Week 5, we found a wide array of submissions. Many participants included their screenshots while a few did not chose to include it. It is always better if you include real examples, and those who have done so have scored better this week.
Always remember that user experience unifies the approach from concept to clarification. You know what is curation reward even you understand how it is calculated. But in practice you will always encounter many variants of it. So if you include the real examples and relate that with the formula/concpet you can develop a better understanding.
Similarly if you know what is Proof-of-Brain(PoB), your social behavior in curation will definitely improve and that will also strengthen PoB in the long run.
In this week, some of the entires were not well organized, but the kind of examples they included were unique and the real examples. Such entires have scored better.
Further, always pay attention to the grammar/spelling, proper formatting, use of markdown styling to represent it in a professional way, which always attracts the attention of the reader/curator. If you do that on a day-to-day basis you also evolve as a professional blogger in the long run.
I would also suggest all the participants use the Grammarly app for proof-reading.

Statistics & Evaluation
Here is the stat of the 63 entries in Homework Task Week-5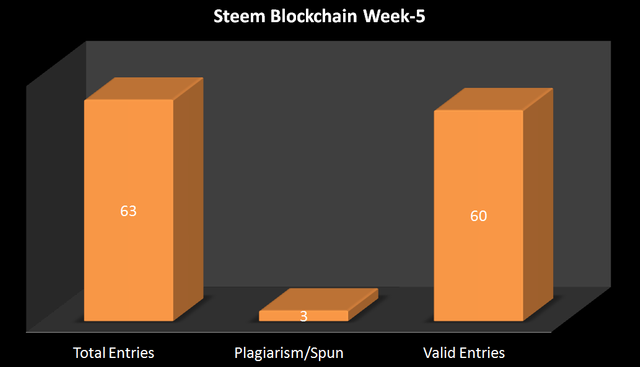 Total Entries- Posts published in "Steemit Crypto Academy community" with tag #sapwood-week5
Plagiarism/Spun Content- Stealing other's text/screenshot and representing as if it is their own content. Using spinning tools & paraphrasing the texts of another post.
Valid Entries- Valid Entries= Total Entries- Plagiarized/spun content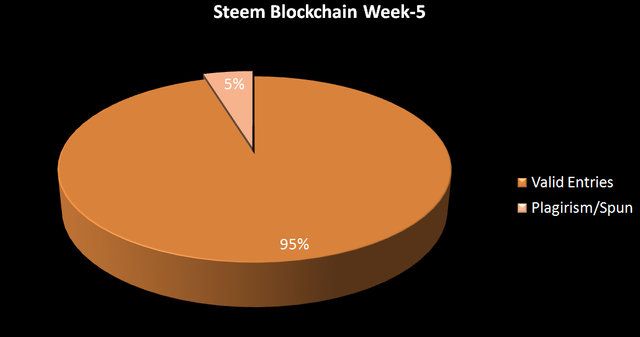 I have evaluated all the entries on the basis of the following parameters:-
Proper representation of a task
Whether covered all the sub-parts of an assignment or not
Proper formating
True representation of the text/subject(with illustration/screenshot)
Grammar/Spelling
Free of Spam/Plagiarism.
Adhering to the laid rules or not
Proof-Reading
Original content
Of the 63 entries, I found the following three as the best entries this week.
| S No | Author | Post Link | Remarks |
| --- | --- | --- | --- |
| 1 | @eh-shohag | Link | The author has produced short, sweeet, concize article complying with the task requirement. He also demonstrated the curation reward correctly by taking real examples. |
| 2 | @inspiracion | Link | The author has produced an well organized content in line with the task requirements with all the relevant screenshots included. |
| 3 | @cherub27 | Link | This author is excellent in analyzing the curation reward and he included two unique examples and that too real one. |
NB- Selection of a winner may not be absolute, most of the time, it is based on the relative performance. As long as you focus on all the sub-parts of Homework Task and gain sufficient user-experience, you stand better to win it every week.

Conclusion
We all are committed to creating an enriched communication environment, organizational interactions, etc which is a precursor to building a foundation of crypto literacy. The right information and education should percolate down the line and the PoB will come along to reward you(extrinsic motivation).
We will try our best to structure a task to draw real-life experiences for you, to motivate you for sustained attention to the task/academy.
I would request all to become a part of this process. Gain as much user experience as you can. Be your own. Don't hesitate to write what you have understood(even if you are wrong), but be your own. We will take care of corrections if needed.
Pay attention to the correct tag. If you are submitting the assignment for Week 5 then the tag is #sapwood-week5. If it is for week 6 then the correct tag is #sapwood-week6 and so on.
The take-home message-- Develop a relationship with dApp(or as the Task demands), Learn, Experience, Submit your assignment. This is the ideal path to economic advantage(upvote) & crypto literacy.

Week-6 (Task, Tags, Guidelines)
Topic- Steem Blockchain (Convergent Linear reward)
Task-
(1) What are the economic & social ramifications of self-upvote in Steem Blockchain? Do you gain better curation rewards by upvoting others as compared to self-upvote? (Include real examples)
(2) What is the difference between isolated judgment and community judgment in curation? How do you adapt to community judgment on quality content in Steem Blockchain? Does that bring economic incentive for you? If yes, explain with real examples, (include screenshots and compare them with your isolated judgment)?
(3) Go to Steemworld.org, check your Upvote value( at the current SP, VP). Take a screenshot. Then go to the Steemit trending page, find a post with a payout of more than $10 but less than $50(Age less than 6 Days 12 hrs). Upvote it. Take screenshots before and after upvote. Similarly, go to another post on the Trending page, find a post with a payout of more than $100( Age less than 6 Days 12 Hrs). Upvote it. Take screenshots before and after upvote. Tell the differences between the two. Which one has produced a greater Upvote value & Curation reward for you with the same resources(SP, VP)? Explain?
Tags- #sapwood-week6
Guidelines
Your article should be at least 300 words.
It is always better to gain user experience before submitting your article.
Refrain from spam/plagiarism. This task requires screenshot(s) of your own experience with Steemworld.org/Steemit. Use images from copyright-free sources and showcase the source, if any.
This homework task will run until 21st-Mar'2021.
Add tag #sapwood-week6 #cryptoacademy in your post and should be among the first five tags. You can also use other relevant tags like #blockchain #steem #curation or any other relevant tag.
Those who include the real examples with screenshots will score better.
If you have not participated in Steem Blockchain Week 5, then you should visit this POST to have a better understanding of Curation Rewards.
Thank you.
(Please feel free to join the comment section if you have any doubt on Homework-Task)

Cc:-
@steemitblog
@steemcurator01
@steemcurator02

Unless otherwise stated, all the images, infographics, charts, tables, etc(if any) are my original works.