Crypto Academy Week 2 | Homework: BitTorrent Speed (BTT) [ Task 2, by @yohan2on]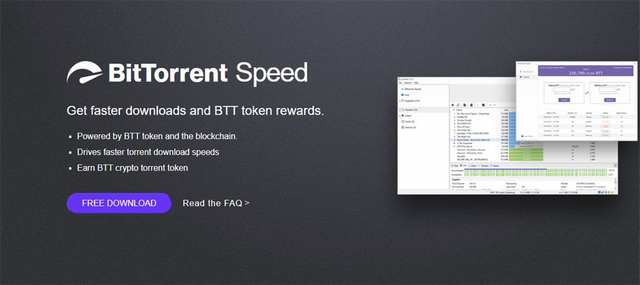 ---
Hello, crypto academy!
I am very happy to be able to attend the second class of our dear professor and steemian @yohan2on, where he teaches us important topics such as Dapps, how they work, and how relevant they are to the global economy. So, I invite you to learn a little more about the wide world of cryptocurrency with our friend in his class Steemit Crypto Academy - Topic II: Decentralized applications (Dapps).
---
Dapps are decentralized applications that use 'blockchain' so that users interact directly with each other and close agreements without there being a central entity managing the service. Dapps by bbva.com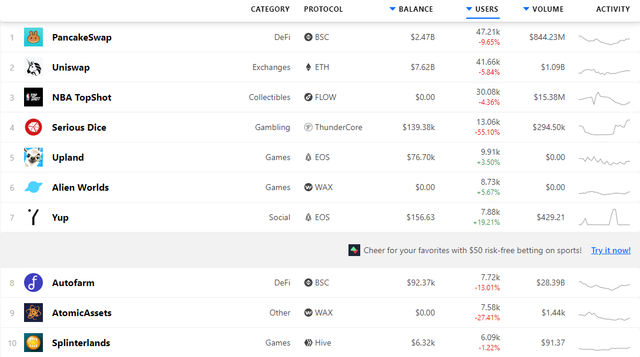 Rankings of Dapps dappradar.com
---
This second class was very clear and I think that any young person or adolescent with basic information can easily understand it. The teacher has left us the next assignment for this week.
HomeWork Task 2 by @yohan2on
There are various Decentralized applications built on top of various blockchains. Explain at least one Decentralized application built on the Tron Blockchain showcasing the unique features of the dapp and its relevance to the current economy. According to stateofthedapps.com, there are 67 dapps on the Tron Blockchain. by @yohan2on
For this reason today I come to talk to you about BitTorrent Speed, a dapps of the Tron blockchain that has its own token known as (BTT), whose dapps we will currently find in the first place in the "TRON" ranking of stateofthedapps.com.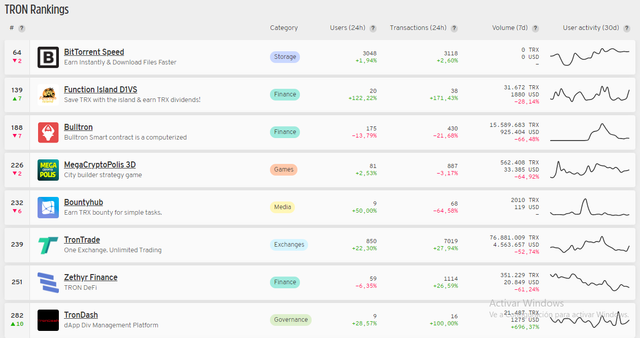 Rankings Dapps Tron stateofthedapps.com
---
---
I do not know if anyone remembers uTorrent or BiTorrent that software where we could download any type of files, movies, games, and many things (it can still be done). Well, I tell you that Mr. Justin Sun CEO of Tron in 2018 bought BitTorrent, and in 2019 he announced the launch of the cryptocurrency BitTorrent Token (BTT), whose ICO was an overwhelming success since everything was sold in Little time. BitTorrent Speed ​​by adslzone.net
BitTorrent handles an estimated 3.35% of all Internet traffic, bringing the total number of monthly users to more than 250 million. BitTorrent.com
BitTorrent Speed
It is simply a function that will allow you to obtain rewards in (BTT) when you download the torrents that you have shared.
BitTorrent Speed ​​is a new product integrated into uTorrent Classic Client that rewards users with BTT in exchange for seeding and bandwidth, allowing for faster downloads. The BitTorrent Speed ​​concept aimed to solve the problem of having a low number of altruistic seeders in the ecosystem. By introducing an incentive for seeders, we hope to encourage the BitTorrent community to share their bandwidth. BitTorrent Medium

---

TRON introduces the first case of blockchain mass adoption. BitTorrent Speed ​​powers traditional content sharing with the cryptocurrency token, BTT. Download for free, be the first to get files and earn by simply sharing files over the Internet. stateofthedapps.com
---
It's simple, they see stateofthedapps when it says "be the first to get files" it means that the person who wants to download at a higher speed can achieve it by paying with their BitTorrent Token (BTT) and get their file as soon as possible.
Download, installation, and creation of the wallet BTT.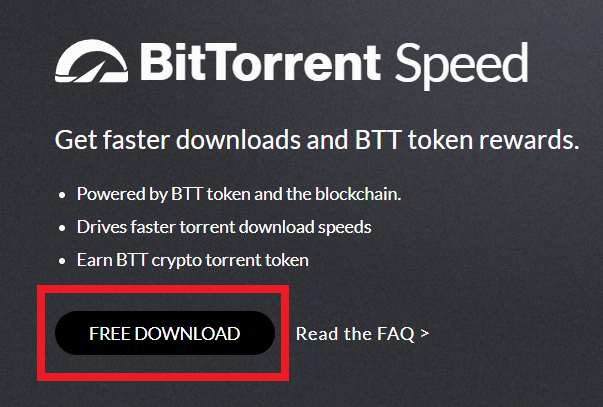 Capture bittorrent.com
Step 1
First, we will go to the official page of the dapps www.bittorrent.com. Next, we download the application by clicking where it says "Free Download" and we wait.
---
Step 2
Once BitTorrent Web has been downloaded, we begin its installation by configuring it in the way that we see fit. In my case, just say accept and accept as quickly as possible xD.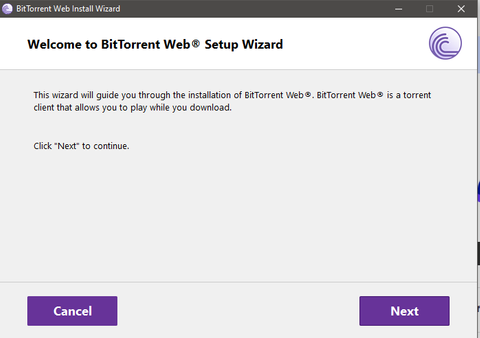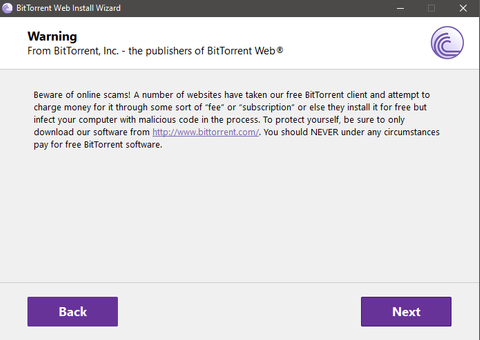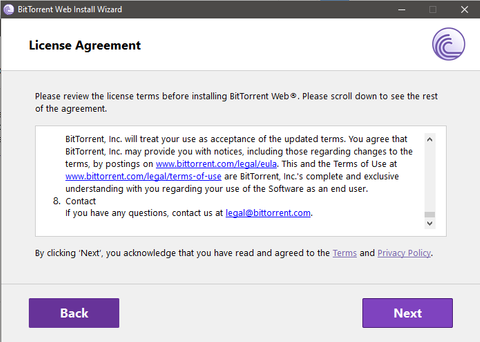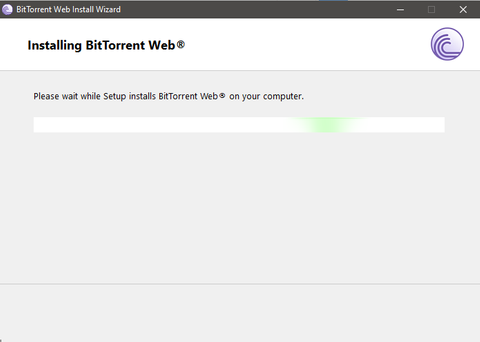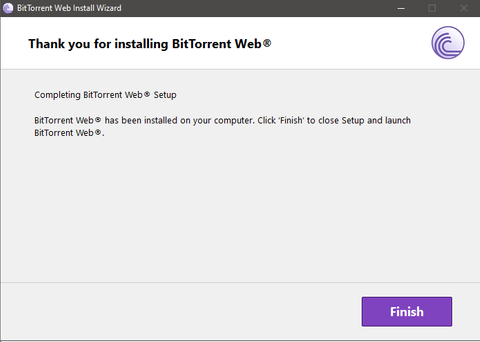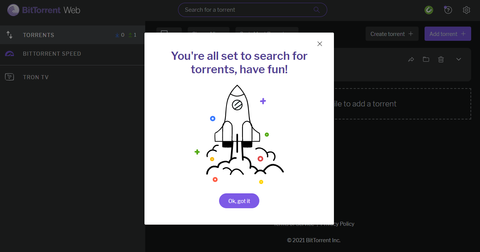 ---
Step 3
Now we will need to create our wallet to be able to save our tokens, so we go to where BitTorrent Speed ​​says, we follow all the instructions, we save our private phrase in case we have to recover the account in the future, we solve some captchas and that's it. Once the wallet is created, we will receive a gift airdrop. Cool no?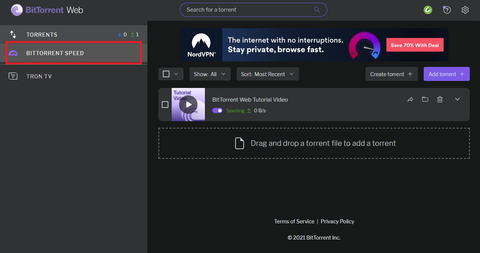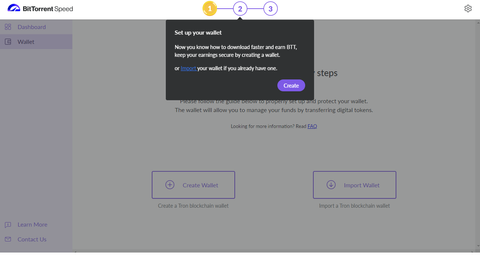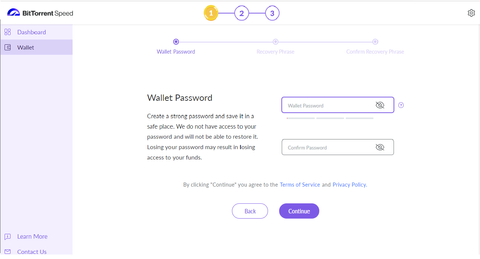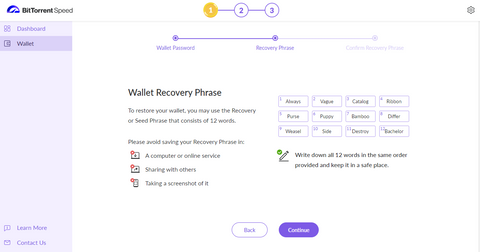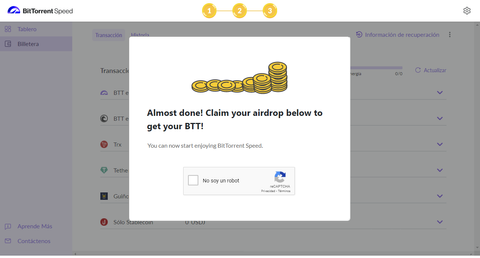 ---
With the wallet created and some tokens in it we can increase the speed of any download we want, and we can also earn BTT for sharing our files. It's that simple, with just three (3) simple ones you will be ready to download at a higher speed and/or earn money for sharing your files.
---
Characteristics
The board
With this simple dashboard, we can manage our earnings and control the download speed.
BitTorrent.com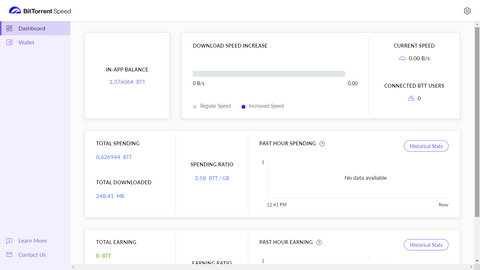 ---
Wallet
This encrypted and secure wallet allows us to take absolute control of our assets, as in other similar wallets we can receive and send BitTorrent Tokens (BTT) whenever we want very easily. BitTorrent.com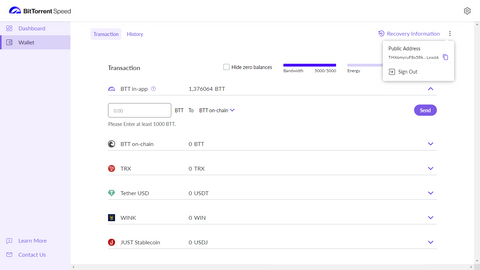 ---
Profits BitTorrent Speed
One of the reasons why I love it is that it is very easy to use since we can download faster without having to wait so long for just a small investment, it is also compatible with previous versions of BitTorrent, and Best of all, despite the incorporation of this new token (BTT), the BitTorrent family of products will always be free for everyone in the world to use. So, if we want to continue using bittorrent in the old way and wait the time necessary to complete its download, that is fine, although in order to receive earnings for the downloads of our shared files, we must enable the wallet. I invite you to learn more about this dapps on its official website
https://www.bittorrent.com/token/bittorrent-speed/
---
Note: All the tutorial images were captured from my computer.
---
Conclusion.
This brief review about this BTT will undoubtedly be of many contributions to complement the second class of our dear @yohan2on, also the rest of the participants will be able to learn how to download, install, and configure their BTT wallet, in which they can send and transfer their tokens very easily. Thanks to the acquisition of BitTorrent, the TRON blockchain managed to consolidate its way to achieve a fully decentralized ecosystem.
I hope that my participation in the class is to everyone's liking. bye-bye XOX.
---