Steemit Crypto Academy | Summery On Homework Task 2 by @stream4u.
---
---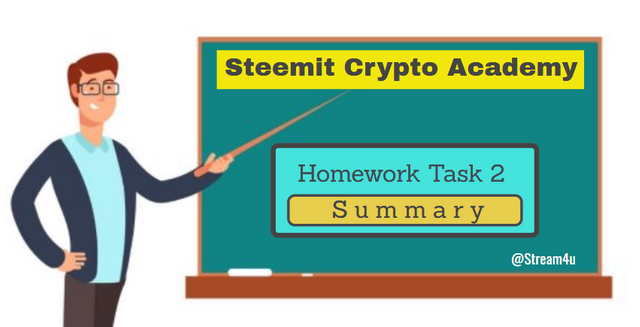 This Thumbnail Created From snappa.com
---
Hello Everyone,
I thank you to all for joining Steemit Crypto Academy and show your participation in my Homework Task 2.
I was really don't know whether you will like the subject which I selected as a professor in Steemit Crypto Academy and topic which I am covering through my courses, but according to your response which I received from course 1 and course 2, I really happy to see that the peoples like you having the interest to learn Trading Technical Concept.
There are many theoretical details, the explanation, tricks you will see available on a Trading Technical Concept, and everyone has a different view on it.
Still, I have selected this topic because I guess I can explain this same in a very simple language and point you to the only important things and where we normally make mistakes while investing and trading.
During the next couple of weeks, we will be learning about more technical concepts and technical indicators, and not only this we will also learn how we should manage our capital in investing and trading.
Well, I will not take too much of your time here :).
---
Summary For Homework Task 2
We are here to summarise your homework task which you have made and submitted for course 2. I am trying my best to verify your post as quickest as possible.
Before proceed to the next course and homework task, it is good to discuss the last submitted homework task so that if needed then you can make sure about it in the next homework task.
We will follow this same on the next couple of weeks course too hence make sure to check the Homework Summary after completed a week so that you may find something that you can implement in your next course homework task.
Summary For Homework Task includes General thoughts, Feedback, Suggestions.
---
General Thoughts.
No doubts in this that you all are performing well in the homework task, still some entries show that few are not going through the entire course, homework task and understand it.
We have a complete one week, so have enough time to read the course properly, check homework task 2-3 times before making a post on it, once your homework task is ready, check it again and make sure you have mentioned all required details before publishing it.
You can also try to put a heading for each topic then detail below it so that at the end you will see if anything missed or not before you publishing.
Make a homework task post and then compare it with the questions/topics in the course homework task.
Specific to my courses and homework tasks, you can get all details from the charts only and just need to explain in your own way. I don't think you will really need to check other sources for it.
---
Feedback.
As I mentioned it seems few peoples are still not going through the entire course and homework task, as there are some entries found for homework task which does not meet the expectation. Not all topics covered, only a few details.
Some entries found in which some different details mentioned which actually not done in a course and also not given in the Homework task. So, again read the course properly, check homework tasks 2-3 times before making a post on it.
PLAGIARISM isn't supported, but still some entries found which tries direct copy-paste from certain sources, if there are then make sure you have given proper sources at the right place in your post. Make sure those sources are accessible globally as we were not able to access a couple of sources.
---
Suggestions.
Make a homework task only on requested topics, information. You may don't know what will come in the next week, so make sure not to add other details which are not a part of the given homework task.
Use a decent size of images and screenshots so that post looks more attractive and it feels easy for readers also.
Try to explore the topics as much as possible so that information looks more batter and it feels easy for readers also.
Try to make a post as much as possible in your own words instead of putting a lot of sources, this practice will also improve your posting skills. For help, you can refer to other sources but try to avoid those direct in a post.
---
Key Point Found.
After reviewing all your homework posts. I see a lot of people use technical charts from POLONIX, BINANCE, etc. Don't know how you have practice on it, but if you have noticed, including POLONIX, BINANCE the majority of crypto exchanges are use graphs from the TradingVew only but not provide full access on it like you can't use Tools.
So, here I will suggest starting using charts directly on TradingView as you will get full control on tools and a couple of rights on indicators.
This is just a suggestion, you can still use what is best for you and have a hands-on experience.
---
TOP 3 Homework Task Post.
This is very difficult to select the top 3 posts as you all have made a masterpiece.
We have selected the below posts as the top 3 Homework Task Posts given by @stream4u.
---
Important Note
All homework posts should be posted in the community Steemit Crypto Academy.
For Homework Task 3 post given by @stream4u, add the exclusive tags #cryptopattern, #stream4u-week3 in the first 2 tags.
Tag professor somewhere in your homework task post, so that it will not be missed and get reviewed at the earliest. For Homework task 3 given by me, tag me @stream4u somewhere in your post.
With regards to the course, for any doubts, questions, concerns you can reach to the professor on their course post comment.
Thank You.
@stream4u

This Post and My Comments are Set For 100% Power Up.

---
---