Steemit Crypto Academy | Summery On Homework Task 5 by @stream4u
---
---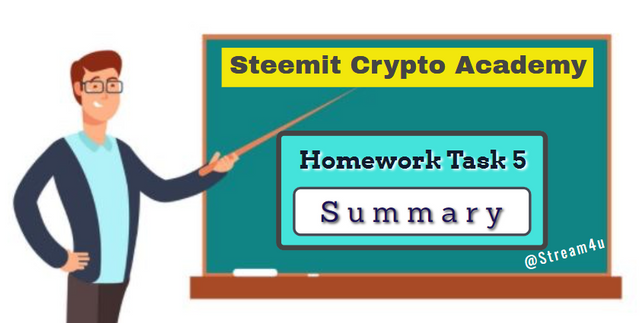 This Thumbnail Created From snappa.com
---
Hello Everyone,
Thank you to all for joining Steemit Crypto Academy and participating in the Homework Task 5.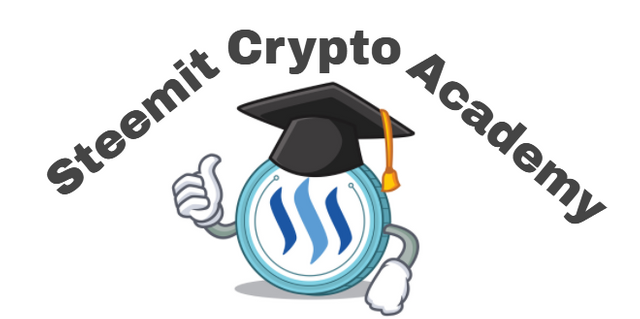 Steemit Crypto Academy
You all are doing great work on the Homework task, we can see now that your interest in each topic is increasing and you have learned new things which earlier not aware of it.
---
Summary For Homework Task 5
We are back to summarise homework task 5. I hope your homework task 5 has been reviewed by me, if not then please send your link for Homework Task 5 in the comment section of the Course 5 post.
Before proceed to the course and homework task 6, let's summarise homework task 5 so that if it requires then you can implement it in your next homework task.
Summary For Homework Task includes General thoughts, Feedback, Suggestions.
---
General Thoughts.
It was a nice experience to review all homework tasks, regarding technical skills now we all have learned the major topics which are most important to know while trading and investing.
You will need to do practice on it, according to the success rate you can decide what capital you can use.
In the last course, we understood about SuperTrend and I hope everyone now understands the concept of SuperTrend and how to use it. Still, I wanted to clear one thing again because I have seen most of are missed that, please find below.
This is regarding how to buy with the help of SuperTrend, majority of the answer received like Enter for buy when SuperTrend says Buy, for this please check the course Course 5 post.
As we are looking for safe trade, low loss and it is okay if profit is low. So after a big bull run, it is possible to recover the price and for that, it turns into a small bearish run, we may get panic here. Understand it that SuperTrend shows BUY when it crosses and closed above the resistance which is already at the up level, so it is possible that it will come down to recover the price, hence below is the information which I mentioned in the last course.
as I said when SuperTrend Line is below the current price, then wait till the price comes down to near the SuperTrend line, you can place the buy side somewhere near to that line. SuperTrend line has strong support and it has the capacity to take the price back to the previous high in a short time.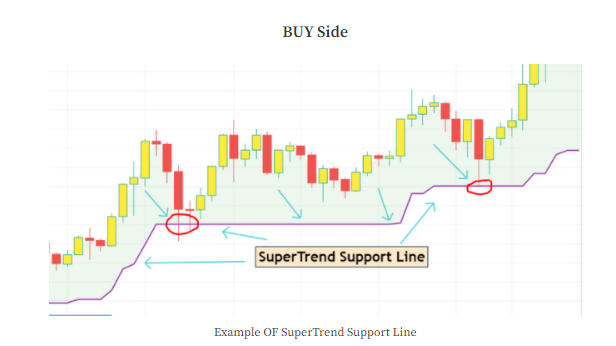 We can see in this how the price tuches the line and moved up, so buy at this support line instead of when it says BUY. This is for safe trade.
---
Feedback.
There was no major thing found in homework task 5. However, we are still getting plagiarism content, so please stop plagiarism and spinning, use proper sources for the content, when we say use proper sources to the content which does not mean 50% of the content has given sources, make a homework task based on your understanding and we are here to guide you what is right and wrong.
---
Suggestions.
Try to get involved more in the topic and then try to explore it as much as possible but in simple terms.
Use proper captions to the images so that post will look more effective.
Instead of Google images, try to use your own screenshots which show how you have catchup the things.
Make sure images are clear to understand, images are straight and not crossed.
---
TOP 3 Homework Task 5.
Everyone is doing great in the Homework Task and below are the top 3 tasks.
---
Important Note
All homework posts should be posted in the community Steemit Crypto Academy.
For Homework Task 6 post given by @stream4u, add tags #cryptocapital, #stream4u-week6, and #cryptoacademy in the first 3 tags. Also, tag me as @stream4u somewhere in a post. (Tagged Correctly).
If your Homework task 6 post does not get reviewed by @stream4u within 24 hours after you published it, please send your post link under the comments on the Course 6 post.
With regards to the course or Homework Task, for any doubts, questions, concerns you can reach to the professor through the comment section on their course post.
Thank You.
@stream4u

---
---