Steemit Crypto Academy | Homework Summary for Week-2 by Professor @yohan2on
Dear Steemit team and the entire steem community, I hereby present the homework summary for the week-2 Crypto Academy course.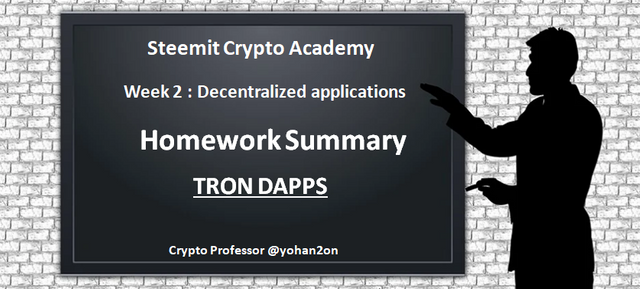 First of all, I would love to appreciate those that participated in week-2's crypto course. It was nice reading through plenty of articles from many of my crypto students.
There were about 56 homework articles submitted during the previous week's crypto homework course. Quite a big number, I think it should have been more than that. Maybe it's because the last week's homework task was quite a challenging one for many steem users.
This is a learning experience for many steemians not only for Crypto but also in other areas of writing professional well-referenced blogs. Just love what you are doing, give it your best and you will achieve great results.
For this week I congratulate and nominate 3 articles from the following 3 steemians. Their homework was exceptional;
---
@kouba01 shared about Poloni DEX exchange
Poloni DEX:
On the decentralized exchange platform Poloni DEX there are three base currencies offered: TRX, USDT, USDJ, allowing the exchange for any token belonging to the Tron family and also TRC-20 coins in Tron Blockchain like TRC -20 USDT, TRC-20 BTC, etc.
Among the strengths of this platform, what it is known for its low costs and its scalability. Its fees can be neglected 0% especially tokens belonging to the TRON blockchain family.
---
@saracampero shared about BitTorrent Speed
One of the reasons why I love it is that it is very easy to use since we can download faster without having to wait so long for just a small investment, it is also compatible with previous versions of BitTorrent, and Best of all, despite the incorporation of this new token (BTT), the BitTorrent family of products will always be free for everyone in the world to use. So, if we want to continue using bittorrent in the old way and wait the time necessary to complete its download, that is fine, although in order to receive earnings for the downloads of our shared files, we must enable the wallet.
@fredquantum shared about Just Swap
JustSwap is one of the DApps built on the Tron Blockchain and in fact, it was the first decentralized token exchange protocol on the TRON Blockchain. One of the advantages of JustSwap DApp is that it allows users to exchange any TRC20 tokens (tokens placed on the Tron network) at the system price almost instantly and also allow users to earn transaction fees by being a liquidity provider. JustSwap Liquidity provider is someone who funds a liquidity pool with his/her cryptocurrency assets to facilitate the trading process on the platform and thereby earn passive income.
---
My generalized feedback and important things to take note
---
Some users were making posts below the minimum required words. I used the word counter to count the number of words in your articles. You should know that the 300 minimum required words exclude the introductory and conclusive appreciative messages to the crypto professor and the steemit team. These also exclude any directly borrowed content from other users regardless of whether it is referenced.
For any borrowed work, always ensure that you fully reference it clearly. Some of you were not doing so and you ended up on the bad side of plagiarism. I laboured to correct you in the comment section of your articles. I hope you have now learnt and will change in that area.
Some users were intentionally plagiarizing and spinning other users' articles. These cannot be tolerated on Steemit. Any user caught in such bad content habits, risks being blacklisted in the Crypto Academy community. To those I caught during this week's course, you pleaded so much that I should forgive you. You now have a second chance to reform and do what is right.
Kindly do the corrections whenever you are required to do so. I appreciate many of you who endeavoured to do your corrections whenever I instructed you to do so and that is good. I believe your future homework tasks post will be presented in a much better quality state.
---
How to improve on the quality of your articles
---
Use the Grammarly tool in order to keep a check on the grammatical errors in your articles.
Do enough research and study on a particular topic given in the homework task so that you can present it perfectly for others to learn from you.
Be as detailed in your articles as possible. Don't just work towards raising the 300 minimum required words in your article. You should also be creative as you present your work.
Go straight to the point (keep your content focused on the topic). Some of you were just too wordy in your articles. You could go off track because of overusing so many words. Stick to the topic (the main subject of the homework task)
Use the Small tools "plagiarism checker" to self-check your content to see whether it's unique and free from plagiarism before you post it on steemit. This is something good that can help you in keeping your reputation as a blogger by avoiding the embarrassments of being caught on the bad side of plagiarism.
Here is a reminder on the guidelines for this new week's homework task
Post all your homework posts in the Crypto Academy Community
Tag me in your article so that I can easily find your article
Use the exclusive tag #yohan2on-week3 as one of your first 5 tags of your article. Then followed by # yourcounty tag and any other relevant tags to your article.
Refrain from plagiarism and spinning of articles
Your article should be a minimum of 300words.
Cc
Steemit team
@steemcurator01