Mi esperiencia con Heart Farms/ My experience with Heart Farms
Confieso que estaba completamente desubicado ante el juego HEART FARMS lanzado este sábado para proceder a fortalecer la comunidad cristiana, a través de la tecnología blockchain. No encontraba por dónde comenzar y hubo un momento de crispación en que me sentí frustrado. Me dediqué a leer, con mucha atención, los tutoriales dedicados a desentrañar los mecanismos para acceder a la compra de terrenos, pero no entendí nada. Debo aclarar que la culpa no la tienen los mencionados tutoriales, sino mi momentánea incapacidad para discernir lo que debía hacer para entrar en el juego que tanto me interesaba. Me fui al chat de HeartChurch, en Telegrams, a ver si encontraba auxilio, pero los comentarios con que allí me topé estuvieron a punto de deprimirme: todos disertaban, emocionados, sobre sus ofertas y sus experiencias en general en las primeras horas de interacción con Heart Farms y se les sentía el orgullo por formar parte de esta historia, mientras yo me encontraba ahogado, tal como comprobé después, en un vaso de agua. De modo que hice aquello que siempre hago cuando las cosas no salen como las quiero: desistí de los repetidos intentos por participar en la agradable contienda y me retiré a dar una vuelta para despejar mi mente. No me había rendido, por supuesto, solo necesitaba un respiro.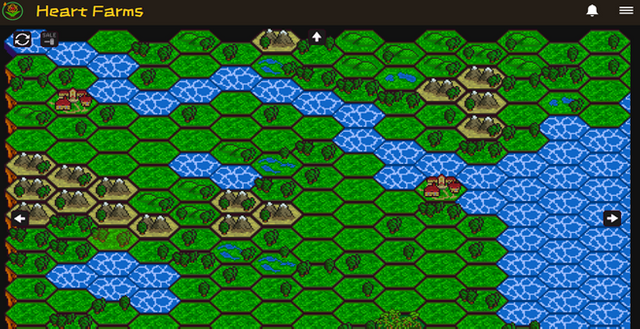 Cuando, tres horas más tarde, regresé a intentarlo una vez más, estaba consciente de que no podía seguir a la deriva probando indefinidamente todo sin tener resultados satisfactorios. Llamé, entonces, a mi maestro en estos avatares, Félix García Padilla (@felixgarciap). Él se mostró, en un primer momento, extrañado de que yo no hubiese podido participar todavía en el juego, porque sabe que, a pesar de que no soy un individuo dedicado a la tecnología, me desenvuelvo bien dentro de este universo virtual por donde, con su paciencia y dedicación, me ha ido guiando. Pero no se detuvo en muchas consideraciones. Me aclaró el panorama en un dos por tres, tan rápido que sentí vergüenza por mí, por no haber comprendido antes lo simple que resultaba aquello. "Ya tú tienes la cuenta Sqrl -me dijo-, abre la plataforma del juego, haz tu oferta y te va a salir luego el cuadro con los datos para la transacción a través de la billetera. Allí vas colocarlos como cuando envías corazones a otras cuentas, algo que ya has hecho." Qué fácil… En mi caso, como escribo en Daily Telos, ya estaba familiarizado con el monedero que utiliza Heart Farms, por lo tanto, debía tan solo conocer por dónde empezar y lo demás resultaba muy sencillo.
Al fin pude llegar adonde quería. Oferté, en seguida, por tres porciones de terrenos, sin embargo, en ese instante la conciencia me traicionó porque me sentí un despiadado latifundista que no quería dejar tierra para los demás. Pero no era ese el caso, estaba pecando, como muchas veces me ha pasado, de ingenuo. Se trata de una subasta, de optar frente a otras ofertas para ver quién puede más; por esa razón, al poco tiempo, ya dos de mis intentos habían sido devueltos por la plataforma porque alguien más había "sobrepujado" en las parcelas que me interesaban. Eso, en lugar de deprimirme, me dio ánimos para buscar otras opciones en el mapa virtual… Y aquí sigo, esperando hacer realidad mis aspiraciones con Heart Farms.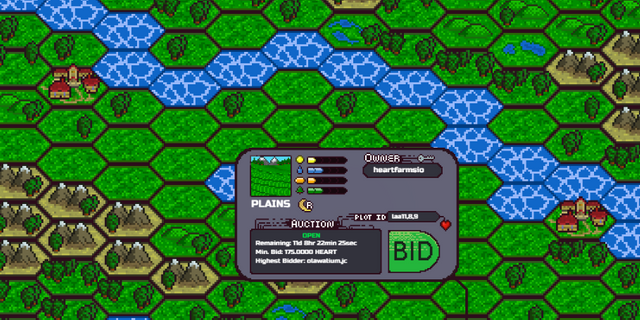 My experience with Heart Farms
I must confess that I was completely confused about the HEART FARMS game launched this Saturday to proceed to strengthen the Christian community through technology. I could not find where to start and there was a moment of tension in which I felt frustrated. I read the tutorials dedicated to unraveling the mechanisms to access the purchase of land, but I did not understand anything. I should clarify that it was not the aforementioned tutorials that were to blame, but my momentary inability to discern what I needed to do to get into the game I was so interested in. I went to the HeartChurch chat on Telegrams to see if I could find help, but the comments I came across there were about to depress me: everyone was excitedly talking about their offers and their experiences in general in the first hours of interaction with Heart Farms and they were proud to be part of this story, while I was drowning, as I later found out, in a glass of water. So I did what I always do when things don't go my way: I gave up the repeated attempts to participate in the pleasant contest and retired for a walk to clear my head. I hadn't given up, of course, I just needed a breather.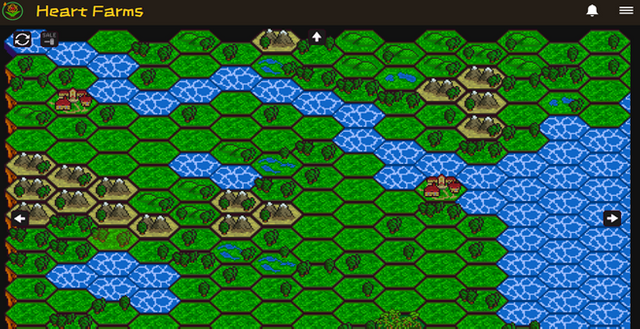 When, three hours later, I returned to try once again, I was aware that I could not continue drifting indefinitely trying everything without satisfactory results. So I called my master in these avatars, Félix García Padilla (@felixgarciap). He was, at first, surprised that I had not yet been able to participate in the game, because he knows that, although I am not an individual dedicated to technology, I manage well in this virtual universe where, with his patience and dedication, I have been guided. But he did not dwell on many considerations. He clarified the picture in no time, so fast that I felt ashamed for me, for not having understood before how simple it was. "You already have the Sqrl account -he told me-, open the game platform, make your offer and then you will see the box with the data for the transaction through the wallet. There you are going to place them like when you send hearts to other accounts, something you have already done." How easy... In my case, as I write in Daily Telos, I was already familiar with the wallet that Heart Farms uses, so I just had to know where to start and the rest was very easy.
I finally got where I wanted to go. I immediately bid for three pieces of land, however, at that moment my conscience betrayed me because I felt like a ruthless landowner who did not want to leave land for others. But that was not the case, I was sinning, as has happened to me many times, of naivety. It is an auction, to bid against other offers to see who can bid the most; for that reason, after a short time, two of my attempts had already been returned by the platform because someone else had "overbid" on the plots I was interested in. That, instead of depressing me, encouraged me to look for other options on the virtual map... And here I am, waiting to make my aspirations come true with Heart Farms.