HeartChurch: Application for the Communities of the Month Support Program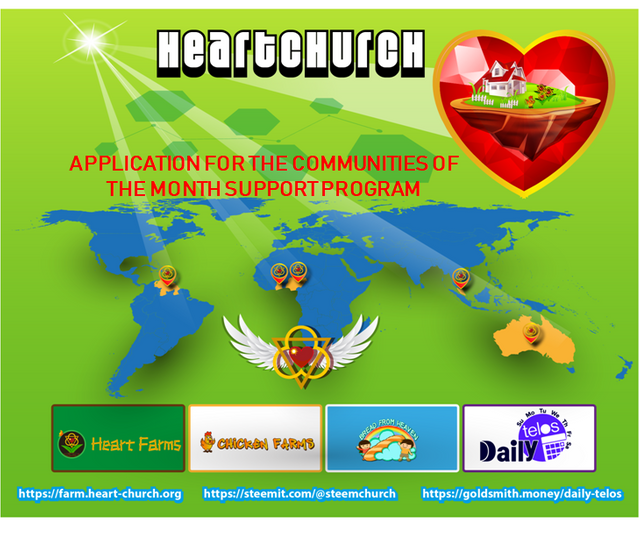 ---
---
Happy and Blessed day:


This blog is made as a request for The Communities of the Month Support Program,I'm @darlenys01 HeartChurch Community Representative.
SPECIAL THANKS:
To God, who gave wisdom to the human being and gave us the ability to create through science and technology tools for the growth and strengthening of our nature, being partakers of the common good, for him we are here today.
We would also like to thank the Steemit Team for the opportunity over the years and months to publicize our life project.
SUMMARY
COMMUNITY
DESCRIPTION
Created to impact the world, promoting individual and community development following the example of equality, equity and goodwill that JESUS ​​left us.
Account Oficial
@steemchurch
Create Date
December 2017
Number of followers
3316
Founder
@sirknight
Administrator
@darlenys01
Coordinator
@ricci01
Curator
@sniffnscurry,@steemchurch,@sc-v
Website
https://www.heart-church.org
Projects in development.
https://farm.heart-church.org/
Projects Sustainable.
Chicken Farms
Places of interest
https://goldsmith.money/
Token
Heart
Description
https://steemit.com/hive-108514/@steemchurch/community-in-action-methods-of-interaction-and-general-rules
Twitter
@HeartChurch1
Telegram
https://t.me/steemchurch_telegram







What is the purpose of your community?


HeartChurch International Ministry, is the first blockchain church, created to impact the world. It is a large community that has established itself in countries such as Venezuela, Nigeria, Ghana , promoting educational social projects through Christian values, its slogan "Crusade for Freedom".
Learn more about our vision here







We have been working hard in the development of solid communities, our main focus is on social marketing, creating educational projects in various areas: nutrition, agriculture, promotion of blockchain technology, etc., having the conviction that the greatest strength of a technological platform It is humanization, in it the value of what we expect is added, if what we are capturing we take to a real level, it will be easier to create a genuine environment, with a high impact of fidelity and growth.

All our efforts are based on empowering men and women to work their own destiny, and use the blockchain as a technology with purpose, we are not a foundation, an ONG or a charity, we are a team of professionals with Christian values aimed at satisfying spiritual and physical needs through knowledge, solidarity and love. Today our community has expanded to the Telos, blockchain a platform capable of facilitating trade, banking, and logistics.

Every day we enter people in these blockchain, with the purpose of creating an infrastructure where our followers can be benefited. Currently the ascension of our name token has begun; Beatitude, symbol: Heart, is a standard token built in Blockchain: Telos (TLOS) its main feature is that it has its own UBI (Universal Basic Income) implementation.
Visite el whitepaper de Beatitud:

Is it unique?
We definitely have the honor and privilege of being the first and only virtual church consolidated on a blockchain.

Are there any other communities covering the same subject or area as yours?

We are a Community open to all kinds of topics of personal and spiritual growth, we combine a series of characteristics that allow any citizen interested in the common good to share their ideas and talents without any obstacle but respect and solidarity to others, we follow the good example that Jesus left us, as well as examples of honorable people in the real world, that said we believe from the bottom of our heart that we are unique in our species, we talk about life model, ecology, finance, technology, we analyze the scriptures, we build community and empower individuals.there is no other community with this essence.

Why should people join your community?

We could say many things why someone joins a community or group, however, beyond a momentary benefit we offer a lifestyle based on values, which over time will leave traces and legacy in generations, we are changing the perception that the world has of religion and what it means to be a follower of Christ, we went from being those people who lived locked up in temples, to become pioneers of companies, social works, community work, we have even dared to create a virtual game, which undoubtedly will mark a before and after in the community, we call it Heart Farms, which I will write about later, we are building our own paradise, in this way many people around the world will benefit, promoting great changes through financial education, we are taking giant steps in the expansion of the community.







Who are the Admins and Moderators of your community?



Core Team Details

HeartChurch was founded by @sirknight in December 2017, establishing parishes in various locations such as: Venezuela, Nigeria, Ghana, etc. These in turn have a team with various skills and specialties: programmers, designers, social workers, doctors, analysts, software engineers, telecommunications, educators, etc.

The current Direction of HeartChurch is in charge of Darlenys Ugas (@darlenys01)




I am a systems engineer, I have had a great participation in social projects, from an early age I obtained my degree (21 years) later I specialized in Computer Networks through the prestigious Cisco Network Academy.
I obtained training in project planning, marketing, strategic planning, and management of computer systems, I have served as an advisor of graduate work, classroom teacher at the university level, Technologist in the System of Administration of Migration and Foreigners (SAIME) of my country, managing servers with the National identification data, I promoted the identification of children, with community work, my last position in this institution was as Manager of the Maritime Port, ensuring the entry and exit of crew members to the national territory. I have participated in the control and execution of large engineering projects with the oil company, such as: the project of fog input to the Axial compressor to improve the performance of the turbine through a reverse osmosis plant to extract the gas.
Currently I work in a multidisciplinary team in the Information Security Department, in charge of the Preventive Architecture of the security of the technological platform of the main company in Venezuela.

One of my most relevant jobs was as IT and Systems Manager at the Ministry of Education, since I was recognized through a project of reengineering of the technological platform and the inclusion in the management of free software in the national educational system. Case mentioned in press release State of Venezuela.

---

We are a community with activities in the real world, with which we promote blockchain technology and encourage people and communities, as part of the team we have the Coordinator and main Moderator of the community @ricci01, Bachelor in Integral Education with a Master in Theology who helps us with her experience and dedication.

Part of the team behind the development of HeartChurch.

Moderator:@maxdevalue

In community projects they are:

@mariela: Bread From Heaven -Barcelona.
@mildreduh: Bread From Heaven Puerto La Cruz.
@xioran: Bread From Heaven Lechería.

Allied ministries where the children's kitchens are run.

@jehovahjireh: Dining Facility 1 Bread From Heaven.
@refugechurch: Bread From Heaven Dining Facility 2.
@transform-lives: Dining room installation 3 Bread From Heaven.

In the Chicken Farms project, the following are promoters and supervisors of the 3 Mini-farms:

@xioran: sotillo municipality mini-farm.

@jorgelis23: Urbaneja Municipality mini-farm.

@elion: Sucre State mini-farm.

In charge of mobile dining rooms, logistics and transfer:
@marilin35

In the development of Heart Farms

@crypto-investor -Developer

@marcelo182 - Contributor

@edxserverus - Graphic designer

@ruben182 - Contributor

Note: We are currently at the stage of assigning membership and positions for the community's executive committee, since the community has had a progressive increase in its collaborators.

What countries are they from and what languages do they cover?

Many people write from different countries, the most relevant are fromVenezuela, Nigeria, Ghana, the most used languages are English and Spanish.



Are the team members paid or rewarded in any way from the community funds for their work in running the community?


Yes, although most of the community funds go to social projects, active members receive incentives in their publications.

If you only have one Admin what would happen to your community if you left or lost your keys?


We have an administrator, but the moderators and our founder have very well guarded keys and even a plan b established for any unforeseen event that may arise.







What is your Community Curation Account?


@sniffnscurry

How much Steem Power does it have - both of its own and delegated to it?



@sniffnscurry,the Steem Power available is 271,522 sp.

What are your plans for growing the SP of the account?


At the moment our members do not delegate to the main curation account, however some do so voluntarily on the official account @steemchurch, we have been building different options for our members to advance other methods and tools so they can save or invest and thus conserve their sp.

Are all the post rewards powered up, or are they used for paying delegators or members of the community team?


Some are activated for community projects or to pay for challenges or contests.

Who has access to voting with the account?


The founder and the Administrator of the community.

What is the current Voting CSI score for the account (from Steemworld.org)?

Our current voting CSI is 10.7 (0.00 % self, 203 upvotes, 77 accounts, last 7d )

On average what proportion of the posts each week receive a vote from the community account?

The healing power is distributed to community accounts and active members.








What measures do you take to check for plagiarism and other forms of abuse (content farming, duplicate accounts, fake accounts)?


This is an issue that we are addressing on a daily basis, that is why we are working on the allocation of membership with the verification of members, we have already made publications in this regard and we have obtained excellent results, thanks to the help of @endingplagiarism plagiarism activity is virtually nil except for people who write new, which was made a blog for help.
We rely on tools such as SmallseoTools.

Do you have designated people in your team for plagiarism checking?

Yes, the moderators and the team in general are constantly checking.

Do you ensure all photos used in your community are copyright free?



Yes, we are promoting the use of mostly own photos, as well as those that are free of copyright, we also make sure that if you take some private ones you put the source of them.

---




Does the community team check and comment on every post in the community?

I think we are one of the first communities formed in steemit, even before they were formally established, the essence of our founder was always in effective communication of its members, comment and encourage new users, we have open channels available in telegram for the community in general as well as for the projects, where we interact, answer questions and concerns of all participants.
With the pandemic issue had decreased a little more than all the comments between blog, however now we are resuming this routine practice among all.

Telegram:@https://t.me/steemchurch_telegram
Telegram:@darlenysugas

---






How often do you post plans and updates for the community?

The official community account @steemchurch ,posts once a week or whenever there is an unforeseen update.

Do you post these through the community account?

Yes, there is the official account @steemchurch, and the allied account for project development in Venezuela, @sc-v where activities and execution are carried out in real time.

Do you have a roadmap or long term plan for the community?

Yes, in fact it has a lot to do with the first image of the publication, it is our interactive map, which has a presence in Australia, Venezuela, Nigeria and Singapore where we are carrying out social-educational projects, and our DAO, Heart Farms, has a community focus. , the farm game with which we are strengthening participation, also interacting with a newspaper and the self-sustaining project to feed families and supply Chicken Farms dining rooms.
In the immediate future we want to offer many tools not only for our community but for all those people who make life on this platform, and who at the same time can benefit from everything we are achieving.

---




We are constantly promoting all community activities, Steemit being the HeartChurch blog platform also enjoys social marketing, we rely on expanding community work with social projects: Bread From Heaven, Chicken Farms, Heart Farms.




---




Do you promote your community outside of Steem?

Yes, with promotions in Twitter, facebook, Instagram, a radio show where I participate once a week, telegram channels, and our own websites.

https://www.heart-church.org/
https://farm.heart-church.org/




Do you have a Promotion or Marketing Plan for your Community?

Yes, we are promoting technology with a purpose through community companies, the adoption of cryptocurrencies as a form of payment, sponsoring some events in different cities and the official launch of the Heart Farms game, among them the sponsorship of children's soccer teams and textile brands community,which includes billboard in some places.

We will be promoting our auction of Heart Farms land, placing land also to the community in general as part of our marketing through contests and tasks published in the blogs, it is a way of thanking and sowing the users who accompany us every day in Steemit.




As part of the promotion I offer my textile company for the elaboration of solidarity garments to those communities in Venezuela that wish to elaborate shirts, uniforms, or other advertising material to promote steemit.

---




Please include any other information you would like us to know about your community, and why your community should be selected for extra support?

From the beginning, we have not had a great healing system, although we have received support in some projects, the community effort has been evident, it is obvious that more resources would be needed to achieve great goals, however as a community we are proud of what We have achieved and what we still lack, the best: A job that goes beyond a virtual community, something that is leaving a mark in many homes that cannot be imagined. In general terms, we observe a modest community, at first indicated by some for the theme or religious position, but which with the passage of time has shown that with few resources, a good organization, an unshakable vision, great things can be achieved, a blog never It will be enough to measure the impact. It is good to meditate now that with a little more than 3000 followers and expanding projects, we could do a lot for the community and for the platform in general.

Our community has shown commitment, loyalty and fidelity to what it is called to be, despite any circumstance we have continued towards our purpose: to bless the earth.
From our hearts we hope that we can be considered for this new form of support from the Steemit team.

Any other special features your community has?

Teamwork capacity, resilience and courage.Each time you support with some delegation you will be collaborating with the feeding, education of thousands of children, the restoration of the family, and the promotion of blockchain technology in the world.

Do you encourage only #steemexclusive posts in your community?

Yes,In recent months we have tried to make our main exclusive publications for Steemit.

---

Written by @darlenys01 as Application for the Communities of the Month Support Program

Cc:-
@steemitblog
@steemcurator01
@steemcurator02
@booming02




---