(ESP / ENG) "CONTENTO CON LO QUE TIENES" / "PLEASED WITH WHAT YOU HAVE"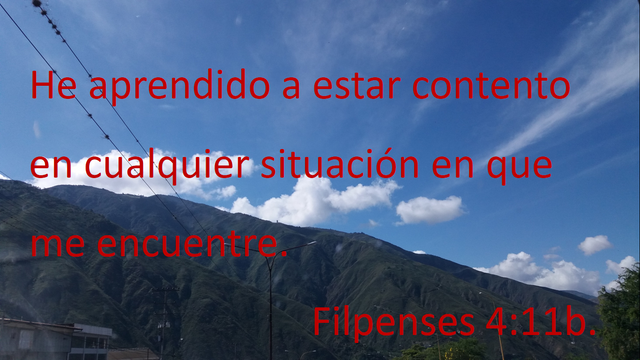 "CONTENTO CON LO QUE TIENES"
Saludos a toda la comunidad de Heartchurch, una bendición especial para cada uno de ustedes que conforman esta comunidad.
Quiero compartir con ustedes esta reflexión: "CONTENTO CON LO QUE TIENES".
Creo que la mayoría de las veces somos mal agradecidos con Dios por lo que tenemos. Generalmente vemos lo malo que nos pasa o nuestras necesidades; pero no vemos y recordamos todas las cosas buenas que hemos y estamos recibiendo de Dios.
Cuando pasamos por necesidades, nos quejamos hasta con Dios. No hemos aprendido a contentarnos con lo que tenemos.
Recuerdo que hace unos meses atrás leí la historia de un rey:
Una mañana el rey salió a su jardín, y encontró con asombro todo marchito y mustio. Y fue a preguntarle lo que le ocurría al Roble, el Roble le dijo que estaba cansado de la vida y quería morirse porque no era alto y hermoso como el Pino. Pero el Pino estaba preocupado porque no podía llevar frutos como la vid. La vid estaba dispuesta a morir porque no podía mantenerse erguida y dar grandes frutos como el durazno; y así cada uno se quejaba.

Pero cuando llegó a la violeta, el rey la encontró tan viva y alegre como siempre. El rey le dijo: me alegra de encontrar una flor tan pequeña y valiente en medio de este desaliento. No pareces triste en lo absoluto.

La violeta le respondió: No lo estoy. Sé que soy pequeña, pero pensé que si querías un Roble, un Pino, un árbol de Durazno o incluso una Lila las habrías plantado. Como sabía que querías una violeta, estoy decidida a hacer la mejor violeta posible. Autor: Desconocido.
Así que hermanos y amigos, vivimos la vida quejándonos, y si Dios te puso aquí en la tierra es porque Él quiere a alguien como tú. Alégrate con lo que Dios te ha dado, no pases el tiempo quejándote.
No mires ni te compares con el vecino, amigo o extraño, cada quien juega un papel importante para Dios. Te invito a que estés CONTENTO CON LO QUE TIENE.
El apóstol Pablo nos dice en Filipenses 4:11: "pues he aprendido a estar contento en cualquier situación en que me encuentre".
El apóstol Pablo estuvo preso, vivió atropellos, insultos, estuvo al borde de la muerte, considerado un traidor. Pero Él aprendió a estar contento en cualquier situación. No importa la situación por la que estés pasando, debes aprender a estar CONTENTO CON LO QUE TIENES.
Dios les bendiga.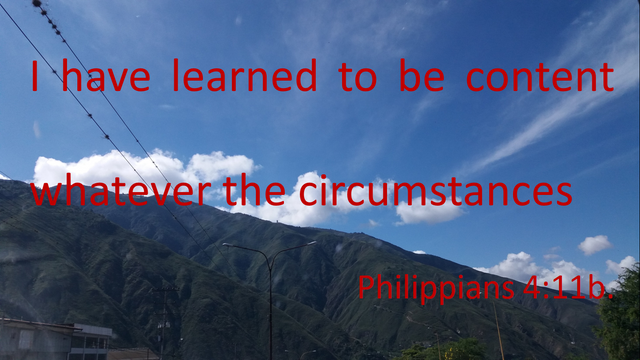 "PLEASED WITH WHAT YOU HAVE"
Greetings to the entire Heartchurch community, a special blessing to each of you who make up this community.
I want to share with you this reflection: "PLEASED WITH WHAT YOU HAVE".
I think most of the time we are ungrateful to God for what we have.
Generally we see the bad thing that happens to us or our needs; but we do not see and remember all the good things that we have and are receiving from God.
When we go through necessities, we complain even to God. We have not learned to be content with what we have.
I remember a few months ago I read the story of a king:
One morning the king went out to his garden, and to his amazement he found everything withered and withered. And he went to ask him what was happening to the Oak, the Oak told him that he was tired of life and wanted to die because he was not tall and beautiful like the Pine. But the Pine was worried because it could not bear fruit like the vine. The vine was ready to die because it could not stand tall and bear great fruit like the peach; and so each one complained.

But when he came to the violet, the king found her as alive and cheerful as ever. The king said: I am glad to find such a brave little flower in the midst of this discouragement. You don't seem sad at all.

Violet replied: I am not. I know I'm small, but I thought that if you wanted an Oak, a Pine, a Peach tree or even a Lilac you would have planted them. Since I knew you wanted a violet, I am determined to make the best violet possible. Unknown author.
So brothers and friends, we live life complaining, and if God put you here on earth it is because He wants someone like you. Be happy with what God has given you, don't spend your time complaining.
Do not look at or compare yourself with the neighbor, friend or stranger, each one plays an important role for God. I invite you to be HAPPY WITH WHAT YOU HAVE.
The apostle Paul tells us in Philippians 4:11: "for I have learned to be content in whatever situation I find myself in".
The apostle Paul was imprisoned, he lived abuses, insults, he was on the verge of death, considered a traitor. But He learned to be content in any situation. No matter what situation you are going through, you must learn to be HAPPY WITH WHAT YOU HAVE.
God bless you.