(ESP / ENG) "LA VICTORIA TE DARÁ" / "VICTORY WILL GIVE YOU"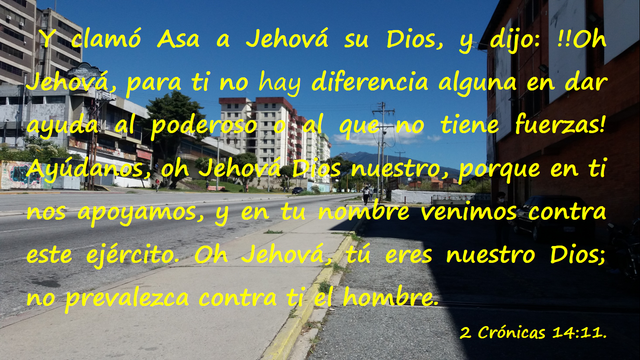 "LA VICTORIA TE DARÁ"
Saludos a toda la comunidad de Heartchurch, una bendición especial para cada uno de ustedes que conforman esta comunidad.
Quiero compartir con ustedes esta reflexión: "LA VICTORIA TE DARÁ".
No hay otro como nuestro Dios para ayudar, sólo Él puede ayudar al débil como al poderoso, pero necesitas depender de Él.
En este pasaje podemos ver la gran desventaja de los hombres del rey Asa, comparada con el ejército etíope.
El ejército etíope era de 1.000.000 de hombres y 300 carros, parecía imposible para Asa poder resistir frente a esa muchedumbre. No contaba con aliados que los ayudaran. Por eso, su única esperanza estaba en Dios, en nadie más.
Esta oración que eleva Asa era de dependencia y confianza en Dios; que es quién concede a victoria.
Es posible que tus dificultades hayan llegado a un nivel tan alarmante que veas que cualquier ayuda humanamente sería inútil. Ahora vez la única solución en Dios, no ves otro camino, confía plenamente en Dios y pon a Dios entre ti y el enemigo.
Asa se dio cuenta de su falta de fuerza, y vio a Dios como el único que podía vencer a tan fuerte ejército etíope, y no estaba equivocado. Dice la Palabra de Dios que los etíopes fueron destrozados, su ejército fue derrotado; como si guerreros celestiales se hubieran lanzados en contra del enemigo, en defensa de Israel.
Las fuerzas de Dios superaron de tal forma al enorme ejército etíope que los soldados huyeron. El ejército de Israel sólo tuvo que perseguirlos y apropiarse del botín.
Nuestro Dios es poderoso. Cree que Él se interpone entre ti y tus dificultades, y te dará la victoria. Te invito a confiar y depender de Él, las dificultades más terribles serán destruidas por Dios y te dará la victoria.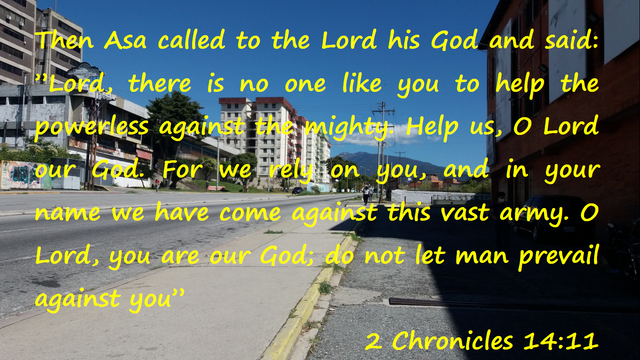 "VICTORY WILL GIVE YOU"
Greetings to the entire Heartchurch community, a special blessing to each of you who make up this community.
I want to share with you this reflection: ** "THE VICTORY WILL GIVE YOU" **.
There is no other like our God to help, only He can help the weak as well as the powerful, but you need to depend on Him.
In this passage we can see the great disadvantage of King Asa's men compared to the Ethiopian army.
The Ethiopian army was 1,000,000 men and 300 chariots, it seemed impossible for Asa to be able to resist in front of that crowd. He had no allies to help them. Therefore, his only hope was in God, in no one else.
This prayer that Asa raises was one of dependence and trust in God; who is who grants victory.
It is possible that your difficulties have reached such an alarming level that you see that any help would be humanly useless. Now you see the only solution in God, you see no other way, trust fully in God and put God between you and the enemy.
Asa realized his lack of strength, and saw God as the only one who could defeat such a strong Ethiopian army, and he was not wrong. The Word of God says that the Ethiopians were destroyed, their army was defeated; as if celestial warriors had thrown themselves against the enemy, in defense of Israel.
God's forces so overwhelmed the huge Ethiopian army that the soldiers fled. The army of Israel only had to hunt them down and appropriate the loot.
Our God is powerful. Believe that He stands between you and your difficulties, and He will give you victory. I invite you to trust and depend on Him, the most terrible difficulties will be destroyed by God and He will give you victory.