(ESP / ENG) "PIDES CREYENDO Y LO RECIBIRÁS" / "YOU ASK BELIEVING AND YOU WILL RECEIVE IT"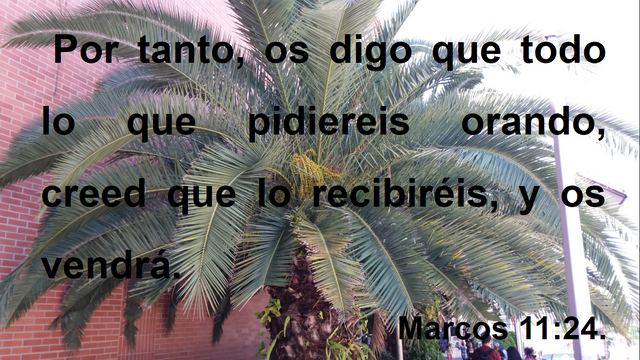 "PIDES CREYENDO Y LO RECIBIRÁS"
Saludos a toda la comunidad de Heartchurch, una bendición especial para cada uno de ustedes que conforman esta comunidad.
Quiero compartir con ustedes esta reflexión: "PIDES CREYENDO Y LO RECIBIRÁS".
Cuán difícil es cuando oramos y no recibimos respuesta, nos invade la duda. Sobre todo, cuando necesitamos una respuesta relativamente rápido y no llega.
Pienso que el tipo de oración que nos deja sin fe, nace de una actitud que nos hace centrar los pensamientos en las dificultades antes que en las promesas de Dios.
La fe no es cuestión de los sentidos, como tampoco de vista ni de razón, simplemente de aceptar la Palabra de Dios al pie de la letra.
El comienzo de la ansiedad y el desespero es el final de la fe, el comienzo de la fe verdadera es el final de la ansiedad. George Mueller.
Nunca vamos a aprender a tener fe en un entorno de comodidad. Dios nos da sus promesas en tiempos de quietud, pero Él se retira, a la espera de ver cuánto creemos en Él.
Su promesa es clara: "Todo por lo cual oráis y pedís, creed que lo habéis recibido". Cuando oramos conectados a Dios y creyendo recibiremos respuesta de Dios.
Recuerdo que mi esposa y yo, comenzamos a orar, para que Dios nos proveyera un apartamento o casa en la ciudad de Mérida, nosotros vivíamos retirados de la ciudad. No había casi transporte, y nuestros hijos ya estaban creciendo y pronto entrarían en la Universidad. Salimos varias veces a buscar apartamentos en venta y a preguntar, sin tener dinero.
El tiempo pasó y al cabo de 2 años recibimos una llamada, de una señora que necesitaba que nosotros nos acercáramos a la constructora para hablar con el dueño, porque había un apartamento disponible.
Sin dinero el Señor nos dio ese apartamento, en uno de los mejores lugares para vivir. Nuestros hijos se quedaron sorprendidos, por el lugar tan bueno y un buen apartamento.
Así que Dios si escucha nuestras oraciones. Te invito a que ores con fe y confíes que Dios le va a dar respuesta a esa petición. Pide creyendo y lo recibirás.
Dios te bendiga.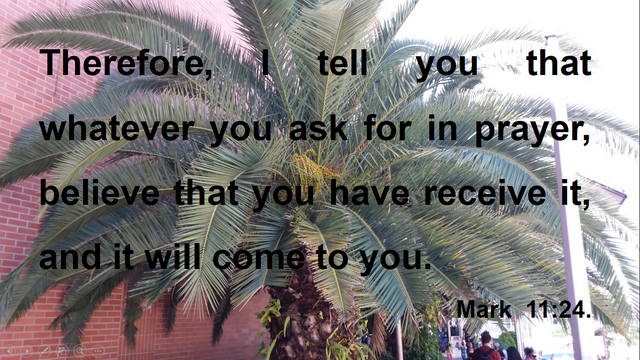 "YOU ASK BELIEVING AND YOU WILL RECEIVE IT"
Greetings to the entire Heartchurch community, a special blessing to each of you who make up this community.
I want to share with you this reflection: "YOU ASK BELIEVING AND YOU WILL RECEIVE IT".
How difficult it is when we pray and receive no answer, we are invaded by doubt. Especially when we need a relatively fast response and it does not arrive.
I think that the kind of prayer that leaves us without faith comes from an attitude that makes us focus our thoughts on difficulties rather than on the promises of God.
Faith is not a matter of the senses, nor of sight or reason, simply of accepting the Word of God at face value.
The beginning of anxiety and despair is the end of faith, the beginning of true faith is the end of anxiety. George Mueller.
We will never learn to have faith in an environment of comfort. God gives us His promises in quiet times, but He withdraws, waiting to see how much we believe in Him.
His promise is clear: "Everything for which you pray and ask, believe that you have received." When we pray connected to God and believing, we will receive an answer from God.
I remember that my wife and I began to pray for God to provide us with an apartment or house in the city of Mérida, we lived far from the city. There was almost no transportation, and our children were already growing up and would soon be entering university. We went out several times to look for apartments for sale and to ask, without having money
Time passed and after 2 years we received a call from a lady who needed us to approach the construction company to speak with the owner, because there was an apartment available.
Without money, the Lord gave us that apartment, in one of the best places to live. Our children were surprised by such a good place and a good apartment.
So God does hear our prayers. I invite you to pray with faith and trust that God will answer that request. Ask believing and you will receive it.
God bless you