(ESP / ENG) "SI CREES VERÁS LA GLORIA DE DIOS" / "IF YOU BELIEVE YOU WILL SEE THE GLORY OF GOD"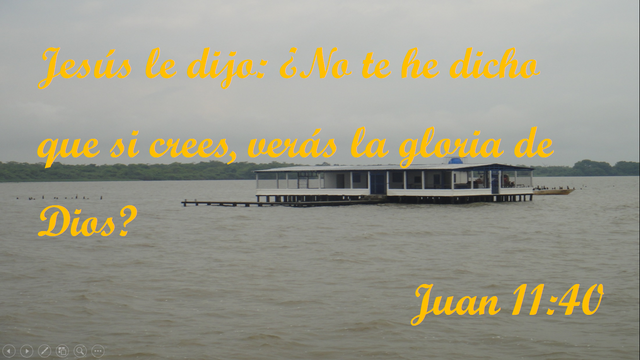 "SI CREES VERÁS LA GLORIA DE DIOS"
Saludos a toda la comunidad de Heartchurch, una bendición especial para cada uno de ustedes que conforman esta comunidad.
Quiero compartir con ustedes esta reflexión: "SI CREES VERÁS LA GLORIA DE DIOS"
Una promesa para nuestras vidas es qué si le creemos a Dios, veremos Su Gloria, milagros ocurrirán.
En un episodio de la vida de Jesús, encontramos que lázaro muere; sus hermanas mandan a llamar a Jesús, mientras Lázaro todavía vivía. Pero Jesús no fue a tiempo, porque ya Él sabía que su Gloria iba a ser demostrada allí.
Jesús amaba a Lázaro, y cuando llegó sus hermanas lo recibieron y le dieron la noticia que ya hacía 4 días su hermano había muerto. Jesús se acercó al sepulcro y mandó a quitar la piedra. Marta no quería que se quitara la piedra porque Lázaro hedía.
Muchas veces tenemos piedras en nuestras vidas que no queremos quitar, porque hiede. Pero hasta que no quites esa piedra de allí, no vas a poder ver la Gloria de Dios. La piedra debe ser quitada.
La mayor piedra que tiene el ser humano, es la piedra de incredulidad; y ésta impide que la Gloria de Dios se manifieste, y los milagros empiecen a ocurrir.
Por eso en Juan 11:40, Jesús le dice a Marta: "¿Y no te he dicho que si crees, verás la Gloria de Dios?
Para ver la Gloria de Dios, hay que creer. Quita de tu vida todas aquellas piedras que impiden que le creas a Dios. La incredulidad debe ser quitada de tu vida, quita esa piedra, para que empieces a ver la Gloria de Dios en tu vida.
Así que, quitaron la piedra, y la Gloria de Dios se manifestó, Lázaro resucitó. Si la piedra no se quitaba, el milagro no ocurría.
¿Qué piedras tienes, que impiden que el milagro ocurra en tu vida? Quítala y verás la Gloria de Dios.
Dios les bendiga.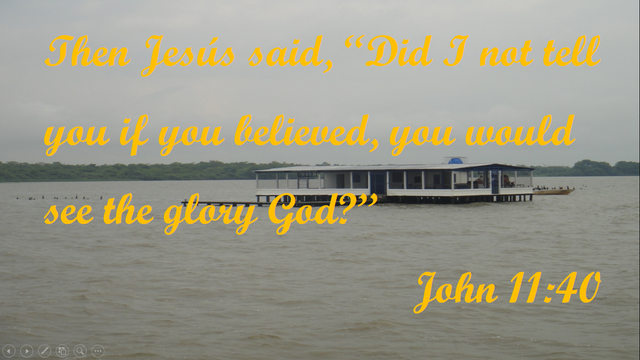 "IF YOU BELIEVE YOU WILL SEE THE GLORY OF GOD"
Greetings to the entire Heartchurch community, a special blessing to each of you who make up this community.
I want to share with you this reflection: "IF YOU BELIEVE YOU WILL SEE THE GLORY OF GOD"
A promise for our lives is that if we believe God, we will see His Glory, miracles will occur.
In an episode in the life of Jesus, we find that Lazarus dies; his sisters send for Jesus, while Lazarus was still alive. But Jesus was not on time, because He already knew that His Glory was going to be demonstrated there.
Jesus loved Lazarus, and when he arrived, his sisters welcomed him and gave him the news that his brother had already died 4 days ago. Jesus approached the tomb and had the stone removed. Marta did not want the stone to be removed because Lazarus stank.
Many times we have stones in our lives that we do not want to remove, because it stinks. But until you remove that stone from there, you will not be able to see the Glory of God. The stone must be removed.
The greatest stone that the human being has, is the stone of incredulity; and this prevents the Glory of God from manifesting itself, and miracles begin to occur.
That is why in John 11:40, Jesus says to Martha: "And have I not told you that if you believe, you will see the Glory of God?
To see the Glory of God, you have to believe. Remove from your life all those stones that prevent you from believing God. Unbelief must be removed from your life, remove that stone, so that you begin to see the Glory of God in your life.
So, they rolled away the stone, and the Glory of God was manifested, Lazarus was resurrected. If the stone was not removed, the miracle did not occur.
What stones do you have that prevent the miracle from happening in your life? Take it off and you will see the Glory of God.
God bless you.