What are spiders on Mars (EN - CAST) Qué son las arañas de Marte
What are spiders on Mars (EN - CAST) Qué son las arañas de Marte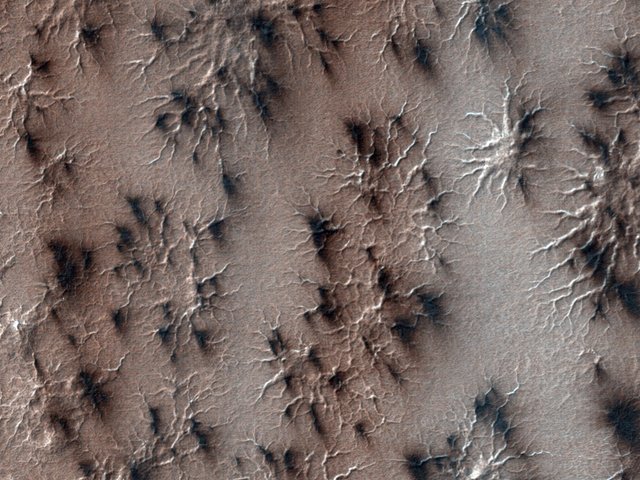 Souce
Don't worry, it's not about giant alien insects as scientists call some curious geological formations exclusive to the Martian South Pole.
Tranquilos no se trata de insectos gigantes alienígenas como los científicos llaman a unas curiosas formaciones geológicas exclusivas del polo sur marciano.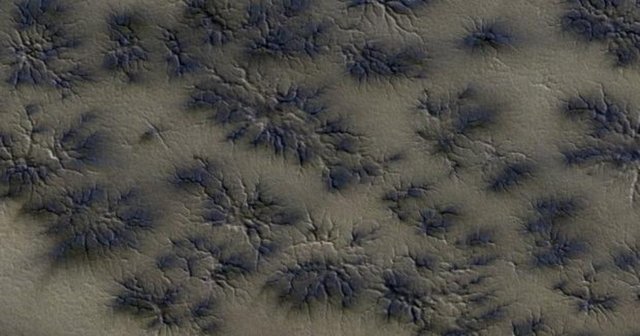 Souce
They look like black dots from which many radii start as if it were the drawing of a spider, hence their name, they can be found in the CO² carbon dioxide ice cap and are produced when the CO² sublimates, which is like it is called for something to pass from a solid or gaseous state, without there being a transition through the liquid state.
Se ven como puntos negros de los que parten muchos radios como si fuera el dibujo de una araña, de ahí su nombre, se pueden encontrar en el casquete de hielo de dióxido de carbono CO² y se producen cuando el CO² se sublima, que es como se llama a que algo pase de estado sólido o gaseoso, sin que existe una transición por el estado líquido.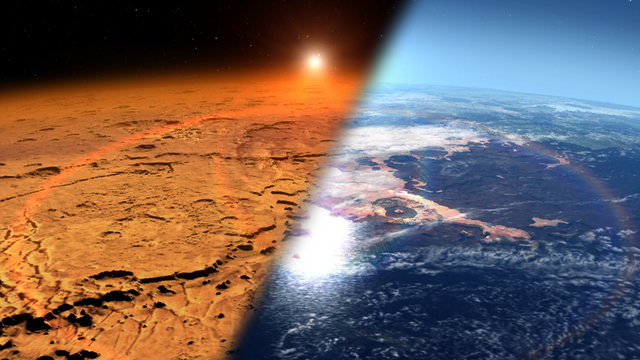 Souce
This was suspected, but a few days ago researchers from Trinity College, Dublin in Ireland, published a work confirming the origin and how the curious spider drawings are produced, Mars has an atmosphere but unlike Earth, the atmosphere of Mars It is composed mainly of CO², there is hardly any oxygen.
Esto se sospechaba, pero hace pocos días los investigadores del Trinity College de Dublin en Irlanda, publicaron un trabajo donde se confirmaba el origen y cómo se producen los curiosos dibujos de araña, Marte tiene atmósfera pero a diferencia de la tierra, la atmósfera de Marte está compuesta principalmente de CO² apenas existe oxígeno.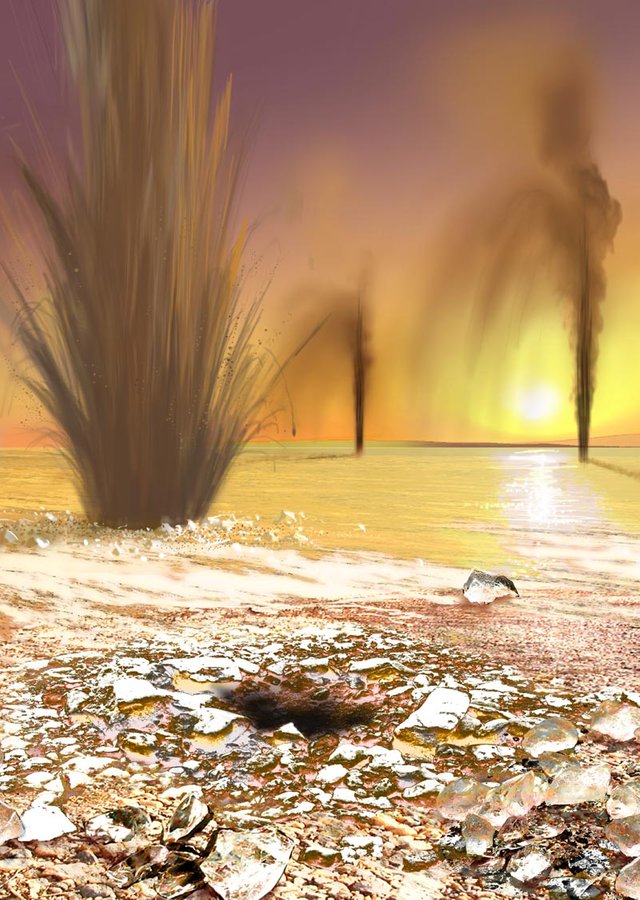 Souce
As temperatures decrease in winter, CO² is deposited on the surface, forming frost and ice, when spring arrives that ice sublimates, transforms into gas and carries dust particles and materials that are what spiders end up drawing. Martians, this research can help to understand sublimation phenomena that occur on icy worlds, such as the moon of Jupiter, Europa, or the moon of Saturn in Célado.
A medida que las temperaturas van disminuyendo en invierno el CO² se deposita en la superficie, formando escarcha y hielo, al llegar la primavera ese hielo se sublima, se transforma en gas y arrastra partículas de polvo y materiales que son los que terminan dibujando las arañas marcianas, esta investigación puede ayudar a entender fenómenos de sublimación que se producen en mundos helados, como la luna de Júpiter, Europa o la luna de Saturno en Célado.
---
---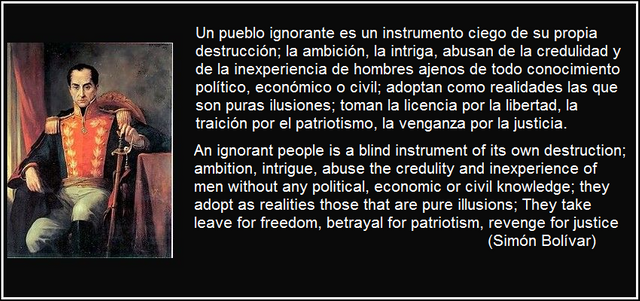 ---
---
Thank you for visiting my blog. If you like posts about
#science
,
#planet
,
#politics
,
#rights
#crypto
,
#traveling
and discovering secrets and beauties of the
#universe
, feel free to Follow me as these are the topics I write about the most. Have a wonderful day and stay on this great platform :) :)
Gracias por visitar mi blog. Si te gustan las publicaciones sobre
#ciencia
,
#planeta
,
#politica
,
#derechos
#crypto
,
#traveling
y descubriendo secretos y bellezas del
#universo
, siéntete libre de seguirme, ya que estos son los temas sobre los que más escribo. ¡Tenga un día maravilloso y siga en esta gran plataforma :) :)