Ethereum price Analysis and Future Prediction
Ethereum is one of the most used Blockchain when it comes to Decentralized projects.
It is also world second largest cryto currency when it comes to market cap. and hence we can call it a rank #2 currency. Obviously the rank #1 in terms of market Cap is Bitcoin.
So Ethereum hit it's new all time high on 3rd april 2021 and it reached $2145 approx. Since then it has been two days and the price is maintained above $2000.
Currently the price is $2120 approx and that means it is near to it's all time high.
Let us see the chart of Ethereum taken from Binance Exchange in the below screenshot.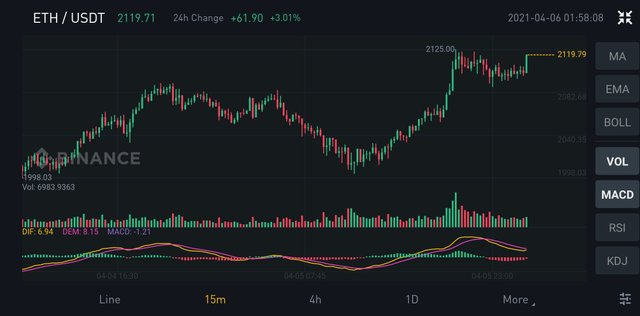 So there are for sure two probabilities :
The price rises more.
A downfall is seen.
So I will be sharing my opinion and prediction based on my knowledge and analysis done.
In my opinion I believe that Ethereum is really far from where it ll be in coming months. I really thing that because of few reasons.
We all can expect the price to rise even further because of the Nft thing that has taken over the headlines.
People have made it successful and as most of the NFTs are usually on Ethereum Network you can expect a directly proportional behavior for sure.
another reason that i believe ll surely effect the price of Ethereum is upcoming upgrade to the network where the fees ll be reorganized and reduced.
So that can be a reason for the Ethereum price to climb new heights as well.
So let's predict a price for Eth in near future. I would predict that after the upgrade of Ethereum Network the price ll be around $3000 or above.
Rest time ll tell if this ll be true or not. So we can do nothing but wait and time ll answer our questions .
Thank you , Happy Trading Everyone